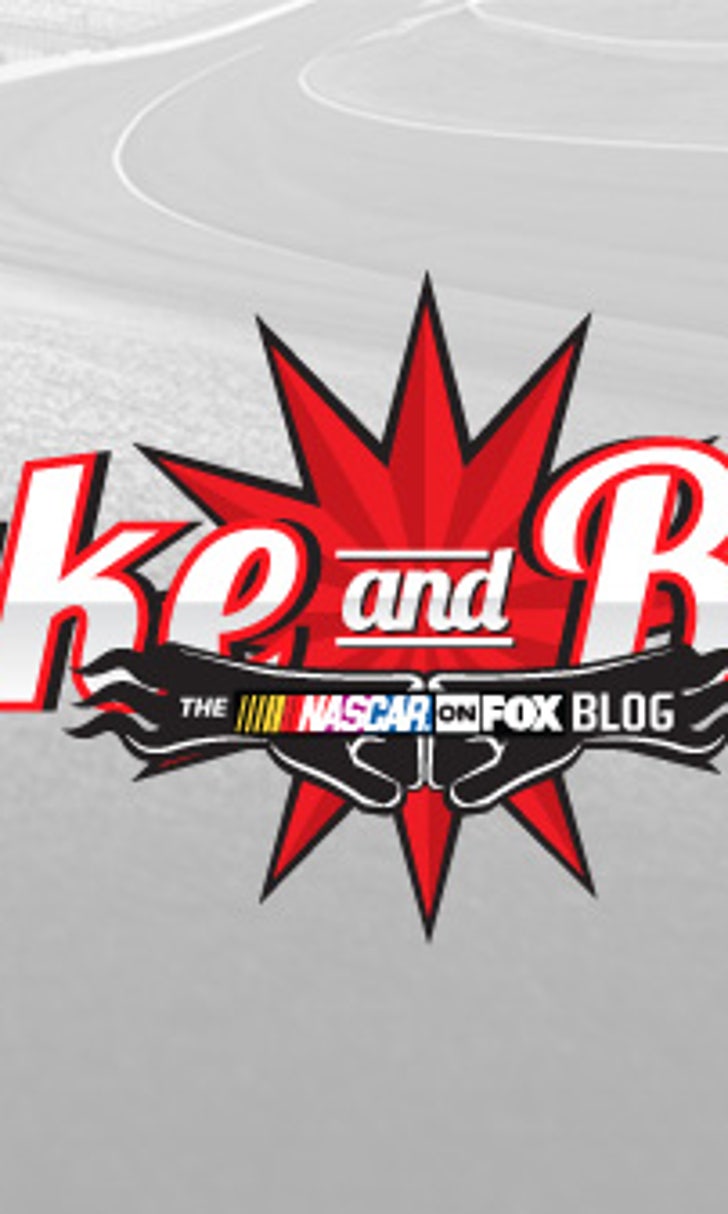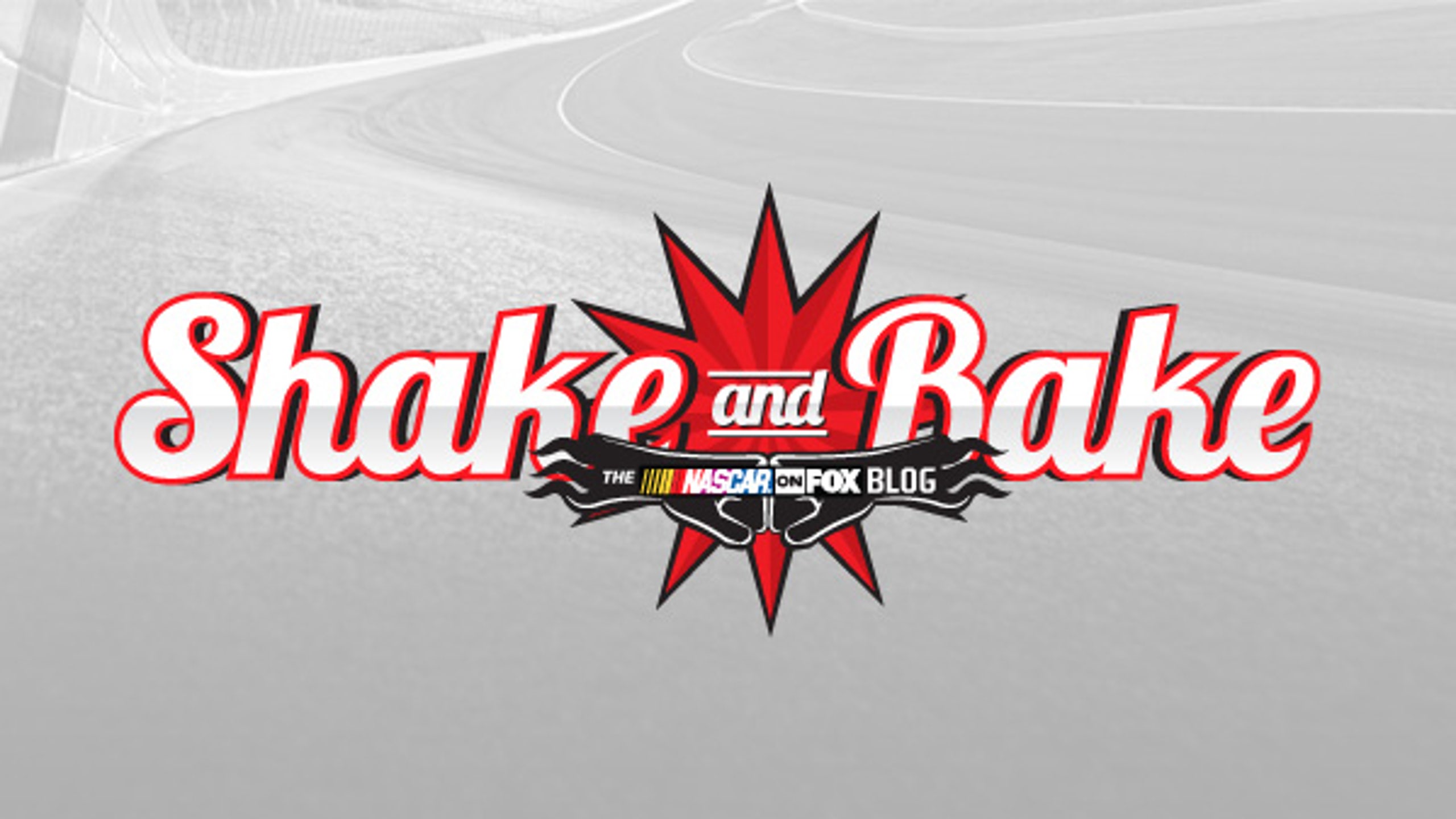 NASCAR Rallies 'Round Boston
BY foxsports • April 19, 2013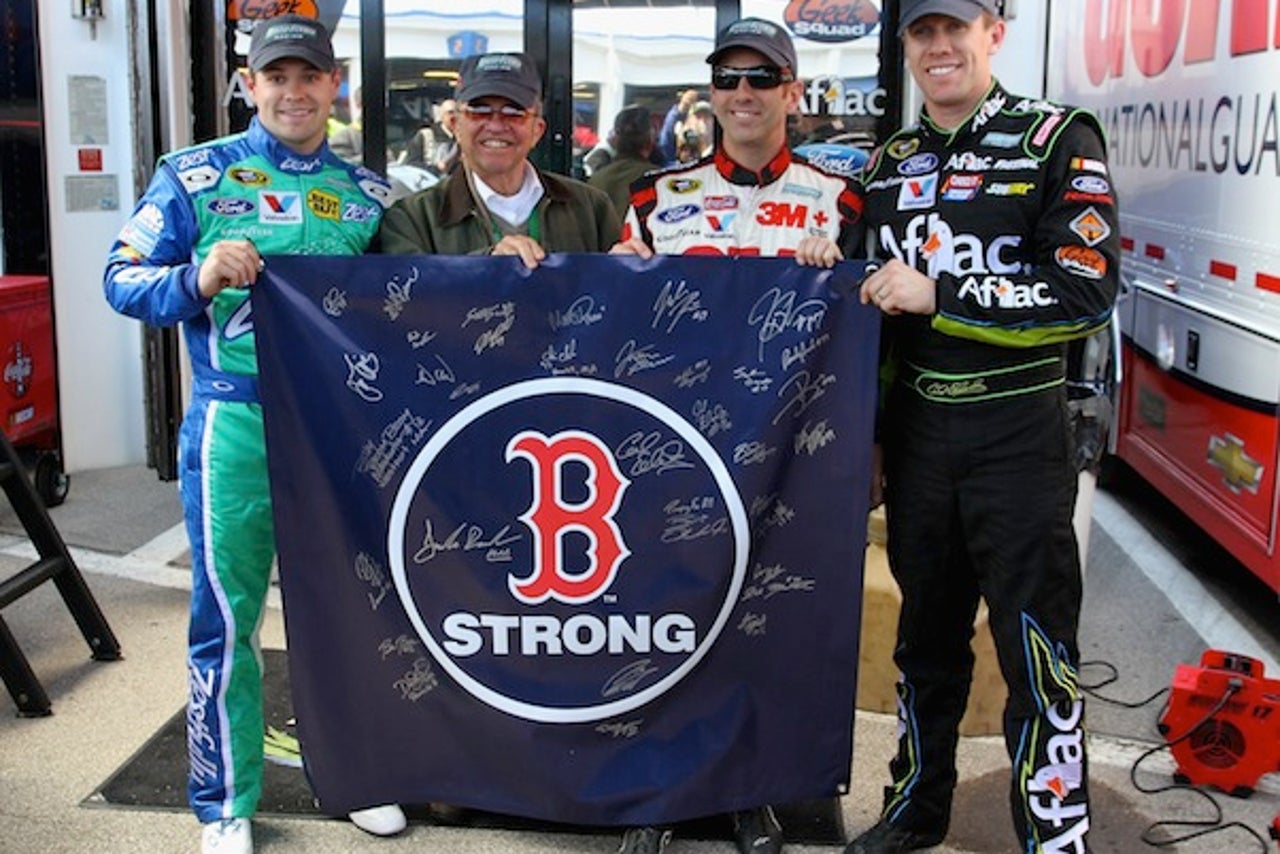 KANSAS CITY, KS - APRIL 19: Ricky Stenhouse Jr., driver of the #17 Zest Ford, team owner Jack Roush, Greg Biffle, driver of the #16 ACE Brand Ford, and Carl Edwards, driver of the #99 Aflac Ford, hold a banner in support of the Boston Marathon attack victims during practice for the NASCAR Sprint Cup Series STP 400 at Kansas Speedway on April 19, 2013 in Kansas City, Kansas. (Photo by Ed Zurga/Getty Images)
Like the rest of America, the NASCAR community has been deeply touched by the Boston Marathon explosions and the subsequent violence.
For racers, it's personal. And they said it and showed Friday at Kansas Speedway, where they're preparing for Sunday's STP 400.
Emotions were high with the revelation that Sean Collier, the MIT police officer murdered Thursday night, was the brother of Andrew Collier, a machinist at Hendrick Motorsports.
"Absolutely, we'll race with heavy hearts," said five-time NASCAR Sprint Cup champion Jimmie Johnson.  "… It's gone to a new level knowing that a fellow teammate is now directly involved with what took place in Boston."
Other teams have strong connections to the city of Boston and the Boston Marathon as well.
John Henry, the co-owner of Roush Fenway Racing, has long been one of the most prominent figures in all of Boston sports.
Team owner Michael Waltrip is an avid marathon runner.
Tara Davis, wife of Swan Racing owner Brandon Davis, is a Boston native.
To honor those hurt and killed in the Boston Marathon, the teams have some special ways to show support this weekend.
• Roush Fenway Racing co-owner Jack Roush will donate $100 to www.onefundboston.org for every lap one of the team's cars leads on Sunday. In addition, the team's three cars will all carry "B-Strong" decals.
"We've got a lot of ties to Boston with the Red Sox up there," said Roush Fenway driver Carl Edwards. "I hear there are ties in the garage with folks that have lost family up there, so I think it's something that just reminds us all that what we do here we're very fortunate to do it and, hopefully, in some small way, just us racing this weekend somebody can get some amount of enjoyment out of it and know that we're all thinking about them."
• Hendrick Motorsports is adding decals that say "We Are All Racers 26.2," the number being a reference to the 26.2-mile length of a marathon.
• Michael Waltrip Racing has redone the numbers on its three cars to look like the numbers that marathon runners pin to their racing singlets.
• Swan Racing is running a "Prayers For Boston" paint scheme. "The NASCAR community rallies together in times of need," said the team's driver, David Stremme. "Hopefully, we can help add a little comfort with our message of 'Prayers for Boston' on the car."
So stay strong, Boston. NASCAR's got your back this weekend. And fans, please support www.onefundboston.org.
.@mwrteam, @stewarthaasrcng, @teamhendrick & @roushfenway honor those affected by the events in Boston. twitter.com/SunocoRacing/s…
— Sunoco Racing (@SunocoRacing) April 19, 2013
---