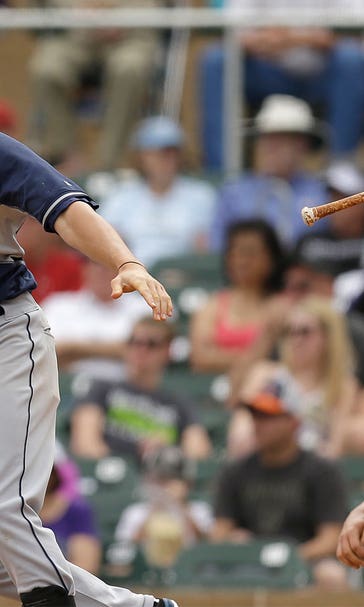 Myers breaks San Diego's scoreless streak, lifts Pads past Giants 1-0
April 11, 2015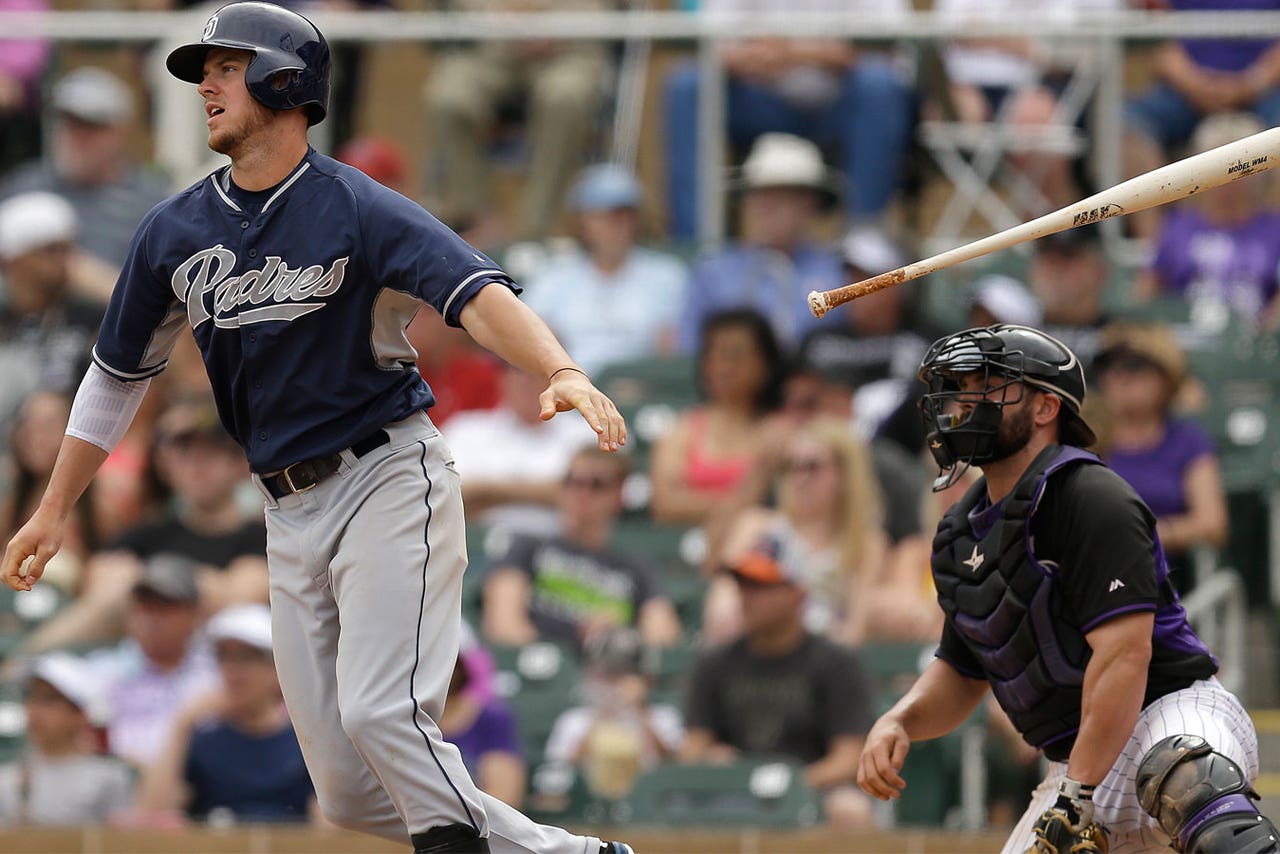 The spectacle of Opening Day is nearly gone. There were only about 5,000 empty seats available at Petco. Parking was still as big of an issue in the streets of the Gaslamp as it was Thursday. But it was time for baseball — good, old-fashioned baseball.
It was also time for manager Bud Black and the Padres to see what they had in the fifth spot of their starting rotation as Brandon Morrow was matched up against two-time NL Cy Young Award winner Tim Lincecum and the San Francisco Giants.
He wouldn't take the victory —" relief pitcher Joaquin Benoit did that — but the Padres walked away with a 1-0 victory in front of a 40,015-person home crowd.
Morrow started his season debut by giving off a leadoff single to Nori Aoki before striking out second baseman Joe Panik. An appearance from San Francisco's No. 3 hitter Angel Pagan, who was involved in a verbal altercation with San Diego catcher Derek Norris in yesterday's game over chewing gum, resulted in a symphony of boos from the mostly blue and white crowd at Petco Park. Pagan lined out to Jed Gyorko who then doubled up Aoki after throwing back to first to end the inning. That resulted in a symphony of cheers.
He struck out seven while allowing four hits and three walks on 88 pitches (56 of which found their way into Norris' glove via the umpire's strike zone) through his seven scoreless innings of action.
"Tonight was, I think, a snapshot of what he can (do)," Black said at the post-game press conference. "I think this guy repeats his delivery, repeats his arm action. He pitched really well and that's a good sign."
Scoreless through the first seven innings —€" extending San Diego's scoreless-inning streak to 22 since the sixth inning of Wednesday's game in Los Angeles —€" the Padres managed to avoid a franchise third no-hitter to the San Francisco starter. Cory Spangengerg, making his starting debut with the Pads at third base, dribbled a ball down the third-base trail that refused to get on the left side of the end-all, be-all white line.
Spangenberg would be the lone Padre to record a hit against Lincecum through four, though.
"It's frustrating more than anything," Black said of the offensive drought. "We feel we're going to hit, so guys are more frustrated than relieved. There's some pitchers that are going to pay a little bit."
Yonder Alonso would be the first Padre to welcome Spangenberg on the hit list in the bottom of the fifth inning, increasing his season average to .471 — the best of any San Diego starter in this young season. A stolen base would lead to another fruitless effort from the bottom of the order, keeping the game tied at zero.
Aoki, batting .450 as of the sixth, hit himself back to first base after lining a shot just a few feet shy of Matt Kemp out in right field in the ensuing inning. A pickoff attempt from Morrow, initially ruling Aoki safe at first, was reversed after Black walked out to the diamond to challenge.
Myers tried to get things going in leading off the sixth, slipping one past Panik and shortstop Brandon Crawford to get on first. But a strikeout, throw-out double play managed to extinguish whatever embers the Padres had in ending the scoreless streak.
Upton singled up the middle to lead off the seventh before stealing second off a Lincecum changeup for his first stolen bag on the year. Lincecum then walked Alonso to get the right-handed, .133-batting Gyorko to the plate, who continued his offensive struggles with a double play to second. The inning was over.
The fans booed Gyorko's latest frustrating plate appearance. Gyorko reacted in a similar fashion, Black said.
"We talk about what goes on behind closed doors and maybe I shouldn't say this, but Jed's really upset," Black said. "Guy's get mad. You might not see it in the dugout all the time.
Clint Barmes walked to start the bottom of the eight. Myers took the batter's box, and just like that, the scoreless streak was over. The third-year outfielder launched one past Gregor Blanco out in right field to send the Thursday night's scapegoat home on a standup triple.
It was only one run, but it was enough to make closing pitcher Craig Kimbrel's third appearance on the year actually count for his first save opportunity.
"As soon as I hit it and I was rounding first base, I was screaming at (Barmes) to run," Myers said laughing after the game. "It was just good base running on his part. To be able to get from first to third on that was big.
"I was yelling, I know he didn't hear me and I know (Glenn) Hoffman didn't hear me, but I thought he did a good job."
With a one-run lead intact, Kimbrel forced a ground-out to Will Middlebrooks at third before giving up a single to Panik.
But, in true cinematic fashion, now-San-Diego bad guy Pagan took the plate with a runner on. And just like his first-inning at-bat, Pagan hit himself into a double play to end the game and send the San Diego crowd into a frenzy.
Up next at Petco Park is a 2014 World Series rematch between newcomer James Shields and World Series MVP Madison Bumgarner. First pitch is at 5:40 p.m.
---