Kansas City Royals
Kansas City Royals
More legs than bats
Published
Oct. 9, 2015 1:10 p.m. ET

So the Kansas City Royals are carrying, on their Division Series roster, a hitter who has literally never gotten a hit in the major leagues. He does have some hits in Triple-A. Five of them.
So what is Terrance Gore doing on the roster? He's running. Along with a few of his friends. From Pat Borzi in The New York Times, beginning with some Ned Yost wisdom:
"We don't have a team that we pinch-hit for, really," he added. "All of our lefties hit well against lefties, so we don't really have a spot we identify as a pinch-hitting situation late in the game. All of our guys have been really productive. We think our lineup is really deep. It's more about running than it is pinch-hitting."

--snip--

Gore, Dyson and the longtime minor leaguer Paulo Orlando, a 29-year-old rookie from Brazil, give Yost three speed options off the bench. Gomes batted .167 in 12 games as a Royal, and Yost saw only one instance where he might need a pinch-hitter — if he pinch-ran for the designated hitter Kendrys Morales, and the game lasted long enough for Morales's spot to come up again.

"We opted to go with speed over a bat," Yost said. "Gore and Dyson are top-notch base stealers. Paulo is one of the fastest guys in the league. It gives us that speed element."
That's an odd thing to say: "All of our lefties hit well against lefties."
Eric Hosmer's got a 687 OPS against lefties in his career, Moustakas 666. Still, you're not going to pinch-hit for those guys, or for Alex Gordon.
The problem isn't the lefties, so you wonder why Yost would even bring them up. The problem is the righties, as the Royals' two weak hitters both bat right-handed: Alcides Escobar and Alex Rios.
Alas, the Royals don't have any spare lefty-hitting outfielders on the 40-man roster. The guy they could have kept instead of Gore (or Orlando) was Jonny Gomes, but Gomes bats right-handed, too.
Which doesn't mean the Royals are optimizing their roster, or their lineup. Ideally, Dayton Moore would have found a lefty bat for the bench, although that assumes that Yost would actually have used such a beast. Right now, though, the biggest problem is that Yost continues to run Rios out there every day. Considering his performance last year and this year, it seems unlikely that he's better against right-handed pitchers than lefty-hitting Jarrod Dyson ... and of course there's a huge difference in the outfield, where Dyson's got Gold Glove-quality talents and Rios is just trying to hang in there.
It sure looks like Rios is starting against righties because he's making $11 million this year. Strange way to manage in October.
---
---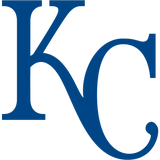 Get more from Kansas City Royals
Follow your favorites to get information about games, news and more
---