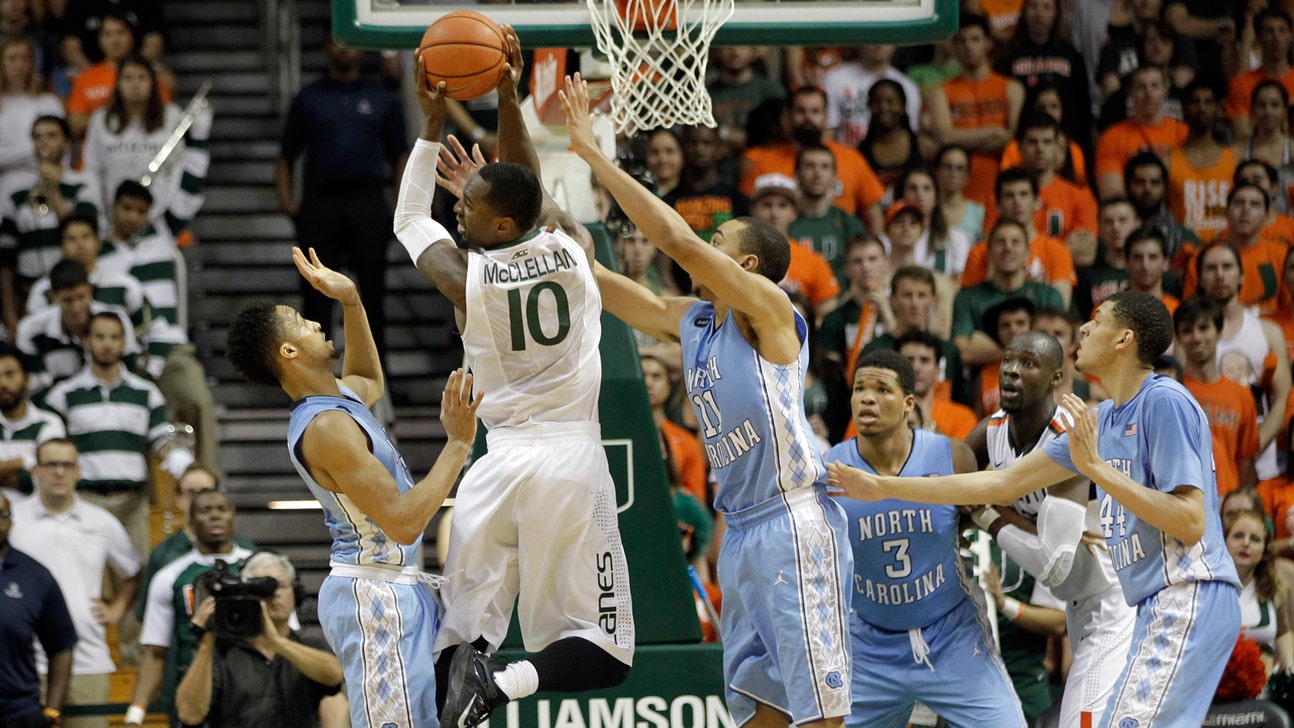 Missing Angel Rodriguez, Miami's tournament hopes take serious hit with loss to UNC
Published
Feb. 28, 2015 6:00 p.m. ET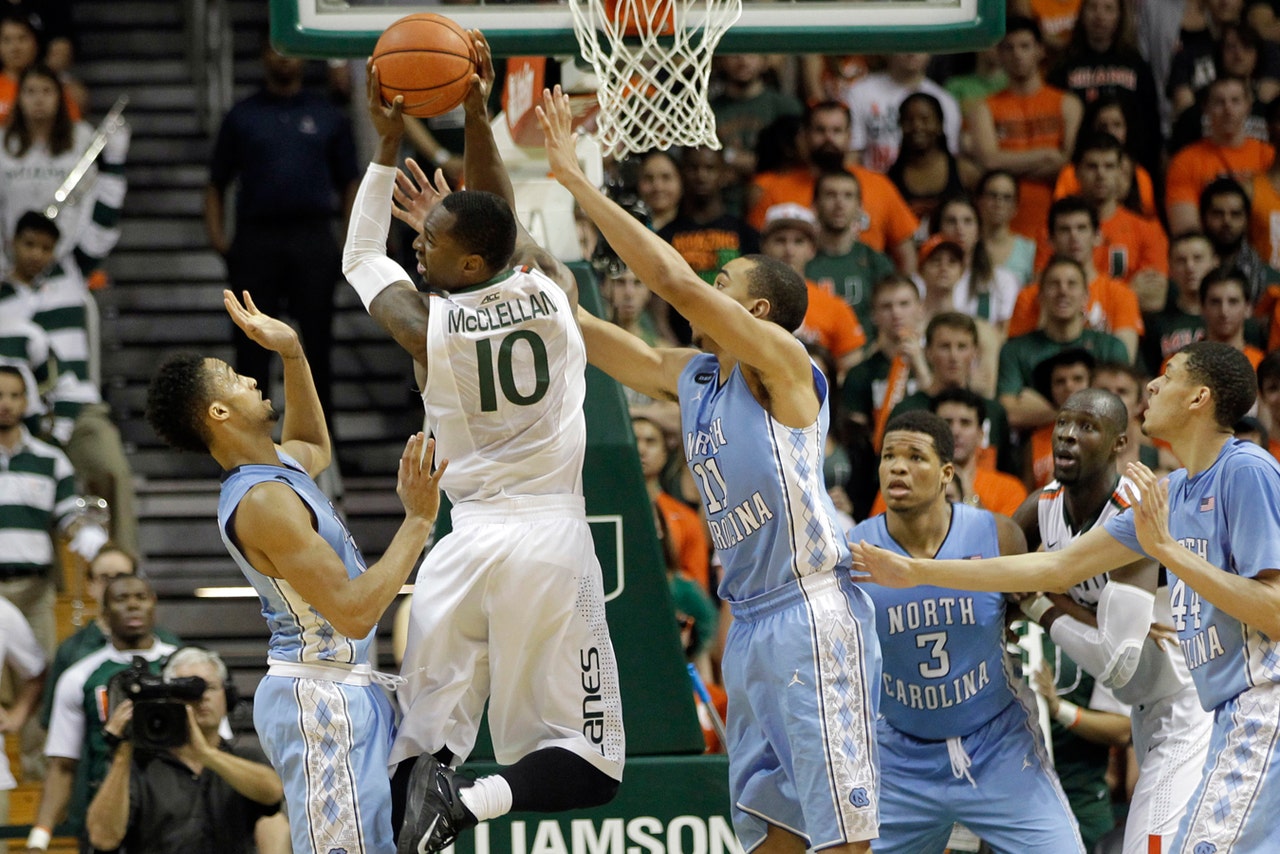 CORAL GABLES, Fla. -- As a sellout crowd -- the first of the season -- filtered into the BankUnited Center on Saturday afternoon, Miami redshirt junior Angel Rodriguez walked back into the locker room during warmups.
When he returned with his right wrist heavily taped because of a sprain, it couldn't have come at a worse time for the Hurricanes.
After a 73-64 loss to No. 15 North Carolina, Miami's NCAA Tournament chances are nearly extinguished despite early-season wins at Florida, Duke and Syracuse.
Rodriguez, who snapped out of a career-worse 12-game slump with a 25-point performance Wednesday, needed to be in this game. He had started the previous 28 for the Hurricanes. Not only does Rodriguez rank second on the team with 12.8 points per game, but when he goes, the Hurricanes go.
Following the first media timeout at 14:18, the 5-foot-11, 180-pound guard subbed in for sophomore Manu Lecomte. But he was limited to just three minutes of court time and watched the remainder of the game from the bench.
"It's hard," said Lecomte, who tallied 10 points and four assists. "You can feel it on the court. I was trying to do the best I could running the point. I played a lot today. Obviously he wasn't in there. We did the best we could as a team and me as a point."
Added North Carolina coach Roy Williams: "You hate like the Dickens for Angel -- and I mean that seriously -- for a kid to get hurt. He's played his tail off all year, and you hate that to happen. You hope it's not something that's going to linger, because he is such an important part of that team."
Miami head coach Jim Larranaga said Rodriguez sprained his wrist Wednesday against Florida State when he took a charge and landed on it. He managed to close out the game but woke up the following morning in pain. X-rays and an MRI confirmed a sprain.
Unable to participate at Thursday and Friday practices as well as Saturday morning shootaround, Rodriguez surprised Larranaga by dressing for warmups. Lecomte had already been told to prepare to start in his place.
Rodriguez tried using just his left hand, but it quickly became apparent it wasn't working out. Larranaga is optimistic he can make a quick turnaround.
"Honestly, I think Angel's just one of those guys -- he loves to play, especially the games," Larranaga said. "I'm sure he's disappointed he didn't get to play in the game. I'm sure he's disappointed in the loss, but on Monday if his wrist is fine he'll practice and be ready to play. He won't let this determine anything other than putting it behind you and getting ready for the next one."
His replacements -- Lecomte and freshman Ja'Quan Newton -- combined for 20 points and eight assists. Larranaga thought they did a good job.
But Rodriguez's impact goes past the scoring and clutch shooting.
His absence also affected his favorite target, junior Sheldon McClellan. He finished with just 11 points, four below his average. Foul trouble limited him to 25 minutes. Newton said during timeouts and substitutions, Rodriguez encouraged his teammates. During halftime, he spoke to the team.
With the score 48-47 in favor of Miami following consecutive 3-pointers by junior forward Ivan Cruz Uceda, North Carolina closed out on a 26-16 run for the victory.
"It was difficult at times during the game because he's our leader," Newton said. "He's our point guard on the floor and off the floor, and he can get key baskets when we need them. It hurt us when he wasn't out there towards the end."
Miami's outlook is bleak, but not impossible.
The Hurricanes close out the regular season at Pittsburgh and Virginia Tech this week. Larranaga thinks the team must win its next four games, including two in the ACC tournament to earn an NCAA bid.
"We definitely have to win those two games away and then make a great tournament," Lecomte said. "We're a team -- we have a lot of ups and downs. I believe in our team. I believe we can win the tournament. It depends on us. We still have a lot of work to do. I really believe in this team."
You can follow Christina De Nicola on Twitter @CDeNicola13 or email her at cdenicola13@gmail.com.
---