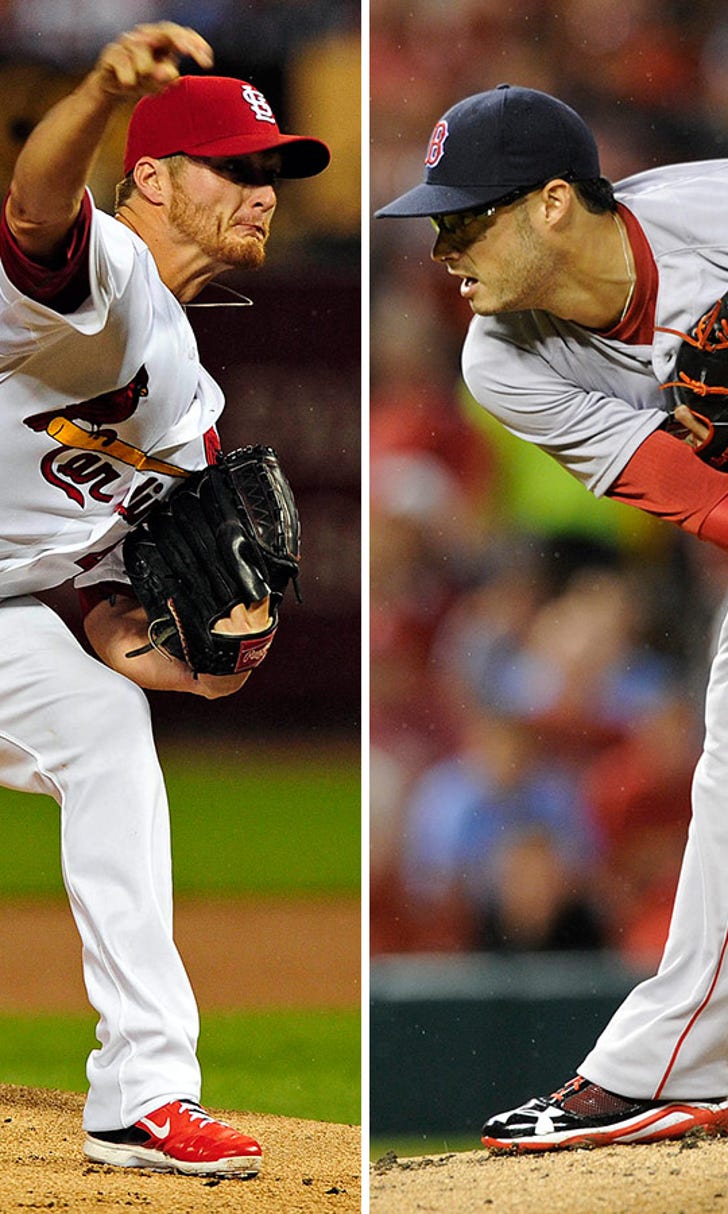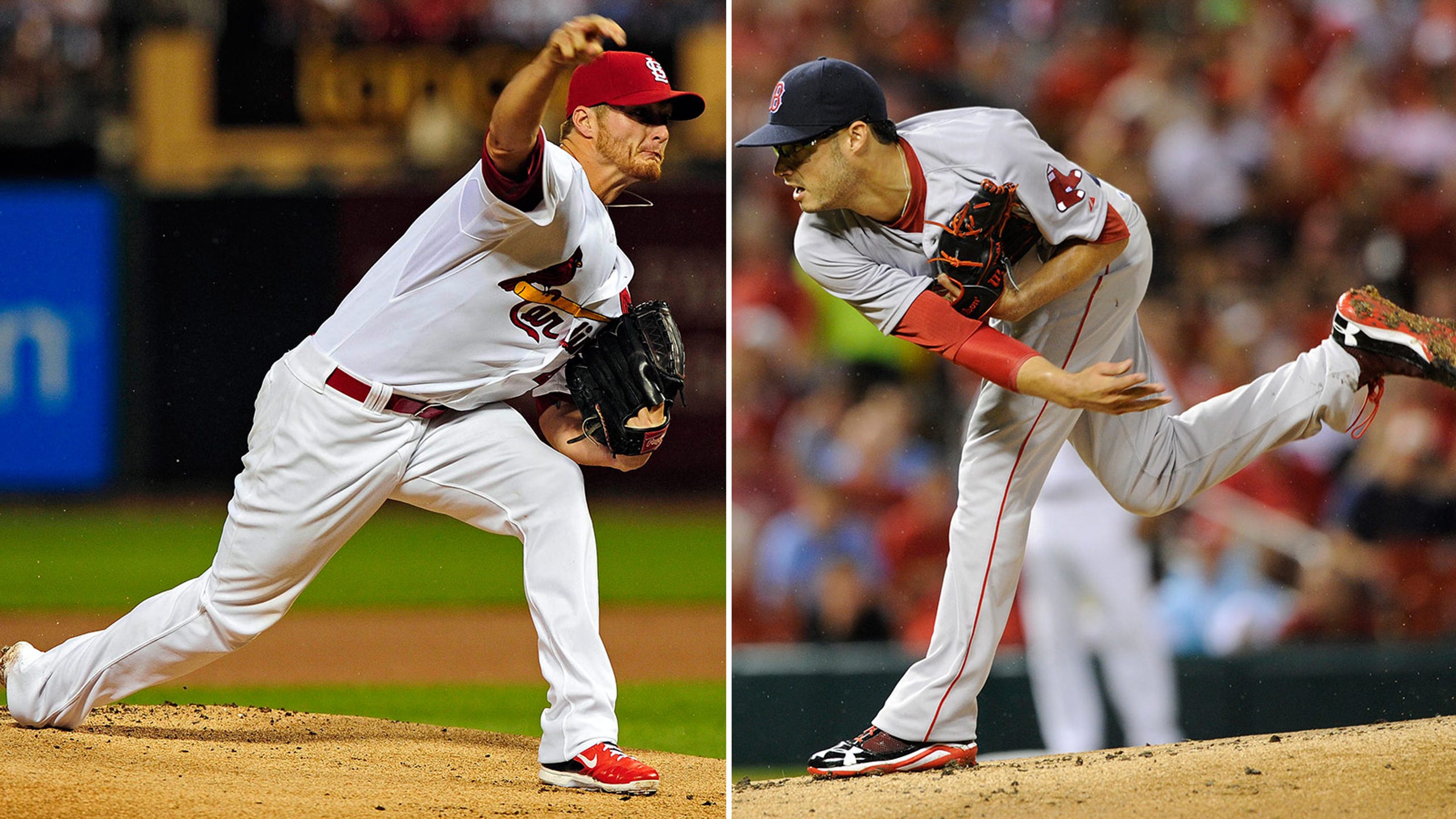 Miller and Kelly bring out the best in each other on a rainy night at Busch
BY foxsports • August 7, 2014
ST. LOUIS -- Give the battle of the best buddies to Joe Kelly over Shelby Miller.
But not by much. It was so close, in fact, that replay was needed to help determine a winner.
In an unusual start matching two young right-handers who are close friends and were teammates this time last week, both pitched as well as they have all season. Each worked seven innings and allowed only one run. Kelly gave up three hits and walked four. Miller allowed four hits and walked one.
One of those hits, however, could cost Miller $100, the agreed upon bounty if either gave up a hit to the other. Kelly was called out on an infield roller but ended up with a single when the Red Sox's challenge was successful.
"He's fast," said Miller, adding that the $100 challenge was for jokes. "I've never seen him run those out like that. He wanted it bad."
Kelly ran that fast at least once before, in April when he ended up tearing his left hamstring and missing three months. He admitted that came into his mind when he was running out the roller.
The main reason Kelly won the duel, of course, was because the Red Sox won the game, 2-1, on a sacrifice fly by Xander Bogaerts off Trevor Rosenthal with one out in the ninth.
"Joe did really well. Hat's off to him," Miller said. "We both pitched good. Just a tough loss for us."
"There were some emotions," Kelly said. "After that first inning, basically after the first pitch, I realized it was just pitching again. Like pitching in the playoffs, you get really anxious and excited but once you let go of the ball, it's just pitching again."
Kelly was treated to numerous ovations, at least one of them standing, by the crowd of 43,432 at Busch Stadium. He was cheered on his way to warm up, when he went to the mound, when he appeared in the on-deck circle and when he stepped into the batter's box the first two times.
"That was crazy," said Kelly, who was traded last week after five years in the Cardinals' organization. "Definitely hard to put in words. Incredibly awesome. My heart started beating fast and I just tried to keep it together."
He said he had chills a couple of times but remained cool enough to focus on his job.
Kelly said after meeting earlier with Red Sox manager John Farrell, he threw his off-speed pitches more than he usually does. "He said they're good pitches and I might want to try them in hitter's counts," Kelly said.
The only run Kelly allowed was scored by the first batter he faced, Matt Carpenter, on a two-out single by Matt Adams. After giving up a leadoff single to A.J. Pierzynski in the second, Kelly did not allow another hit.
Boston scored its run off Miller in the fourth on a two-out single followed by a double on a fly to the wall by Bogaerts that could have been caught by Matt Holliday.
"I thought it would be maybe a little bit more odd than it was," Miller said. "You don't try to make too much of it. When all that's said and done, you can talk about it. When we're out there, we're trying to win the game. He pitched great, kept our offense a little off-balance. I wished we could have won."
After Miller finished his postgame media session, he went onto the field, where he was to hook up with Kelly. It took Kelly a few more minutes to finish his media obligations before he hustled out to meet his buddy. Both donned their respective jerseys and had their photos taken along with their wives. Kelly then returned by himself to the Red Sox clubhouse.
They had made a lasting memory and he left with the upper hand, barely.
3 UP
-- Matt Carpenter. With his coach from TCU, Jim Schlossnagle, in attendance, Carpenter slammed a leadoff double for the second night in a row, and this time he came around to score when Adams lined a single through the shift. The Red Sox's defensive shift took a hit away from Carpenter in his second at-bat.
Watch the Cardinals Live pregame and postgame shows before and after every St. Louis Cardinals game on FOX Sports Midwest.
-- Seth Maness. Up to his 2013 tricks, Maness induced a double-play grounder off the bat of Dustin Pedroia to quell a Red Sox rally in the eighth. Sam Freeman had allowed two hits and gotten only one out when Matheny called on Maness, who led NL relievers last year in getting the double play. He got ahead 1-2 in the count before Pedroia hit a hard one-hopper back at the mound that Maness threw to second to start a 1-6-3 double play. He has allowed a run in only one of his nine appearances since the All-Star break.
-- Yadier Molina. Four weeks ago, the All-Star catcher tore a ligament in his left thumb that required surgery. While his thumb remains in a cast, Molina has started some rehab work at the club's training base in Jupiter, Fla., and remains on track for a return in September. Matheny said Molina should be losing the cast soon.
3 DOWN
-- Holliday. He has played a good left field this season, especially when he's running after or in on balls. But he was not so adept going back on a hit in the fourth inning. Holliday appeared to be in position in front of the left-field bullpen to catch a long, two-out fly by Bogaerts, only to see the ball deflect off his glove and land for a run-scoring double that tied the game.
-- Taking advantage of walks. They say leadoff walks come around to score more than 70 percent of the time, but that did not prove true in this one. Kelly walked the leadoff hitter in two innings, and in another he gave up a leadoff single and then a walk. But the Cardinals were unable to turn any of those free passes into runs. 
-- The damp night air. Both Jhonny Peralta and the Red Sox's Mike Napoli drove balls to left field that looked --€" and sounded -- off the bat like they were going a long way. Neither, however, made it over the fence as Busch Stadium, on a night when the start was delayed by rain, lived up to its growing reputation as a hard place to hit home runs. 
You can follow Stan McNeal on Twitter at @StanMcNeal or email him at stanmcneal@gmail.com.
---