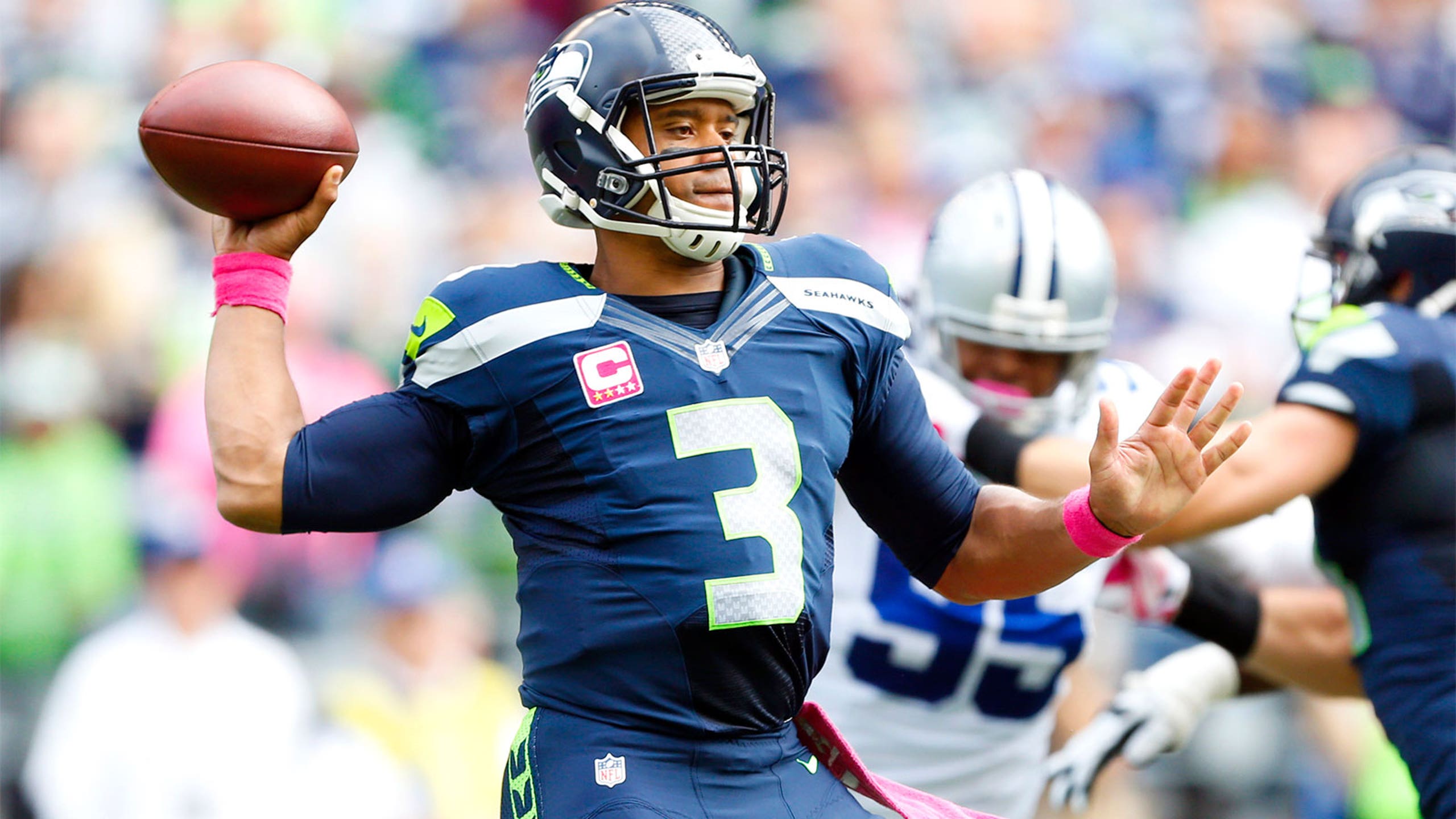 Midseason Is Around the Corner - What Have We Learned?
BY foxsports • October 21, 2014
Here's the truth about 1-week fantasy football for cash – you can improve each week, and you can make more money by making a few minor adjustments.
Related: How Many Lineups Should I Play In 1-Week Fantasy Football?
One of the biggest mistakes fantasy owners make—both in the season-long and weekly realms—is suffering from the 'sunk cost fallacy,' i.e. making decisions based on past choices even when the past has no bearing on the future.
Win $1,000,000 This Sunday! >>
An example of this in the NFL is when teams hang onto weak players into whom they sank a lot of money or when they retain highly drafted players for no reason other than that they were highly drafted. "Well, we're paying Player X this much money, so we better keep him."
At each point in time, we should analyze all of the information we have on hand and make the best possible decision for the future, regardless of how we acted in the past. All that matters is how the choice will affect us in the future. For NFL teams, the draft pick they used on a rookie immediately becomes a sunk cost and they're best off simply keeping the best players they can, first-round pick or undrafted free agent.
Well, in weekly fantasy football, everything starts anew each week. Missed on Justin Hunter yet again? Who cares? Just avoid him this week (or keep predicting a huge game out of him until literally no one trusts your opinions anymore...whatever). In weekly fantasy football, there's no 'lineup equity' that carries over from week to week; our goal is simply to make the best possible future decisions based on all of the information we have on hand.
Midseason Stats
Having said that, we're now beginning to gather more meaningful data about player utilization, defense quality, and so on as we approach the midpoint of the NFL season, and all of that helps us make the best decisions moving forward. The fact that the Lions have been arguably the best defense in the league is now much more meaningful than it was in Week 3, for example, so we can weight it more heavily when making lineup decisions.
Our job is to figure out which stats are indeed the most meaningful and which ones we can't emphasize much. That determination typically comes down to sample sizes. We need to figure out how many relevant plays are in a sample to determine how likely the stats are to regress toward the mean, i.e. what are the chances that what we're seeing is mostly the result of variance?
Each position has a different number of 'relevant plays' that contribute to their fantasy production. Whereas quarterbacks usually toss the ball around 30-40 times per game, tight ends see just a handful of targets, for example. It makes sense that a tight end's production would be a bit more volatile than that of a quarterback.
To figure out how representative a player's in-season stats are of his actual talent, I charted the probability of a top-five fantasy finish for the top-five players at each position at different points of the season.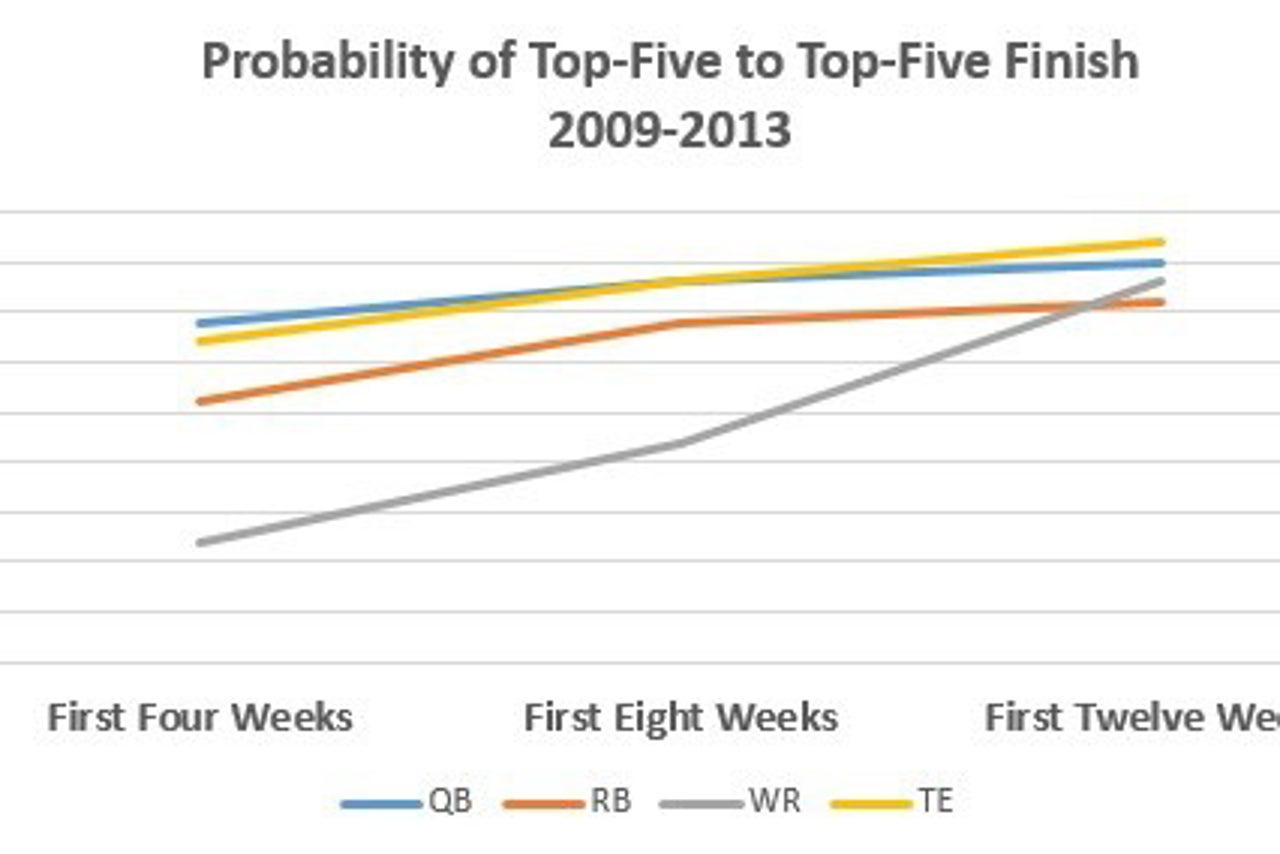 We're just one week away from hitting the halfway point of the season. The stats suggest that both quarterbacks and tight ends who have produced at a high level up until this point are very likely to continue to do that throughout the year.
Meanwhile, take a look at the receivers. Yes, there's more competition for fantasy production at that position, but that's the position with the most volatility from week to week. We're bound to see some top performers who will cool down by the end of the year.
Here's a look at the current top-five players at each position in terms of total fantasy points.
QB
1. Andrew Luck
2. Philip Rivers
3. Aaron Rodgers
4. Peyton Manning
5. Russell Wilson
RB
1. DeMarco Murray
2. Matt Forte
3. Ahmad Bradshaw
4. Le'Veon Bell
5. Arian Foster
WR
1. Antonio Brown
2. Jordy Nelson
3. Demaryius Thomas
4. Julio Jones
5. Randall Cobb
TE
1. Greg Olsen
2. Julius Thomas
3. Martellus Bennett
4. Antonio Gates
5. Rob Gronkowski
There aren't a whole lot of surprises through Week 7. At quarterback, Luck and Wilson are mildly surprising top-five performers. Because early quarterback play is very reflective of late-season production, we should be very bullish on those two passers for the rest of the 2014 season; their early success predicts later success.
Bradshaw is the biggest surprise at running back. Note that running backs have been nearly just as consistent as quarterbacks and tight ends, with the small dip in consistency probably due to injuries. One of the appealing aspects of playing on DraftKings is that we don't need to stick with players all year, however, so Bradshaw's chances of getting injured don't really hurt us from week to week.
Randall Cobb is somewhat surprising as a top-five wide receiver, and you could make an argument that both he and Nelson won't be able to keep up their current production levels on the same team. If one is likely to remain in the top tier, it's Nelson. Cobb is overachieved in terms of scoring, too, which means he's probably a good bet to drop by the end of the season.
Wide receiver is interesting in that, although the numbers suggest that we should see lots of future movement in fantasy ranks, the top-ranked players are all elite options. It's worth noting that the rest of the top 15 is littered with a lot of surprising players—Kelvin Benjamin, T.Y. Hilton, Golden Tate, DeSean Jackson, Terrance Williams, Sammy Watkins, Eddie Royal—who probably have a significant chance of regressing over the second half of the season.
Win $1,000,000 This Sunday! >>
---