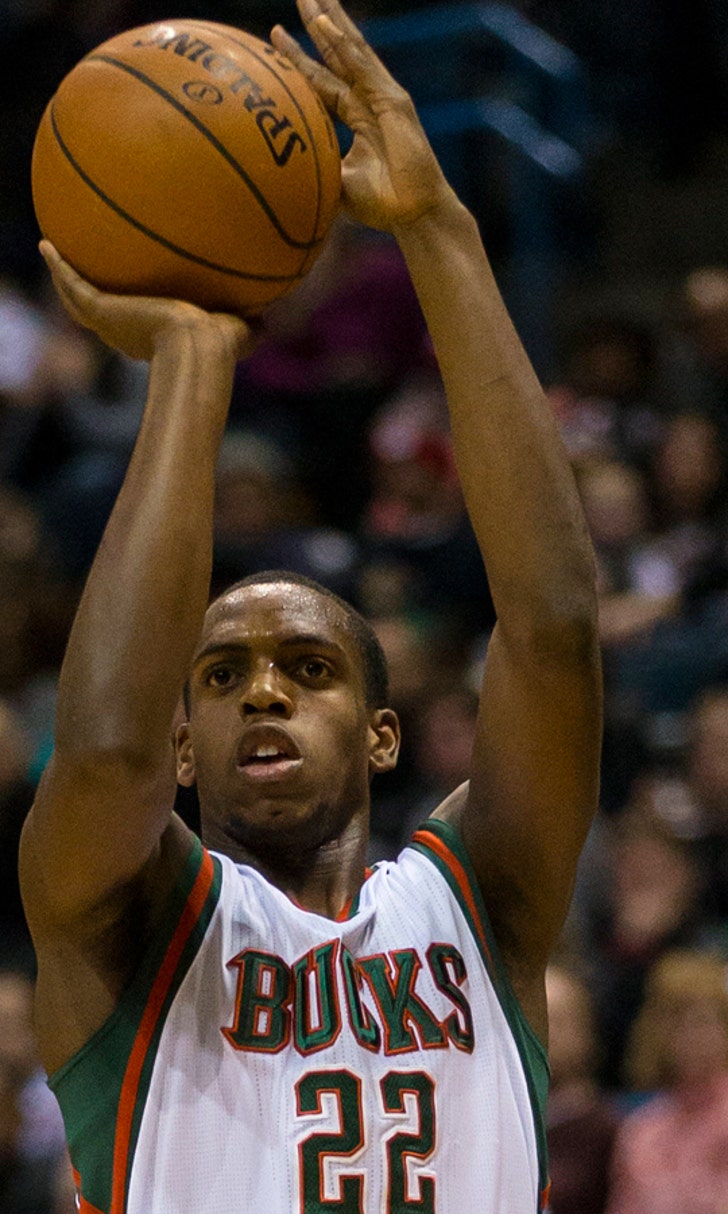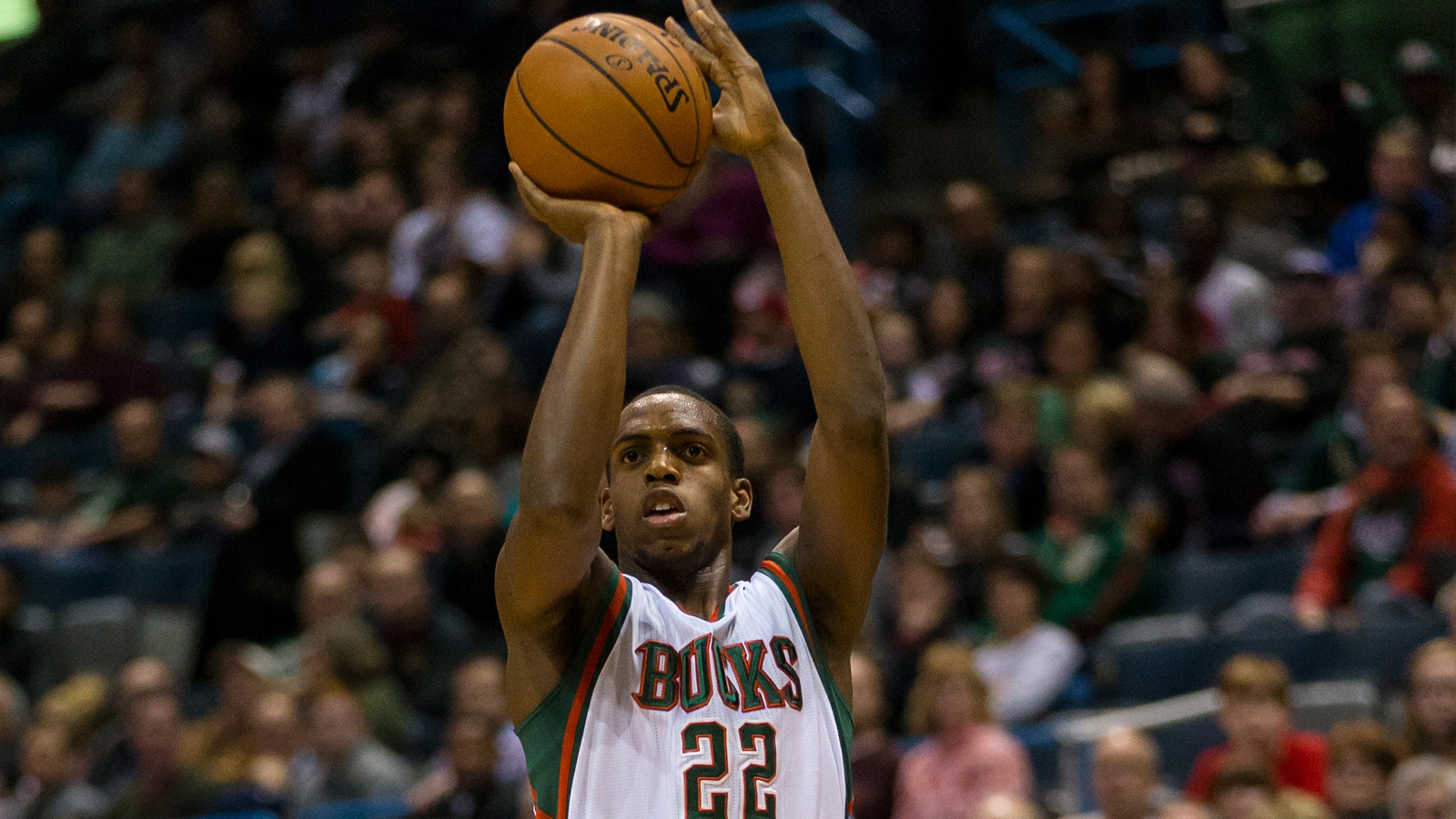 Middleton turning into a shooting star
BY foxsports • February 3, 2015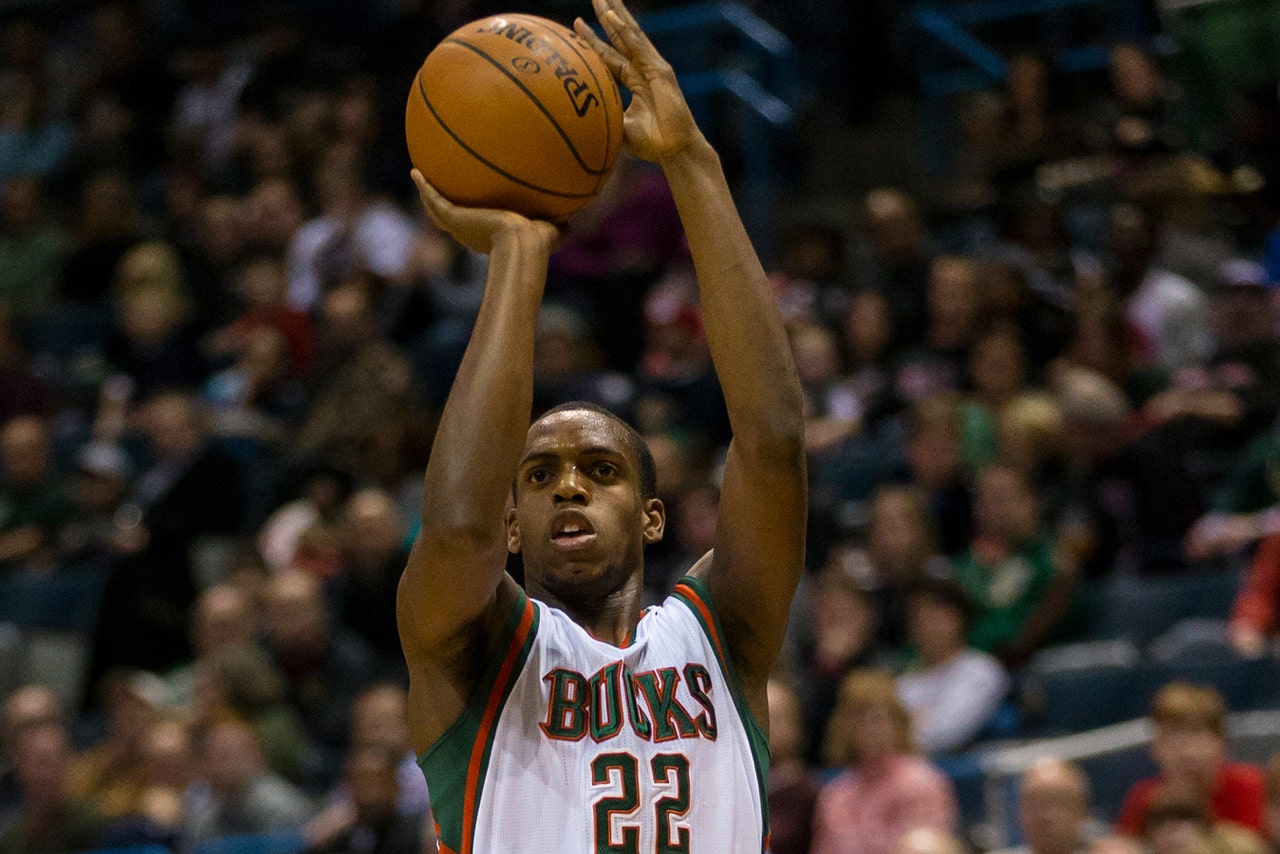 ST. FRANCIS, Wis. -- If the Milwaukee Bucks had only acquired Brandon Knight in the Brandon Jennings sign-and-trade, they would look back on the deal as a successful one.
But Khris Middleton, considered by many as a throw-in in the deal, has become one of the best pure shooters in the NBA. After a slow start to the season, Middleton is proving what he did last season was no fluke.
The third-year forward is averaging 11.0 points and 4.1 points per game, shooting 47.5 percent from the field and 45.1 percent from beyond the arc.
"He's been great," Bucks coach Jason Kidd said of Middleton. "He's been playing at a really high level offensively and defensively."
Middleton averaged just 7.9 points on 39.5 percent shooting in November, a stretch which included a couple of games in which he didn't see the floor at all.
His production picked back up in December, but the 23-year-old has really taken off in 2015.
Including Monday's 25-point outburst in Toronto, Middleton is averaging 13.7 points, 4.9 rebounds, 2.3 assists and 2.1 steals while shooting 54.4 percent from the field and 54.2 percent on 3-point attempts.
"I think it is just another year of experience under my belt," Middleton said following Tuesday's practice at the Cousins Center. "I'm taking a step in the right direction. I still have a long way to go, but I feel like I'm playing well right now. I just have to keep it up."
After hitting just nine of his first 31 attempts from distance, Middleton is a 50.0 percent (51 of 102) 3-point shooter. He's currently fourth in the NBA in 3-point percentage at 45.1, trailing only Kyle Korver, Courtney Lee and Aaron Brooks.
"I feel confident," Middleton said. "I was getting the same shots at the beginning of the season. They just weren't falling. Now they are falling. I just have to keep shooting with confidence.
"You have to play your game in this league. If you miss 10 in a row, you have to believe the next 10 are going to fall for you. Confidence is a huge thing in this league."
With leading scorer Brandon Knight sidelined Monday with a quad injury, Middleton took it upon himself to carry the offensive load. He scored 25 of Milwaukee's 82 points on 10-of-17 shooting.
"It just came with the flow of the game," Middleton said. "I was able to get it going early, and I just played off my teammates to try and find the best shot. They were falling."
Because he was a second-round pick, Middleton is in a different contractual situation than John Henson although the two were drafted in the same year. Middleton is in the final season of a three-year deal he signed with the Detroit Pistons after the draft in 2012.
Middleton will be a restricted free agent next summer, meaning the Bucks will have the right to match any offer sheet the 6-foot-7 forward potentially would sign with another team.
There's certainly going to be a lot of interest in Middleton on the free-agent market, especially if he keeps shooting the ball as well as he has over the last three months.
"That's so far ahead," Middleton said of free agency. "I don't even think about that at all. I just know what I need to do day in and day out and game-by-game. I have to do what I can to help this team win."
Injury update: Because of a growing number of injuries, the Milwaukee Bucks didn't hold a full practice Tuesday.
Knight (right quad soreness), Ersan Ilyasova (right groin strain) and Zaza Pachulia (right calf strain) are considered questionable to play when the Bucks host the Los Angeles Lakers on Wednesday.
Ilyasova and Pachulia have missed Milwaukee's last three games, while Knight sat out Monday after starting the first 47 games of the season.
"I'm feeling a little bit better," Knight said. "I'm going to continue to get treatment to see how it feels (Wednesday).
"I should be feeling better. I'll continue to keep looking at it."
The injury isn't anything new to Knight, as the quad has bothered him for some time now. Of the three, Knight is the most likely to play Wednesday. He will test the quad during shootaround in the morning and will likely be a game-time decision.
"I've been playing with it for a little bit," Knight said. "It just didn't feel good (Monday)."
Follow Andrew Gruman on Twitter
---