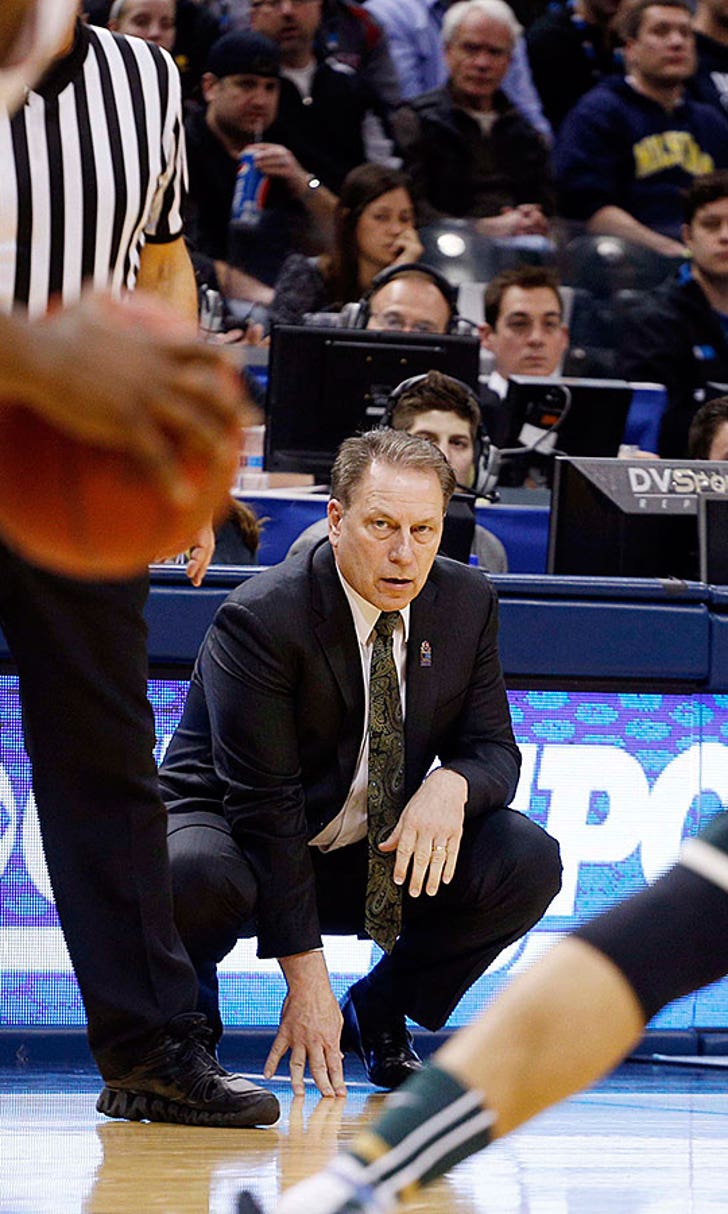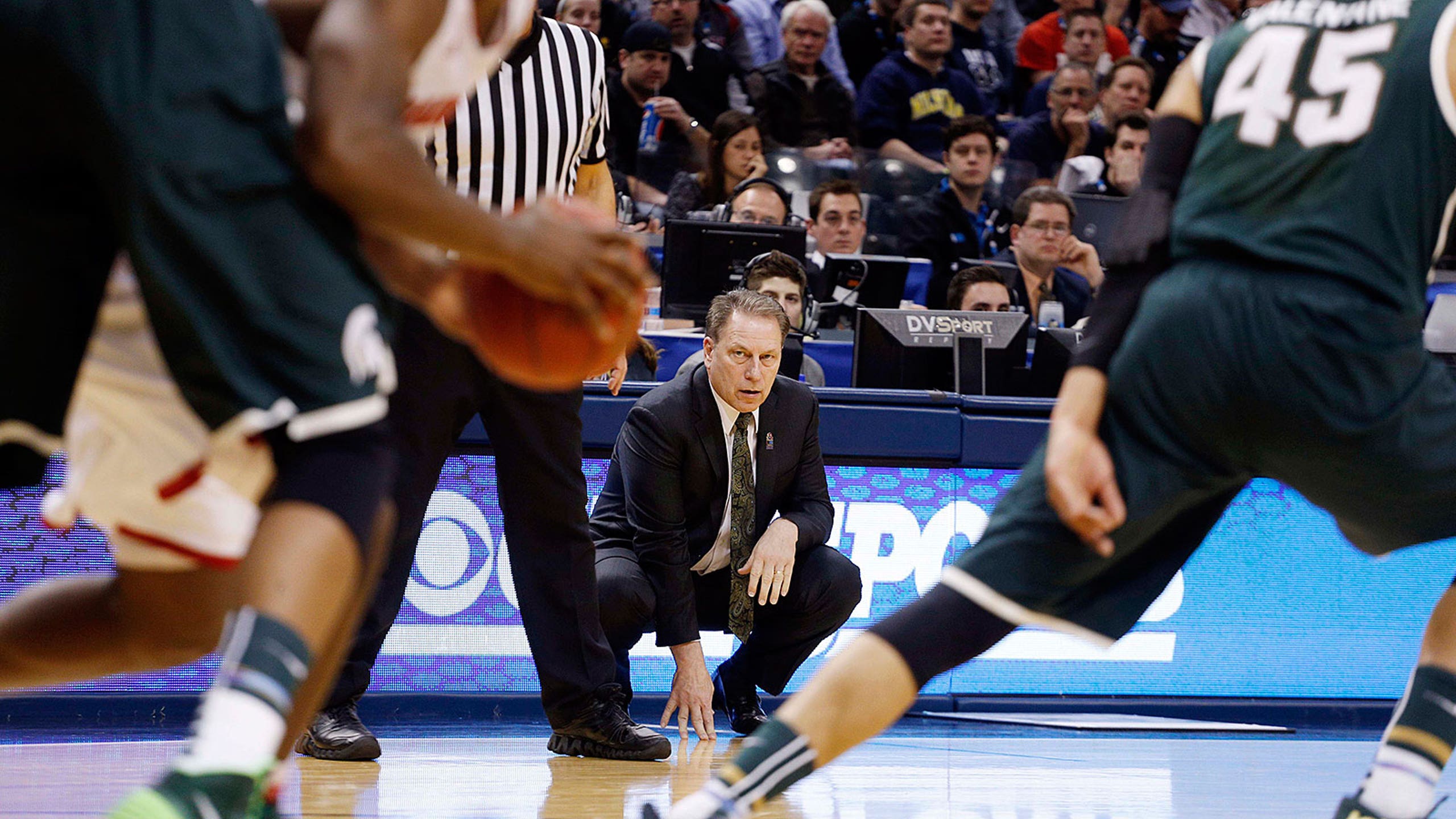 Michigan State seeded fourth in East
BY foxsports • March 16, 2014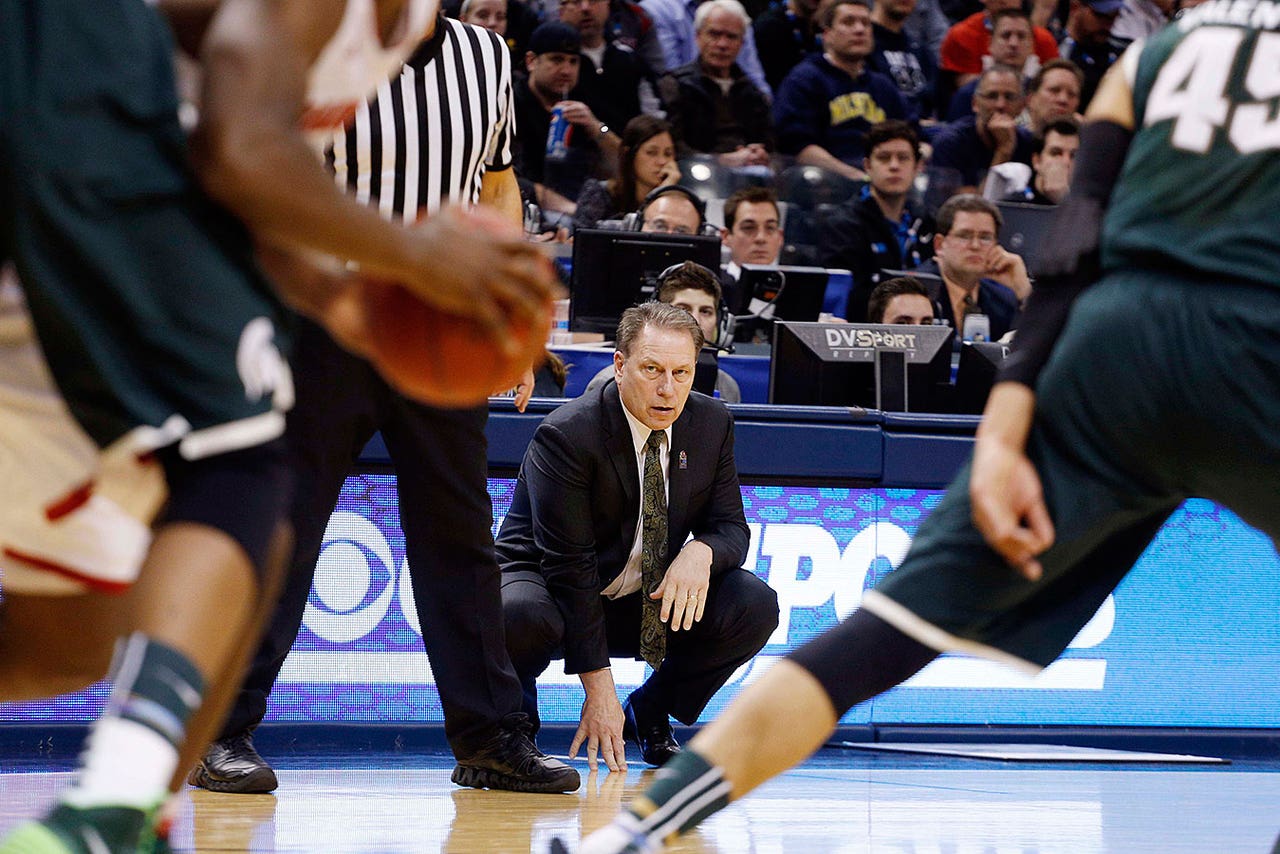 There's a reason so many national experts on college basketball are picking Michigan State to win the 2014 NCAA tournament: You just can't count the Spartans out in March.
MSU coach Tom Izzo has won a national championship and made six Final Four appearances. He's about to make his 17th straight NCAA tournament appearance, which is the second-longest steak in Big Ten history and the third-longest active streak.
About an hour after defeating Michigan for the Big Ten tournament championship, the Spartans found out that they're headed to Spokane, Wash., as the No. 4 seed in the East Regional.
The Spartans (26-8) will play the No. 13 seed Delaware Fightin' Blue Hens (25-9) Thursday at approximately 4:40 p.m. on TNT.
The Blue Hens won both the Colonial Athletic Association regular season and tournament titles. They're ranked 24th in the country in scoring, at 79.5 points per game. Their leading scorer is senior Guard Devon Saddler (19.7).
"I don't know anything except we play Delaware, which I think either is or was in my old assistant Doug Wojcik's conference," Izzo told reporters in Indianapolis. "And the winner gets Cincinnati. That's as far as I went. I don't even know who else is in our bracket."
This will be the first meeting between Michigan State and Delaware. The winner will face either No. 5 Cincinnati-No. 12 Harvard.
Virginia is the top seed in the East Region. Villanova is the No. 2 seed and Iowa State No. 3.
"(The seed) really doesn't matter to me," said Gary Harris, who leads the Spartans in scoring (17.2). "You still have to win the same amount of games to win the championship anyways, so fourth seed, nothing to be mad about.
"We still get to play. Not everybody gets to play in the tournament. We have six tough games ahead of us."
Although Spokane is not the ideal location for fans to travel to, it's the home of former MSU coach Jud Heathcote, mentor and former boss for Izzo.
Izzo said his team would leave early because of the Thursday-Saturday schedule.
"I'm not worried about the team as much now with the distractions," Izzo said. "I think they've been through where everybody was kissing their tail, and I think they've been through the time where everybody's been kicking it.
"They understand it's about what you do on the floor, deservedly so, to be honest with you."
After beating Northwestern, Wisconsin and Michigan in the Big Ten tournament, the Spartans are finally starting to get their mojo back -- something they lost when players such as Adreian Payne, Keith Appling and Branden Dawson were out because of injuries.
"It gives a lot of momentum and rhythm," Dawson, who was named the tournament's Most Outstanding Player, told reporters in Indianapolis. "Just to see our chemistry back and just guys having that confidence back -- Keith Appling, myself and Adreian Payne -- just to see us playing together as a team and being happy, now the world can see how good we can be when we have our pieces back. So it feels great."
The Spartans said having Dawson back allowed them to defend the Wolverines much better, something they weren't able to do in their two previous meetings -- both MSU losses.
"It just sucks going through the year when you've got one guy out, next thing you know he comes back and you lose two other guys," Travis Trice said. "It's hard to get a rhythm, but I think we're starting to get that. I think it showed this weekend.
"We're all back, we're all healthy and we're all playing well."
Michigan State became the first Big Ten team to win conference championship games in football and basketball in the same season.
"It's kind of unique, kind of neat," Izzo said.
Izzo and the Spartans don't have a long time to celebrate. They have to get ready to travel out west and prepare for unfamiliar teams.
"We're still not where we need to be if we're going to make a deep run," Izzo said. "We still have moments where we're fouling too much or we're doing this or that. But (Sunday) we shot uncharacteristically poor from the three, so we've got some work to do the next couple days.
"I still think this is one of the best teams I've ever coached here. What that'll mean, I don't know. It could mean we're out in the first round. It could mean we win a national championship."
---