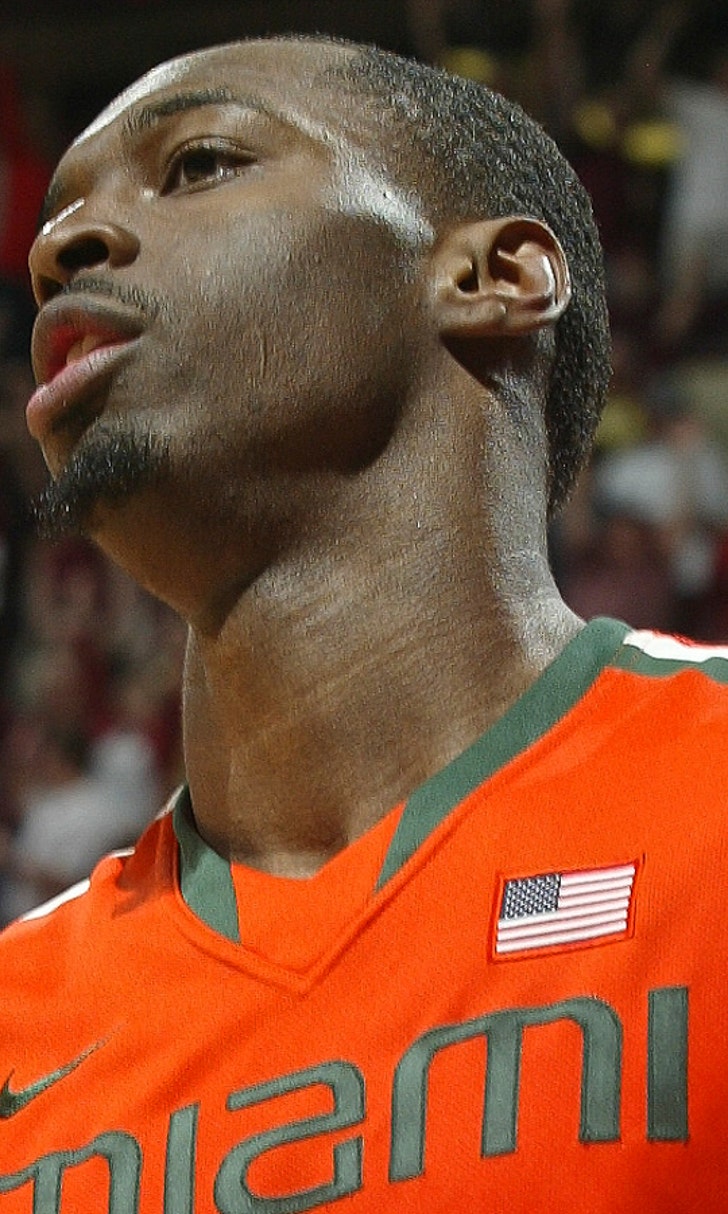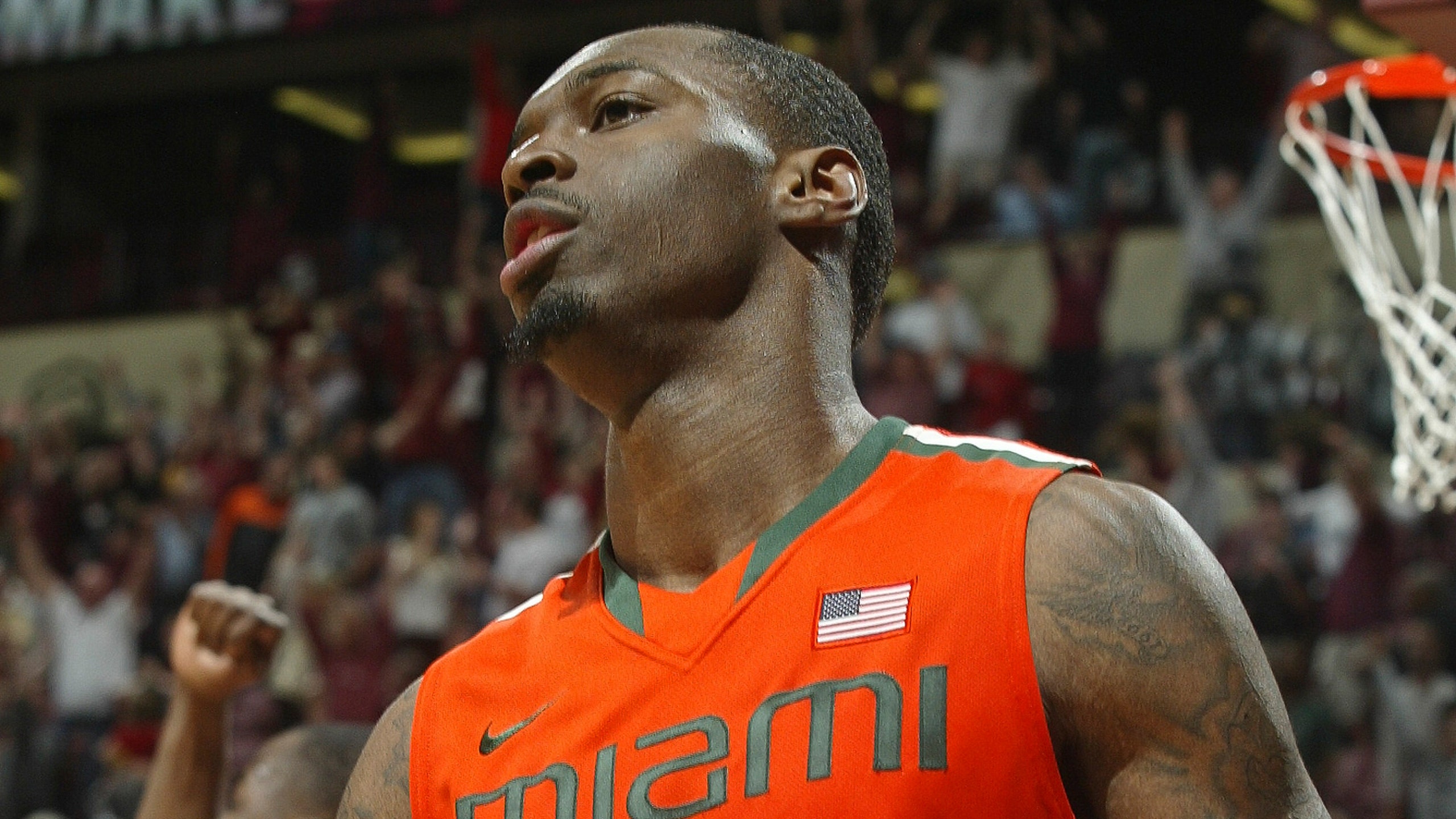 Miami drops out of top 25 after losses to Georgia Tech, Florida State
BY foxsports • February 2, 2015
With the Cavaliers' loss to Duke last week, there's little doubt which team is No. 1 now.
The lone undefeated team in Division I, Kentucky is again the unanimous No. 1 in The Associated Press' Top 25 poll, receiving all 65 votes cast by a media panel on Monday.
Kentucky (12-0) has been No. 1 all season and is the unanimous pick for the first time since Jan. 4.
"It's a different feel," Kentucky guard Aaron Harrison said of being the only undefeated team left. "But we know -- the older guys know -- that this doesn't really mean anything. We know it really gets serious later, late February, March and hopefully April. We want to be playing in April, so it's cool to be undefeated, but that's not why we put on the uniform."
Virginia (19-1) drew a few first-place votes over the past few weeks, though dropped one last week, giving Kentucky 64 of a possible 65.
The Cavaliers' undefeated season -- and 21-game home winning streak -- ended Saturday night, when No. 4 Duke rallied for a 69-62 victory in Charlottesville.
The loss left Kentucky as the undisputed No. 1 and dropped the Cavaliers to No. 3, one spot behind No. 2 Gonzaga but still ahead of fourth-ranked Duke.
Wisconsin stayed at No. 5, followed by Arizona, Villanova, Kansas and Louisville. Notre Dame dropped two spots to No. 10 after losing to Pittsburgh last week.
Kentucky, the preseason No. 1, had lost a little of its luster after needing overtime to beat Mississippi and Texas A&M in early January.
The Wildcats have been on a roll since, winning their last six games by an average of 30.8 points. Kentucky beat Missouri by 16 on Thursday and Alabama by 15 two days later
With 10 regular-season games left, the Wildcats are starting to look unbeatable, though not in the eyes of their coach just yet.
"The question is: How good can we be? And I don't know yet," Kentucky coach John Calipari said. "I'm trying to get guys to go to that next level. I'm prodding and pushing and screaming and yelling `go!' because I really do want to see how good we can be."
ZAGS' RISE: Gonzaga (22-1) rose to No. 2 in this week's poll, its highest ranking since finishing No. 1 in the final poll in 2013.
The Bulldogs' lone loss this season was in overtime at Arizona on Dec. 6 and they've reeled off 15 straight wins since then, the last 11 in West Coast Conference play.
Gonzaga's only shot at being No. 1 will be if Kentucky loses, but the Zags, barring an unexpected loss, are looking like a solid bet to be a No. 1 seed in the NCAA Tournament. Gonzaga has eight regular-season games left, then the WCC Tournament in Las Vegas.
RISING AND FALLING: Duke fans probably won't be happy that Virginia remained ahead of the Blue Devils.
Duke (19-3) rallied from a double-digit deficit to pull out a road victory against a previously undefeated road team, yet remained at No. 4. The only effect the game had on the rankings was dropping the Cavaliers (19-1) one spot.
Notre Dame's loss meant two teams got to move up a spot: Kansas and Louisville from Nos. 9-10 to Nos. 8 and 9.
Two Iowa teams had the biggest moves up the rankings. Iowa State jumped four spots to No. 11 after beating then-No. 19 Texas and TCU. Northern Iowa climbed four spots as well, up to No. 14 after beating then-No. 12 Wichita State.
Texas dropped to the edge of the poll with the loss to the Cyclones, down six spots to No. 25. Wichita State dropped four sports to No. 16 with its loss.
IN AND OUT: The poll didn't have many changes at the bottom.
Ohio State and SMU, both ranked earlier this season, were back in the Top 25. The Buckeyes were 20th and the Mustangs 23rd.
Indiana dropped out after two weeks in, thanks to a loss to Purdue. Miami, No. 23 last week, did not receive a vote after losing to Georgia Tech and Florida State.
---