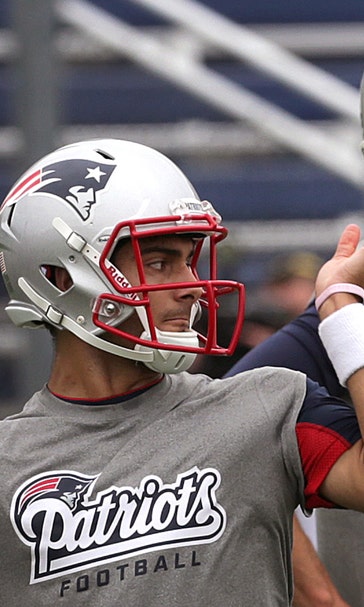 Meyer: fantasy football quarterback draft strategy rankings
May 9, 2016

With the 2016 NFL Draft in the rearview mirror and most NFL free agents with their new squads, here are the FOX Fantasy department's way-too-early 2016 fantasy football draft strategy rankings.
Cam Newton was in a league of his own in 2015. He led all fantasy scorers with 447 points. Tom Brady was the only other player who cracked the 400-point barrier (410 points). With Brady likely missing the first four games of the 2016 regular season, and Newton getting Kelvin Benjamin back, the Panthers QB should be the first fantasy quarterback off the board.
The separation is so large between Newton's tier and the next QB that I could make a case for almost any other arm to be drafted second. Ben Roethlisberger, Russell Wilson, Drew Brees, and Aaron Rodgers round out my Top Five. I'd also be happy with Andrew Luck at six.
You can click on the links below to switch between FOX Fantasy experts' draft rankings and positional rankings:
Meyer: QB | RB | WR | TE | Fowler | Halpin | Foster
| | |
| --- | --- |
| Player | Bye Week |
| 1. Cam Newton (Car - QB) | 7 |
| 2. Ben Roethlisberger (Pit - QB) | 8 |
| 3. Russell Wilson (Sea - QB) | 5 |
| 4. Drew Brees (NO - QB) | 5 |
| 5. Aaron Rodgers (GB - QB) | 4 |
| 6. Andrew Luck (Ind - QB) | 10 |
| 7. Carson Palmer (Ari - QB) | 9 |
| 8. Tom Brady (NE - QB) | 9 |
| 9. Eli Manning (NYG - QB) | 8 |
| 10. Blake Bortles (Jac - QB) | 5 |
| 11. Tony Romo (Dal - QB) | 7 |
| 12. Andy Dalton (Cin - QB) | 9 |
| 13. Philip Rivers (SD - QB) | 11 |
| 14. Kirk Cousins (Was - QB) | 9 |
| 15. Derek Carr (Oak - QB) | 10 |
| 16. Matt Ryan (Atl - QB) | 11 |
| 17. Tyrod Taylor (Buf - QB) | 10 |
| 18. Ryan Fitzpatrick (FA) | N/A |
| 19. Jameis Winston (TB - QB) | 6 |
| 20. Marcus Mariota (Ten - QB) | 13 |
| 21. Jay Cutler (Chi - QB) | 9 |
| 22. Ryan Tannehill (Mia - QB) | 8 |
| 23. Joe Flacco (Bal - QB) | 8 |
| 24. Matthew Stafford (Det - QB) | 10 |
| 25. Teddy Bridgewater (Min - QB) | 6 |
| 26. Alex Smith (KC - QB) | 5 |
| 27. Robert Griffin III (Cle - QB) | 13 |
| 28. Brock Osweiler (Hou - QB) | 9 |
| 29. Geno Smith (NYJ - QB) | 11 |
| 30. Colin Kaepernick (SF - QB) | 8 |
| 31. Jared Goff (StL - QB) | 8 |
| 32. Sam Bradford (Phi - QB) | 4 |
| 33. Mark Sanchez (Den - QB) | 11 |
| 34. Jimmy Garoppolo (NE - QB) | 9 |
| 35. Carson Wentz (Phi - QB) | 4 |
---