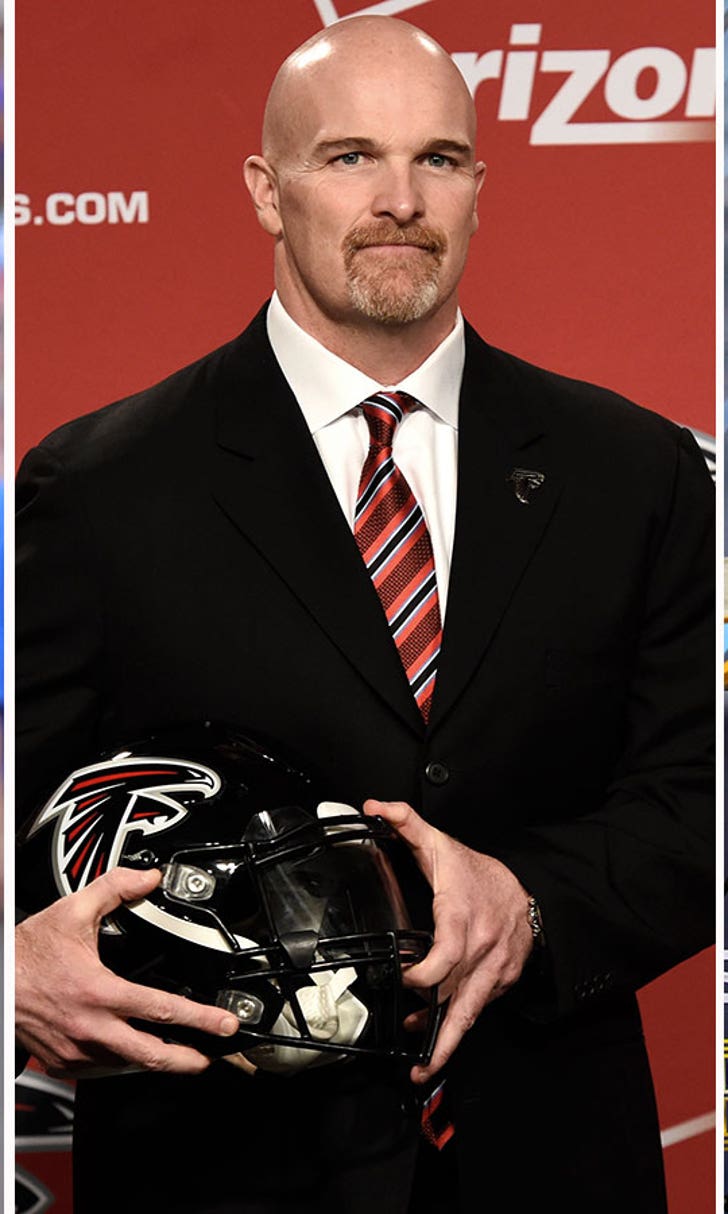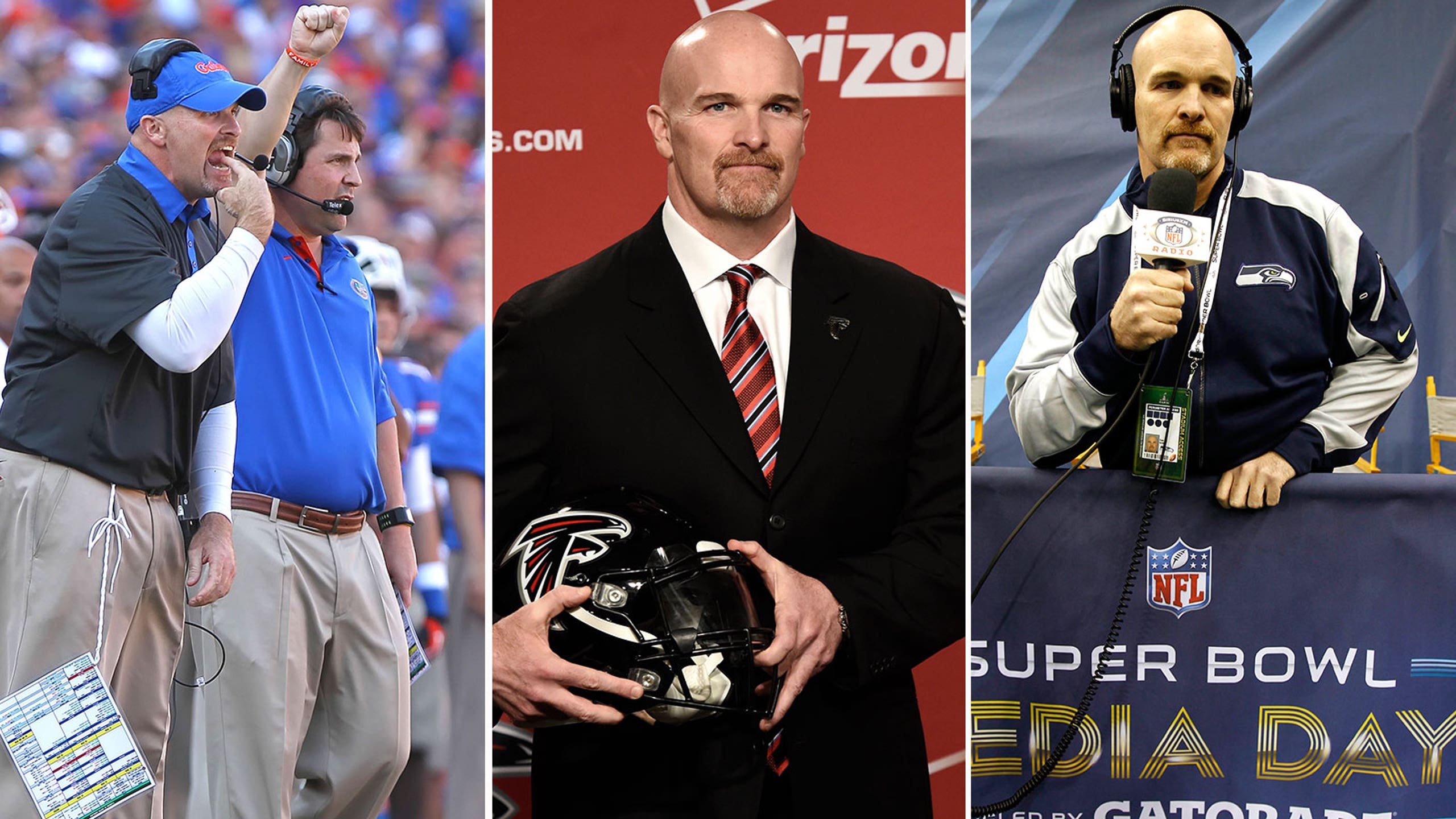 Meet the coach: Falcons launch new era with Dan Quinn hiring
BY foxsports • February 3, 2015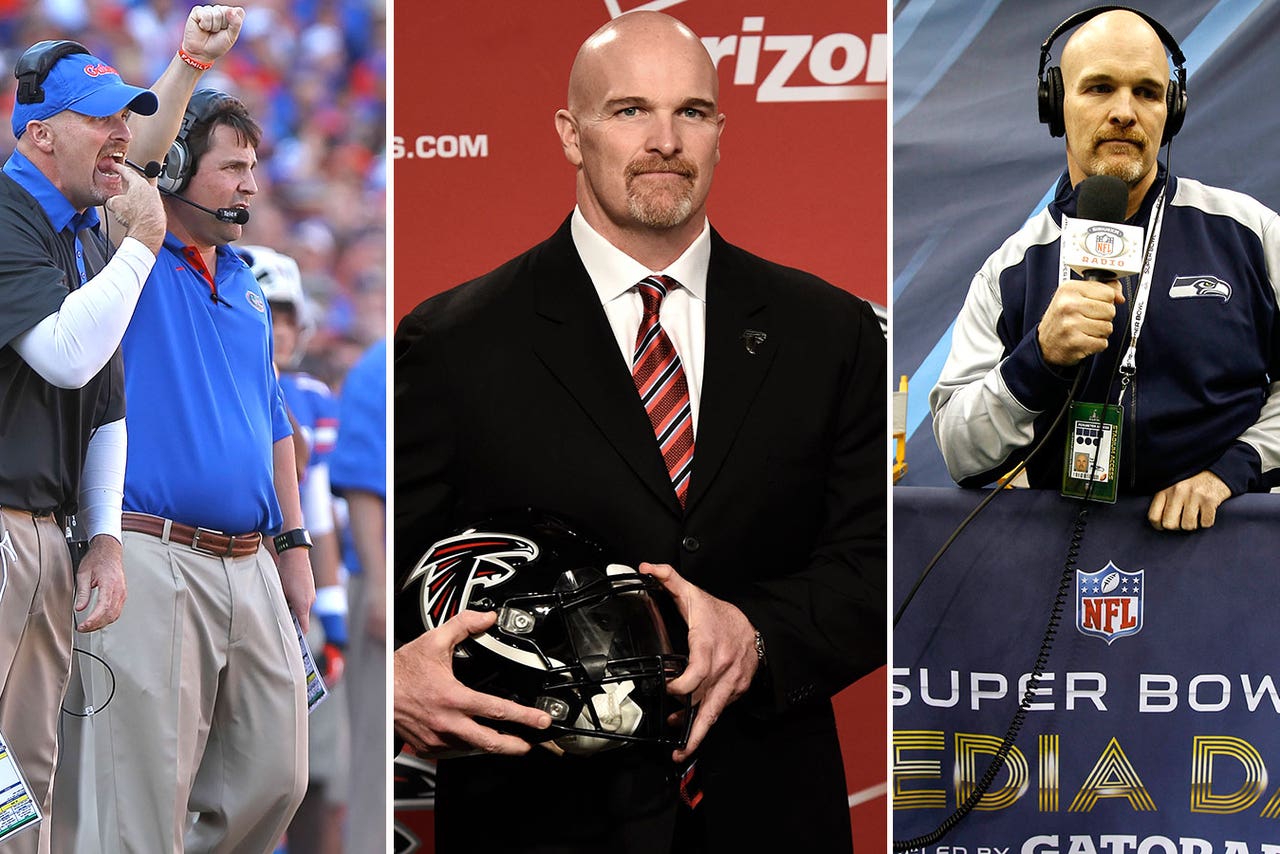 FLOWERY BRANCH, Ga. -- The day will come when Dan Quinn can provide the Atlanta media with nuggets of clarity regarding the composition of the Falcons' defensive roster, the rationale behind a franchise quarterback and superstar receiver potentially consuming a large chunk of the salary cap ... or even the three-headed structure of a progressive organization that's actively chasing its first Lombardi Trophy.
But on this day, the 44-year-old Quinn was merely trying to catch his breath from a whirlwind 48 hours that included a devastating Super Bowl defeat on Sunday (serving as the Seattle Seahawks' defensive coordinator), a life-changing career turn on Monday (becoming the 16th head coach in Falcons history) and a friendly, but grueling meet-the-media session on Tuesday, in which the New Jersey native/Salisbury State grad fielded a barrage of questions which demanded way-too-early assessments of the Atlanta players and overall front-office dynamic (more on that later).
And frankly, Quinn need not apologize for having a less-than-intimate knowledge of the Falcons' roster. After all, the Super Bowl isn't a time for coaches to juggle other employement opportunities ... even if Quinn initially knew he'd be Atlanta's next coach approximately two weeks ago.
How do we know that? Simple. During the Senior Bowl week of practices in Mobile, Ala. (Jan. 20-23), nearly every informal conversation with a Seahawks coach or scout began or ended with the following rejoinder:
The people of Atlanta are getting a great coach!
That's a happy consequence of Quinn's hire representing the worst-kept secret in NFL circles. And his addition was the culmination of an extensive search that entailed the Falcons (and a cluster of consultants) identifying seven prime candidates (including Rex Ryan and Todd Bowles) ... and ultimately tapping Quinn for the job.
"The process was educational and challenging," said Falcons owner Arthur Blank on Tuesday, referencing the "deep talent pool" of candidates before declaring, "We found that (leadership voice) in Dan Quinn; and for that reason, he was our top choice."
Part of Blank's challenge involved being patient during that process. With Quinn directing a Seahawks defense that reached the Super Bowl in consecutive years, the Falcons never had a window to officially hire Quinn until Monday afternoon/evening -- since NFL rules prohibit these so-called distractions for assistants still coaching playoff teams.
Luckily for Atlanta, the other 31 franchises had already picked their respective head coach. Plus, the Falcons capitalized on the opportunity to formally speak to Quinn during the Seahawks' bye period (Wild Card Weekend) ... enabling them to maintain contact with Quinn's representatives, as the postseason progressed.
Of equal importance, Quinn remained optimistic the Falcons would wait for him -- even if 37 days had elapsed since the club's Week 17 drubbing to the Carolina Panthers (season finale).
"The (bye-week interview) was a huge advantage for me," beamed Quinn, a coach for 21 seasons, including 12 in the pros. "I can't imagine going through that (process) on the night before a playoff game."
* * *
Quinn can be forgiven for having tunnel vision with the Seahawks throughout January. His first two years as a pro assistant (with Steve Mariucci and the 49ers from 2001-02) resulted in back-to-back playoff appearances.
But for the next six seasons (2003-08), while working for the Niners (under Mike Nolan), Dolphins (under Nick Saban) and Jets (under Eric Mangini) ... Quinn wouldn't experience a single postseason berth.
That made Quinn's return to the NFL in 2013 -- after a two-year stint as Will Muschamp's defensive coordinator at Florida (2011-12) -- even sweeter, with the D-coordinator helping the Seahawks capture their first Super Bowl title, while overseeing a group of strong-minded and outspoken stars on the defensive side (Richard Sherman, Earl Thomas, Kam Chancellor, Bruce Irvin, et al.).
"Getting to a Super Bowl is not an easy thing in this business," says Quinn, who began his coaching career at William & Mary College in 1994. "And I wouldn't be here today without the help of (my Seahawks family)" -- particularly the players, GM John Schneider and head coach Pete Carroll.
Which brings us to this: How should Quinn reconcile the daunting transition of running the NFL's best defense (the Seahawks surrendered just 39 points in their final six regular-season games -- all victories) ... to the league's worst defensive group, numbers-wise?
(The Falcons allowed 27-plus points eight times in 2014.)
"We want to be aggressive in the way we tackle," says Quinn, more interested in discussing the Falcons' new identity than lamenting their uneven past. He then echoed a mantra that would be unabashedly repeated during the Tuesday press conference, as if it were playing on a perpetual loop.
Fast and physical.
"We're going to attack in every phase," says Quinn, while revealing his coordinator choices for the 2015 season -- Richard Smith/Raheem Morris (defense), Kyle Shanahan (offense) and the retained Keith Armstrong (special teams). "The energy and enthusiasm we bring to the Atlanta Falcons will be unmatched."
Fast and physical.
When pressed for the specific traits of an ideal pass-rusher (whether in a 3-4 or 4-3 base defense), Quinn quickly lists speed, length and the ability to finish.
"Speed and get-off, those are the things we look at first," says Quinn, who's quick to remind a writer that defensive linemen -- in his qll-encompassing vision -- will be obliged to rush the passer, as well.
Fast and physical.
"We want to be aggressive in the way we tackle," says Quinn, while acknowledging his preference for 'rugby-style tackling,' which calls for defenders to lower the boom on ball carriers, using their shoulder.
Fast and physical.
Forgive the usage of the word boom. Any current allusions might unfairly connect the forlorn Falcons to Quinn's former defense in Seattle, The Legion Of Boom.
* * *
Factoid Time: In a span of 27 months, Quinn went from being a college defensive coordinator (Florida) to an NFL head coach (Falcons).
Trivia Time: Can you name the last coach to make a similarly speedy transition from college assistant to NFL big cheese?
Answer: Eight years ago ... Lane Kiffin, currently the enigmatic and affable offensive coordinator at Alabama (under Nick Saban), made the direct and seismic leap from USC offensive coordinator (2005-06) to Oakland Raiders head coach (2007).
* * *
The American government operates under a crafty system of checks and balances, otherwise known as the executive, legislative and judicial branches.
American dairy farmers also find great usefulness with three-legged milking stools ... although it's impossible to find a Consumers Report-esque Web site that touts one brand over another.
With these relevant examples, why can't the Atlanta Falcons compete for a championship with three de facto leaders -- Coach Quinn, team executive Scott Pioli, general manager Thomas Dimitroff -- equally reporting to the owner Blank?
Moving forward, as laid out by Blank in Tuesday's presser, Pioli (former top exec with the Patriots and Chiefs) will oversee the draft and free agency, Dimitroff will have final say with free agency and draft picks ... and Quinn will have final say on all matters pertaining to the 53-man roster -- and subsequent 46-man listing for gameday (post-inactives).
It's OK to be confused by the following clarification: Pioli controls the draft and all the exhaustive prep work ... and yet, Dimitroff seemingly has ultimate veto power on a prospect. And Quinn controls the look of the Falcons' roster ... that is, unless Dimitroff deems Player B to be more appealing than Player A.
If stubborn, intractable egos were in play here, the above arrangement might be doomed for failure. Instead, it has the appearance of a workable situation in today's NFL -- where there's simply not enough hours in the day for one man to deconstruct, rebuild, cultivate and coach a championship-worthy roster.
And that's something Blank was quick to point out, alluding to the 12 franchises that operate under a similar structure -- including eight since 2010.
Back to Quinn: How does a first-time head coach (college or pro) negotiate such a coup, in terms of having the ultimate voice on a 53-man roster? Surely, the Falcons weren't unilaterally offering this game-changing enticement to all seven candidates?
And within that vain, did Quinn only obtain this kind of leverage after the Falcons missed out on Rex Ryan (head coach of the Buffalo Bills) and Todd Bowles (head coach of the New York Jets) ... just a few weeks ago?
Quinn was understandably vague about his expansive role with the Falcons ... but it's obviously something he and his representatives truly coveted. Right?
"Everything that we're going to do here is going to be a big collaboration," says Quinn. "So, myself, Thomas (Dimitroff0, and Scott (Pioli) can't wait to get connected with these guys. All the decisions will be amongst (the group). I really admire the way Pete (Carroll) and John (Schneider0 worked together in Seattle."
The above comment came from Quinn's podium address with the assembled media. Roughly 20 minutes later, during the small-circle interviews, the Falcons head coach added a little more breadth to his amped-up work obligations.
"I'm much more prepared now than I was last year," said Quinn, who interviewed for the head-coaching vacancies with the Browns and Vikings 13 months ago. "Going through that experience, I thought another year (with Seattle) would help me. ... I had a chance to evaluate (Pete Carroll as a coach/administrator up close) and talk to him more. He involved me (on all personnel matters).
"So, I have a lot of gratitude toward him, with all the things that have happened through the years."
Coaching careers are like snowflakes, meaning no two paths are ever the same. In advance of Carroll's second season with Seattle, Quinn left his post as "assistant head coach/defensive line coach" to become the defensive coordinator at Florida.
And in his first informal act with the Gators, Quinn put in a 2010 tape of Auburn (the eventual national champions) and Heisman-winning quarterback Cam Newton.
Quinn was amazed -- and perhaps a little bedazzled -- by the wide-open, lightning-paced complexities of the college game.
"Look at all those formations!" marveled Quinn, while quietly wondering, "Is my old spot (with the Seahawks) still open?"
But the campus-life existence, in time, armed Quinn with knowledge that might have previously been minimized, in terms of having a greater understanding of young stars -- through social-media tolerance, dietary habits and mastering a daily ritual that entails being a true professional.
The experience also helped Quinn appreciate a high-pressure return to the NFL (Seahawks D-coordinator -- 2013-14), and eventually, form an alliance with the Falcons.
"(Dimitroff) and I are going to collaborate," promises Quinn. "We connected (right away), kind of like a new roommate in college. (I thought), 'OK, this is the kind of guy for me.'"
* * *
You can never underrate chemistry amongst the powers-that-be in a dog-eat-dog world, like the NFL.
But ultimately, it's also a winning business -- or as Twitter cleverly noted on Tuesday, "#Quinning" -- where coaches are handsomely paid to win ballgames and cultivate yearly playoff appearances (not unlike Mike Smith with the Falcons from 2008- 12) ... and executives are empowered to unearth, draft and acquire talent that stands out from the group.
The Dimitroff era (2008-present) has a number of "hits" -- the drafting of QB Matt Ryan (No. 3 overall pick in 2008), wideout Julio Jones (2010), cornerbacks Desmond Trufant/Robert Alford (2013) and signing of tailback Michael Turner (formerly the Falcons' all-time touchdown leader).
But there has also been a dearth of breakthrough talent along the defensive line.
To wit, in the recently completed season, the Falcons (just 10 victories since 2013) had the following rankings with defense: 30th in sacks (23), 27th in points allowed (26.1 per game), 32nd in first downs allowed (22.4 per game), 32nd in passing yards allowed (279 per game), 21st in rushing yards allowed (119 per game) and 32nd in total yardage allowed (399 per game).
Enter Quinn -- the new sounding board for Dimitroff and Pioli. In Seattle, the team had the timing-based luxury of spending lavishly on interior linemen and an all-world secondary, since their Year-3 QB (Russell Wilson) had an entry-level NFL contract that accounts for 1/80th of the Seahawks' overall salary cap.
That's not the case in Atlanta, with Ryan raking in roughly $20 million per year ... and Julio Jones (4,330 receiving yards, 26 TDs) getting set to cash in after the 2015 season -- if not sooner.
Quinn will also contribute to Smith and Morris's defensive game plan each week -- a nod to his old duties with a Seahawks franchise that painfully finished 1/2-yard from becoming the NFL's ninth repeat champion of the Super Bowl era.
The last 48 hours "have been a blast," acknowledged Quinn, while doing his best to conceal the pain of Sunday's defeat to the Patriots.
Quinn, a supposed devotee to boxing and military history, then dutifully turned the page to his new job -- aka "the opportunity of a lifetime" -- and the countless hours of definitive tape evaluation that lie ahead, regarding a plethora of Falcons players who might have been virtual strangers just three weeks ago.
---