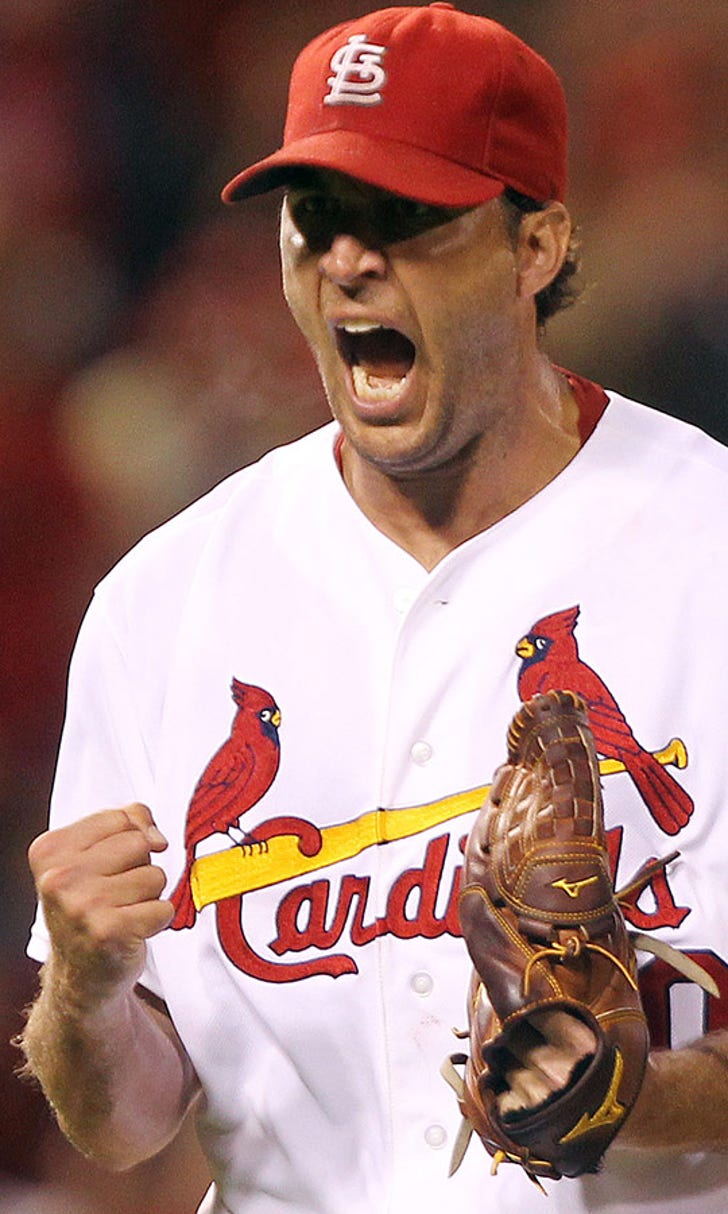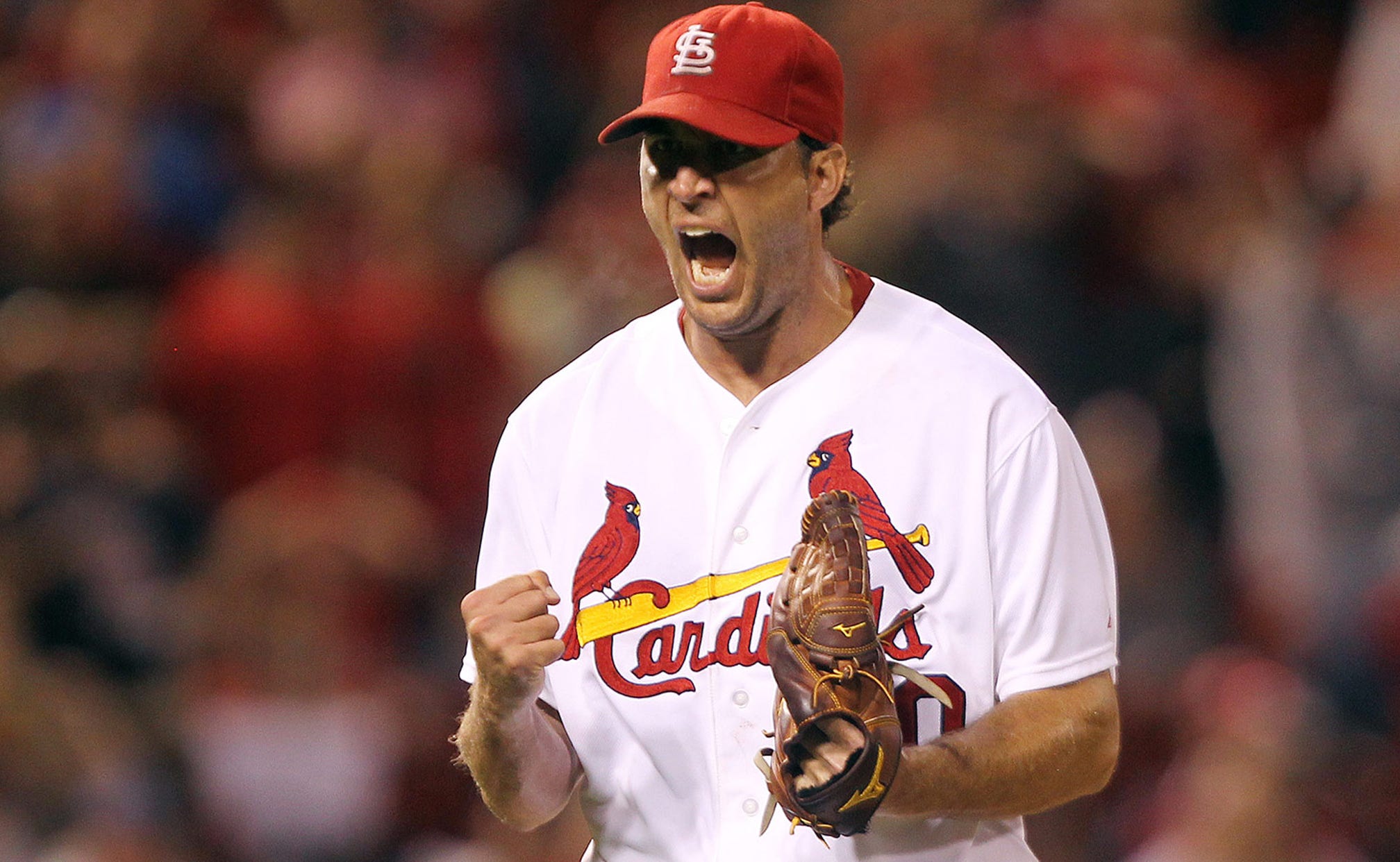 McNeal: Even playing only every fifth day, Wainwright is the Cardinals' 2014 MVP
BY foxsports • September 25, 2014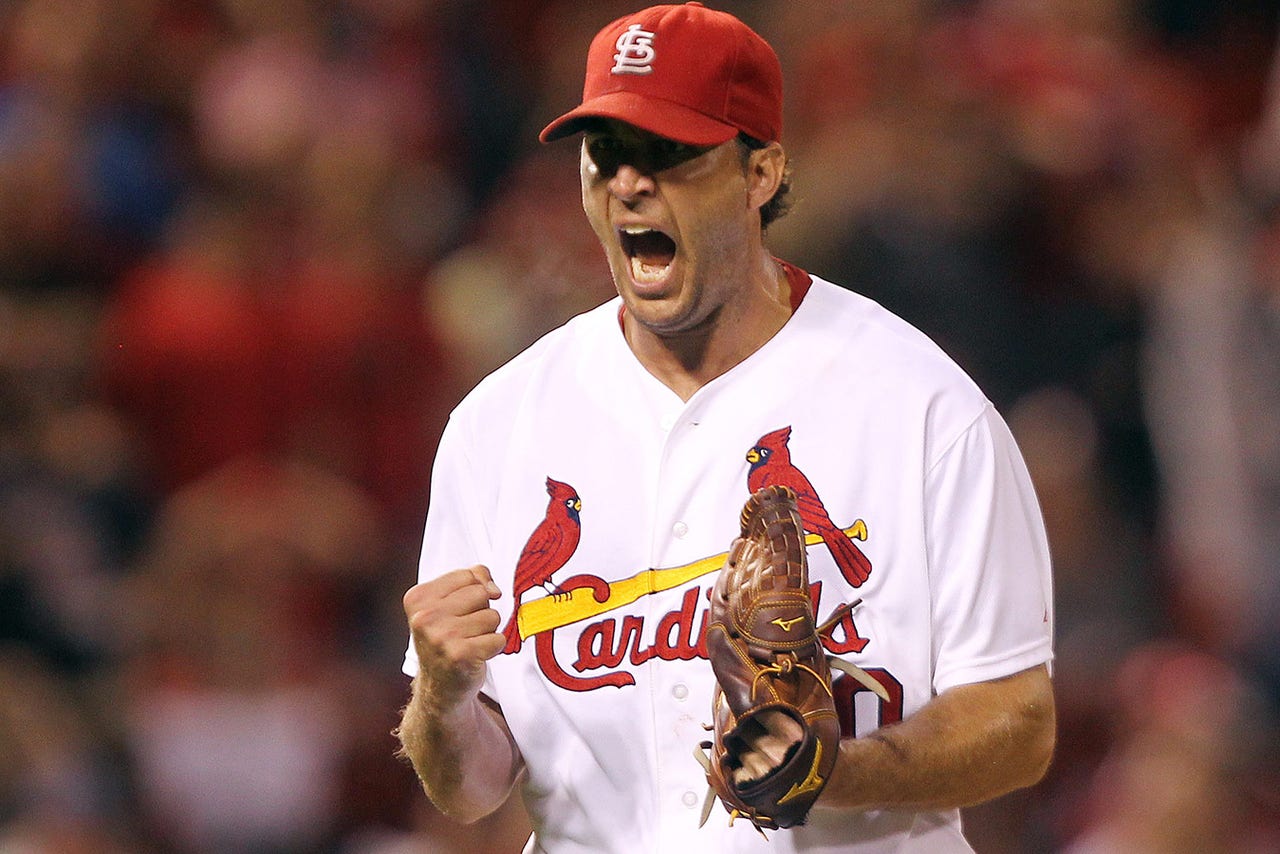 As you would expect in such an offensively challenged season, choosing the Cardinals' most valuable player is a difficult task.
Unless you don't mind picking a pitcher.
In a season when a pitcher deserves to be voted MVP of the National League, perhaps it's appropriate that the most valuable Cardinal also is one who takes the field every five days. And hey, being picked as the Cardinals' MVP is one recognition that Clayton Kershaw can't take from Adam Wainwright.
But like Kershaw is the No. 1 reason the Dodgers have won the NL West, Wainwright has made a similar impact in St. Louis. The Cardinals have gone 14 games over .500 when Wainwright has started, three over when he hasn't. That's almost as big a difference as Kershaw has made on the Dodgers, who are 19 games over when he has started and four over when he hasn't.
Wainwright has epitomized the definition of a staff ace. He has been a workhorse (second in the NL with 227 innings), a stopper (12 of his wins have followed a Cardinals loss) and the undisputed leader of the pitching staff (rarely will you find such a universally liked and respected teammate).
He also has put up some of the best numbers of his career. His 2.38 ERA, .222 batting average allowed, .310 OBP allowed and .580 OPS allowed all are the best in his nine big-league seasons. He has pitched three shutouts for the first time and tied his career best with five complete games. Oh, yeah, he's also a 20-game winner for the second time.
On a club that has relied on pitching, Wainwright has been the pitcher it has leaned on most. And despite an off August, he has shouldered the load like an MVP. Wainwright is one of four pitchers who crack my list of top 10 most valuable Cardinals.
A look at two through 10:
2. Matt Holliday. For those who don't think someone who plays every fifth day should be its MVP, then Holliday is your guy. I had him first on my list but then remembered his first half. Through June, he ranked fifth on his own team in homers (five) and slugging percentage (.389).
But since the All-Star break, Holliday ranks top five in the National League in homers (14) and RBI (45). He's also been one of the league's top hitters with runners in scoring position all season, with a .364 average second to Russell Martin. Though Holliday has been carrying the Cardinals' offense for several weeks, his back has held up well enough that, if he plays in all three games at Arizona, he will play in at least 157 games for the third time in his five full seasons with the Cardinals.
3. Matt Carpenter. Few expected him to duplicate his breakout 2013, and he hasn't. But his season still has been big for the Cardinals as he has solidified his standing as the toughest leadoff hitter in the NL. Carpenter leads the NL with 95 walks, and his 97 runs and .376 OBP rank first among leadoff hitters.
When you consider the trouble the Cardinals have had scoring runs this season, you even can make a case that Carpenter's 2014 has been just as productive as his 2013. Last year, when he led the majors with 126 runs, he scored 16.0 percent of the team's runs. This year, he's accounted for 15.9 percent. It's just that the Cardinals are averaging more than a full run less per game this season than when they led the NL last year.
Watch the Cardinals Live pregame and postgame shows before and after every St. Louis Cardinals game on FOX Sports Midwest.
4. Jhonny Peralta. He leads the club with 21 homers and 58 extra-base hits and, in his first season of a four-year deal, has played in a career-high 155 games. Given the club's overall drop in offense, imagine how meager it would look if the Cardinals had gotten another year from shortstop like Pete Kozma gave them in 2013. While Peralta's production has been slightly better than advertised, his defense has been a very pleasant surprise to many. Combine his performance with how he well he has fit in the clubhouse and signing him has to be considered one of the best free-agent acquisitions in the league.
5. Yadier Molina. Yes, I know he has missed 25 percent of the season. I am aware he hasn't homered since June and has only seven RBI and 10 runs scored in the second half. Yet it still feels wrong putting him this low. Part of the reason is because the Cardinals are 14 games over .500 when he has played, just as they are when Wainwright has started. It's also because the team has a 3.14 ERA with him behind the plate, a full run lower than when it's been A.J. Pierzynski or Tony Cruz. It wasn't an accident the Cardinals made their move after Molina returned from his right thumb injury.
6. Lance Lynn. Whether he's matured and/or learned how to better use his sinker, Lynn has "hit another gear in his career," as Mike Matheny put it recently. This is the third straight year Lynn has won at least 15 games, but his 2.73 ERA is more than a run lower than the other two. When Wainwright was scuffling for a stretch, Lynn continued to deliver. In his past 15 starts, he has not allowed more than three runs. He needs only 2 2/3 innings in his start Saturday to reach 200 for the second straight year, too.
7. Jon Jay. For a stretch after he wrested the center-field job from Peter Bourjos, Jay seemed to carry the offense. He ranks among the NL's best in the second half with a .322 batting average and .409 on-base percentage. Besides the numbers, Jay typifies the personality of this year's team, which Matheny describes as "tough." Jay has been hit by a pitch a majors-leading 20 times, and I don't remember a single time when he did anything more than put down his bat and head to first, content to know that he had helped his team.
8. Pat Neshek. His 1.49 ERA and .168 batting average allowed remain among the best among NL relievers. But what makes his season even more valuable is how he stepped into the eighth-inning spot when it looked like that could be a problem. How Neshek solidified the role went a long way in solidifying what has been a pretty stable bullpen.
9. Trevor Rosenthal. In his first full season as a closer, he's done what no one has done since 2002: Save at least 40 games while walking at least 40 batters. Forty-two walks is a lot of walks, more than twice as many as last year and in fewer innings this year. But 44 saves also is a lot of saves. On a team that plays so many close games, not many have come with much breathing room.
10. Matt Adams. He has faded down the stretch but was the club's top hitter through much of the first half, and his defense has been good enough that he could win a Gold Glove someday, according to no less an authority on defense than Jose Oquendo.
You can follow Stan McNeal on Twitter at @StanMcNeal or email him at stanmcneal@gmail.com.
---