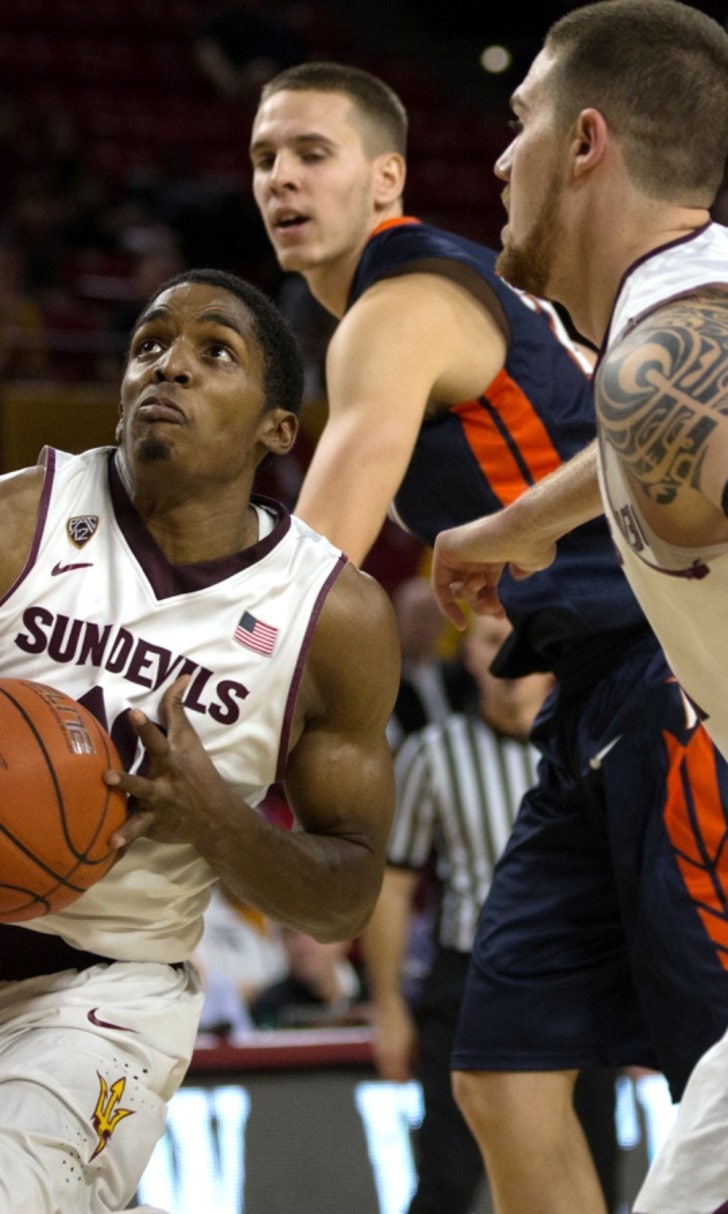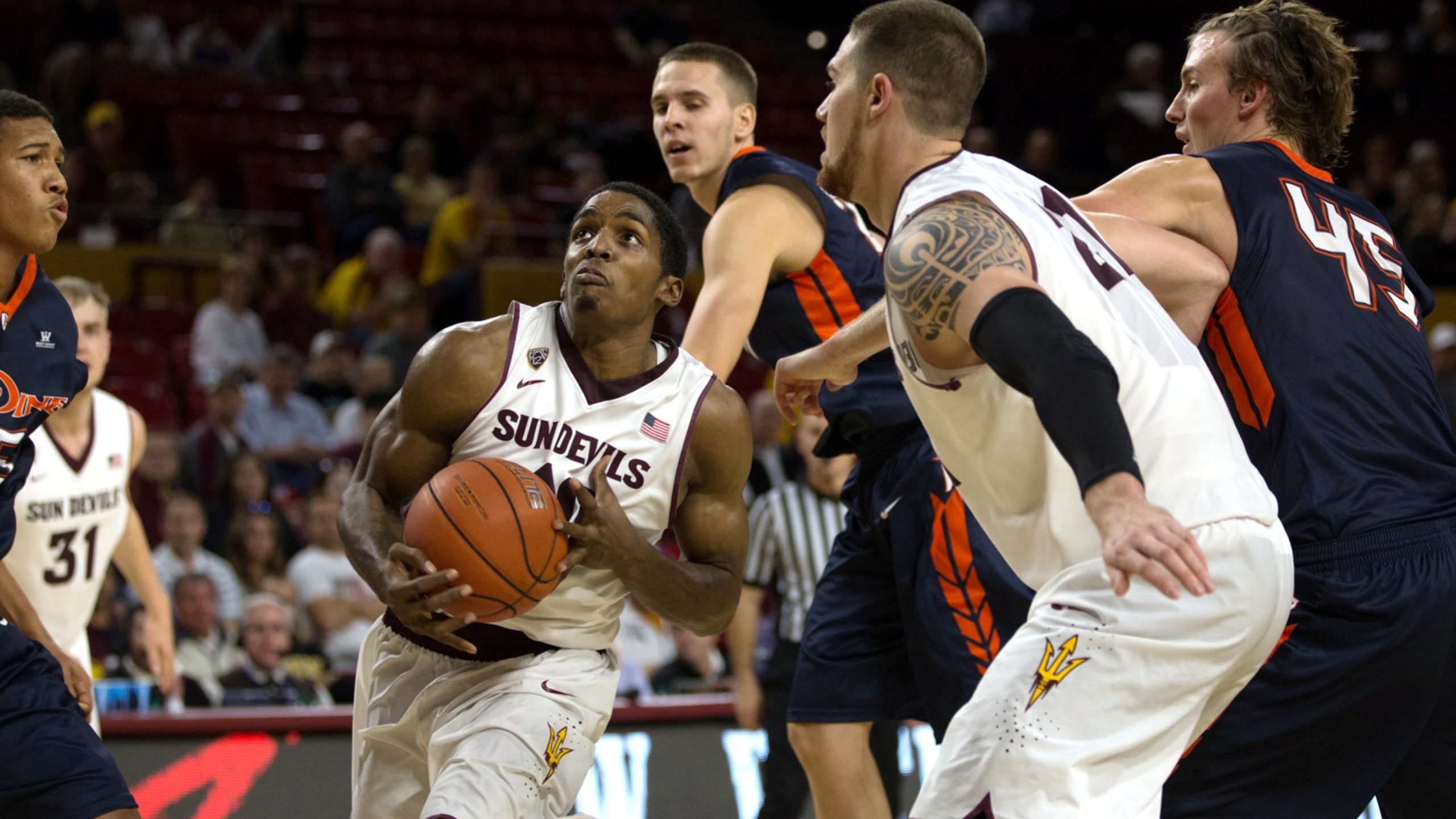 McKissic's aggressiveness sparks second-half run
BY foxsports • December 13, 2014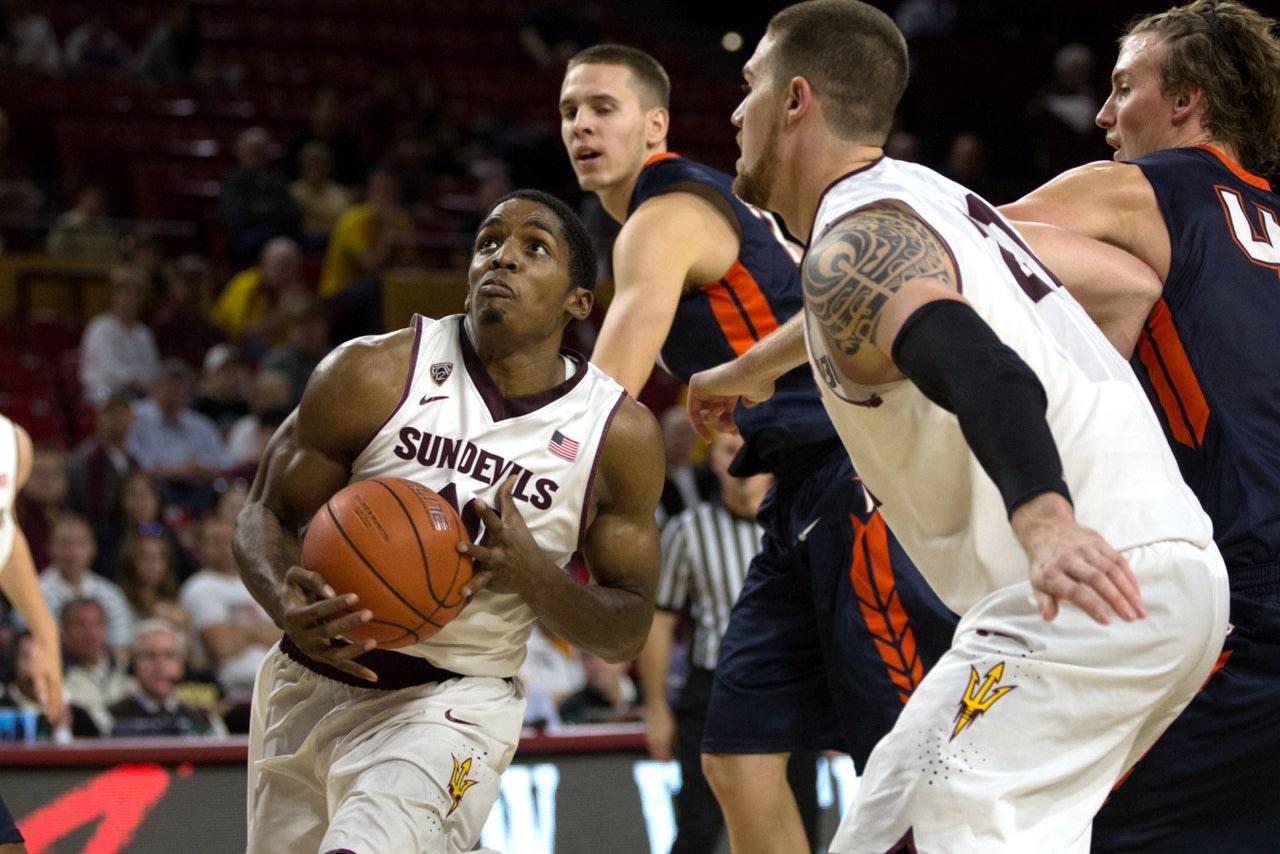 TEMPE, Ariz. -- Shaquille McKissic looked at the stat sheet through eight games and cringed.
It was not his infrequent free throw attempts, 29, but what the number represented.
"It was real frustrating to see how laid back I was (playing)," McKissic said. "It was just like, 'If I'm going to go down, I'm going to go down being aggressive.' I just decided I don't want to lose any more games."
McKissic on Saturday afternoon had his second career double-double -- a career-high 22 points, 11 rebounds -- as Arizona State asserted itself in the second half for an 81-74 victory over Pepperdine at Wells Fargo Arena.
McKissic had 16 points and eight rebounds in the second half, and he sparked the Sun Devils (6-3) to a 15-0 run to obliterate a 43-36 deficit. He had two driving dunks and a pair of free throws in the run.
Junior center Eric Jacobsen continued his recent ascent, scoring a career-high 20 points to go with nine rebounds, as the Sun Devils built a 40-25 rebounding advantage with 16 offensive rebounds.
And freshman Tra Holder extended the competition at point guard with a career-high 15 points, built on 11 free throws mostly in the final two minutes as Pepperdine (5-2) committed early fouls on every possession in an attempt to get back in the game. Freshman Kodi Justice started the game at the but Holder started the second half.
But the game belonged to McKissic, a sixth-year senior who averaged 3.5 free throws in the first eight games and had attempted almost as many 3-pointers (22) as free throws.
"I think the thing that stood out for me more than anything else is just the vibe I was getting from Shaq," ASU coach Herb Sendek said. "To me, that ignited us. Not only did it allow him to play well, but I think it spread through our team and gave us a sense of confidence. I just got the feeling as a coach that this guy is not going to let us lose today."
Sendek and his staff had impressed upon McKissic all season he should play to his strengths, i.e. attacking the basket with his athleticism. After losing a third game in the final minute to Texas A&M last Saturday, McKissic felt the words finally hit home.
'Sometimes it takes for a switch to get cut on," McKissic said. "Once it does, that is the only thing on my mind. I didn't care if it was Duke, North Carolina, anybody. I'm going to the basket and I won't be denied. I'm just going to drive the ball from here on out. If it takes me being aggressive, I am willing to make that extra effort."
At the same time, the driving lanes were a little wider Saturday because of Pepperdine's attention to the defending the perimeter. Pepperdine entered the game as the Division 1 leader in 3-point defense at 18.2 percent. It seemed an especially good strategy against ASU, which had averaged 9.5 3s a game.
The Sun Devils missed their first nine attempts from long range, some rimming out, and finished 3 of 13. Guard Gerry Blakes' 3 from the left wing gave ASU its first lead, 45-43, with 11:48 remaining. It was 51-43 after the 15-0 run and the Sun Devils led by 14 with 90 seconds left. Blakes had 16 points.
Waves 6-foot-6 forward Stacy Davis, a junior from nearby Laveen Betty Fairfax High, had a game-high 26 points and nine rebounds, and Pepperdine coach Marty Wilson scolded the Sun Devils for losing him. The game turned shortly after Davis was called for his third foul, an offensive foul in a block/charge situation when Jacobsen went to the floor, with 15:09 left and the Waves leading 41-34.
"Stacy showed a lot of maturity coming back home to a school that probably should have recruited him," Wilson said.
Power forward Savon Goodman, the last member of ASU's transfer class, will join the team for its game at Marquette. He transferred from UNLV after the first semester last year and will regain eligibility Tuesday. Willie Atwood, averaging 4.0 points and 3.3 rebounds a game, started the first eight games at power forward.
"He's a man. He brings an element of toughness to our basketball team," Sendek said of Goodman. "We expect him to be an excellent defender, somebody who can really rebound. If he stays in his lane and plays to his strength, he can give us a different kind weapon offensively."
Follow Jack Magruder on Twitter
---