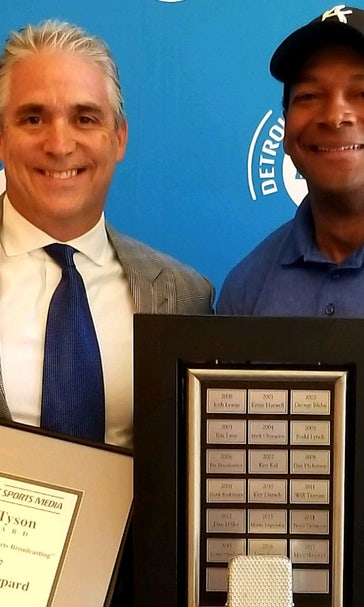 Matt Shepard earns Detroit Sports Media's 2018 Ty Tyson Award
July 9, 2018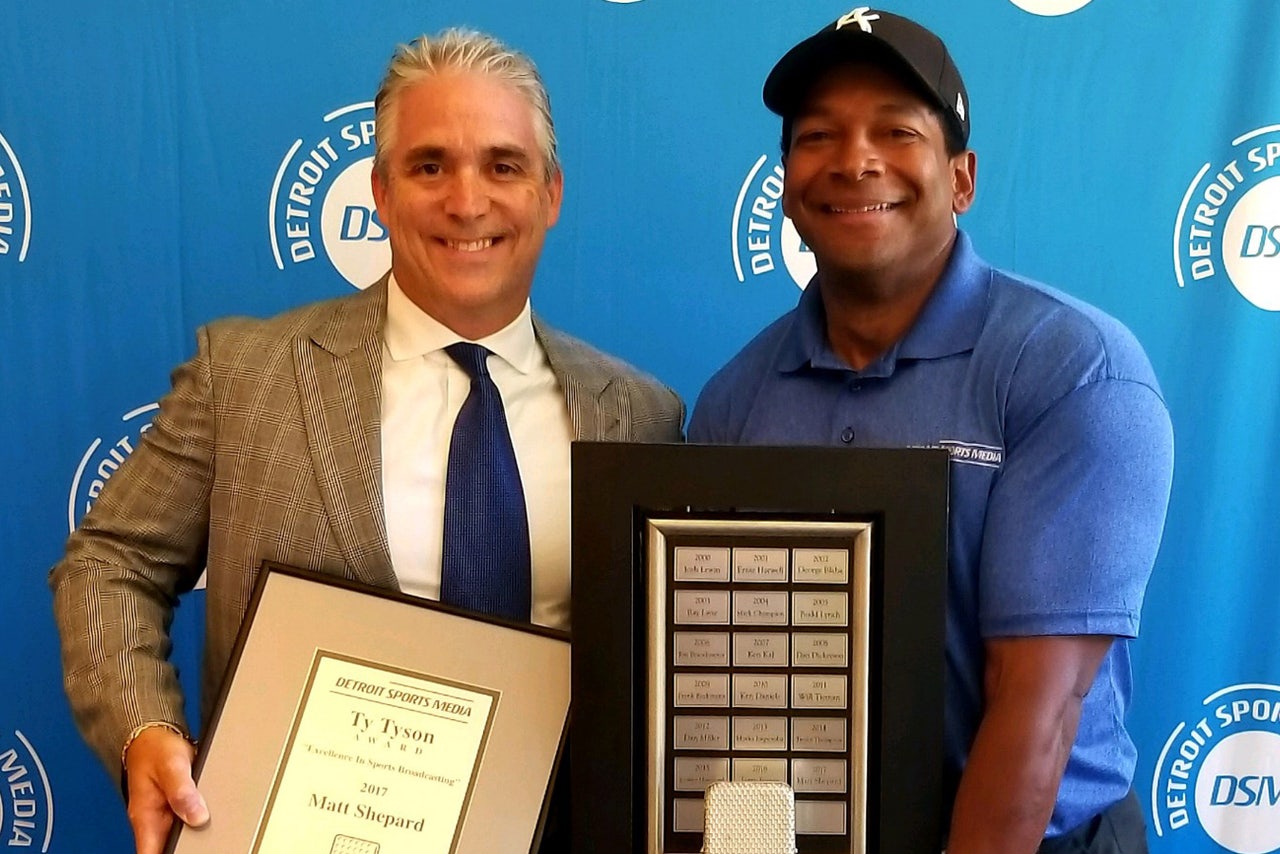 He's been labeled the "busiest voice in Michigan sports." Matt Shepard, born in Farmington Hills and a graduate of Central Michigan University is the 2018 recipient of the Detroit Sports Media's Ty Tyson Award for Excellence in Sports Broadcasting. Matt is a two-time Emmy Award winner and two-times MSBA Michigan Sportscaster of the Year, on WDFN, Fox Sports Detroit, Big Ten Network and the Detroit Lions Television Network covering professional, collegiate and high school sports in the Michigan and elsewhere since the 1990s.

At FSD, "Shep" performs studio hosting, sideline and feature reporting, and play-by-play. He has called CCHA Hockey on Fox, Big Ten Network hockey, MHSAA championships (football and basketball) and other exciting games. He worked at WWJ-AM Radio from 1993-2001 and has hosted radio shows on WDFN-AM 1130 dating to 2001. He's stepped in for Tigers, Pistons and Red Wings play-by-play when asked to.

"Bold. Opinionated. Well-read. There's no one like Matt Shepard in the Detroit sports marketplace. And despite his hectic schedule, making time to give back is one of his biggest priorities," said Trevor Thompson, DSM President and Emmy-winning Fox Sports Detroit anchor.

Added Bill Harington, DSM Officer/Marketing Director: "Matt is one of the most well-rounded sports broadcasters in Detroit. He can do play-by-play for a number of sports; be an in-game host; host his own radio show; MC an event. He does it all and does it well."

Shep is the longtime radio play-by-play voice of University of Michigan Wolverines men's basketball on WWJ and Eastern Michigan University Eagles football. He calls play-by-play for the Detroit Lions preseason slate of games as well as hosting "The Ford Lions Report" during the NFL regular season. FOX has featured him on NFL Europe and NFL Football.

His morning-drive sports talk show, "Shep, Shower 'N' Shave," is syndicated by Michigan Media Network and heard on WDFN plus stations 1660 WQLR in Kalamazoo and 101.1 WGRY in Northern Michigan (Grayling/Roscommon), and is growing to additional stations in Michigan. The show focuses on Michigan sports and what Shepard calls the cool stories Michigan sports fans want to talk about.

Shep says, "It has my kind of talk show format. While some shows focus on politics, or entertainment or the mayoral race in Detroit, I like talking sports. I know Michigan sports and this show is the perfect place for listeners to have that discussion. On Shep, Shower 'N' Shave the fans get to interact, and I let them express their feelings, fair, unfair, right or wrong. We have the coaches and players on, as I always give our listeners all sides to the stories."

We congratulate hard-working and well-deserving Matt Shepard on earning his first Ty Tyson Award! He and wife Lisa have four children.
---