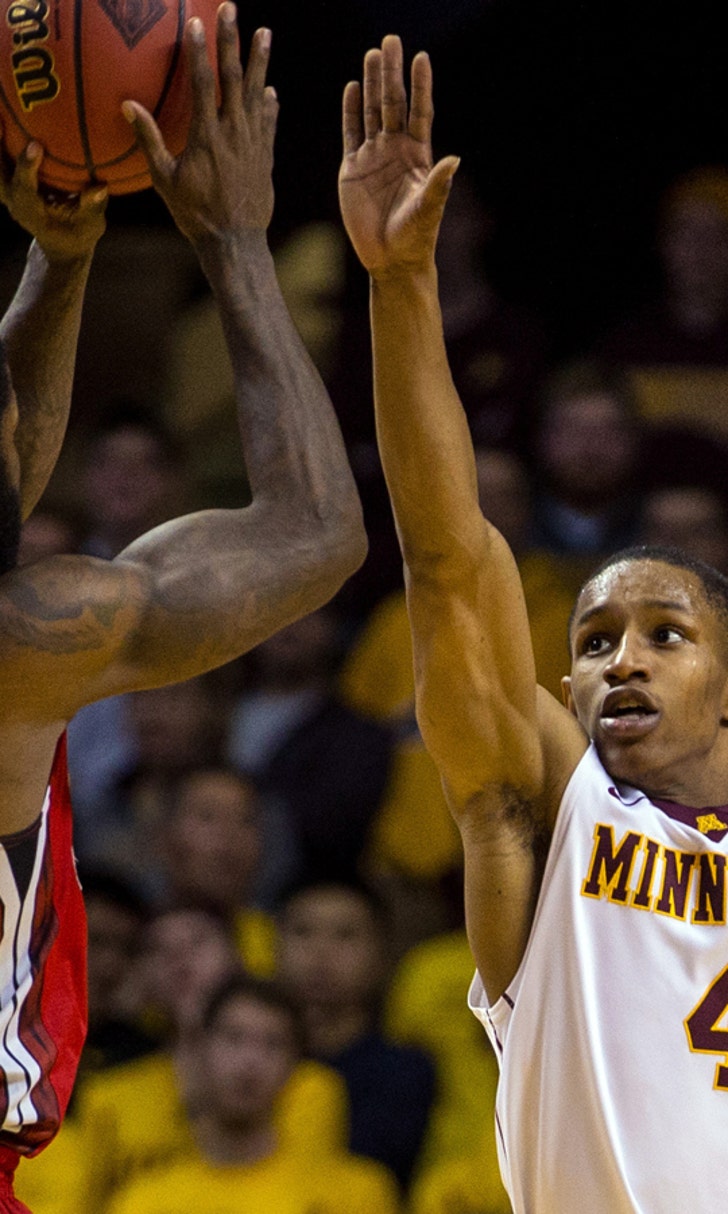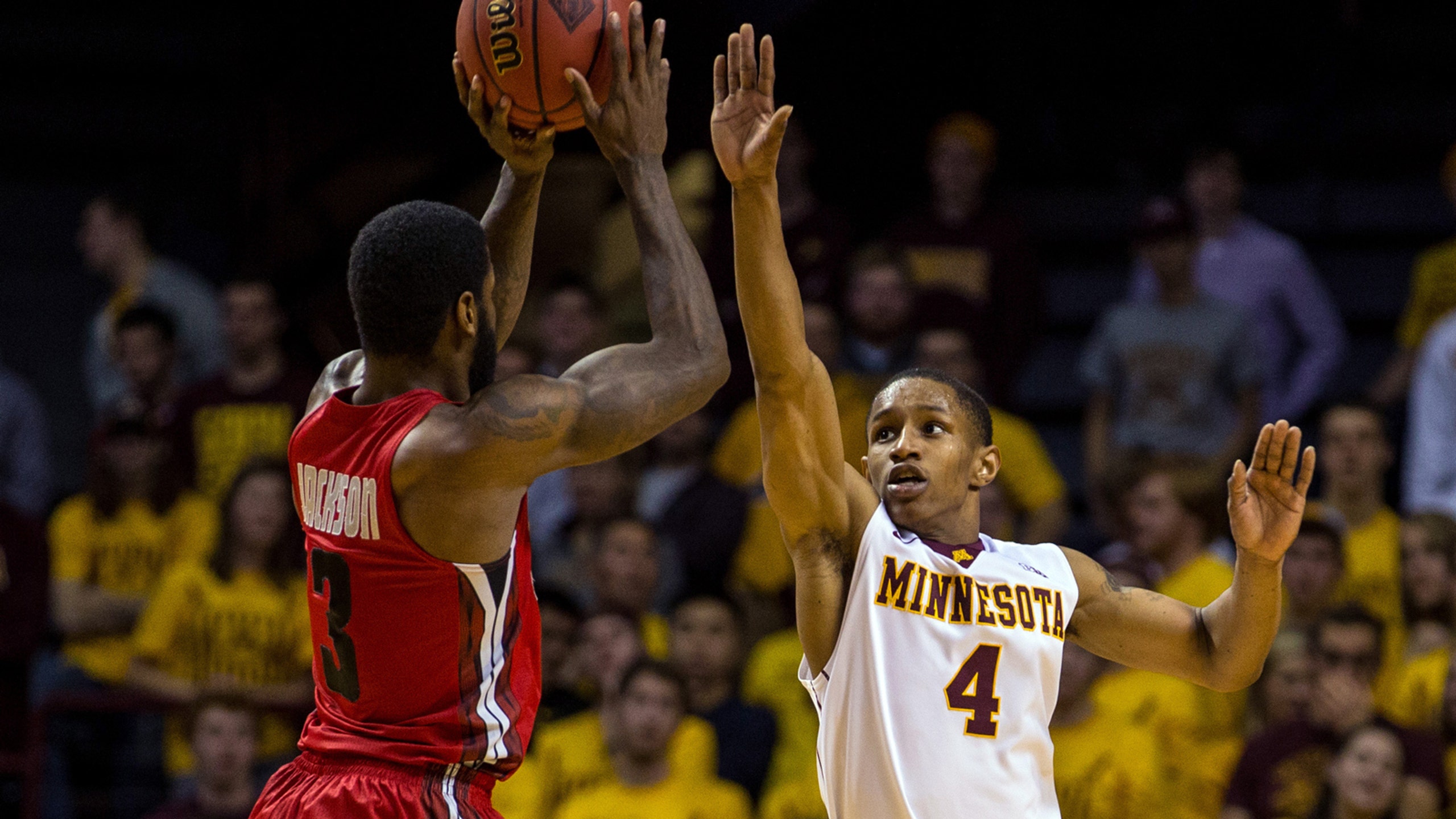 Mathieu makes presence felt in Gophers victory
BY foxsports • November 18, 2014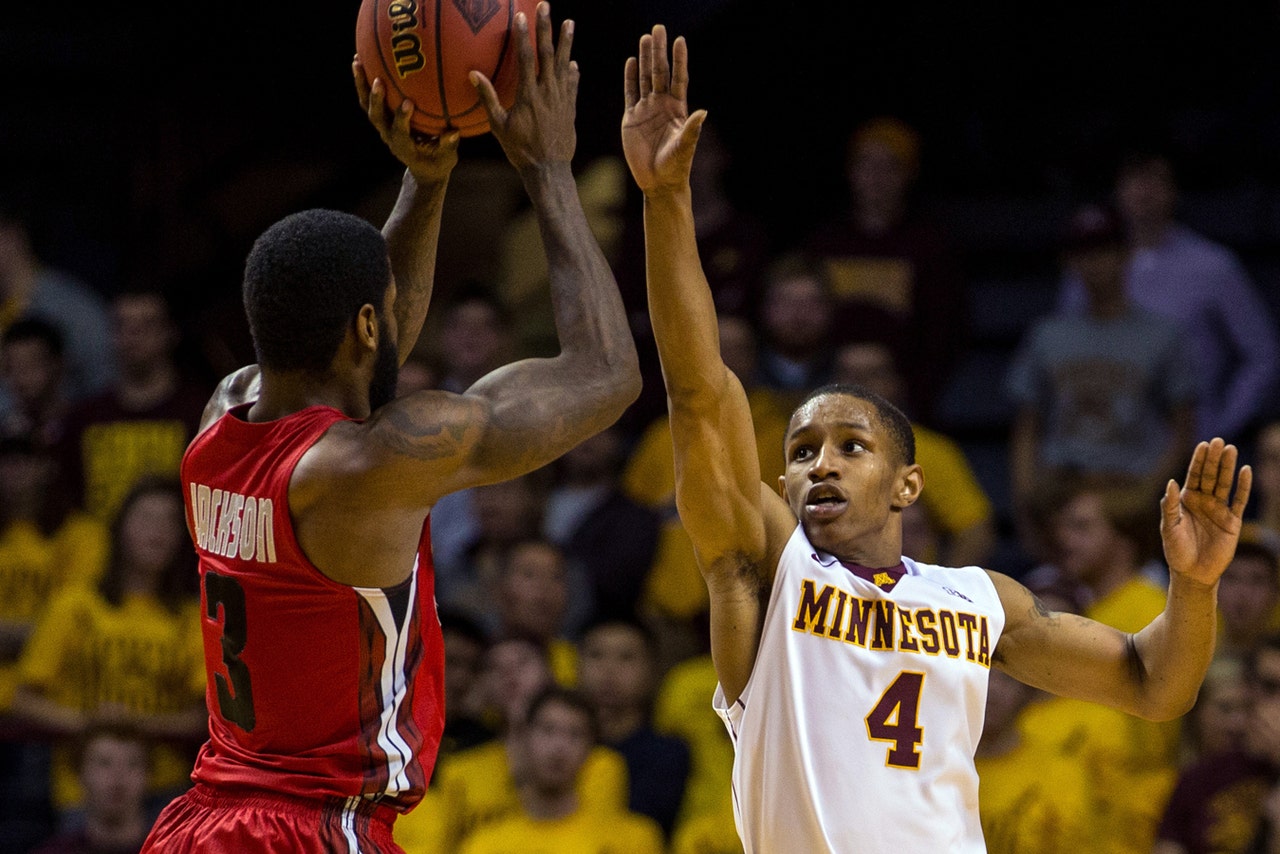 MINNEAPOLIS -- DeAndre Mathieu was a spectator for far longer than he wanted to be when his Gophers team took on Louisville in the season opener Friday in Puerto Rico. Foul trouble limited Minnesota's starting point guard to 25 minutes, and he wound up being mostly a non-factor.
No foul trouble meant Mathieu's presence was felt much more Tuesday as Minnesota topped Western Kentucky by a 76-54 final at Williams Arena. The 5-foot-9 Mathieu was all over the court, doing a little bit of everything for the Gophers in his 29 minutes of action.
"Playing the Louisville game was such a good experience for us because we told him, 'You're 5-foot-9. If you want to be noticed, get steals, get deflections, stop worrying about your points,'" Gophers coach Richard Pitino said after his team's first win Tuesday. "He was really good (tonight)."
Mathieu's stat sheet was jam packed Tuesday. On top of his 11 points -- all of which came in the first half -- Mathieu added a team-high six assists, as well as five rebounds and five steals. Just as important was the fact that he didn't commit a single turnover and had just two fouls, one in each half.
Many times last season, the Gophers went as Mathieu went. If he was on his A-game, Minnesota thrived. If Mathieu had an off night, the rest of the team would struggle.
Tuesday, he was the ignitor as Minnesota ran away with a 22-point victory.
"He was the spark plug for us," said Gophers forward Joey King. "He made big-time plays from the jump. Just his aggressiveness on defense, getting five, 10 deflections early in the game were some big-time plays which led to steals and quick buckets for us. Whenever we can get a quick start like that, I think it's really beneficial for us."
Of all the stats he racked up Tuesday, Mathieu said he took the most pride in his five steals -- which were more than the entire Western Kentucky roster had all game. Mathieu repeatedly used his quickness to sneak up on Hilltoppers players and pick their pockets. Those steals led to transition baskets the other way. In total, Minnesota scored 19 points off turnovers, including eight fast-break points.
Mathieu was the catalyst for many of those points in transition.
"He set the tone for us," said freshman guard Nate Mason, who added 10 points off the bench. "We go when he goes. That's what I felt like he did. He set the tone and made everybody better."
Against Louisville, Mathieu had four fouls and four turnovers as he finished the game with just six points. Facing a top-10 team that early in the season was a learning lesson for the entire Gophers roster. Mathieu applied what he learned in that loss to pace Minnesota in Tuesday's victory.
"It feels good to have a good one after how I played against Louisville," Mathieu said. "I feel like I'm back in my groove. I'm finding my niche and I'm learning that I can play without fouling. That feels good when I didn't pick up two early ones like I did last game."
Mathieu said he received some advice from Louisville coach Rick Pitino, Richard's father, after their game in Puerto Rico. The elder Pitino preached to Mathieu the importance of playing full-court defense, and added that Minnesota's guards needed to establish their identity.
The younger Pitino, as well as several of his players, referred to the need to impose their will against Western Kentucky and other opponents. It's something that Louisville did to the Gophers, and now it was Minnesota's turn to return the favor.
"We felt we kind of backed down from (Louisville) a little bit," Mathieu said. "We took the next few days in practice and we really worked on pressuring the ball all over the floor. It showed today. . . . Me and Andre (Hollins) tried to set the tone early in the game with the pressure and just getting after them."
Pitino called Tuesday's performance the best defensive effort by his team since he took over as the head coach prior to last season. Minnesota held Western Kentucky to 31.6 percent shooting and forced 25 total turnovers thanks in part to 17 steals. The Gophers pressured the ball all night and didn't relent against a Hilltoppers team that played in the NCAA tournament as recently as two years ago.
Much of that was thanks to the 5-9 Mathieu, who played much bigger than that as he proved the Louisville game is behind him.
"He does not need to worry about scoring," Pitino said. "If DeAndre would get to that point -- and he was really good tonight -- and not worrying about his points, then good things will happen."
Follow Tyler Mason on Twitter
---