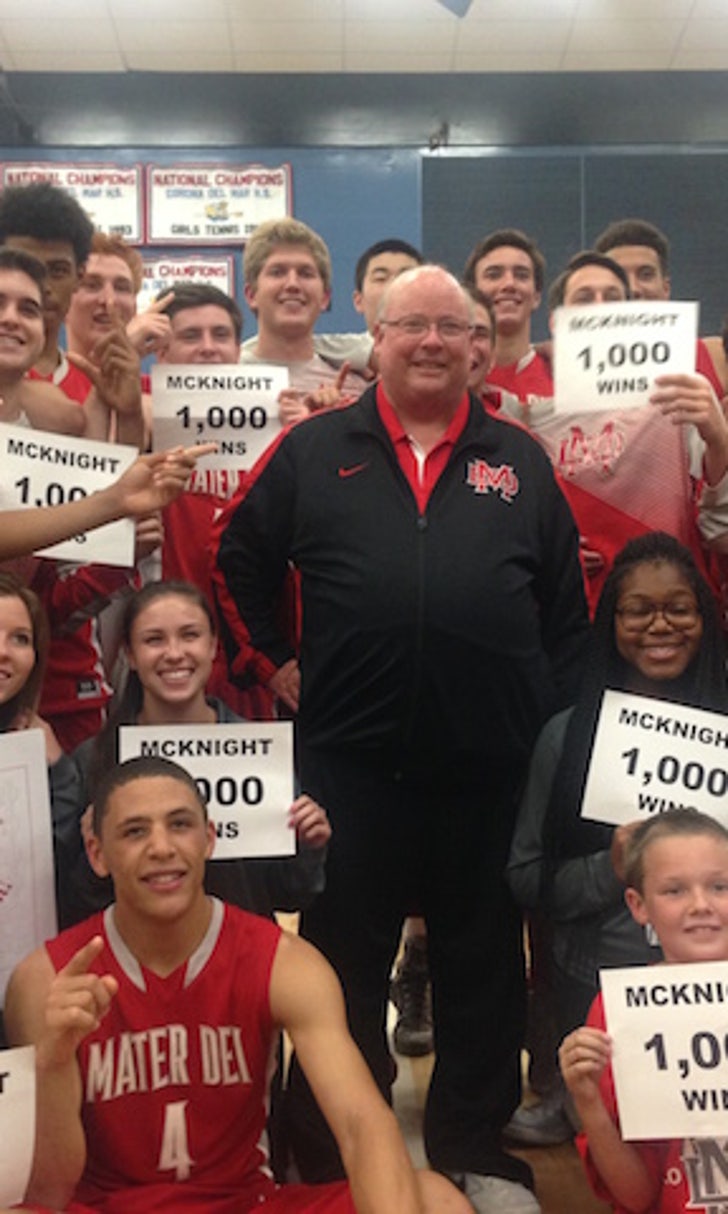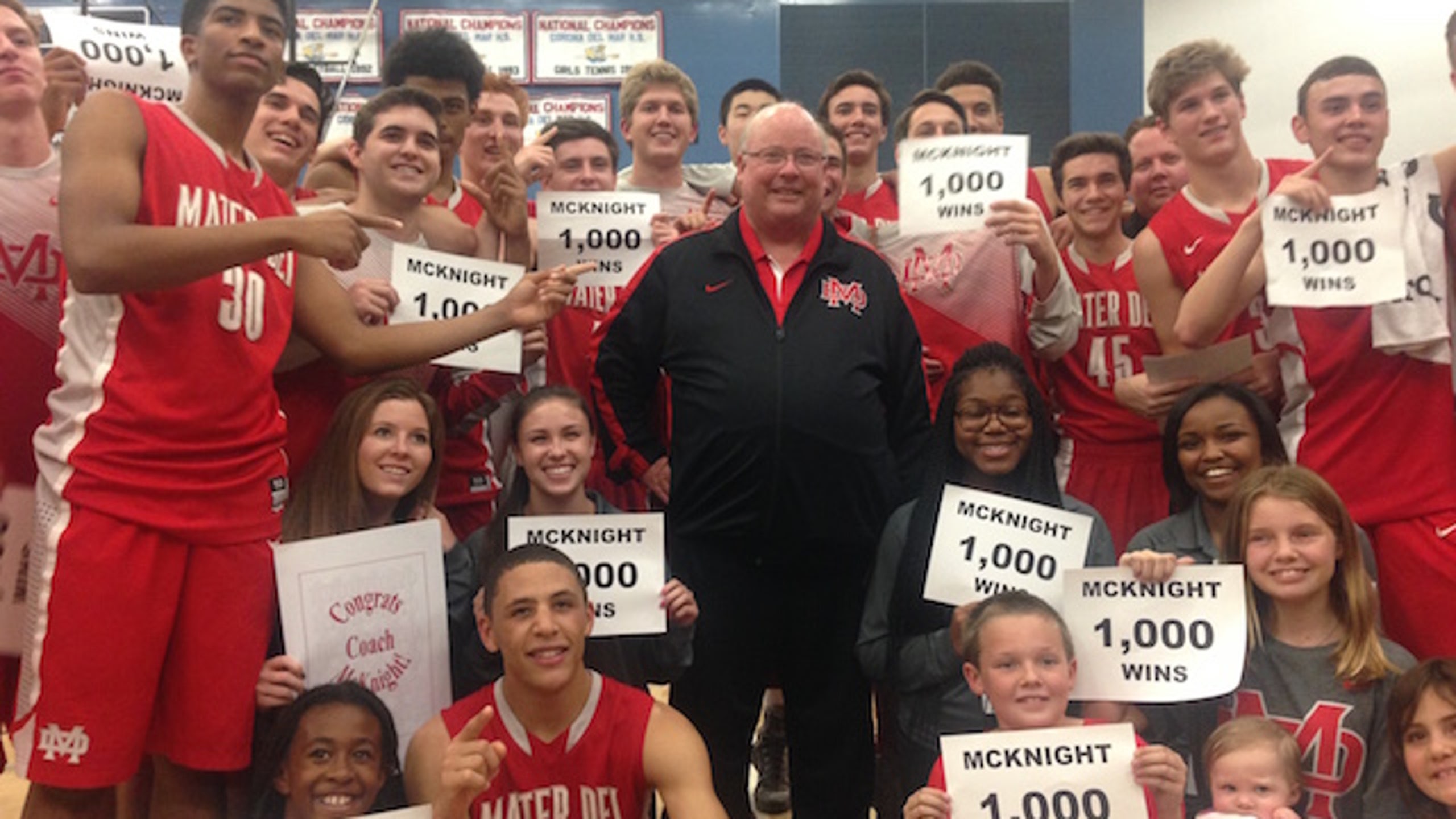 Mater Dei's McKnight first basketball coach in CA to reach 1,000 career wins
BY foxsports • December 13, 2014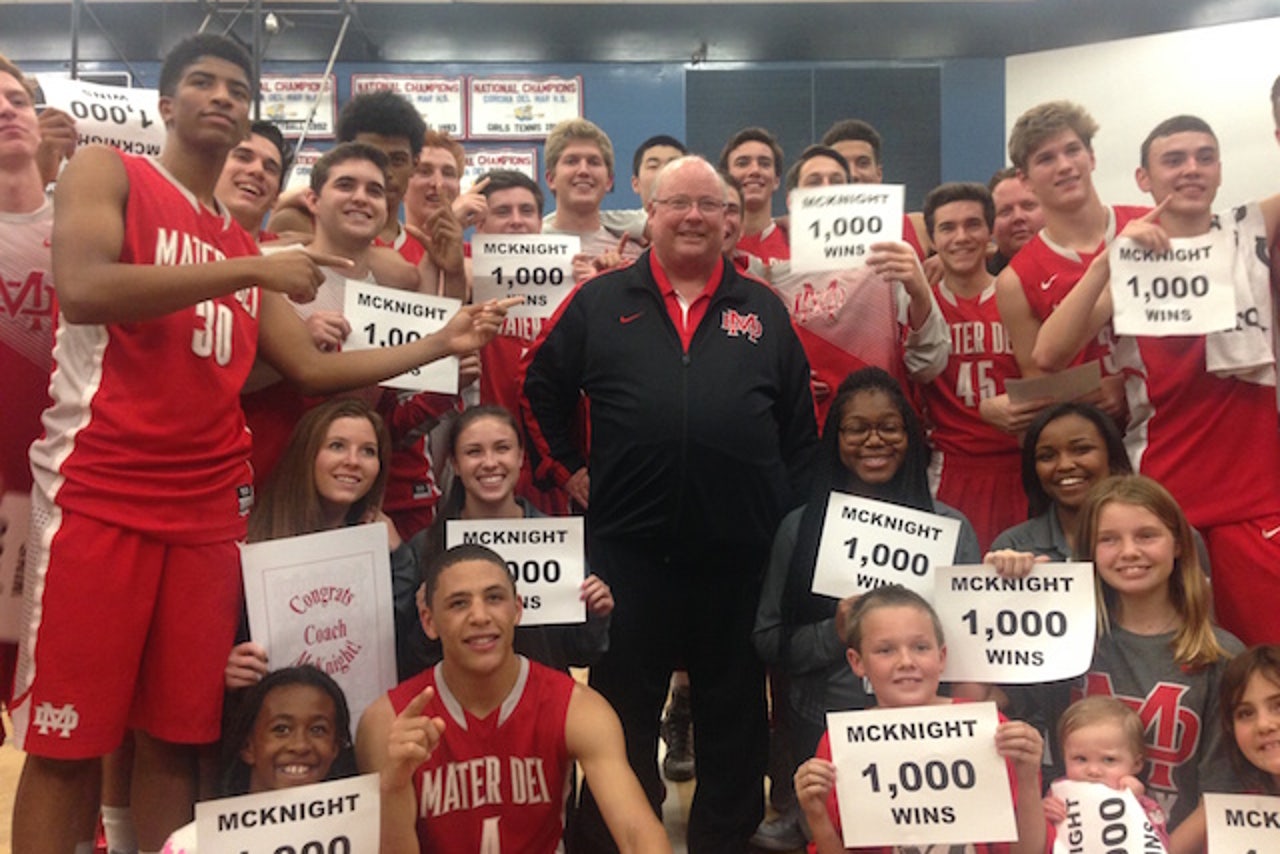 The time is winding down on a Friday night in South Orange County. 
Longtime Mater Dei head coach Gary McKnight is working the huddle during a fourth quarter timeout. His Monarchs are taking on host Corona del Mar in the Corona del Mar Beach Bash Tournament.  
The game is well in hand but the coach's job is far from done. 
"Where's Smith?" he asks looking to give instructions to senior point guard K.J. Smith. "When (guard) Bailey's (Stout) out of the game who's got to get back there?"
Smith acknowledges it should be him. 
"We can't have that," McKnight told him. 
On the previous play there was no one back for Mater Dei defensively and the Sea Kings had a wide open layup after a Mater Dei missed basket. 
The Monarchs lead at this point is 18. Mater Dei would go on to defeat Corona del Mar, 67-44, to give McKnight his 1,000th career win becoming the first boys basketball coach in California state history to reach the milestone. 
"I've been blessed with some of the best players Orange County has ever seen and I've had some of the best coaches thoughout all 33 years that have helped me look good," McKnight said after the game. "I'm just fortunate to be at Mater Dei at the right time. It clicked and everything's been good."
To think the head coach never envisioned having nearly this much success. 
He recalls a signature win during his first season as head coach in which the then-29-year-old led the Monarchs past Long Beach Poly to win the school's first CIF Southern Section championship. 
"I walk out of that arena and I look back and I go 'I may never have this chance again," McKnight recalled.
Since then it's happened. And it's happened a whole lot more. McKnight has guided Mater Dei to 22 CIF Southern Section titles and 11 state titles including the last four in a row. 
He has a lifetime record of 1,000-85.
NBA players he's coached include LeRon Ellis, Reggie Geary, and DJ Strawberry.  
This group of players led by Rex Pfleuger and M.J. Cage came out slow on Friday night and shot just 36 percent in the first half and took a five-point lead into the locker room at halftime. 
It certainly appeared to be some nerves on the part of the Monarchs to start the game. The anticipation of McKnight reaching win No. 1,000 had been building in the days leading up to Friday night. 
"I felt like a guy was throwing a no-hitter," McKnight said. "They refused to talk about it all week."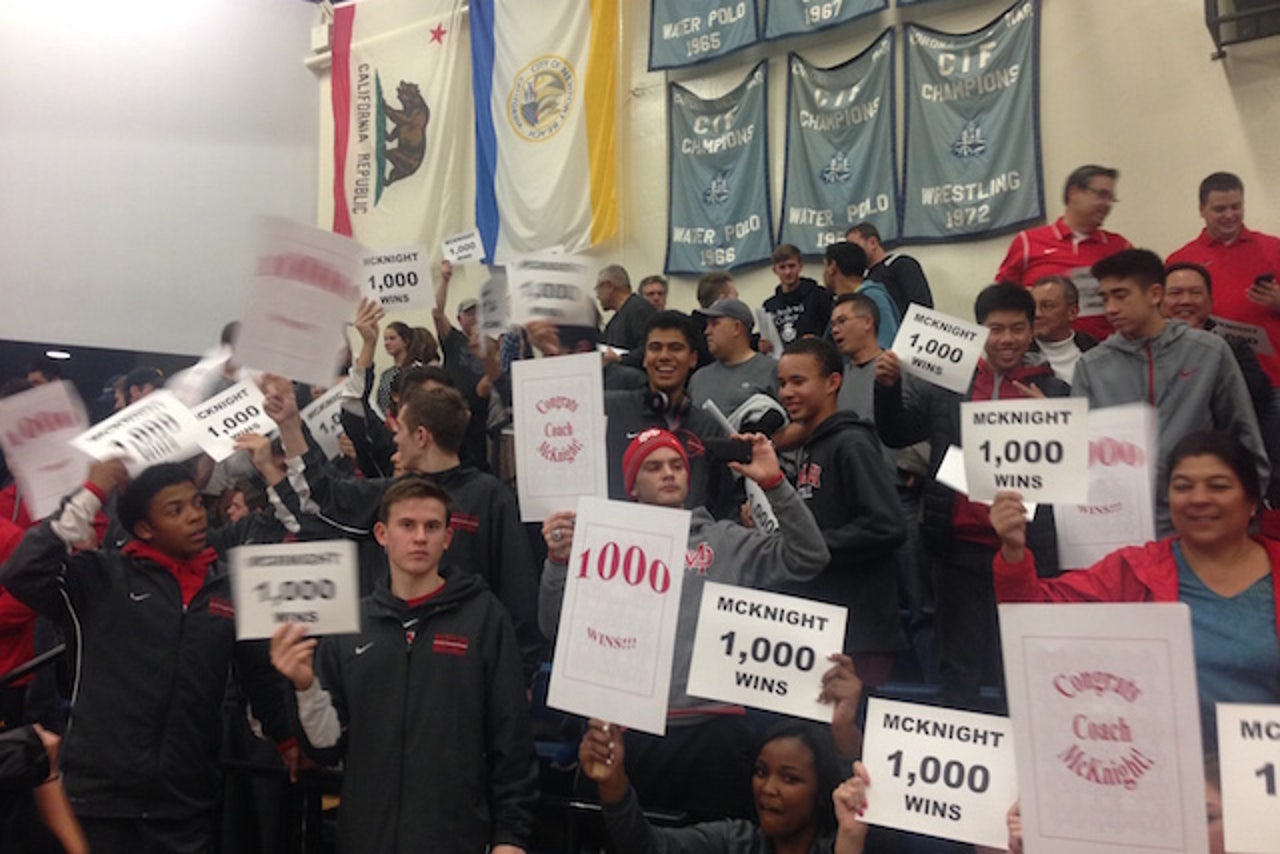 At the half of a 29-24 game, McKnight was a man of few words, himself. 
"He just gave us the silent look, saying 'C'mon,'" said Pfleuger, who finished with a team high 17 points. 
Mater Dei held CdM to just six points in the third quarter and outscored them 38-20 in the second half. 
As the clock expired Mater Dei fans waved their "McKnight 1,000 Wins" signs. 
This one was in the books as the all-time winningest coach in state history added to his historic resume. It's now 1,000 and counting for McKnight. 
"I would never have guessed we'd have the success that we've had," McKnight said. 
---