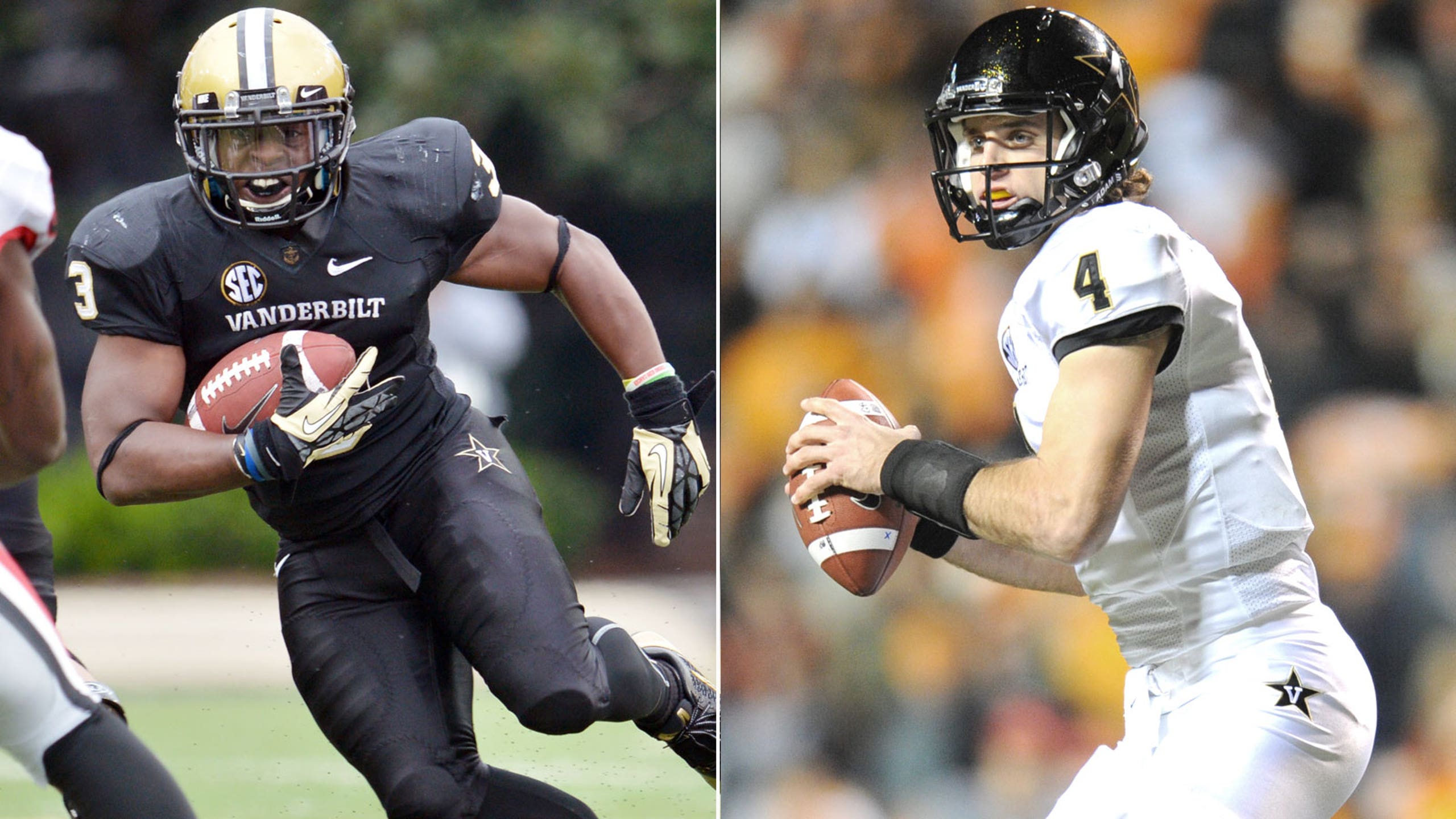 Mason ramping up tempo, competition at Vandy practices
BY foxsports • March 13, 2014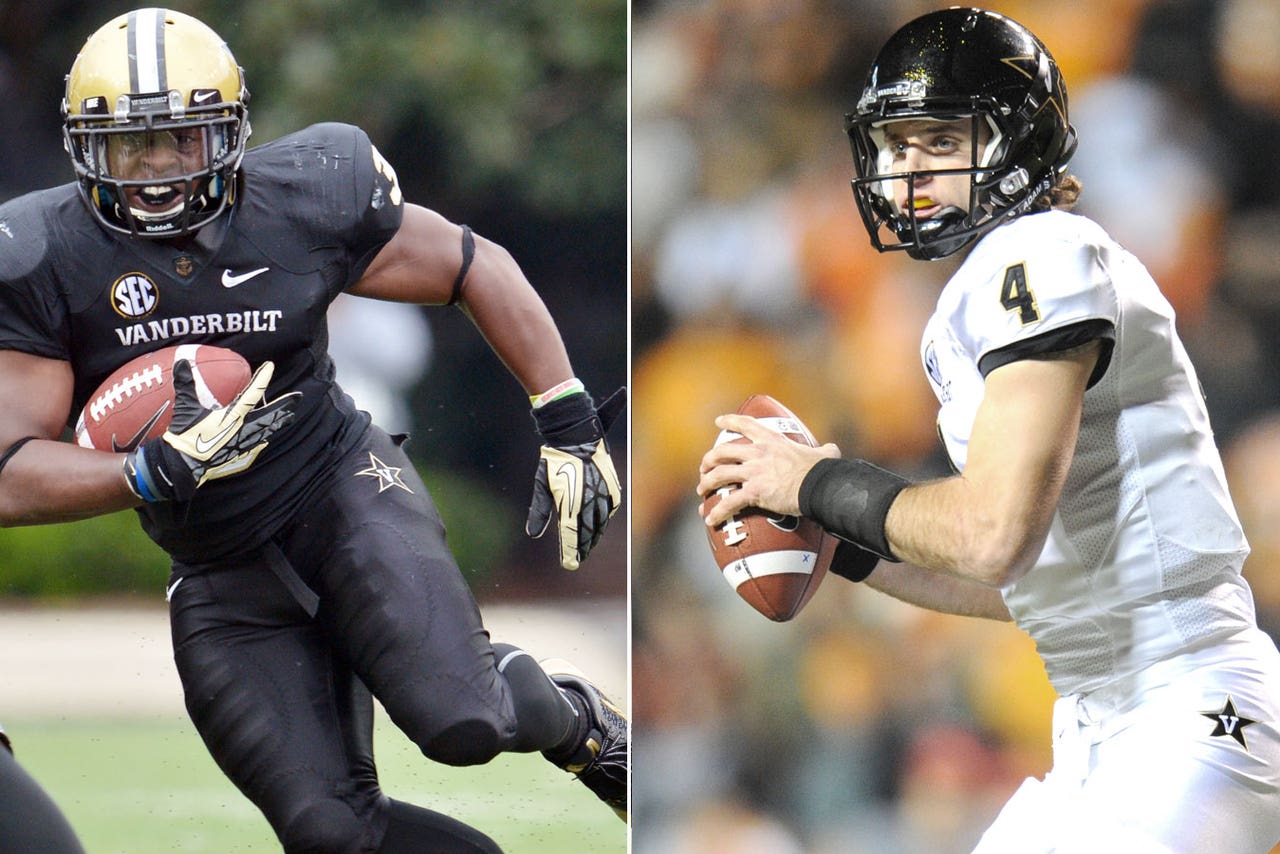 NASHVILLE, Tenn. -- Don't expect the Vanderbilt football team to take baby steps into learning the systems of new head coach Derek Mason -- on both sides of the ball.
Instead, Mason will force-feed the information to the Commodores, who open spring practice trying to build on consecutive nine-win seasons and three straight bowl berths under former coach James Franklin.
Offensively, the team will change from a multiple system with read-option tendencies to a traditional pro-style approach under new coordinator Karl Dorrell, the former UCLA head coach. The defense, under new coordinator David Kotulski, is moving to a 3-4 base alignment.
"You get it all to them the first time around," Mason said of his spring installation approach with players. "And know what? If they're drinking through a fire hose, then that's just part of the process.
"... We have to push their ability to gain the academic side of football. If all you do is go at their pace, you're not going to get anything done."
That thinking wasn't always the case for Mason, most recently Stanford's defensive coordinator (2011-13). As the defensive backs coach on the Bucknell staff of then-coordinator Kotulski from 1999-00, Mason observed his new Commodores defensive coordinator handle installing systems and schemes.
They again worked together the past two years at Stanford, where Mason had Kotulski handling the Cardinal's inside linebackers.
"The first time I looked at one of (Kotulski's) installs," Mason said, "I was like, 'Man, that's too much.' I felt like that for about the first five days. But then what I saw before the end of spring ball was guys got it and understood it.
"Really what it was, it was my own expectations. I thought it was too much, so I limited myself. The one thing we don't want to put on these guys are limits. We tell these guys that they are limitless, and we mean it."
There are more changes than adjustments to offensive and defensive alignments, schemes and terminology. After scouring game and practice film from last season, seven Commodore players have moved to new positions.
That includes three former defensive ends -- senior Kyle Woestmann, junior Caleb Azubike and sophomore Stephen Weatherly -- now listed as outside linebackers, because of their athletic ability.
"The 3-4 is an entirely different look," said Woestmann, who had a career-high 38 tackles and team-high 5 1/2 sacks last season after having six as a sophomore.
"With the talent and the brilliance of the players at the (defensive) end position getting moved to outside linebacker," Woestmann added. "It puts them in a good position to be able to stand up, see the field, and kind of contribute more than just being in a three-point stance, kind of looking at the ground, having to figure it out as the play goes."
Other position changes include junior Kris Kentera (tight end/H-back to wide receiver), senior Kellen Williams (linebacker to fullback), sophomore Harding Harper (fullback to linebacker) and redshirt freshman Oren Burks (linebacker to nickelback).
"I'm excited to go and compete at a new position," said Kentera, who played in all games last season but wasn't targeted much in the passing game, finishing with 10 catches for 100 yards and a touchdown.
"Looking forward to building a camaraderie with those guys out at wideout besides just being at a new position," he added. "I had a blast at tight end, H-back role, whatever you want to consider it, and look forward to building my route-running and pass-catching skills over there at wide receiver now."
Despite 13 starters returning -- including seven on offense, five on defense and one punter -- Mason said all starting positions are up for grabs. That's especially the case at wide receiver, where the Commodores try to replace All-American Jordan Matthews, the most prolfic receiver in SEC history (262 catches/3,759 yards/24 TDs), and talented No. 2 Jonathan Krause.
"Every job is open," Mason said. "I told every player on our football team, so they know and understand. Iron sharpens iron. We want to make sure that we make it competitive across the board.
"I care less about what people have done in the past. I care more about what's happening now."
One of the key battles comes at quarterback, where third-year sophomore Patton Robinette isn't listed as a returning starter despite starting three games last season -- including a win at Florida and the bowl victory over Houston. Robinette (642 yards passing, 11 total TDs in 2013) also sparked Vandy off the bench in its upset win over Georgia, leading the Commodores to 17 second-half points.
Redshirt freshman Johnny McCrary was impressive throwing and running during last year's spring game, before eventually sitting behind starter Austyn Carta-Samuels and Robinette.
"In order for you to be a good football team and give yourself a chance, you have to be capable at the quarterback position," Mason says. "We're capable at the quarterback position. We're capable, OK, but we have to see how far along we are and what that looks like and how competitive it is going to be going through spring."
While Robinette has a leg up on McCrary, experience-wise, his read-option stylings may not totally suit the new pro-style offense. But he does have a strong arm, solid leadership qualities and plans to learn how to maintain pocket presence.
"Robinette has a leg up just in terms of games played and experience," Mason said, "but I have been impressed to look at where McCrary is just in terms of his football acumen. At times, I have seen some glimpses of what he can bring to the table, just in terms of football IQ."
The Commodores will practice five straight weeks on Tuesdays, Thursdays and Saturdays. The session on Saturday, March 22 (9:45 a.m.) is open to the public, while the annual Black & Gold Game at Vanderbilt Stadium will wraps spring practice April 12 (Saturday).
"This thing is going to come and go fast," Mason said of spring drills. "But the thing we're going to try to do is slow down the process a little bit with our practice schedule. That's meant to have the opportunity to teach and evaluate. Right now, we have a good idea of what some of these guys are athletically.
"But once you start to put the pads on, and you start to move guys around a little bit and the bodies start moving, you start to talk about making checks and adjustments and what the football acumen and IQ is like in different scenarios, you really start to see the pieces come together in terms of what your team is, what their skill set is, and what they are -- both individually and collectively."
---