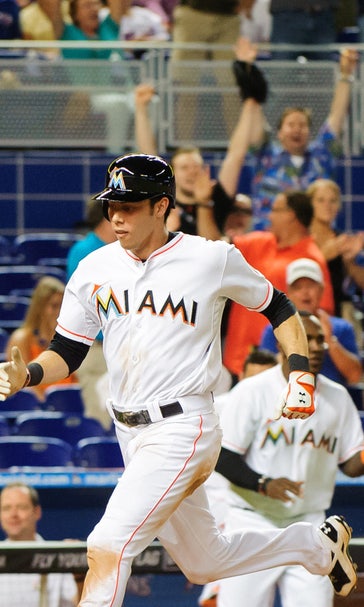 Marlins starting to show knack for late-game heroics
BY foxsports • May 5, 2014
MIAMI -- Marlins catcher Jarrod Saltalamacchia turned to manager Mike Redmond and told him the club would get him a win on his birthday after the Mets intentionally walked Giancarlo Stanton to put runners at first and second with one out in a tie game in the ninth.
Up to bat was Casey McGehee, no stranger to clubs pitching around a star player to face him. As a member of the Brewers, he followed Prince Fielder in the order.
McGehee lined a two-strike pitch off Gonzalez Germen's leg that caromed into shallow right to score the game-winning run in the Marlins' 4-3 victory over the Mets on Monday night at Marlins Park.
Miami has won in walk-off fashion in consecutive days and has taken six of seven on its current 10-game homestand.
Down 3-0 with just three hits over seven innings against lefty Jonathon Niese, the Marlins recorded their fifth comeback victory after mustering just 26 all of last season.
''The great thing about this team I've been saying it even in some of our losses we've been right there and keep coming and giving ourselves chances to have those big hits,'' said McGehee, who recorded his fourth game-winning RBI. ''Sometimes we have, sometimes we haven't. It says an awful lot about this team and what kind of character it has. That's not something you can look at on a stat sheet and read. That's just makeup and want to from 25 guys.''
The Marlins began their rally off reliever Daisuke Matsuzaka in the eighth.
Christian Yelich and Ed Lucas opened with back-to-back walks. Stanton added to his major-league RBI lead with a run-scoring single. McGehee reached on a fielding error by Omar Quintanilla, who missed a liner hit at him that scored Lucas. Saltalamacchia followed with an RBI double that chased Matsuzaka.
''There is no panic out there,'' Redmond said. ''They're confident. They take one at-bat at a time. They know when the game is on the line they're going to step up. Salty did that today, and you could feel that momentum start to turn.''
But Miami couldn't grab the lead with two runners in scoring position with no outs.
With the infield in, Jeff Baker grounded out to second against Kyle Farnsworth. Pinch-hitter Garrett Jones was intentionally walked to load the bases. Adeiny Hechavarria struck out looking and Marcell Ozuna grounded out to third.
It seemed eerily similar to Saturday's 9-7 loss when the Marlins chipped away at a five-run deficit and eventually tied it in the ninth with a chance to win it.
Two days ago, missed opportunities prevented that from happening. An intentional walk to Saltalamacchia loaded the bases before Yelich struck out swinging and Derek Dietrich flied out to center.
''It was the second time we got into a position like that to score some runs,'' Saltalamacchia said of Monday. ''It was a matter of time before we made it happen.''
Starter Nathan Eovaldi set a career high with 10 strikeouts over seven innings, but was hurt by the long ball. Daniel Murphy and Curtis Granderson rocketed solo shots to right in the first inning.
Eovaldi settled down after that, retiring seven in a row until the fourth. David Wright led off with a double and scored on Granderson's RBI single to right.
''It's nothing compared to last year,'' Eovaldi said of the team's confidence level. ''There's always a chance we're going to come back or even add on to the runs we've already scored in every ballgame. The confidence is through the roof really.''
Fitting considering the ballpark's roof was open for a ballgame in May for just the fifth time in three years.
You can follow Christina De Nicola on Twitter @CDeNicola13 or email her at cdenicola13@gmail.com.
---