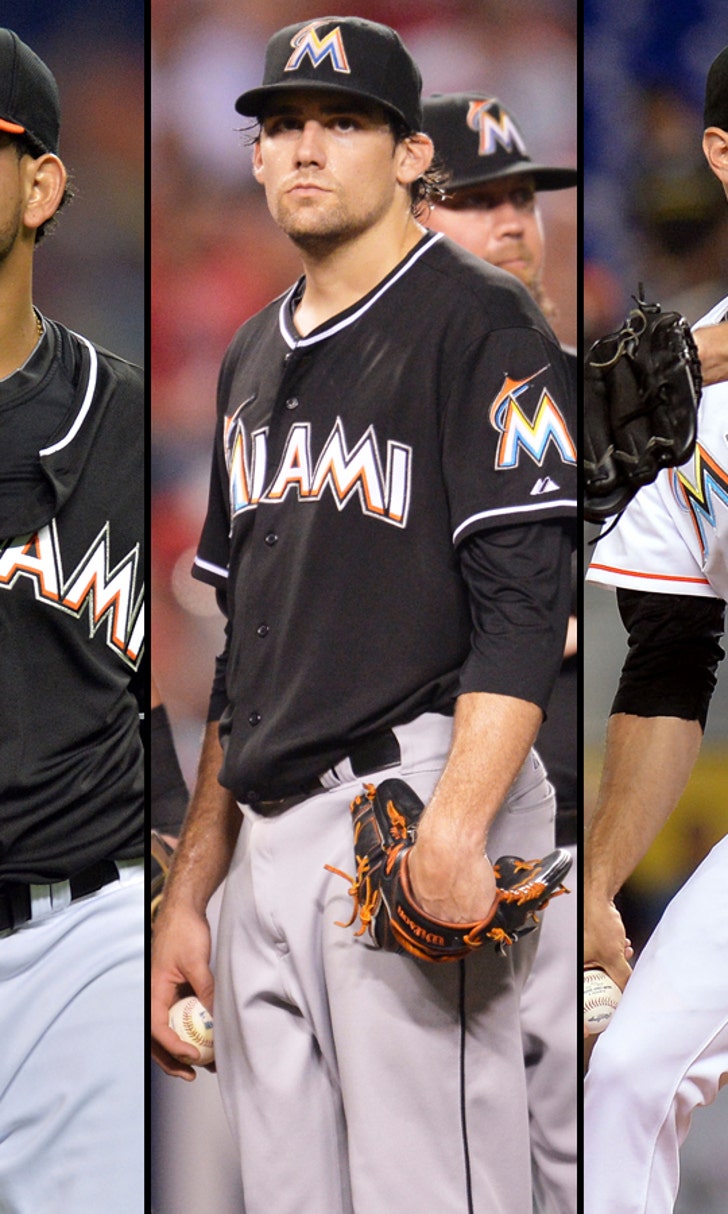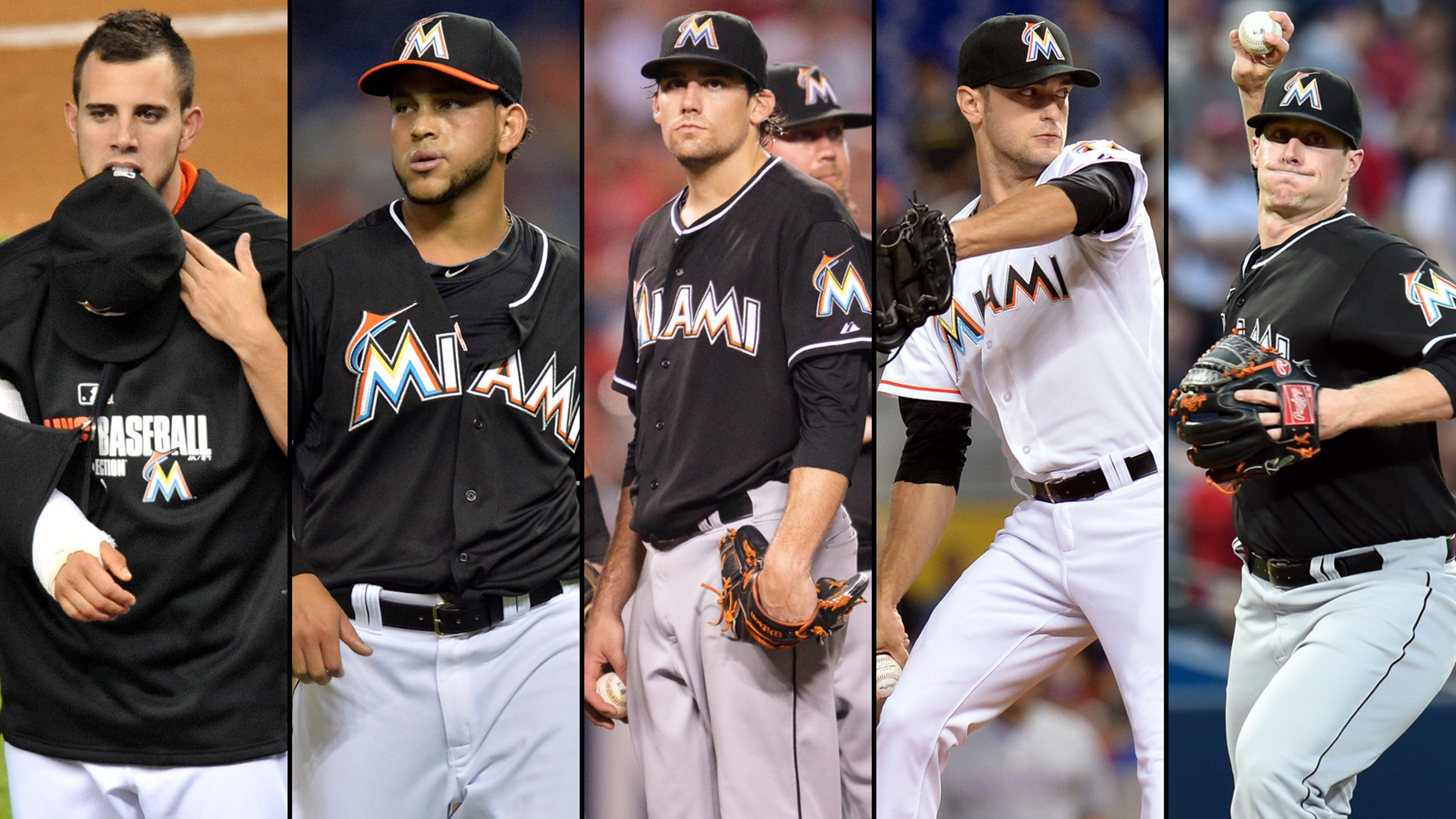 Marlins position analysis: Starting pitchers
BY Hana Ostapchuk • November 18, 2014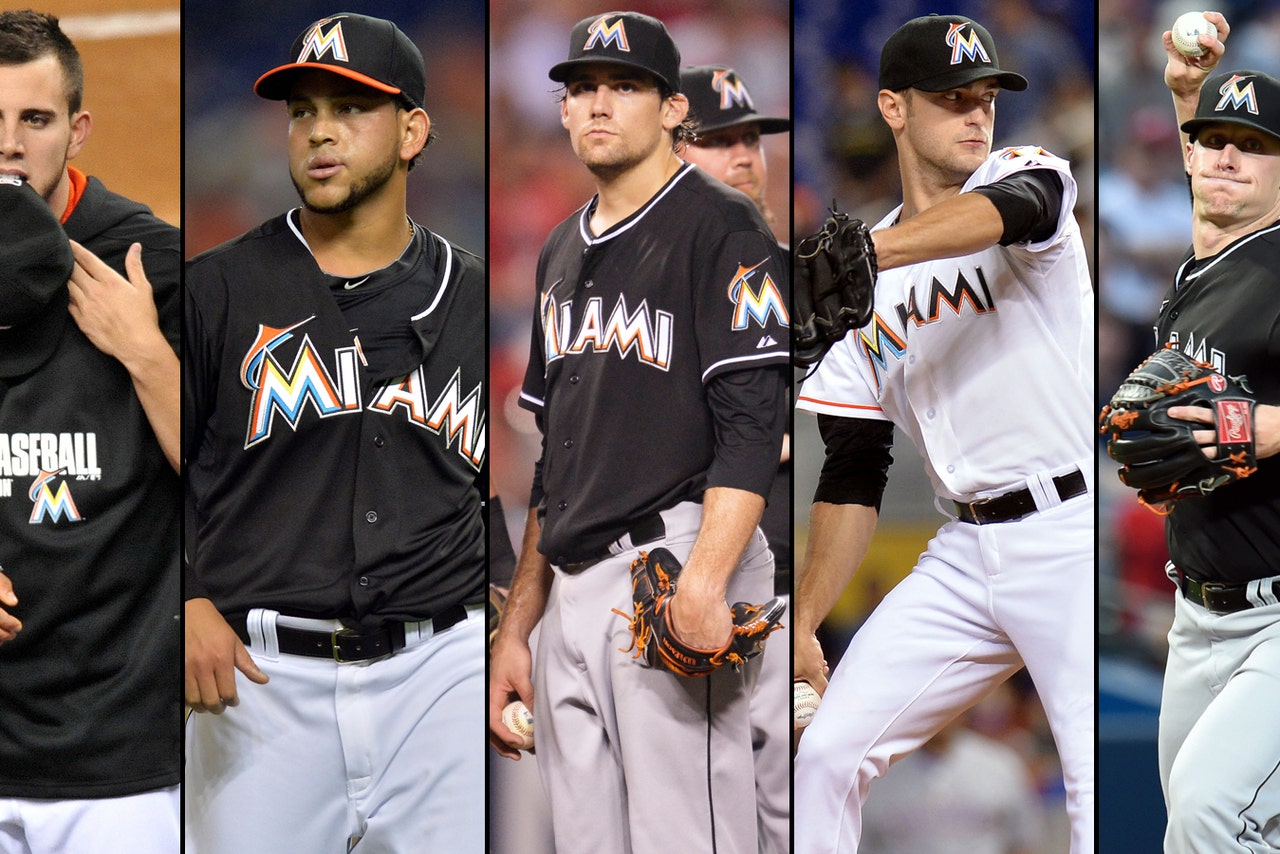 The entire complexion of the Miami Marlins' rotation changed that fateful night on May 9, 2014 in San Diego.
Ace Jose Fernandez, the reigning National League Rookie of the Year and NL Cy Young finalist, got lit up for six runs (five earned) in five innings against the Padres. Something was up. Less than a week later, he underwent Tommy John surgery.
Miami never recovered, sending 13 total starters to the mound in 2014. The club couldn't find a consistent performer to eat up innings. In August, the organization gave up on right-hander Jacob Turner, a piece in the Anibal Sanchez-Omar Infante trade, by dealing him to the Chicago Cubs for a pair of minor-league pitchers.
While the first four guys seem like locks for 2015 -- All-Star Henderson Alvarez, Nathan Eovaldi, Jarred Cosart and Tom Koehler -- the final spot in the rotation remains up for grabs.
Lefty Brad Hand went 3-8 with a 4.38 ERA in 32 games (16 starts). Out of options, Hand began the season in the bullpen before making spot starts. An ankle injury sidelined him for a couple months. Upon his return, he seemed to turn the corner from July 8-Aug. 5 -- posting five quality starts and a 2.37 ERA. But a couple of rough outings forced veteran Brad Penny to take over for a brief stint.
Top prospect Andrew Heaney struggled in five starts, going 0-3 with a 6.93 ERA. The long ball bit him as he allowed six in 24 2/3 innings. Clearly he wasn't ready for the big-league stage. Right-hander Anthony DeSclafani won his major-league debut at Dodger Stadium in the first post-Fernandez start, but he finished the season as a long reliever. In five starts, he went 1-2 with a 7.40 ERA. He got additional work in the Arizona Fall League where baseball's elite prospects go.
It's not out of the question that the Marlins pursue a veteran arm via trade to lend support to the younger guys. With a surplus of pitching prospects -- from DeSclafani to lefties Justin Nicolino, Edgar Olmos and Brian Flynn -- that would make more sense than seeking a free agent.
If all goes according to plan, Fernandez will return sometime in June or July to provide a boost in the second half.
HENDERSON ALVAREZ
12-7, 2.65 ERA, 30 starts
WHAT HE DID RIGHT: When Fernandez went down with Tommy John surgery, Alvarez became the de facto ace. The Marlins won 10 straight starts of his from May 16-July 6. Alvarez, who will turn 25 in April, made his first All-Star appearance as an injury replacement. By season's end, his 2.65 ERA was the sixth-lowest in the NL. His three shutouts paced the league. Alvarez may allow more hits (198) than he pitches innings (187), but he knows how to pitch to contact -- or halt a rally with a mid-90s fastball. On June 3 against the Tampa Bay Rays, he orchestrated a masterful 88-pitch complete game.
WHERE HE NEEDS TO IMPROVE: Alvarez has been injury prone since the Marlins acquired him from the Toronto Blue Jays two offseasons ago. In 2013, he missed the first half with right shoulder inflammation. This year, he left starts on four separate occasions with various ailments, once forcing him to the 15-day disabled list in August. After homers plagued him as a Blue Jay, Alvarez allowed just two over 102 2/3 innings in 2013. This season, though, he surrendered 14 (11 on the road) in 187 frames.
CONTRACT STATUS: First-year arbitration eligible
LIKELIHOOD OF RETURN: Alvarez's emergence as a front-line arm bodes well for Miami's depth in the rotation when Fernandez returns. It wouldn't be surprising if the Marlins try to sign Alvarez to a contract extension. He is part of the young core the organization wants to keep together.
NATHAN EOVALDI
6-14, 4.37 ERA, 33 starts
WHAT HE DID RIGHT: Eovaldi, who turns 25 in February, set career highs in innings pitched (199 2/3) and strikeouts (142). A year after missing half the season with right shoulder inflammation, Eovaldi didn't miss a start. During the first half, he went 5-4 with a respectable 3.61 ERA in 19 starts. In his first seven starts, he posted a 2.78 ERA with six quality outings.
WHERE HE NEEDS TO IMPROVE: He went 1-10 with a 5.51 ERA in 14 starts the second half of the season. From June 18 through the end of the season, Eovaldi lost 12 of his final 14 decisions, including the last eight. His struggles began when Fernandez went out and Eovaldi, then the No. 2 starter, moved up in the rotation. He allowed an alarming 223 hits -- most in the NL -- and had trouble finishing off batters (142 strikeouts). That's troubling for a guy with an upper-90s fastball. His secondary pitches need more consistency.
CONTRACT STATUS: First-year arbitration eligible
LIKELIHOOD OF RETURN: Marlins personnel -- from manager Mike Redmond to president of baseball operations Michael Hill -- have repeatedly stated that the organization has not given up on Eovaldi. Until mid-May, he had recorded 20 quality starts out of 25 outings dating back to 2013. Run support has also been tough to come by for Eovaldi. In 2014, the offense produced three runs or fewer in 21 of his 33 starts.
JARRED COSART
4-4, 2.39 ERA, 10 starts as a Marlin; 9-7, 4.41 ERA, 20 starts as an Astro
WHAT HE DID RIGHT: After a mediocre first start in a Miami uniform, Cosart rattled off a remarkable four-game stretch -- just two runs permitted over 27 2/3 innings. The 24-year-old was a model citizen in his two months with the Marlins, tweeting to fans about the club's playoff aspirations and teammates' performances. For a guy groomed in the American League, he showed off his athleticism with four hits in 21 at-bats. His fielding was also solid.
WHERE HE NEEDS TO IMPROVE: Cosart would be the first to say he needs to learn how to finish starts whether that be through conditioning or pitch selection. Twice as a Marlin, he couldn't close out the eighth inning -- much to his frustration. His command can sometimes be an issue. In his final 2014 start, he walked eight Washington Nationals in five frames. Seven times as an Astro he issued four walks.
CONTRACT STATUS: Arbitration eligible in 2017
LIKELIHOOD OF RETURN: The Marlins acquired Cosart at the trade deadline for a reason. They wanted another young and controllable piece to boost a rotation missing Fernandez. Cosart's sample size is small, but his work ethic clearly rubs the organization the right way. He is a solid No. 3 starter, especially with NL hitters' unfamiliarity with him. 
TOM KOEHLER
10-10, 3.81 ERA, 32 starts
WHAT HE DID RIGHT: Koehler entered spring training the incumbent, vying for the fifth spot in the rotation. In a highly contested competition with Hand, he won it and never looked back. Koehler fell 8 2/3 innings shy of 200 and didn't miss a start. He provided the bulldog mentality and consistency the young staff needed. At 28, the"elder statesman" of the group got stronger as the season went on with a 3.55 ERA in the second half.
WHERE HE NEEDS TO IMPROVE: Like Cosart, command can be elusive for Koehler. What he did do a good job of is limiting the damage in those outings and keeping the team in the game. When ahead in the count, batters hit just .161 as opposed to .274 when behind. Koehler's next hump is overcoming the sixth inning, where he recorded a 7.66 ERA.
CONTRACT STATUS: Arbitration eligible in 2016
LIKELIHOOD OF RETURN: With various faces trying to fill in for Fernandez, Koehler was able to eat up innings for the Marlins and provide consistency every fifth day. There was uncertainty in regards to Koehler, a late bloomer in his first full season as a starter. Until 2014, he had just 24 big-league starts to his name, all but one coming last season. In 2013, he appeared in six relief outings before making the transition.
JOSE FERNANDEZ
4-2, 2.44 ERA, eight starts
WHAT HE DID RIGHT: On Opening Night, Fernandez picked up where he left off during his NL Rookie of the Year campaign by tossing six innings of one-run ball in a 10-1 win over the Colorado Rockies. Through eight starts, Fernandez was once again among the leaders in ERA -- even after it ballooned from 1.74 to 2.44 in San Diego. He continued his remarkable dominance at Marlins Park, improving to 12-0 with a minuscule 1.09 ERA in 20 career starts. In 51 2/3 innings, he permitted just 36 hits while striking out 70 batters and walking only 13.
WHERE HE NEEDS TO IMPROVE: Getting healthy. After undergoing Tommy John surgery last May, Fernandez has been working with a physical therapist to stay in shape and build back arm strength. Last month, he began his throwing program. The 22-year-old, who said he felt as though he never had the procedure, will need to remain patient during his rehabilitation and not rush the process. 
CONTRACT STATUS: Arbitration eligible in 2016
LIKELIHOOD OF RETURN: It's just a matter of when. On one occasion, Fernandez hinted toward June 8-10, 2015, in Toronto, but it appears more likely he would return on July 17 in Philadelphia following the All-Star break. As far as a long-term extension goes, don't expect it. His agent, Scott Boras, favors his clients working the free-agent market and seeing their value. One thing is for certain: The NL missed his presence. No one came close to matching Los Angeles ace Clayton Kershaw's performance this season.
BRAD HAND
3-8, 4.38 ERA, 32 games (16 starts)
WHAT HE DID RIGHT: When given a shot at the rotation, Hand was able to put together a consistent routine that led to positive results. Rather than a spot start here or there, as was the case from 2011-13 (83 2/3 IP), he was able to take the mound every fifth day and total 111 innings. As mentioned before, during a six-game stretch from July 8-Aug. 5, he posted five quality starts and a 2.37 ERA. Hand learned to pitch to early contact, which had a direct correlation to his improvement. In the second half, his ERA was 3.89.
WHERE HE NEEDS TO IMPROVE: Hand, who turns 25 in March, gets in trouble when his command is off. That is why he went with the early-contact mindset to avoid deep counts and the possibility of issuing walks. Righties hit .280 off him, while lefties batted just .224. Hand still seeks consistency, especially on the road. In August starts at Cincinnati and Denver, he surrendered 11 runs on 12 hits (four homers) with eight walks in nine innings. Both resulted in key losses during a wild-card chase.
CONTRACT STATUS: Arbitration eligible in 2017
LIKELIHOOD OF RETURN: It's up in the air. The southpaw has shown flashes of why the Marlins chose him with a second-round pick in the 2008 First-Year Player Draft, but he is out of options. Miami probably would've gotten a better return had it traded him last spring training when he helped toss a no-hitter in an exhibition game against the New York Yankees in Panama. With a surplus of young starting pitching in the system, especially lefties, Hand could become expendable. Someone would be enticed by his potential.
You can follow Christina De Nicola on Twitter @CDeNicola13 or email her at cdenicola13@gmail.com.
---