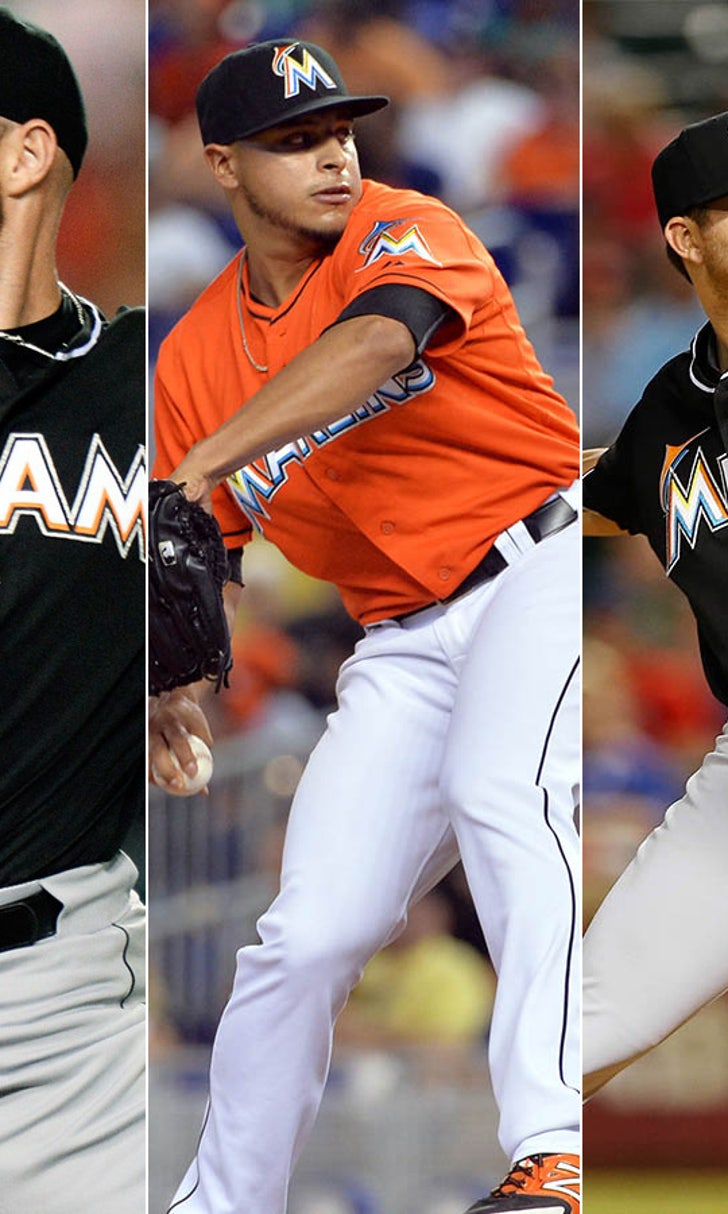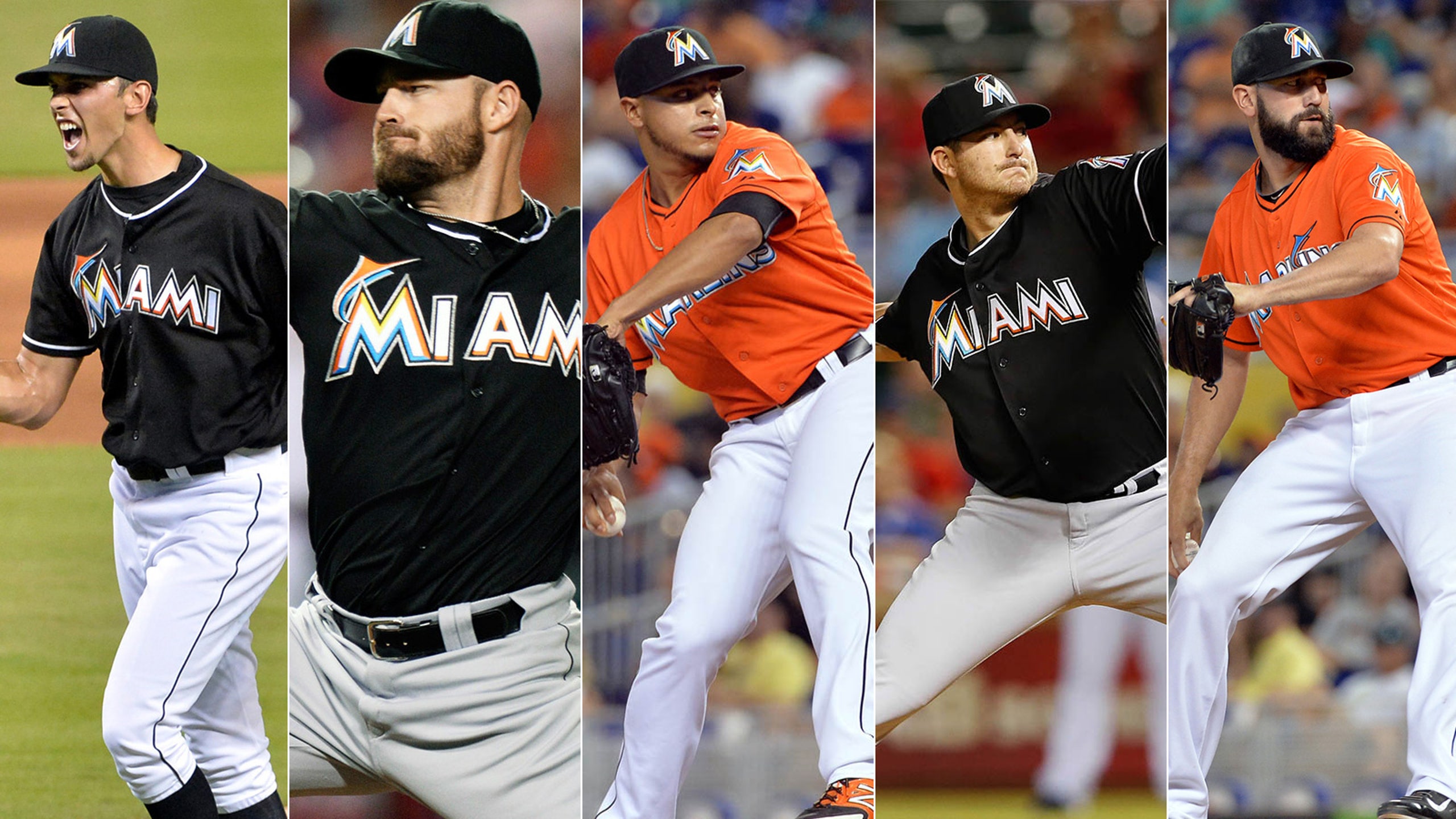 Marlins position analysis: Relief pitchers
BY foxsports • November 25, 2014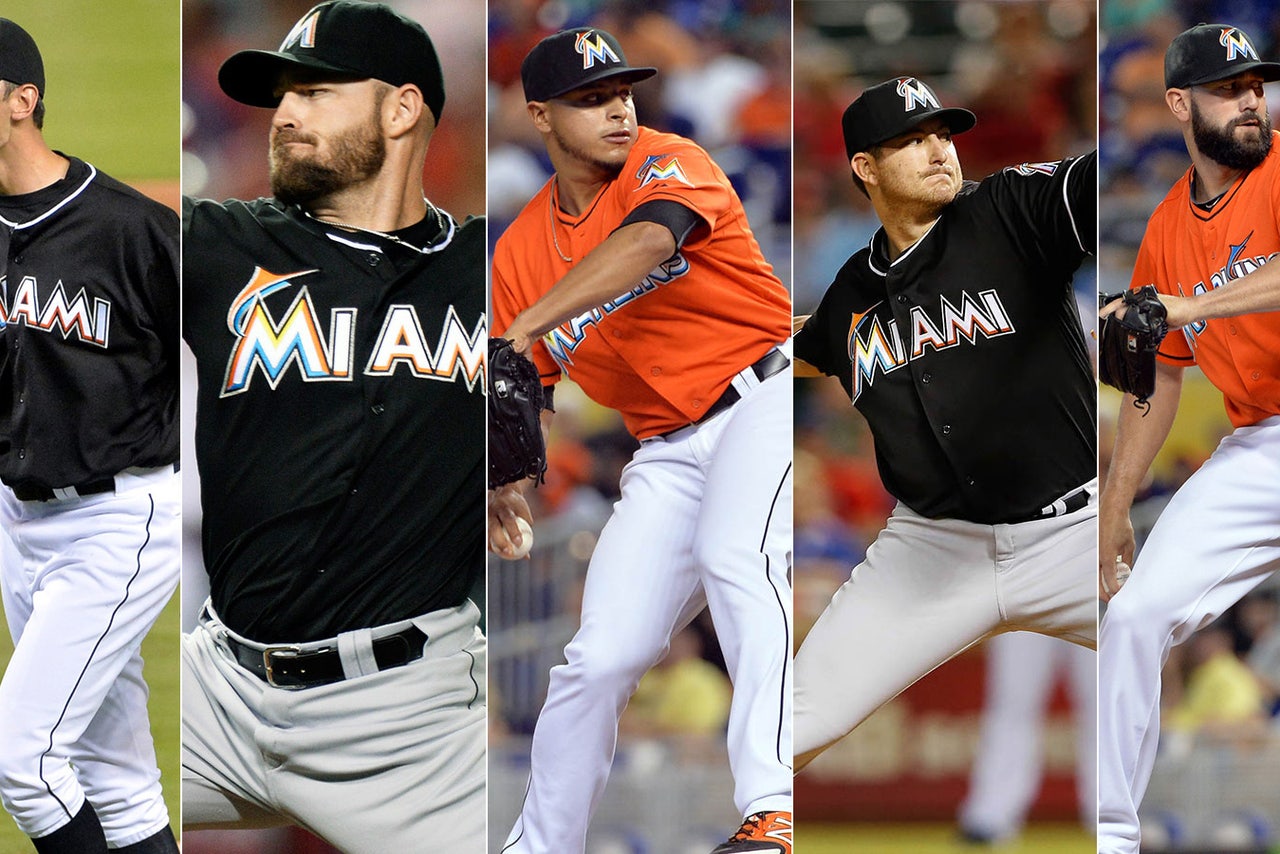 No group of Miami Marlins evolved more over the course of the season than the bullpen.
Through the first two months of the 2014 schedule, relievers let leads slip away in the middle innings before closer Steve Cishek could nail down the win. By the All-Star Game, the staff was 19-19 with a 3.75 ERA. Of 37 save opportunities, it blew 15 of them.
The Carlos Marmol experiment failed (8.10 ERA) and ended in early May. Right-hander Kevin Slowey was designated for assignment by June to pave the way for the major-league debut of top prospect Andrew Heaney. Lefty Brad Hand, who lost out on the fifth spot in the rotation, began the year in the bullpen as a long reliever before making his way back as a starter.
Righties Kevin Gregg, Brad Penny, Arquimedes Caminero and Henry Rodriguez came and went. Caminero is the only one left on the 40-man roster and could still factor into coming seasons. Flamethrower Carter Capps, acquired over the offseason from the Seattle Mariners, began the season in Triple-A New Orleans. Soon after his call-up he sat out three months with a right elbow sprain.
The arrival of Bryan Morris from the Pittsburgh Pirates, as well as the call-ups of righties Sam Dyson and Chris Hatcher, turned the bullpen's fortune around.
It posted a 2.69 ERA after the All-Star break -- best in the majors. Overall, the 3.33 ERA became the top mark in franchise history and ranked sixth in the National League. It fell one win shy of 30, which would've matched a club record.
The seven spots in the bullpen will be highly contested during spring training. Here's a look at the players in the mix.
RHP STEVE CISHEK
4-5, 3.17 ERA, 39 saves (43 opportunities), 67 appearances
What he did right: After struggling on occasion to get lefties out in 2013, Cishek bounced back by limiting them to a .213 clip in 2014. On April 25, he blew his first save in 34 chances (a franchise record) dating back to last season and bounced back with 14 straight conversions. The 28-year-old ranked fifth in the NL in saves and his percentage (.907) trailed just Atlanta Braves' Craig Kimbrel (.922) amongst pitchers with more saves. Cishek remained a reliable arm to close out games despite a midseason rough patch, and he never shied away from a heavy workload. He finished the season with 10 consecutive scoreless outings.
Where he needs to improve: Cishek was in prime position to make the All-Star Game until three multiple-run outings -- all losses -- in late June/early July ballooned his ERA from 1.93 to 3.76. This stretch included a career-worse four runs on five hits and a walk to the Oakland A's in 2/3 inning. Righties hit .266 in 2014, compared to .185 the year before. He didn't toss as many innings or outings as 2013, giving up more hits but collecting more strikeouts. Cishek gets into trouble when he falls behind and his secondary pitches don't work. He isn't a flamethrower with an upper-90s fastball like Kimbrel, who can get away with less-than-perfect location and movement.
Contract status: Second-year arbitration eligible ($3.8 million in 2014)
Likelihood of return: Cishek is the lone pitching holdover from the Florida Marlins. He and Giancarlo Stanton were both drafted in 2007. Among the various media reports on the organization looking into contract extensions, Cishek wasn't one of them. Though the bullpen has some power arms, none have experience closing at the big-league level. Cishek provides both consistency and a calm demeanor in the ninth inning.
LHP MIKE DUNN
10-6, 3.16 ERA, 75 appearances
What he did right: Dunn matched his career high in outings. He recorded 22 holds, sharing eighth-inning duties with right-hander A.J. Ramos for most of the season. With the arrival of Morris, Dunn was able to face more lefties in certain situations. His 10 wins set a Marlins single-season record for a reliever and tied Pittsburgh's Tony Watson for most in baseball. Dunn showed his resiliency after a 6.75 ERA in April, recovering with shutout outings in 16 of the next 17. He's also not a lefty specialist, as he is capable of getting both righties and lefties out (.219 vs. RHB/.220 vs. LHB).
Where he needs to improve: When Cishek went through his struggles, it would've been easy to give someone else a chance. The 29-year-old, however, went 1 for 4 in save opportunities in 2014. Perhaps by chance, batters hit .255 against him in 37 games at Marlins Park. In the eighth inning, he recorded a 4.65 ERA compared to a 1.72 ERA in the seventh and 0.00 ERA in the ninth.
Contract status: Second-year arbitration eligible ($1.4 million in 2014)
Likelihood of return: Dunn is a vital part of the bullpen, especially as a southpaw. Lefty Dan Jennings hasn't shown consistency, and he went back-and-forth between the majors and minors as a result. Without Dunn, the relieving corps wouldn't have a lefty arm to face the National League East's left-handed bats like Bryce Harper and Ryan Howard.
RHP A.J. RAMOS
7-0, 2.11 ERA, 68 appearances
What he did right: Ramos became the first NL pitcher to finish with seven or more wins and no losses since 2011 (Micah Owings Arizona in 2011). He posted a career-low ERA in his third big-league season (second full) and matched his high in outings despite landing on the disabled list with right shoulder inflammation for nearly three weeks. His opponent's batting average of .164 ranked fourth lowest in the NL. Ramos-Dunn was a solid 1-2 combo for manager Mike Redmond.
Where he needs to improve: Command can be an issue with Ramos, who allowed the first batter to collect a .324 on-base percentage. Of the 68 plate appearances, he issued 10 free passes. On June 26, he needed 50 pitches to get through 1 2/3 innings because of three walks. That outing, plus 13 appearances in each of the first three months, likely led to his DL stint. In eight games pitching the ninth, he posted a 4.26 ERA (2.55 in seventh, 1.71 in eighth).
Contract status: Arbitration eligible in 2016
Likelihood of return: Ramos, who turned 28 in September, performed even better in his second full season. Should the Marlins not hold onto Cishek in the long run, Ramos is one of the arms with the capability of taking over closing duties. He solidified his place in the back end of the bullpen with his 2014 campaign.
RHP BRYAN MORRIS
4-1, 0.66 ERA, 39 appearances (as a Marlin)
What he did right: At a time when the Marlins bullpen couldn't hold onto leads, Morris provided stability. By opening with 21 1/3 scoreless outings, a franchise record, he moved from multiple-innings to eighth-inning duties. From June 1 through the end of the season, he ranked first among NL relievers and second in MLB in ERA (minimum of 30 games). Morris lived up to his reputation, inducing ground balls 60 percent of the time. While control was a problem as a Pirate (12 BB in 23 2/3 IP), he issued just 12 walks in 40 2/3 frames with the Marlins.
Where he needs to improve: Morris' season ended prematurely because of a groin injury. In his last outing on Sept. 8 in Milwaukee, he escaped an inherited bases-loaded, no-outs jam to toss a scoreless frame. During a West Coast trip in late August, he hurt his hip but returned to the club. Morris needs to show he can stay healthy.
Contract status: Arbitration eligible in 2016
Likelihood of return: Miami didn't wait until the trade deadline to improve an area of concern. On June 1, the Marlins dealt their No. 39 competitive balance pick for Morris, whom many didn't know much about beforehand. His numbers -- 4-0 with a 3.80 ERA in 21 outings -- certainly didn't stand out. The 27-year-old will likely resume his eighth-inning job in 2015.
RHP CHRIS HATCHER
0-3, 3.38 ERA, 52 appearances
What he did right: Hatcher showed his propensity for strikeouts, racking 60 in 56 innings with 55 hits. He walked just 12 batters for an impressive 5.00 strikeout-to-walk ratio, eighth among NL relievers. Hatcher entered 2014 with a 7.91 ERA in 29 big-league games, but exuded a new confidence that helped him believe he could pitch in the majors. A converted catcher, Hatcher's secondary pitches, particularly a slider, complemented his upper-90s fastball.
Where he needs to improve: Righties hit .277 against Hatcher in 2014, and he posted a 5.34 ERA in 27 road outings. Like any pitcher, Hatcher struggles when behind in the count. While batters hit .333 on the first pitch, meaning they knew he would throw a strike, they also hit .361 when ahead in the count. Good thing for him he often put them behind (.167 average). Hatcher still seeks his first big-league win. He is 0-3 through parts of four seasons.
Contract status: Arbitration eligible in 2017
Likelihood of return: Hatcher, who turns 30 in January, would be the first to say how surprised he was by the Marlins purchasing his contract in May. After being designated for assignment last winter, he pitched nine scoreless outings in spring as an invitee. But he still began the season in Triple-A New Orleans where he and righty Sam Dyson got into a scuffle. With the bullpen's problems arose an opportunity for the Zephyrs closer. He took it and ran with it. Either he or Dyson will be back in a similar role to cover the middle innings.
LHP DAN JENNINGS
0-2, 1.34 ERA, 47 appearances
What he did right: The fact Jennings was able to return to the mound less than a month after getting hit in the temple by a liner is remarkable. His resolve and perseverance mean more than his ERA, which ranked fifth in the NL. When ahead in the count, he kept hitters to a .095 average. In crucial situations, such as runners in scoring position, Jennings held batters to a .152 mark.
Where he needs to improve: Forty-one percent of inherited runners scored on Jennings in 2014, which isn't good for a reliever asked to clean up messes. That's what makes his ERA deceiving because the runs got charged to others. Surprisingly, lefties hit .299 against him, something that doesn't bode well for a southpaw. On the first pitch, batters posted a .421 clip. Command, like some of his fellow relievers, can be an issue. When behind in the count, batters hit .393. The first batter reached 34 percent of the time.
Contract status: Arbitration eligible in 2016
Likelihood of return: Jennings continues to go back-and-forth between the minors and majors, but he is now out of options. The 27-year-old must prove to the Marlins that he can be a reliable arm or else they could try to deal him or cut ties. The bullpen had many guys step up in 2014, so this spring will be crucial as to the direction Jennings goes.
RHP SAM DYSON
3-1, 2.14 ERA, 31 appearances
What he did right: Entering 2014, Dyson had just seven big-league outings (0-2 record, 10.80 ERA) to his name. When the Marlins retooled the bullpen, he got called up and made the most of the long-reliever role. Twelve of his 31 games went multiple innings. Twenty-two of them were shutout appearances, including his first six. Dyson, who came up as a starter, recovered from a broken jaw he sustained from a fight with Hatcher in New Orleans. His pitches have sneaky velocity.
Where he needs to improve: Like Jennings, the 26-year-old found it difficult to strand inherited runners (eight of 18 scored). He also allowed the first batter to reach 46 percent of the time. Both numbers must go down to be a successful reliever. Lefties hit .284 against him. The sample size is still small on Dyson, so he must prove that 2014's success wasn't a fluke.
Contract status: Arbitration eligible in 2018
Likelihood of return: Both Dyson and Hatcher seem to serve the same purpose on the team, but Dyson has an additional season before arbitration and is four years younger. He could be the better fit should the Marlins have to decide on one or the other to begin the season.
RHP CARTER CAPPS
0-0, 3.98 ERA, 17 appearances
What he did right: Capps might've taken starting 2014 in Triple-A New Orleans rough, but he continued to work on a new delivery and posted a 1.64 ERA in seven outings for the Zephyrs. Upon his call-up in May, he tossed a shutout appearance in six of the first seven before the injury clearly affected him (three runs in two innings over successive games). His strikeout-to-walk ratio (5.00) and strikeout-per-nine innings (11.1) show the makings of a closer. He surrendered just one homer in 20 1/3 frames. In 2013, he allowed 12 in 59.
Where he needs to improve: His first season as a Marlin had many bumps. Capps tweaked his delivery in spring training, which kept him off the Opening Day roster. When he joined the club, he was shut down for three months with a right elbow sprain. He avoided Tommy John surgery and instead rehabbed before a September return. In just 20 1/3 innings, southpaws hit .324 off him. Eight of 17 first batters reached base.  
Contract status: Arbitration eligible in 2016
Likelihood of return: The Marlins traded oft-injured Logan Morrison to the Mariners for Capps last winter. It is up to Capps to bounce back after a tough 2014 and make the deal seen in a positive light. The 24-year-old has the potential to become a closer down the line, but he needs to stay healthy and work on his control.
You can follow Christina De Nicola on Twitter @CDeNicola13 or email her at cdenicola13@gmail.com.
---