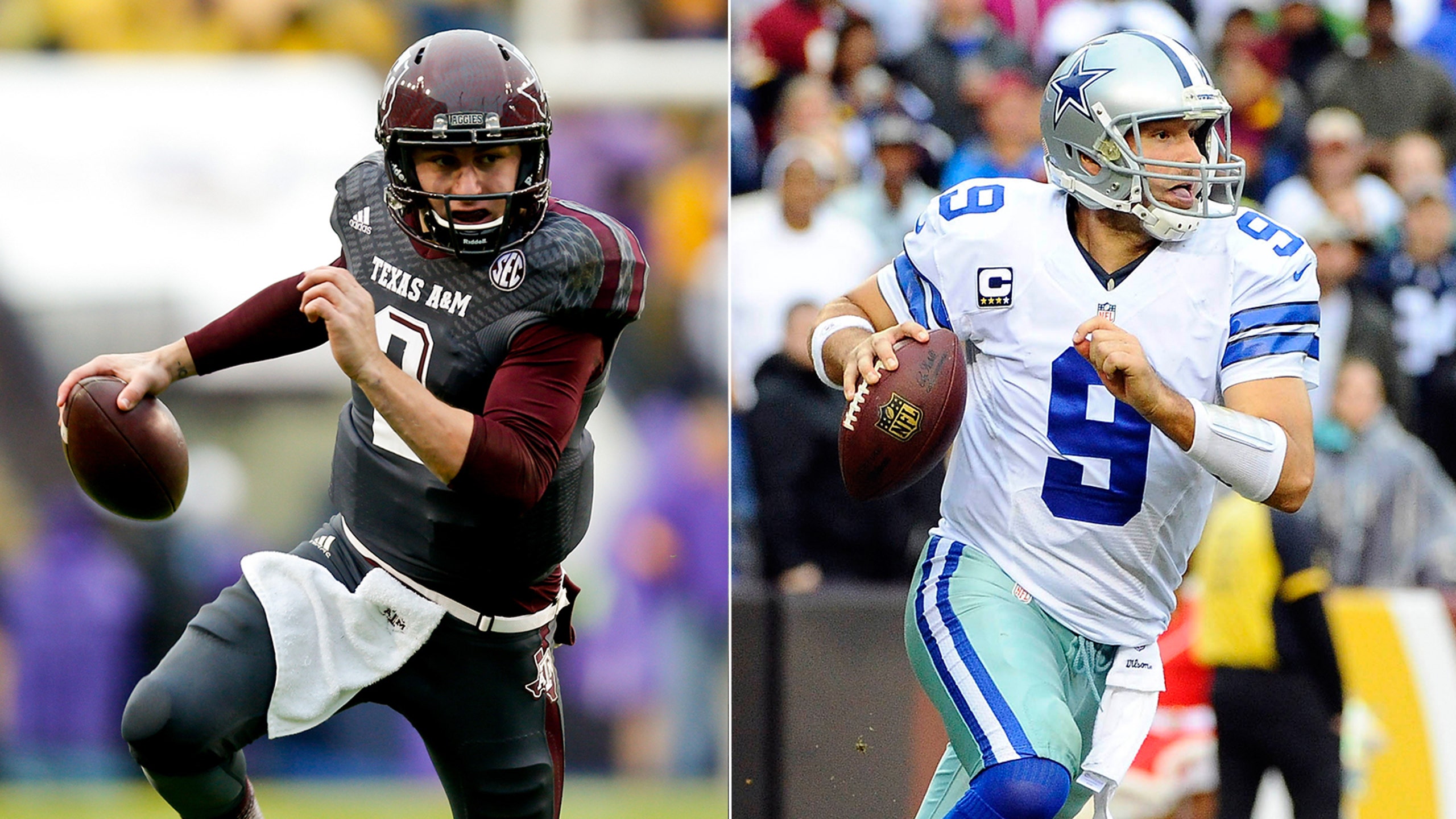 Manziel could supplant Romo as the most polarizing QB in Texas
BY foxsports • February 27, 2014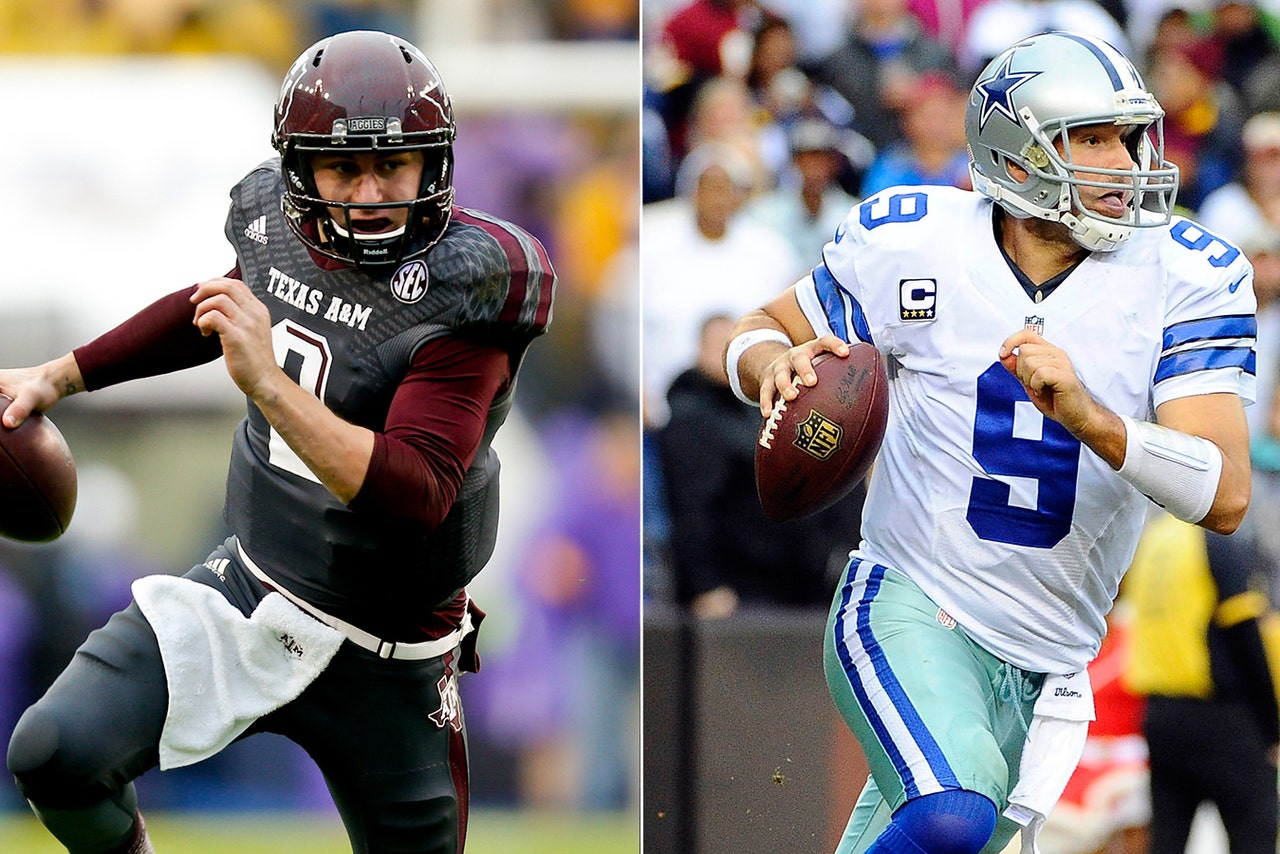 Ever since he took the NFL by storm in 2006, Tony Romo has been one of the biggest lightning rods in the league. Soon, though, he may be surpassed by Johnny Manziel, if it hasn't happened already.
Just in the past 48 hours, two of Jerry Jones' longtime cohorts have caused a stir with their comments regarding Manziel. He's the most fascinating draft prospect since Tim Tebow, with the biggest difference being that Manziel shouldn't have to learn a new throwing motion. Before Jerry's buddies started talking, it was ESPN's Ron Jaworski who told a Philadelphia radio station that he wouldn't take Manziel in the first three rounds of the draft. Jaworski doesn't normally go out of his way to make controversial statements, so his take was jolting for everyone. I half-expected ESPN to hold a town-hall meeting in response.
But then a radio station in St. Louis had the good sense to ask former Sooners and Cowboys head coach Barry Switzer for his thoughts on Manziel. As he's wont to do, Switzer left nothing to chance.
"I don't like his antics," said Switzer. "I think he's an arrogant little [expletive]. I've said that and I'll say it again. He's a privileged kid, he's embarrassed himself, he's embarrassed his teammates, he's embarrassed his coaches."
In case you missed the 1970s and 80s at Oklahoma, Switzer wasn't exactly recruiting choirboys. This is a man who seemed drawn to the outsized personalities such as linebacker Brian Bosworth. And that's probably why Switzer also had some positive things to say about Manziel in his much-publicized interview CBS Sports Radio 920 AM.
"For whatever his antics are... he's the best that I've seen," said Switzer. "I have never seen a quarterback in college football [take] control of the game like he does and put up the numbers he does. It is fantastic what he's done, against good competition. Game after game after game he puts numbers up that are staggering... He's the most dominant, most dynamic college quarterback I've seen in a long, long time."
That's just another reason why Manziel is such a fascinating personality. Some of the same things that make him so appealing as a prospect could also lead to his downfall. If he tries to play the position like Michael Vick, it's hard to imagine him having a long career. But it's also hard to imagine him being confined to the pocket.
Switzer's former defensive coordinator at OU, Larry Lacewell, is one of Jones' closest friends. He worked for years as the Cowboys' director of scouting before Bill Parcells forced him into early retirement. He remains one of Jones' most trusted advisers, although he might not be in good standing after helping convince Jones to hire Monte Kiffin as defensive coordinator last season. I've known Lacewell for many years, and one of the things I like most about him is his willingness to always go on the record with his colorful comments. On Wednesday, he was asked on 105.3 "The Fan" what Jerry would do if forced to pick between Romo or having the No. 1 overall pick.
"I think he'd want the No. 1 pick and no Romo," Lacewell said. "Because he's such a showtime guy. He'd take Manziel. He would have to put 100,000 more seats in that stadium... just for the Aggies."
When asked whether Jones would select Manziel if he slipped to No. 16 in the draft, Lacewell said, "He takes him. He's got a man crush on him. So do it. If he could box up all of 'em [draft picks], he's probably go get him."
The Cowboys definitely need to look for Romo's potential successor in this draft, but it won't happen in the first round. The Cowboys have desperate needs along the defensive line. And they've made an enormous investment in Romo. The 49ers and Seahawks didn't have to spend first-round picks to find franchise quarterbacks in recent years.
The good news for Romo is that Manziel could supplant him as the most polarizing quarterback in the state if he's selected by the Texans. And something tells me Romo would be fine with that scenario.
---