Magic Musings: Orlando watches late lead slip away in overtime loss
February 25, 2015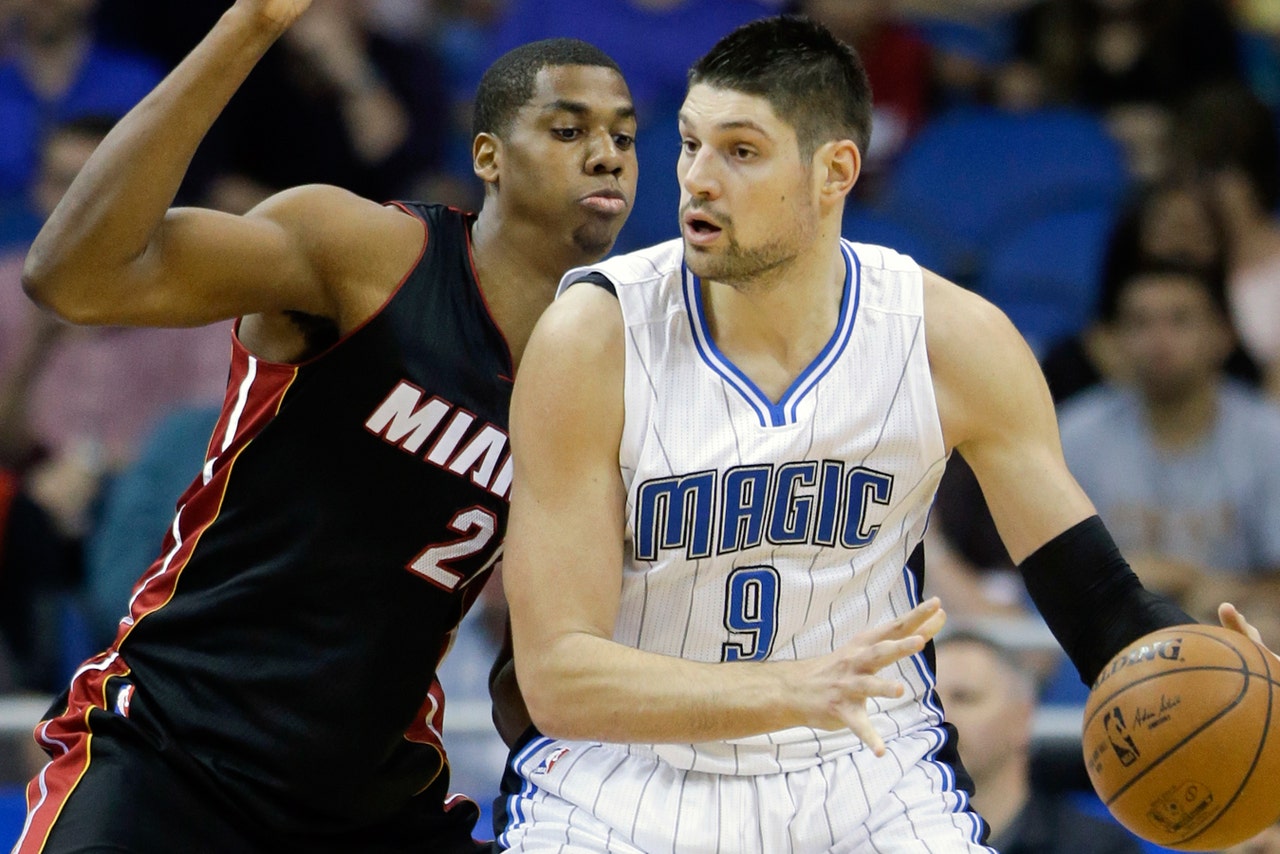 ORLANDO, Fla. -- On the verge of recording their first four-game winning streak since December 2012, the Orlando Magic saw that chance slip away in painful fashion Wednesday night against the Miami Heat.
The Magic squandered an eight-point lead in the final minute of regulation and ended up losing 93-90 in overtime.
Already allowing an average of only 92.7 points in six games since James Borrego became their head coach, the Magic led the Heat 83-75 with 42 seconds to go after two free throws by Nikola Vucevic. But the Heat, playing their fourth game since losing All-Star forward Chris Bosh for the season because of blood clots in his lungs, proved to be resilient.
A 3-pointer by Henry Walker with 2.1 seconds to go capped a 10-2 run that forced an extra five-minute period. The Magic went only 2 of 4 from the free-throw line in the final 37 seconds of the fourth quarter and also committed a turnover in the backcourt, a call that originally went in their favor but was overruled after a video review.
Vucevic, who had 33 and 26 points in his previous two games against the Heat this season, gave the Magic their only lead in overtime when he split two free throws. A dunk by Hassan Whiteside and a layup by Dwyane Wade off a long outlet pass from Luol Deng put the Heat up to stay.
Vucevic topped all scorers with 26 points, including all five of the Magic's points in overtime. But he also missed a jump shot from the top of the key and a jump hook over Whiteside which could have put them ahead.
The Magic's strategy of protecting the paint as best as possible worked well in the first half, when both teams had a hard time getting into any sort of rhythm on offense.
Rookie forward Aaron Gordon sprained his right ankle in the second quarter and did not return.
THE TURNING POINT
The Magic appeared to have things in control until the Heat got two free throws from Mario Chalmers, a basket by Wade and two 3-pointers by Walker.
THE DIFFERENCE MAKER
Whiteside contained Vucevic as best as he could and finished with 15 points, 13 rebounds and three blocked shots.
STAT OF THE GAME
The Heat had gone 4 of 24 from 3-point range before Walker connected twice to force overtime.
WHAT'S NEXT
Friday night at Atlanta, 7:30 p.m.
You can follow Ken Hornack on Twitter @HornackFSFla or email him at khornack32176@gmail.com.
---