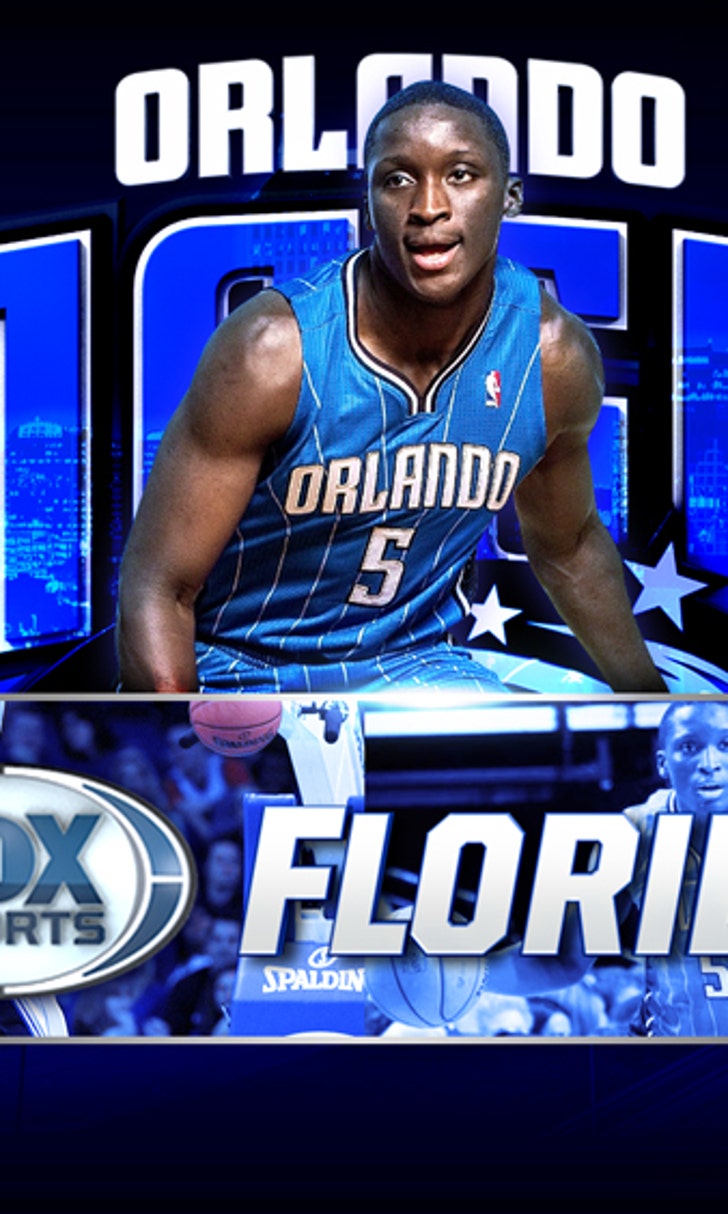 Magic, FOX Sports Florida host 'Social Media Night' on Nov. 19
BY foxsports • November 18, 2014
ORLANDO, Fla. -- The Orlando Magic are teaming up with FOX Sports Florida to host a "Social Media Night" on Wed., Nov. 19 when the Magic face the Los Angeles Clippers at Amway Center, tip off set for 7 p.m.

Highlights of "Social Media Night" Include:
-- Fans will have the opportunity during the game to send their tweets to @FOXSportsMagic and @OrlandoMagic, using the hashtag #PureMagicSocial, for a chance to appear on the broadcast and have their questions answered either on-air or through social media by OrlandoMagic.com, FOX Sports Florida on-air talent, Magic reporters and other celebrities/talent/Magic staff.
-- In-arena, two photo booths will be located on the Amway Center concourse. Fans can upload those photos using #PureMagicSocial. Photos will also be printed at the photo booth locations.
-- Fan Instagram and Twitter messages will be displayed on the Magic TV (center hung video board) throughout the game.
-- "Selfie Cam" during the game where fans will be prompted to take photos of themselves on Magic TV.
-- Fans can tweet song requests during the game to @orlandomagic using #PureMagicSocial.
-- Postgame Q&A with Magic players Kyle O'Quinn and Tobias Harris. The postgame Q&A will be streamed live on orlandomagic.com and the Magic Mobile App. The players will answer questions from fans in-arena as well as from fans on social media, who use #PureMagicSocial.
-- The Magic will also engage in random acts of #PureMagicSocial kindness throughout the day.
-- FOX Sports Florida will reward fans with prizes and a ticket sweepstakes on www.MagicFanRewards.com. The website allows registered users to earn points answering Magic trivia, taking polls, giving predictions, entering broadcast codes and by joining conversations on social media. Fans are encouraged to use hashtags #MagicFanRewards and #PureMagicSocial in any tweet for bonus points once they are a registered user. Fans can be rewarded for their "fandom" just by using a phone, computer or tablet.
Orlando Magic/FOX Sports Florida Social Media Night
WHEN: Wednesday, November 19, Magic vs. Clippers (6:30 p.m., for pregame broadcast)
WHY: Provides fans an opportunity to "connect" with the Magic and earn points with FOX Sports Florida's Magic Fan Rewards program; postgame Q&A through social media with Kyle O'Quinn and Tobias Harris
HOW: Fans can participate through twitter, @OrlandoMagic and @FOXSportsMagic, #PureMagicSocial
---