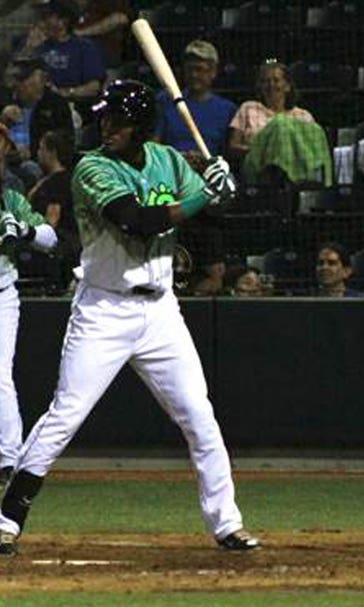 MadFriars' Preview: 2015 Fort Wayne TinCaps
April 13, 2015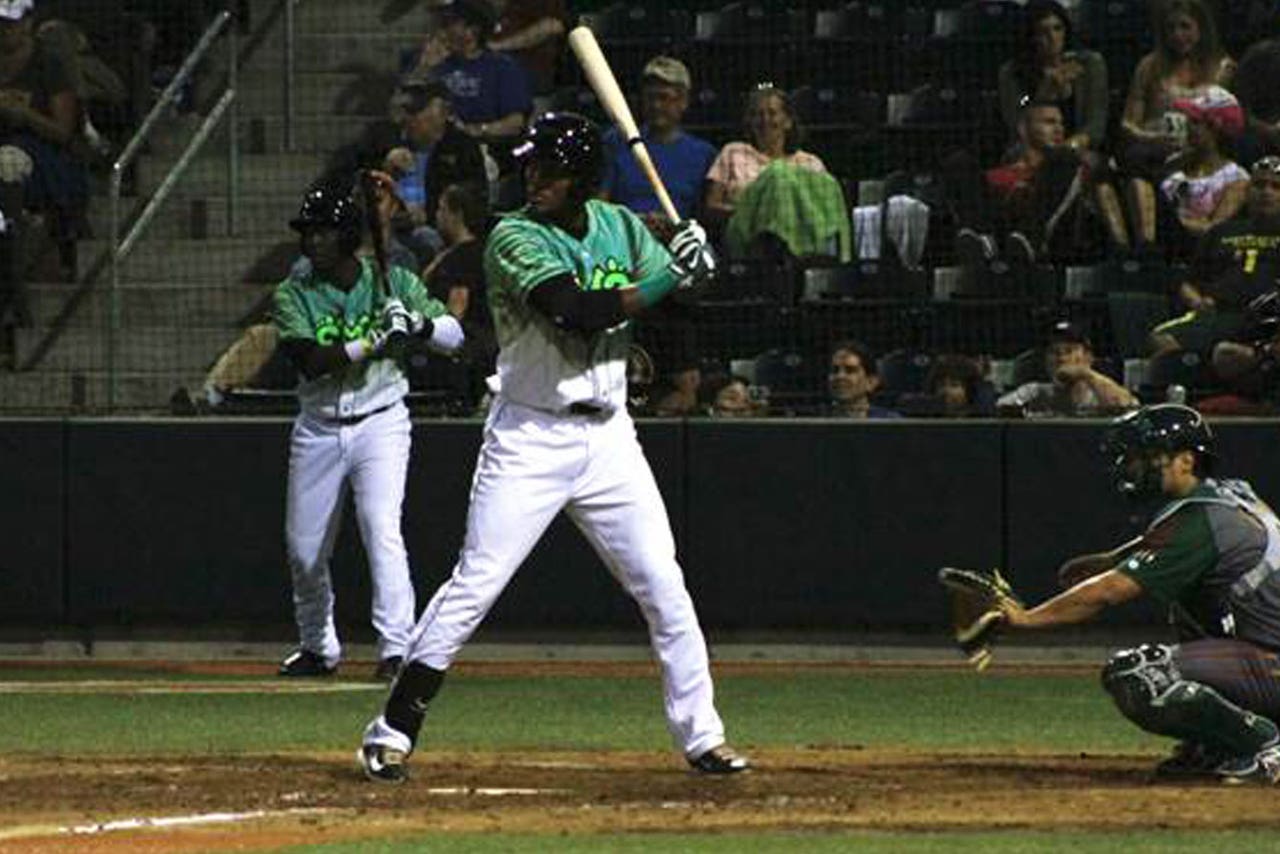 The Padres will again send a very young squad to the Midwest League and the team could struggle on offense and on the mound as the players get used to the cold weather and a much higher competition level. Offensively, the TinCaps will count on shortstop Franchy Cordero to be much better than he was last April and hope that top prospect Michael Gettys has a short learning curve. On the mound, lefty Thomas Dorminy will be the only starter with any significant experience above the Arizona League.
Three Strikes with Sam Geaney, the Padres Director of Player Development:
What has impressed you the most about Michael Gettys?
Sam Geaney: Michael just has tremendous tools and is the type of physically gifted player that you don't see every day. He had a pretty strong pro debut in the Arizona League but will need to cut down on his strikeouts.
When I was with the A's organization I saw him some but he really was a pleasant surprise. After you get past the tools - which will take a while - he really improved as a baseball player. He's not getting fooled as much at the plate and we think he will be ready for the difficult challenge of a full-season league at a very young age.
MadFriars: This spring you were pretty high on RHP Dinelson Lamet. What should we expect this year from him?
Sam Geaney: This is a guy that pitched in the Dominican Summer League and we thought we would take our time with him and keep him in Extended [Spring Training] for a while this season. But he really came on. Right now we have him penciled in as our sixth starter and he is going to piggyback with Taylor Aikenhead so we can be careful with him. But yes, he really has explosive stuff and a great body for a pitcher at 6-4, 190 lbs. He is definitely someone to watch.
MadFriars:Two local players made the roster in infielder Josh VanMeter and pitcher T.J. Weir. What can we see from them this year?
Sam Geaney: I thought Josh had a really good season as a high school player who went right out to compete in a full-season league after his draft year which was made even more difficult in that it was the unique situation of being in his home town. I think he not only learned a lot from it but really built on it going into this year. With Fernando [Perez] above him in High-A we felt we had time to work on some things with Josh at this level before moving him up and he seems like a really good fit for this squad.
T.J. was a senior sign who put up some good numbers in the Arizona League. He is a former two-way player in college and is a good athlete. With players like him he has to keep doing what he did last year, prove he can play at the level he's at.
2015 Projected Lineup:
1B       Trae Santos/Duanel Jones                   SP        LHP    Thomas Dominey
2B       Josh VanMeter                                   SP       RHP    Ernesto Montas
SS        Franchy Cordero                                SP       LHP    Taylor Cox
3B       Duanel Jones                                     SP       LHP/RHP       Aikenhead/Lamet      
RF       Franmil Reyes/Moreno                          SP       RHP    Walker Lockett          
CF       Michael Gettys                                    RP       RHP    Seth Lucio
LF       Nick Torres                                         RP       RHP    Yimmi Brasoban
C         Jose Ruiz                                           RP       LHP    Bryan Verbitsky
MadFriars' Top 20 Prospects in Fort Wayne: CF Michael Gettys (#5) and SS Franchy Cordero (#17).
Catch a Rising Star: If you like tools, Michael Gettys is one of the most talented Padres prospects in a very long time. Only 19, the athletic center fielder has five-tool potential but is still raw. Look for him to initially struggle in the first few months of the season as he adjusts to pitchers with more advanced repertoires.
Starting Pitching: Ryan Butler and Zech Lemond, the two top pitchers from the 2014 draft, are in Lake Elsinore so the TinCaps are going to cobble together their staff. Taylor Cox was taken out of the University of Tennessee-Martin in the 2014 draft before spending most of his debut season in the AZL. For the AZL Padres he struck out 26 batters in 26 innings against only five walks. Taylor Aikenhead was a 32nd round pick out of Cal-State Bakersfield, was 4-0 in 22.2 innings in the AZL with 30 strikeouts against only four walks in two starts. This season he will be paired with Lamet, 22, who looked good in the spring but has only pitched in the Dominican Summer League. At 23, Ernesto Montas is somewhat old for making his debut in the US after two seasons in the DSL where he threw 124 innings and posted a 2.98 ERA. Thomas Dorminy, 22, was a tenth round selection and senior sign out of Faulkner University in Alabama and will be expected to be the "dean" of the staff. He put up some decent numbers at Eugene in limited action with a 3.72 ERA and 24 strikeouts in 19.1 innings. Walker Lockett, 21, has the size and stuff you like to see, though he hasn't been able to stay on the field. He has thrown only 12.2 innings since his solid AZL debut in 2012. If he is healthy he could be one of the Padres better pitchers in the lower levels.
Pen: Seth Lucio may not be the best reliever that will be in Fort Wayne this summer but he may be the most fun. It is always fun to watch the batter turn to the catcher after the first pitch and seemingly say, "How can such a small guy throw that hard?" At maybe 5-9, he struck out 46 batters in 27.1 innings and if he can cut down on the 20 walks he gave up there is no reason why he can't continue to climb up the ladder. Yimmi Brasoban has been around with the organization since 2011 and this spring was up around 92 to 94. The Padres believe he will have more success than in past years with his move to the bullpen. Bryan Verbitsky found success as the Emeralds' closer with a devastating strikeout rate of 42 in just 27 innings. He only gave up 10 walks and 13 hits and held the opposition to a .144 batting average and was 10 for 11 in save opportunities. Good chance he will get the same chance with the TinCaps this year.
Infield: Former local star Josh VanMeter is a good player and will get quite a bit of local press but Franchy Cordero, who struggled mightily at the plate and in the field with the TinCaps last year, is the big prospect this year in the Summit City. The left-handed hitting young Dominican cut down on his big leg kick at the plate and looked much more comfortable in the field during the spring. Even through a difficult summer defensively in Eugene, he still hit 279/.329/.458 with nine home runs and 13 stolen bases in 61 games. He has a lot of talent and if the Padres can get it out, they may have a star. VanMeter hit .281 in the second half and is a very solid all-around player. Every off-season he has gotten bigger and should be able to drive the ball more this season. 3B/1B Duanel Jones returns to Fort Wayne after spending the past two years in High-A Lake Elsinore. He's still only 21 but struggled to make consistent contact in his time with the Storm. Everyone in baseball likes the tools package before the game; it's just a question if he can put it together during the game. Trae Santos may be the only native Guamanian in professional baseball. In 2013 he hit 18 home runs at Troy State but has only hit seven in two seasons with Eugene.
Catching: Jose Ruiz hit .187/.201/.232 in Eugene last year and Miguel Del Castillo was only slightly better at .203/.238/.316. I'm an optimistic person but I sure hope they are better receivers than batters.
Outfield: Gettys will get the lion's share of attention but the Padres are fairly happy with the outfield that they are sending to Fort Wayne. Nick Torres didn't hit as well as either he or the organization would have liked last year in Eugene but going into the draft he was considered one of the better pure hitters in the collegiate ranks. Giant man-child Franmil Reyes, at 6-5 and at least a solid 250 lbs. looked in much better shape in the spring and seems to have acquired better plate discipline as well. He had 37 extra-base hits last year in 546 plate appearances but also 118 strikeouts.
On the Spot: The Padres are leaving no stone unturned in their efforts to make Franchy Cordero a serviceable shortstop and he is going to have to show that he can stick there defensively this year. A repeat of last year will force the organization to move him off of the position and possibly to the outfield.
Under the Radar: If Walker Lockett is healthy, the 6-5, 235 lbs. Floridian could evolve into the ace of the staff. But it is a big "if".
---