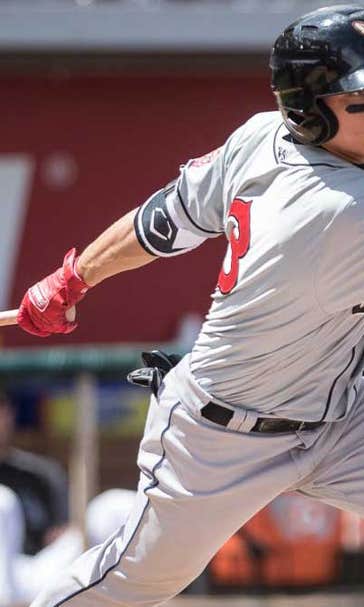 MadFriars' August Players of the Month
September 5, 2018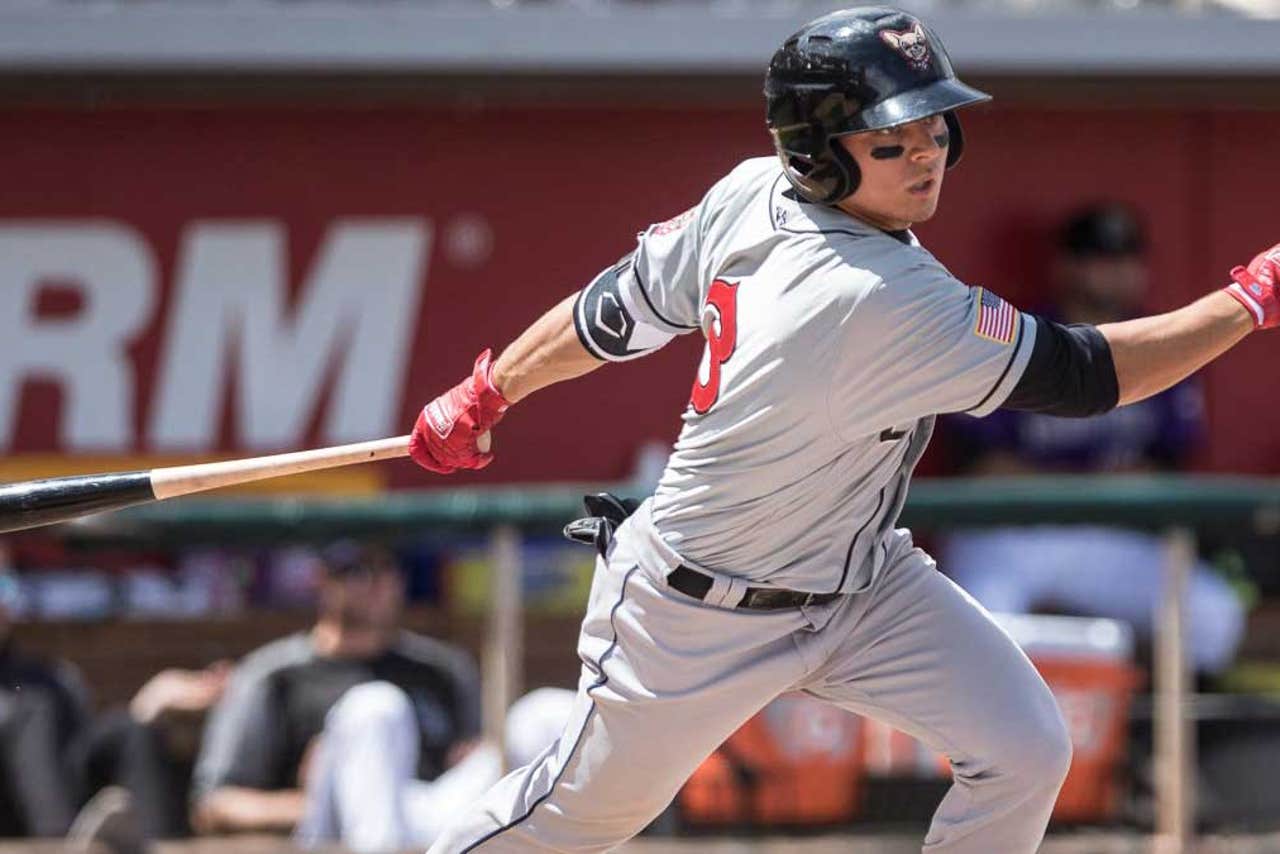 It's been quite a year for the Padres farm system. The notable prospects who made their MLB debuts this season include the majority of the current Padres rotation (Joey Lucchesi, Eric Lauer, Jacob Nix, and Brett Kennedy), key relievers (José Castillo, Trey Wingenter, Robert Stock, and the recently traded Adam Cimber), and possible impact bats (Luis Urías and Franmil Reyes). San Diego also held the 7th pick in the MLB draft in June, and added players like Ryan Weathers, Xavier Edwards, and Owen Miller, who have hit the ground running against advanced competition. As the minor league seasons across the country come to a close, the Padres find their system as flush with talent as it has ever been.




El Paso Chihuahuas (Triple-A)

In the West Texas desert, El Paso's playoff push hasn't stopped the Padres from pilfering prospects from the Chihuahuas roster. With infielder Luis Urías putting up a monster August in which he hit .420/.480/.659, San Diego decided he had nothing left to prove in the Pacific Coast League and had the 21-year-old make his MLB debut in Petco Park on August 28.

Before earning a September call-up of his own, catcher Francisco Mejia (acquired at the trade deadline from Cleveland for Brad Hand) showed what he's capable of. The 22-year-old, who talked to MadFriars about work to improve his bat speed slugged .522 with six doubles and five homers  while striking out at a 20% clip. One of his battery-mates, Logan Allen, has made the transition from Double-A to Triple-A seamlessly, posting a 0.82 ERA in four August starts, while striking out 21 batters in 22 innings. Allen, who was recently named the Texas League Pitcher Of The Year, and Mejia figure to factor in prominently to the Padres plans in 2019.




El Paso Player of The Month: Luis Urías

San Antonio Missions (Double-A)

Moving east across the Lone Star state, the San Antonio Missions limped into the playoffs in their last season before leaving the Texas League to join the Pacific Coast League in 2019. With headline players like Fernando Tatis, Jr., Jacob Nix, and the aforementioned Allen all injured or promoted, San Antonio had a 6-21 record in August, and will need some serious improvements to make a run at a Texas League crown one last time.

Offensively, the Missions have struggled mightily down the stretch. Slugger Josh Naylor had a .660 OPS in August, his lowest monthly total of the season, and reinforcements from High-A like Buddy Reed (.473 OPS) and Hudson Potts (.583 OPS) have struggled to adjust to the more advanced pitching. Even stalwart Austin Allen, who is among the league leaders in many offensive categories, had a relatively average month, with a .256/.316/.433 slash line.

With three-time MadFriars Player of The Month Chris Paddack healthily shut down for the year due to an innings limit, and Michel Báez struggling to adjust to Double-A hitting (he had a 7.36 ERA in August, while allowing 5.9 walks per nine), the highest performing pitcher in San Antonio has also been the youngest one: 19-year-old closer Andres Muñoz. Boasting a fastball that routinely touches triple digits, Muñoz didn't allow a run and struck out ten hitters in eight August innings.




San Antonio Player of The Month: Andres Muñoz

Lake Elsinore Storm (High-A)

After monster first-halves by Reed and Potts prompted their promotions to Double-A, the Storm lacked consistent, middle of the order pop in July. In August, however, outfielder Edward Olivares stepped up and posted a .511 slugging percentage, clubbing five homers and four doubles for Lake Elsinore – though much of it came at Lancaster. Olivares has kept his strikeout rate down all season (17.7%) and uses his plus speed to cover ground in the outfield and make things happen on the base paths (21-for-29 in stolen base attempts this season), so the addition of power would be a big plus for the 22-year-old Venezuelan who will be Rule 5 eligible this offseason.

Storm pitchers in August racked up strikeouts like no other team in the Padres organization. Reggie Lawson (8.8 K/9), Nick Margevicius (10 K/9), Pedro Avila (15.5 K/9), and reliever Dauris Valdez (16.4 K/9) put up some of the best strikeout numbers in the league. However, Margevicius impressed the most, walking just three batters in 37.2 innings, as he recovered from a rough welcome to the league in July and posted a 3.82 ERA.

Lake Elsinore Player of The Month: Edward Olivares

Fort Wayne TinCaps (Single-A)

After injuries to promising prospects Tirso Ornelas and Justin Lopez, it was another pair of youngsters that buoyed the TinCaps offense in August: Gabriel Arias and Jack Suwinski. After a tough couple of months in the Midwest League, they turned it around in a big way at the end of the summer and combined for 32 extra base hits in August. Arias, known much more for his defense than his bat, is still striking out quite a bit (27.6%), but he and Suwinski improved their walk rates, and could be priming for breakout years in 2019.

The most consistent bat in the lineup was Owen Miller, drafted in the third round in June. Drafted out of Illinois State, Miller was promoted from Tri-City after posting a .835 OPS for the Dust Devils with solid defense at short. He didn't slow down in Fort Wayne, putting up a .358/.418/.514 slash line in August. Some of the high-round college talent taken by the Padres in recent history has made short work of the minors on the way to the big leagues, and Miller may be on an expedited track.

Fort Wayne benefitted greatly from stellar performances by starters Osvaldo Hernandez (1.56 ERA, with 14 strikeouts in 17.1 innings) and Tom Cosgrove (2.30 ERA, 32 strikeouts in 27.1 innings), but it was 18-year-old Luis Patiño who was dominant down the stretch. The Colombian righty struck out 29 hitters in 22 innings and posted a 1.23 ERA. Almost a full four years younger than the competition he's facing, Patiño put a nice bow on a season that saw him finish with a 2.16 ERA with a 98:24 K:BB ratio in 83.1 innings.

Fort Wayne Player of The Month: Luis Patiño

Tri-City Dust Devils (Low-A)

Though Tri-City is a short season team, they saw a lot of turnover towards the end of the summer. With big bats like Olivier Basabe and Miller moving up to Fort Wayne, August saw Arizona League standouts Tucupita Marcano and Xavier Edwards become important cogs for the Dust Devils – in the middle of the field and at the top of the batting order.

Marcano, an 18-year-old middle infielder (who spent most of his time at second base), was an on-base machine in Arizona, posting a .497 OBP in 35 games (160 plate appearances). While he hit .395, the 100-point jump in OBP came from an impressive 16.3% walk rate. Upon arriving in the Northwest League, he saw some of those numbers normalize quickly, but continued to drive the ball, notching 22 hits in 17 games for a .784 OPS in the pitcher-friendly Northwest League

A competitive balance pick in June, Edwards has shown he isn't intimidated by advanced competition even though he came right out of high school. With Tri-City, he walked more times (16) than he struck out (14) and, was a perfect 10-for-10 in stolen base attempts. Though he didn't show much pop (.358 slugging), he has all the other tools at a premium position and is off to a hot start to his professional career.

Not all of the notables were new to the squad in August. Catcher Blake Hunt had his highest OPS and lowest strikeout rate in the month, while providing solid defense behind the plate. 19-year-old Ramon Perez posted a 25:5 K:BB rate in 18 innings, while recording a 1.50 ERA, while Jordan Guerrero finished off the campaign without allowing an earned run in 22.1 innings and with a strong 29:7 strikeout-to-walk ratio

Tri-City Player of The Month: Xavier Edwards

AZL Padres (Rookie Ball)

The Padres are so heavy-laden with talent that they field two teams in Arizona, and even with late-season promotions, they still have plenty of talent worth watching if you feel like braving an Arizona summer. Agustin Ruiz, an 18-year-old corner outfielder from southern Mexico, lit up the box score to the tune of a .354/.422/.582 slash line, which included two doubles and eight triples. Lee Solomon, a 25th round draft pick last June out of Lipscomb, had twenty hits in 13 games (half of which were for extra bases), posting a 1.036 OPS.

While 17-year-old Frank Lopez compiled a 14.6 K/9 for the month of August in a small sample (12.1 innings across five games), the most impressive of the arms on display was lefty Joey Cantillo. Drafted in the 16th round in 2017, the 18-year-old Hawaiian had a 21:3 K:BB ratio in 18 innings, while allowing just three earned runs. With his age and build, it's likely that he can add some velocity to his fastball that sits high-80s, and though he needs to work on his secondary pitches, he owns a plus changeup, that keeps hitters guessing.

AZL Padres Player of The Month: Joey Cantillo

System Player of The Month: Luis Urías

After a stellar campaign in Double-A last season, Urías got off to a hot start in El Paso, hitting over .300 and getting on base at over a .400 clip in April. However, from May to July, he hit .254 and struck out 22.5% of the time – not bad numbers for a 21-year old in Triple-A, but well below his standard.

In August, however, he found his groove, smashing 37 hits in 24 games, including ten doubles. He also brought his strikeout rate down to a more Urías-like 16.7%. With that, the Padres called him up and plugged him in at second base, and near the top of the lineup. Expect some growing pains as Urías adjusts to big league pitching, but already he's shown that he has a keen sense of the strike zone and is able to put the ball in play, and could be a solid table-setter in San Diego for years to come.
---
---