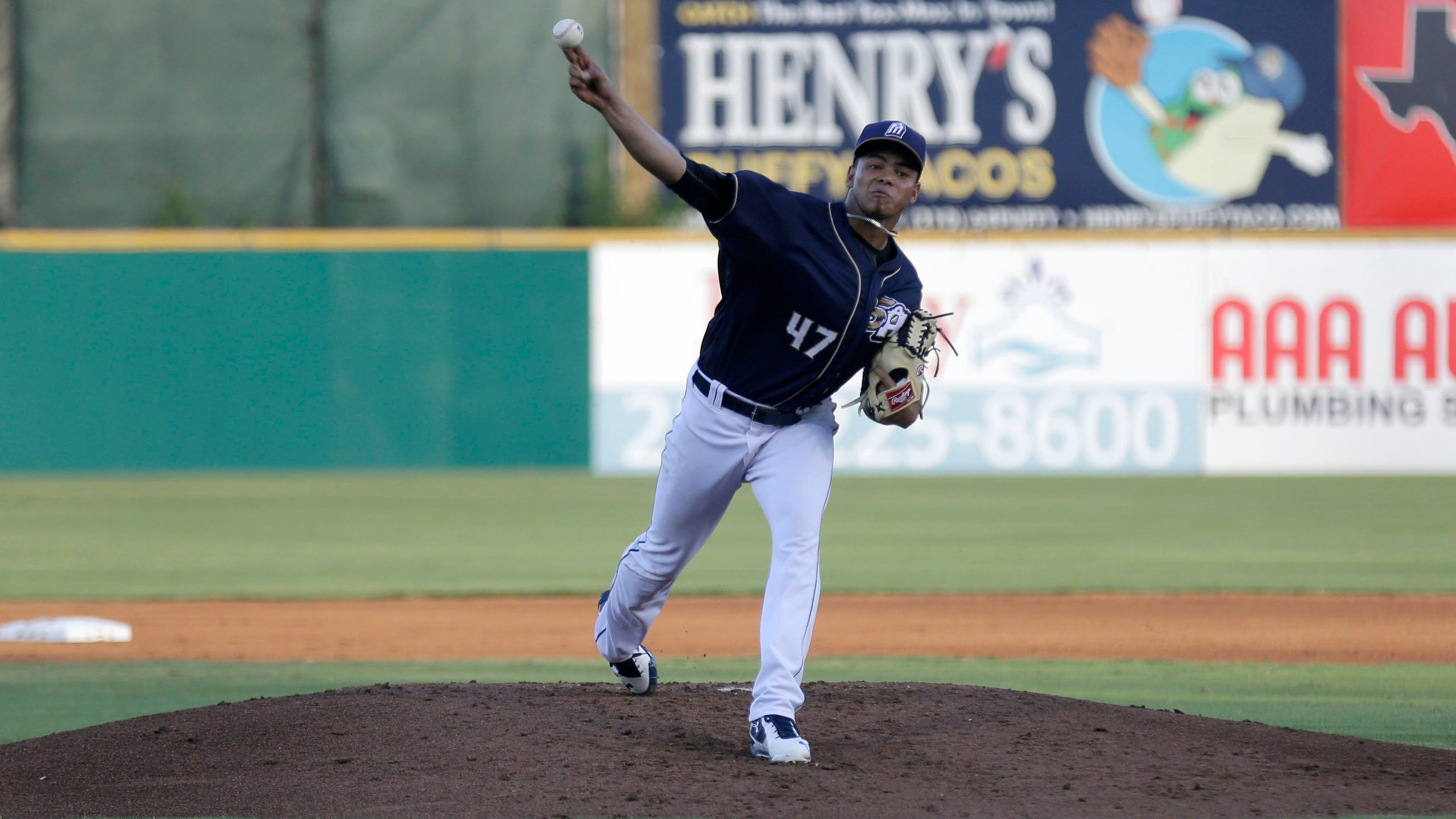 MadFriars' Announcer Series - San Antonio
BY foxsports • October 24, 2016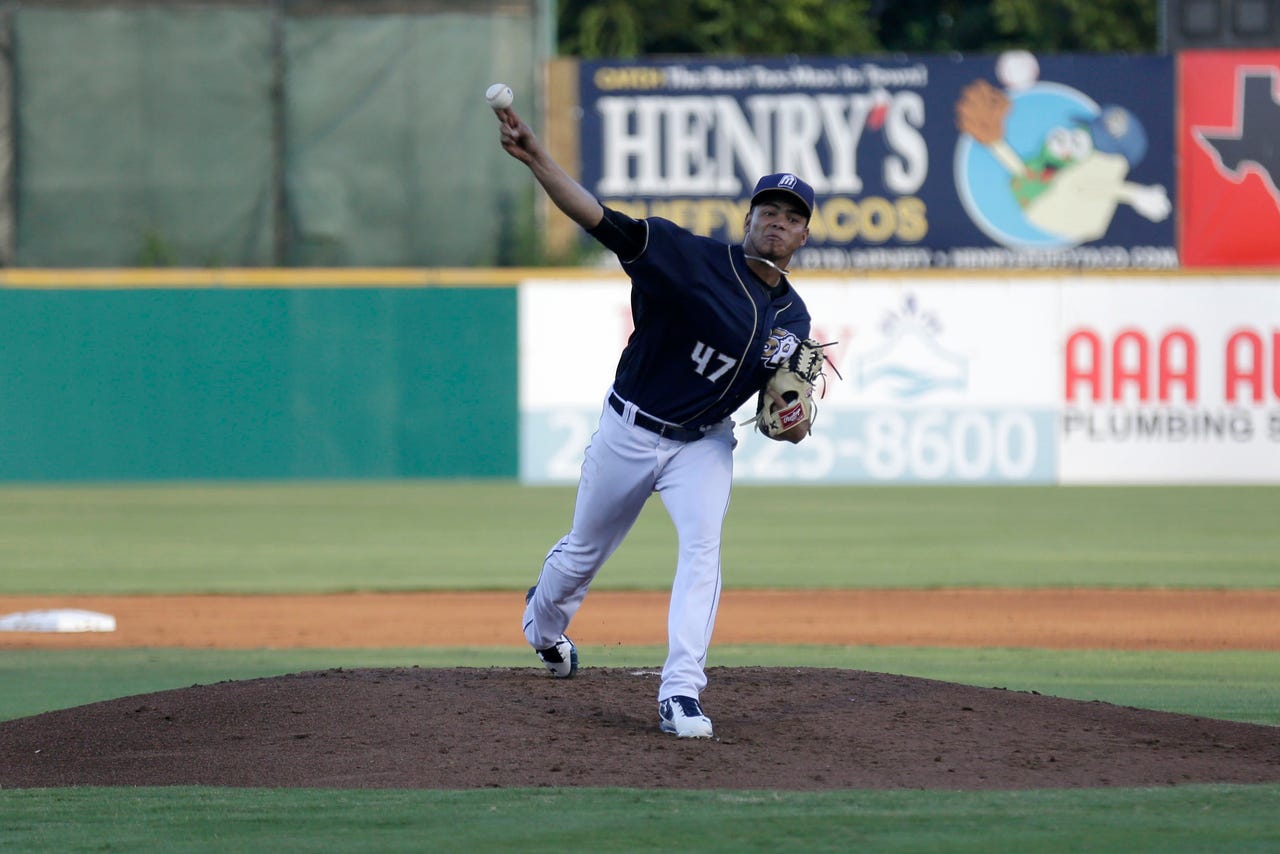 San Antonio Missions:
The San Antonio Missions stumbled out of the gate in 2016 and finished the first half with one of the worst records in all of minor league baseball (22-48). The team received several reinforcements after the All-Star break and finished the second half of the season with a winning record.
Top Players: Outfielder Nick Schulz is a great story of perseverance -- the former undrafted free agent finished fourth in the league with a .286 average. Schulz began the year as a backup in Lake Elsinore but eventually forced his way into the San Antonio lineup. Schulz brings a solid approach and decent power at the plate.
Outfielder Nick Torres led the Missions in many offensive categories and is known as one of the hardest working players in the entire system. While the swirling winds of Wolff Stadium were detrimental to his home run stroke, the former Cal Poly Mustang led the club in doubles and eventually earned a promotion to Triple-A El Paso.
On the mound: There was no fanfare when the Padres plucked righty Seth Simmons off of the scrap heap but the small move paid huge dividends for San Antonio. Simmons, who never started a game as a professional before this season, pitched to a sparkling 2.35 ERA in 95.2 innings. While he doesn't have overpowering stuff, the 28-year-old established himself as a valuable depth arm in a system that lacks depth in the upper minors.
Left-handed reliever Kyle McGrath was a 36th-round pick in 2014 but the southpaw with a funky delivery established himself as a name to watch. The reliever pitched to a 1.29 ERA while averaging nearly a strikeout per inning. McGrath's excellent season lead to a spot in the Arizona Fall League where he has continued to perform well.
MadFriars' Announcer Series: Mike Saeger
Missions broadcaster Mike Saeger was front-and-center all season and watched as much Missions baseball as anyone. Saeger has been broadcasting Missions baseball since 2010 and has roots in Southern California, as he called NAIA baseball games prior to his work in San Antonio. In addition to his work as a baseball broadcaster, he also calls Texas high school football games for the Texas Sports Radio Network.
The veteran broadcaster answered questions about the key players who made their home in San Antonio this season.
MadFriars: Outfielder Nick Schulz continues to produce, despite being an undrafted free agent. What made him so good in 2016?
Mike Saeger: What stood out to me was his approach. He seemed to have a number of good at-bats and showed the ability to use the whole field. Most of his power was to his pull side but he collected a number of hits to the opposite field. He also showed a willingness to take a walk rather than try to force the issue. He was a very pleasant surprise, more so, when you consider that he was undrafted and hit .275 in college.
Outfielder Nick Torres got off to a good start but sputtered a bit in July. What did you see from him at the plate?
Mike Saeger: Nick was extremely pull-conscious early in the year. His numbers for the first month or so were rather pedestrian. It took a lot of work behind the scenes with our hitting coach [Johnny Washington] to get him to start using the right side. Once he began doing that, he found a lot of success. I think his July slump was the result of his first trip to Triple-A. From what I understand, he tinkered a bit with his swing up there and it set him back a bit when he returned to us. It took a few weeks to find it again, but then he got back in that groove and eventually made his way back to El Paso for good.
Shortstop Jose Rondon is probably the closest thing to a big league-ready shortstop in the Padres' system. What did you see from him this season?
Mike Saeger: The one thing that surprised me was the amount of pop that he showed. We saw him for a limited time in 2015 and he didn't hit well. All of the scouting reports point to a guy who is primarily a line drive hitter with little power. He had close to a 30 point jump in his slugging percentage this season. When he was going good, he was another guy that did a nice job of utilizing the right side of the field. Defensively, he did a nice job at short and was very reliable. He and second baseman Nelson Ward were a big reason why the team led the league in turning double plays.
Franchy Cordero was awfully impressive in his stint in San Antonio. Do you think he can be a big league outfielder?
Mike Saeger: There is no question in my mind that he can become a big league outfielder. He has all of the tangible tools. He still has some room to grow as a centerfielder but considering he hasn't played the position for all that long, I was very impressed.
He has some swing-and-miss to his game but when he put the ball in play, he made things happen. He has a good two-strike approach, where he will make a conscious effort go the other way with a pitch. I can see him being a leadoff hitter in the big leagues.
On the pitching side, Kyle Lloyd has always been a favorite of mine. What did you see from him in 2016?
Mike Saeger: He was consistent all year. You went into a start knowing that you would get six or seven good innings out of him every start. He was moved to the bullpen to start the season because he had never really been able to develop an effective third pitch. Because of injuries and player movement, he was thrust back in the starting rotation in late May. He had a few bumpy outings right after that but then found his groove. He kept the ball in the park and was actually tougher on lefties.
Seth Simmons came out of nowhere and became a solid starter. What can you tell us about him?
Mike Saeger: He's a bulldog and a competitor. He doesn't back down when the dial gets turned up in certain game situations. He pitches with a little bit of a chip on his shoulder, which can be attributed to being told he wasn't big enough or good enough to pitch in high school or college.
Simmons has a good slider and was able to hit his spots consistently. He had never started a pro game in his life until shortly after he joined us in late May. After that, he became one of the most reliable starters in the entire league.
In the second half, the Missions had some quality relievers, including Brad Wieck and Yimmi Brosoban. What were your impressions of them?
Mike Saeger: They have good live arms. A major reason the team did play better in the second half was due to the restructuring of the 'pen. Adding Yimmi, Wieck and Jose Torres to the mix really changed the dynamic of the bullpen, which had been a glaring weakness for the club over the first two months. I like the potential of all those guys. Yimmi seemed to have some late-season struggles with command and his strikeout rate also decreased from his first five or six weeks with the club.
Were there any other players who impressed you during the summer?
Mike Saeger: I liked the progress I saw from Dinelson Lamet. He had a couple of clunkers early on and his command was not sharp over his first handful of starts but he really started to smooth things out. Once he began cutting back on the walks and curtailing some of those deep counts, he became very effective.
Walker Lockett was tremendous for San Antonio. It's hard to believe that he began the season in Low-A. He's a good strike thrower with a nice sinker and he kept that ball on the ground. He obviously carried that over to his stint with EP.
Kyle McGrath was arguably the most steady and consistent reliever from day one. He had one bad outing near the end of the first half. Otherwise, he was outstanding. He was a late-round pick who was unheralded as a prospect. It'll be interesting to see if he generates more buzz heading into next year since he climbed to AAA. He is a lefty but he held right-handed 
---