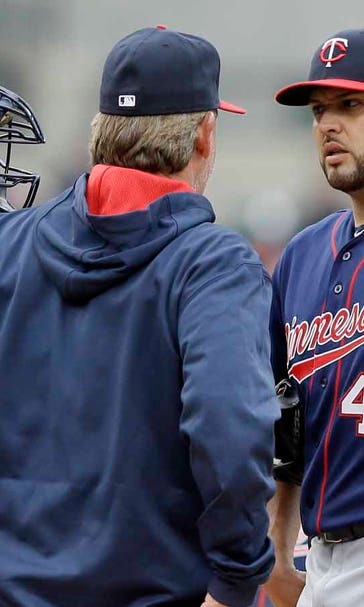 Losses to Twins' rotation give opportunities to others
April 15, 2015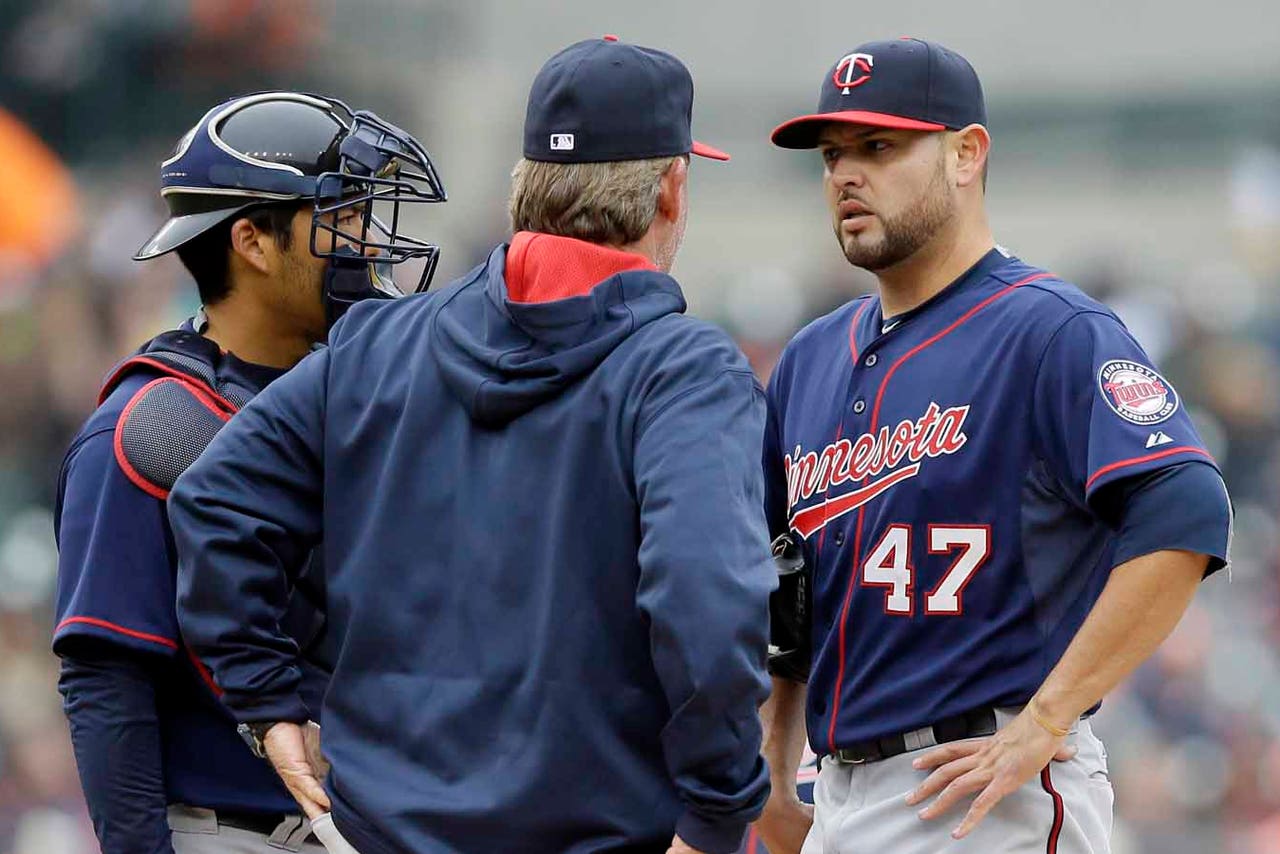 MINNEAPOLIS -- Before the 2015 season started, the highest-paid free agent in Twins history was suspended for 80 games. Before the season was one week old, the team's second-highest paid free agent landed on the disabled list.
The fact that both players -- Ervin Santana and Ricky Nolasco -- happen to be starting pitchers is merely coincidence, but it put Minnesota in scramble mode with regards to its starting rotation. The Twins were set to break camp with a rotation that included Phil Hughes, Santana, Nolasco, Kyle Gibson and Tommy Milone.
Instead, the rotation already includes a pair of new faces with the subtractions of the two previously mentioned cases.
"We were pretty well set up, and it looked like we were all set to go," said Twins general manager Terry Ryan. "You put some people in different spots than where we were thinking they'd settle in. You've got to adjust. You've got to overcome it."
With the losses of Santana and Nolasco, the Twins have filled the rotation with Mike Pelfrey and Trevor May. The former was slated to begin the season in the rotation, the latter at Triple-A Rochester. Pelfrey made his 2015 debut Saturday in Chicago and earned a no-decision in the Twins' 5-4 loss. May started Monday's home opener and got the loss as Minnesota was routed 12-3 by Kansas City, although he didn't pitch as badly as his line indicated.
Pelfrey was publicly frustrated when he found out in spring training that he would move to the rotation after battling for the No. 5 spot in the rotation. That frustration didn't last long, though, as the news about Santana's suspension broke three days before the season opener. That forced the Twins' hand as Pelfrey was taken from the bullpen back to the rotation.
"I think in the end, I ended up getting what I want, getting a chance to start, which is what I've always done," Pelfrey said. "I'm thankful for the opportunity. Now it's up to me to take advantage of it."
Pelfrey pitched in just five games last year due to an elbow injury. His success with the Twins since joining Minnesota has been minimal, though. Pelfrey is 5-16 with a 5.61 ERA with Minnesota since 2013. He now has the chance he wanted to put the last two seasons in the past.
May, meanwhile, was a late addition to the rotation as he was called up from Rochester after Nolasco went on the 15-day disabled list with right elbow inflammation. It remains to be seen how long Nolasco will be sidelined, but May is determined to make his return to the majors a permanent one.
"Every opportunity you get, you've got to see it as an opportunity," May said. "Beyond that, it's about winning games. My job is to go deep into a game and give up zero runs. That's the only way to guarantee that your team has the best chance to win a game."
There's not much the Twins' front office could do about either situation when it came to Santana or Nolasco. Minnesota remains hopeful that Nolasco won't be out for too long. Santana's suspension, however, will hang over the team until early July.
During his suspension, Santana can't be with the Twins' major-league club. He'll continue to work out in Clearwater, Fla., and is currently throwing long toss. Ryan said Minnesota can also pitch him in extended spring training in Fort Myers, and he'll likely have about three starts in the minors near the end of his suspension to ramp him up for his return to the majors.
In the meantime, other pitchers have stepped in to replace the suspended Santana and the injured Nolasco. Both Pelfrey and May are trying to make their case to hang around in the rotation for more than just a brief stint.
"It's like anything in life. When you get adversity, you can choose to get down or you can choose to find a way to move forward and try to become better," said first-year Twins manager Paul Molitor. "I think the guys have taken on the latter in terms of that. . . . We're trying to make due. It gives other people opportunities. That's one thing about that is one person's misfortune is another person's opportunity."
Follow Tyler Mason on Twitter
---