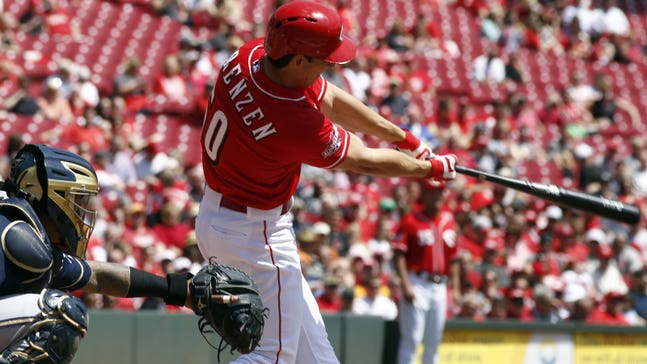 Lorenzen continues 'new education' in second big-league start
Published
May. 5, 2015 9:48 a.m. ET

Although the Pittsburgh Pirates and Cincinnati Reds haven't played their best baseball through the first month, the Reds can draw on success in the season series when the teams meet Tuesday night to open a three-game set.
Pittsburgh, on the other hand, will be playing at home - a comfort that could turn the tide for the Pirates after a disheartening road swing.
Pittsburgh (12-13) was swept at Cincinnati (12-13) in three games to open the year and is coming off its second winless series of the season, having dropped three consecutive extra-inning games to St. Louis.
Radhames Liz allowed the tying run in the 12th inning and a walk-off homer in the 14th of a 3-2 loss Sunday, capping a 1-5 trip for the Pirates.
"We're all going out there to give the team the best chance to win, and the way things are going now, we gotta keep the scoring as low as possible," right-hander Vance Worley told MLB's official website. "It's a matter of time before we all bust out of our funk."
Pittsburgh scored two or fewer runs in its five defeats on the trip. Andrew McCutchen has batted only .240 during a five-game hitting streak, but that's brought his average up to .193. He has one extra base hit in his last 12 games.
McCutchen batted .380 in 19 games against the Reds last season with six home runs, six doubles and one triple.
The Pirates will face Michael Lorenzen, who will make his second career start. The right-hander allowed three solo home runs and eight hits in five innings of an 8-3 loss to Milwaukee in his major league debut Wednesday.
"It was a first step in learning how to pitch (in the big leagues)," manager Bryan Price said afterward. "You can practice all you want in the minor leagues, but it's a new education when you get here ... I was happy with his stuff and how he composed himself in some tough spots. All in all, pretty good job."
Opposing Lorenzen is Jeff Locke (2-1, 4.76), who gave up five earned runs and eight hits in 3 2-3 innings of a 6-2 road defeat to the Chicago Cubs last Tuesday. Pirates starters have posted a 1.48 ERA in four games since.
The left-hander has given up nine earned runs in 8 2-3 innings over his past two outings. However, he's 2-1 with a 2.75 ERA in seven career starts against Cincinnati, allowing two or fewer runs in six of them.
The Reds were shut out for the second time this season Sunday, managing four singles in a 5-0 defeat to Atlanta that gave them a four-game split.
Todd Frazier went 4 for 13 with two home runs, one double, four runs and four RBIs in Cincinnati's sweep of Pittsburgh on April 6-9. He has six homers in his last 11 games against the Pirates, and is 6 for 15 (.400) with a home run off Locke in his career.
Center fielder Billy Hamilton, expected to return to the lineup Tuesday after getting the day off Sunday, is 4 for 7 against Locke.
Shortstop Zack Cosart, 6 for 13 in the three games prior to Sunday, departed with a bruised right index finger. X-rays were negative and his status is uncertain.
---