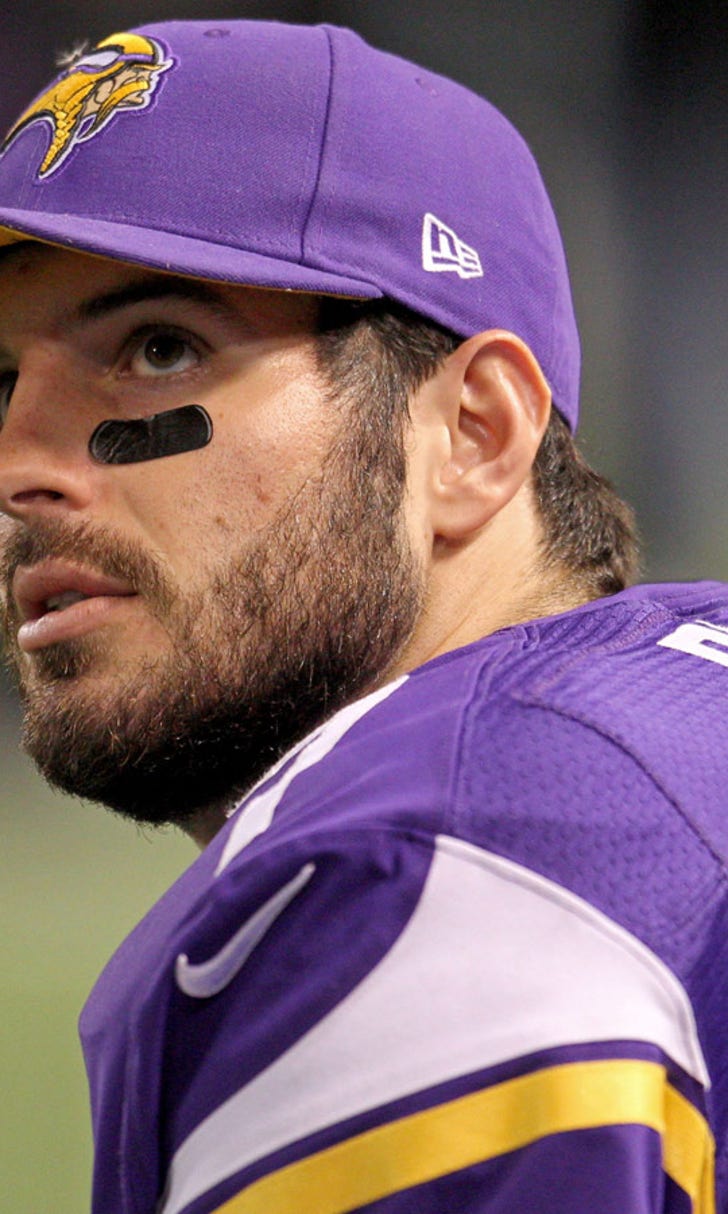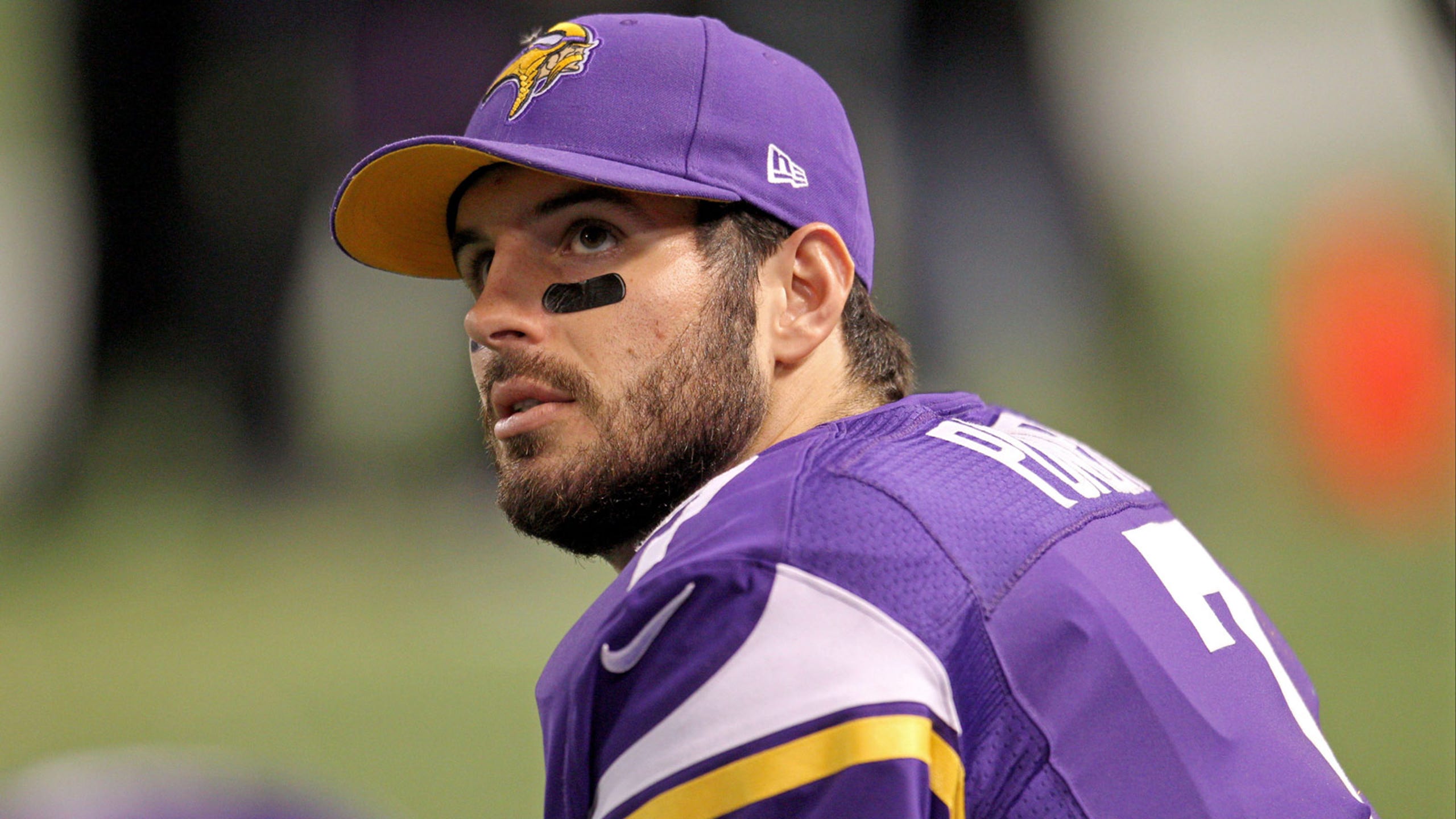 Looking back to 2011 draft: Ponder defining pick
BY foxsports • January 30, 2014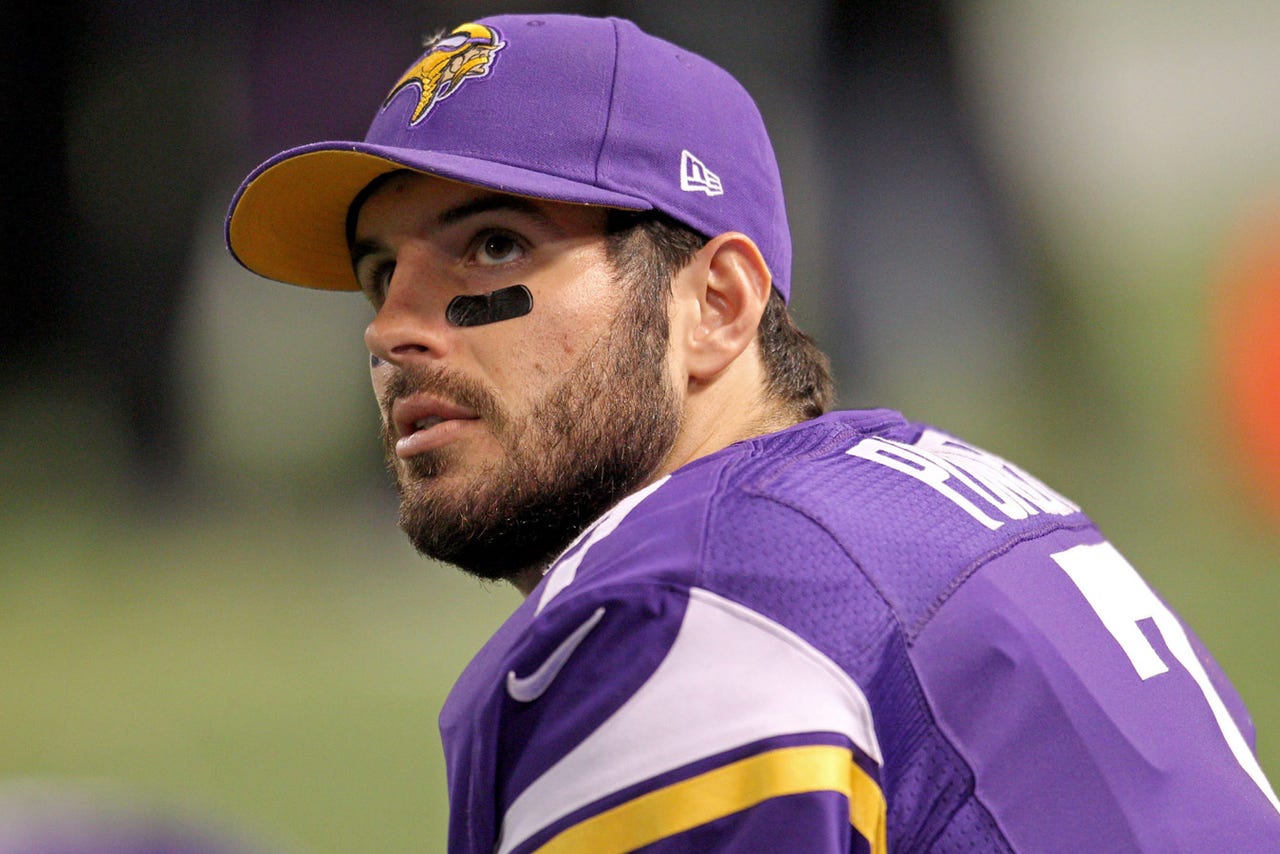 Spend enough time around Minnesota Vikings general manager Rick Spielman and you're bound to hear him refer to his philosophies of personnel evaluation.
At the top of the list when it comes to the draft, Spielman often speaks of the need to have three years of NFL experience to evaluate the success or failure of a player.
Don't look now Rick, but three seasons from the 2011 draft are behind us.
Minnesota ended up with 10 picks in the 2011 draft, losing its third-rounder to the New England Patriots in the ill-fated trade and return of Randy Moss. Nine of the 10 picks made the Vikings' roster in their rookie season, a strong success rate.
But as Spielman would caution, three years is needed to truly identify if a selection has panned out.
The three-year window has closed and Minnesota has seemingly ended up with two impact players out of 10, and only four still remain with the team: Christian Ponder, Kyle Rudolph, Mistral Raymond and Brandon Fusco.
Rudolph (second round, 43rd overall) is a potential difference-maker and has made a Pro Bowl in his first three seasons. Fusco, the third of four sixth-round selections, has developed into a solid starting right guard out of tiny Slippery Rock.
Despite success and failure throughout the draft, Ponder will always be the defining pick of the 2011 draft for the Vikings.
Perhaps the biggest surprise is Ponder (No. 12 overall in 2011) might not be the defining selection of Spielman's career. Minnesota has the No. 8 overall pick this year and is shopping for a quarterback again after Ponder failed to seize his opportunity. And Spielman is still in place to make another franchise-defining decision.
One of the highlight quotes from Spielman while announcing the firing of Leslie Frazier in January was, "I haven't got it right yet" when it comes to evaluating quarterbacks.
Ponder proves his point.
Spielman entered the 2011 draft largely as the chief decision maker for Minnesota. The Vikings had fired head coach Brad Childress, once a key point in the team's misguided "triangle of authority." The old triangle featured Childress, Fran Foley (who held Spielman's soon-to-be title of vice president of player personnel) and vice president of football operations Rob Brzezinksi.
Frazier was now the head coach, involved in personnel but likely without the power Childress once wielded. Spielman had replaced Foley in May 2006 -- and was given the previously absent title of general manager in January 2012 -- and Brzezinski was still in his same position and the team's salary cap guru.
Spielman had his hand on the trigger for the 2011 draft with the voices around him in support, such as Frazier, Brzezinski, college scouting director Scott Studwell, coaches, scouts and the team's owners.
Minnesota had a pressing need at quarterback after Brett Favre's tenure with the Vikings was mercifully over. The 2011 draft, not just for Minnesota, will always be judged by the quarterbacks. With several needy teams, quarterbacks were pushed up the draft board. There were mixed opinions on all of them, but four went in the first 12 picks. Two more went off the board early in the second.
Unfortunately, like the Vikings, many of the teams that chased quarterbacks will be searching again this offseason.
After Cam Newton went No. 1 overall to the Carolina Panthers -- and has two Pro Bowl appearances to show for it -- Jake Locker went No. 8 to the Tennessee Titans. Locker's career has been injury-riddled and new Tennessee coach Ken Whisenhunt will have to decide whether to continue with Locker as the No. 1 guy.
Blaine Gabbert fell at No. 10 to the Jacksonville Jaguars, which looks like another wasted pick, putting Minnesota on the spot at No. 12. Apparently sold on Ponder, who had plenty of critics, the Vikings took the chance on the Florida State product and were widely critiqued as reaching for Ponder.
Ponder was never able to establish any consistency, despite plenty of opportunities. He took over as the starter from Donovan McNabb in Week 7 of his rookie season. Ponder flashed some potential as a rookie, but ultimately completed just 54.3 percent of his passes and threw 13 touchdowns to 13 interceptions.
In 2012, he helped Minnesota to the playoffs, starting the season strong and avoiding turnovers before a midseason slump. He recovered to help the team win its last four games en route to the playoffs, playing the best game of his career in a Week 17 must-win game at home against Green Bay.
Yet, as so often happened with Ponder, his peak was interrupted by injury. Ponder never got the chance to play in the playoffs because of a bad triceps contusion in his throwing arm.
Ponder was back last season as the starter, but returned to "Bad Ponder" and squandered multiple chances to stick as the starter before eventually being replaced for good by Matt Cassel. And now his future with the Vikings is in doubt. He's signed through next season, but there is no guarantee he'll be kept around as the team turns the page.
Minnesota, at least its fans, is haunted by what might have been?
Defensive end Robert Quinn, named an All-Pro, was picked two spots later by the St. Louis Rams. Two other first-round defensive linemen (Washington's Ryan Kerrigan and New Orleans' Cameron Jordan) selected after Ponder have been Pro Bowl players in what has amounted to a weak draft overall.
In the second round, Andy Dalton was picked by the Cincinnati Bengals and has helped them to the playoffs the past three seasons. Colin Kaepernick was taken one pick later and has been to the Super Bowl with the San Francisco 49ers and was one play away from a return trip this season.
Ponder, if he's done, finished with a 77.3 quarterback rating, 44 touchdowns and 45 turnovers in 36 games with Minnesota. Ultimately, Ponder is the type of pick that sets back a franchise for years.
The Vikings might be encouraged what Rudolph can do with another quarterback. He was the Pro Bowl MVP after his second season and is a threat in the red zone with his strong hands and big size and is part of the ever-growing talent at the tight end position in the NFL. Last season he was among the team's receiving leaders before his year was ended with a broken foot.
Funny enough, the pick seemed somewhat strange at the time. Minnesota already had Visanthe Shiancoe as a receiving option at tight end and Jim Kleinsasser as a blocking tight end. The foresight paid off as Kleinsasser retired, Shiancoe was released and Rudolph had a career-high 53 catches for 493 yards and nine touchdowns in 2012.
Without the third-round pick surrendered to trade for Randy Moss -- who would only play four lackluster games in his second time with the Vikings – the onus was on maximizing the rest of Minnesota's picks.
Besides Fusco, it's largely been a failed group. Linebacker Ross Homan (sixth round out of Ohio State) never made the team and didn't end up playing a game in the NFL.
Fusco mostly sat as a reserve as a rookie, making the transition from center to guard. But he's become an integral part of the Vikings' offensive line, starting all but one game the past two seasons. The website ProFootballFocus.com ranked Fusco as the league's ninth-best guard this past season, including the fifth-best ranking as a run-blocker.
As a project pick out of a small school, Fusco has been a standout draft pick. Raymond has played in 32 games in three seasons and started 10 times. As a sixth-round pick, he has provided depth in a bad secondary, all-in-all, not a bad pick.
In the fourth round, Minnesota took a chance on Iowa defensive tackle Christian Ballard, who had reported substance abuse issues. Ballard had the talent to go much earlier in the draft, but slipped to the Vikings. The selection looked shrewd as he was a steady, if unspectacular backup for two season.
Then Ballard left the team in training camp last year, quitting the team and the NFL. His return is doubtful after he told USA Today last year that he wasn't having fun playing football anymore. Minnesota holds his rights, but they apparently will only get two seasons out of the ninth pick in the fourth round. There aren't many "could have had" scenarios from the 2011 draft, but linebacker Colin McCarthy -- at a position of need for the Vikings -- was picked three spots later and has developed into a part-time starter at middle linebacker for the Titans.
Offensive tackle DeMarcus Love (sixth round) stuck around for two-plus years but never appeared in a game for the Vikings. He and defensive end D'Aundre Reed (seventh round) were on the active roster their entire rookie season but were never active for a game. Reed would end up playing sparingly in six games in his second season before being released among the final cuts last preseason
Cornerback Brandon Burton (fifth round) and receiver Stephen Burton (seventh round) were also cut at the end of the preseason last year. The defensive Burton ended up playing five games last year for the Buffalo Bills. The receiving Burton signed with Jacksonville and played in four games. Together they played in 29 games for Minnesota in two seasons.
While hindsight is 20-20 and several teams passed on him, Seattle Seahawks' All-Pro cornerback Richard Sherman was taken 15 picks after Brandon Burton in the fifth round.
The early reviews of the 2011 NFL Draft looked positive for the Vikings with nine players making the team, but thankfully Spielman warned about making premature predictions. A look back after three years proves the results weren't as pretty as first imagined.
Follow Brian Hall on Twitter
---