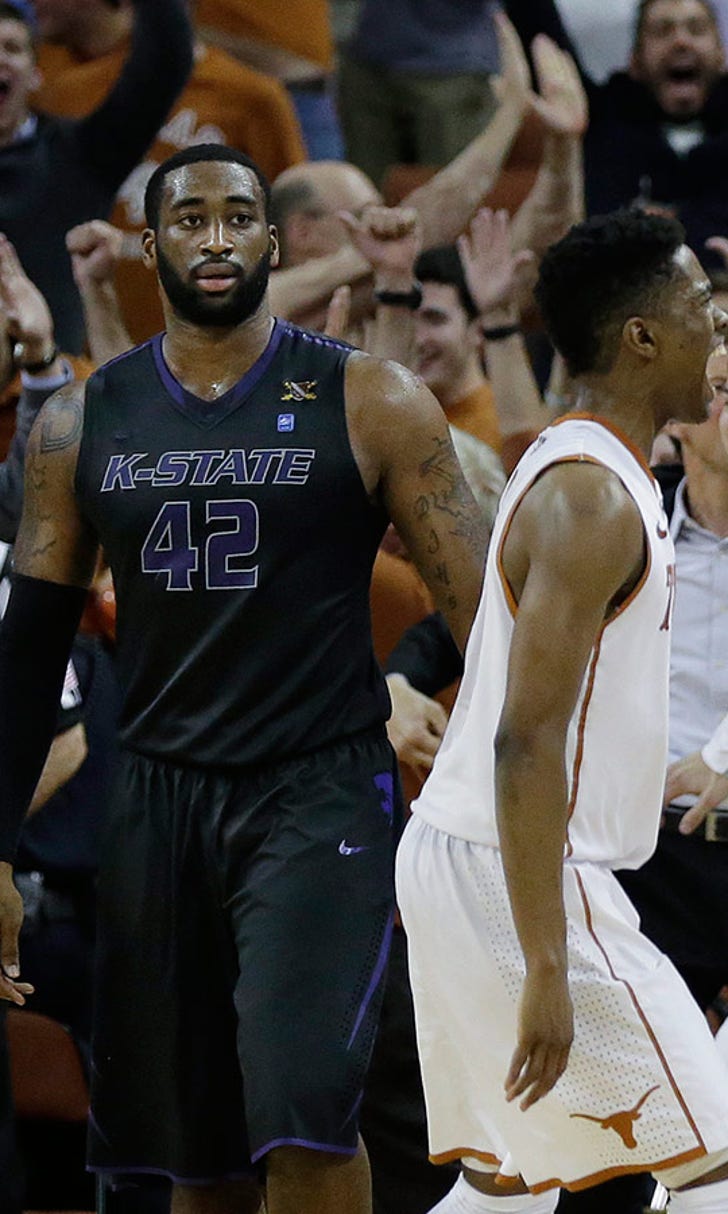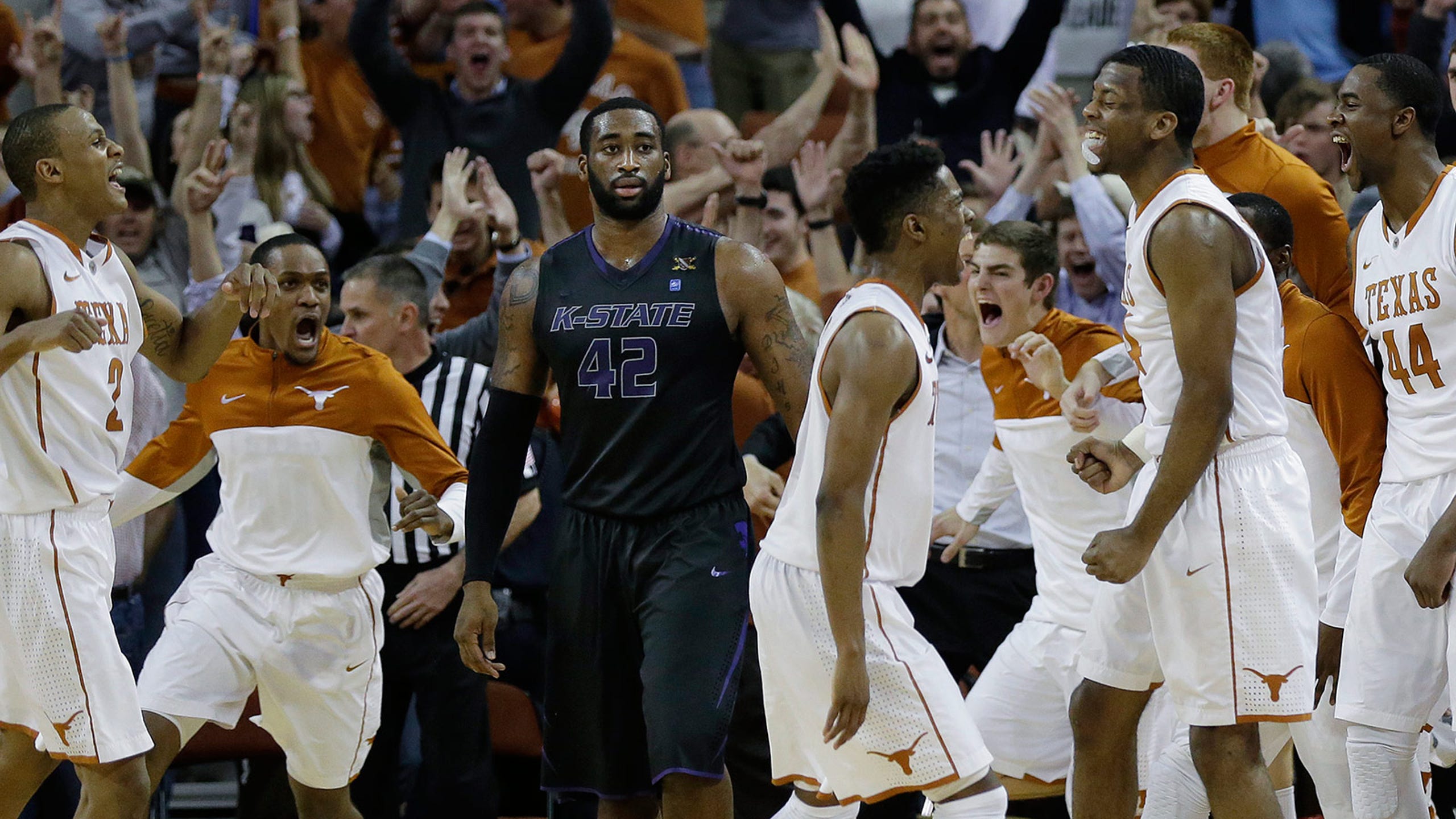 Let it go: K-State's Wildcats can't let Texas beat them twice
BY foxsports • January 21, 2014
Sing, brother. Sing.
"Gotta let this one go," Kansas State junior forward Thomas Gipson tweeted Tuesday night, an hour or so after his No. 22 Wildcats fell at Texas, 67-64, on a 3-pointer in the corner as time expired. "Damn."
What he said. Twice over.
Longhorns forward Jonathan Holmes curled along the right baseline. Big Gip got over a half-second too late, and that half-second was all it took.
Swish. Buzzer. Ballgame.
This one could sting a while.
The challenge for coach Bruce Weber now is to make sure that it doesn't.
One stop. One freaking stop. The Wildcats (14-5) had the Longhorns (15-4) right where they wanted 'em, short of a four-point lead with a second-and-a-half left. Texas had screwed up its first attempt at a tiebreaker, pinned near its bench, forcing coach Rick Barnes to call timeout and reshuffle the cards.
When play resumed, Holmes whipped out a pair of 10s, and that was all she wrote.
This was the kind of tilt K-State has generally found a way to win, time and again. The 'Cats came in to Tuesday night under Weber a salty 11-5 in games decided by six points or fewer the past two years, and 4-1 this season alone.
And there were some doozies last winter -- you don't win a share of your first conference title since the Carter administration without some doozies along the way. The stop at West Virginia. The utter lunacy at Baylor. The only places Weber has yet to leave with a pelt are Lawrence, Stillwater and ... Ames.
Oh, and look who's up next. Why hello there, Mr. Hoiberg.
Yeah, this one hurt.
Gotta let it go.
The Wildcats were inching toward a position to win (or at least force overtime) on several occasions, either because of their pluck, a boneheaded 'Horns mistake, or some combination thereof. Which, in itself, was kind of remarkable, considering that Marcus Foster (3-of-12 shooting) had a bad night on the road, the way freshmen on the road in conference play often do. Wesley Iwundu (2 of 5 from the floor) tended to vanish and reappear, then vanish again, which is also to be expected from time to time.
Will Spradling (eight points, four assists, four rebounds) played scrappily through a bloody nose; Shane Southwell (13 points, three dimes) seemed to be playing his way out of a shooting funk until he whiffed on two potential game-tying free throws with 15 seconds left.
And in league play, where it's Kansas at one end, TCU at the other, and a gang of sardines in between, those little things are going to add up -- especially late in games, especially on the road.
This one was billed as having all the earmarks of going down to the wire, and it didn't let us down: 11 ties, 21 lead changes. It also provided a classic study in contrasts: Texas presents length and speed, two traits that don't exactly describe K-State of present; Weber's bunch sports a roster with four seniors and three juniors to the Longhorns' zero and two, respectively.
Watch 'The Bruce Weber Show' at 10:30 a.m. Saturdays on FOX Sports Kansas City. Check your local TV listings.
And nowhere were those disparities played out better than in the paint, where K-State's Gipson, a senior and Cedar Hill, Texas, native, listed at 6-foot-7, 265 pounds, spent most of the evening trading hip-checks with Longhorns sophomore center Cameron Ridley, who checked in at 6-9, 285.
With a career-best 24 points, five boards and an array of up-and-under and pivot moves, Big Gip won most of the battles. Ridley (18 points, six rebounds, three blocks), despite fouling out, won the war.
Gotta let it go.
There's no room for pity, no time to mope. The Jayhawks (5-0 Big 12) have opened up a two-game lead in the loss column on everybody else in the loop. The 'Cats (4-2), meanwhile, fell back into what's becoming one giant clusterdoodle of a scramble for second place.
K-State has circled the wagons awfully well once already, back in early December. Weber must massage that particular muscle again, and quickly. In the 2014 iteration of the Big 12, a good week can mean the difference between third place and seventh. Bad week, it's the same story, only you slide the other direction.
The worst thing that can happen is for Texas to beat you twice. And in this league, this winter, both the literal and figurative senses apply.
You can follow Sean Keeler on Twitter @seankeeler or email him at seanmkeeler@gmail.com.
---