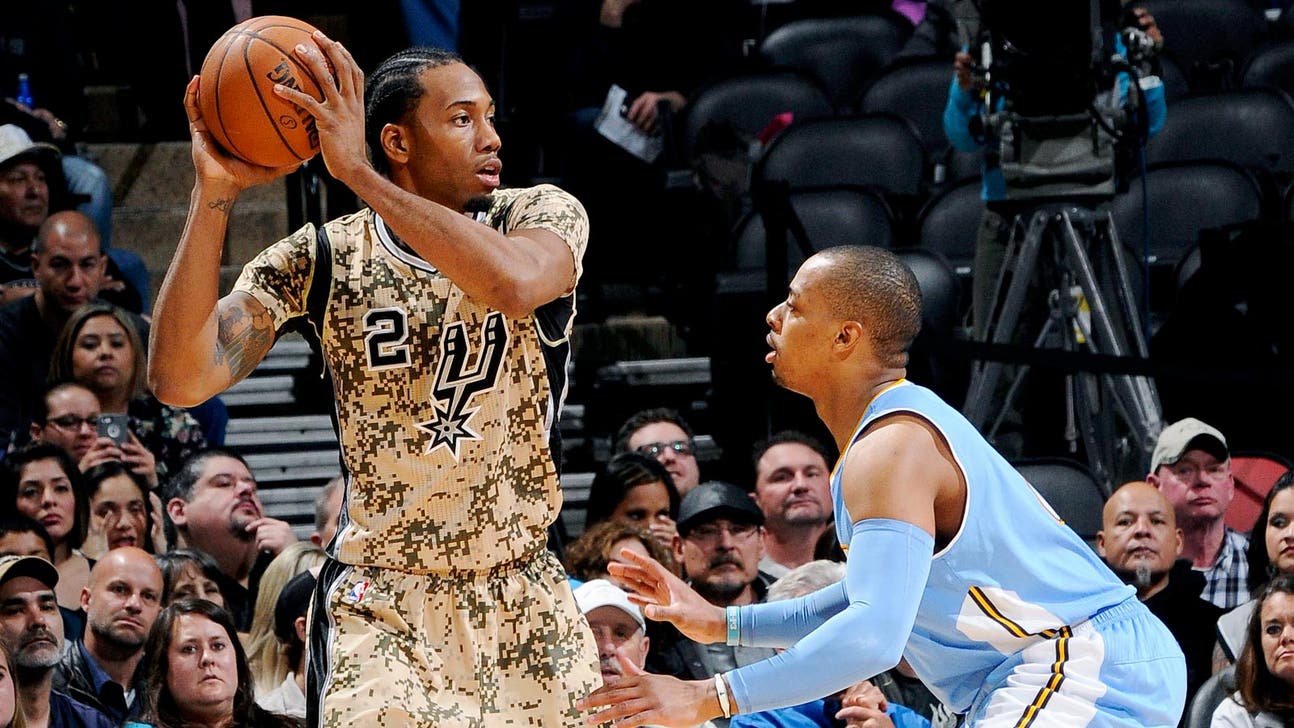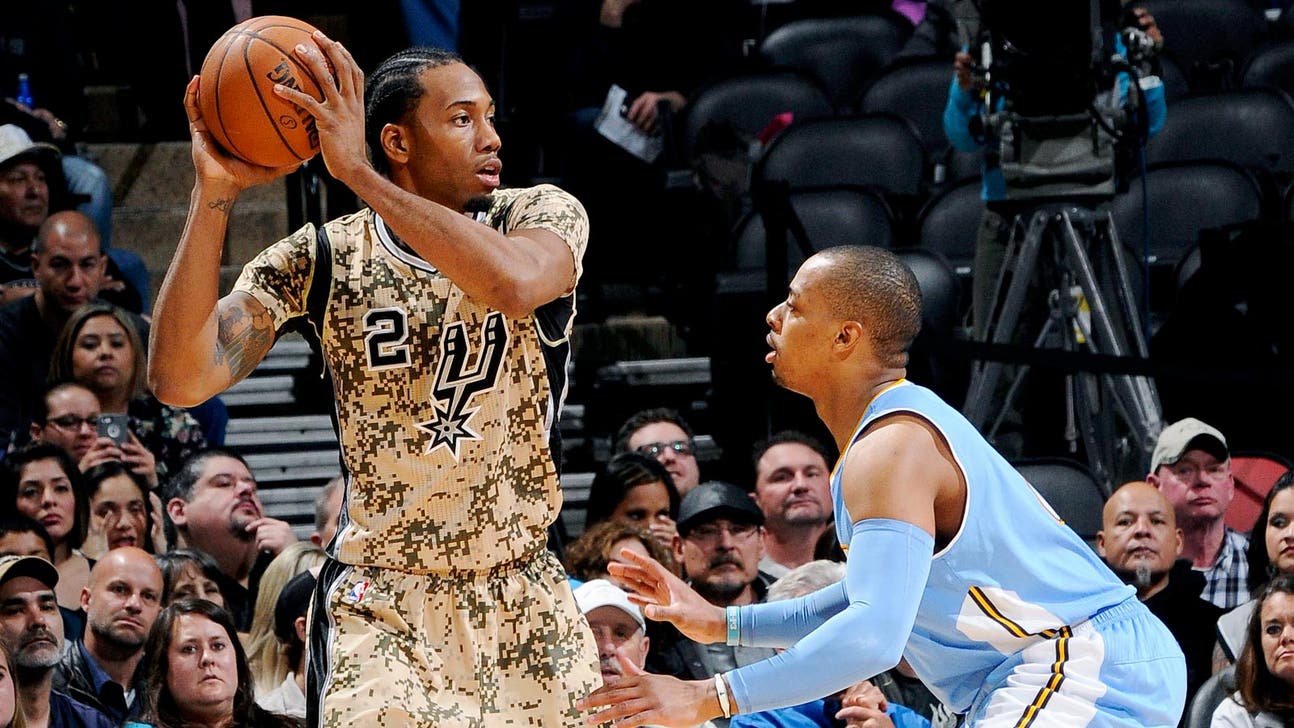 Leonard and Parker lead Spurs past Nuggets
Published
Mar. 7, 2015 1:08 a.m. ET

SAN ANTONIO (AP) -- The San Antonio Spurs' offense is coming after a stretch of high-scoring games. There is still work to be done defensively.
If that ever was in question, the constant screams from coach Gregg Popovich showed otherwise.
Kawhi Leonard had 25 points and Tony Parker added 24 as the Spurs survived a frenetic offensive pace to beat the Denver Nuggets 120-111 on Friday night for their fourth straight victory.
Tim Duncan added 15 points for San Antonio, which has won 11 of its past 12 home games.
"Our defense was not very sharp," San Antonio guard Manu Ginobili said. "I think late in the fourth we did better. We played with more intensity. Kawhi on (Ty) Lawson or (Jameer) Nelson did very well with his size, bothered them more. It was tough, they were scoring in every way."
Denver had six players score in double figures, led by 23 from Lawson. Kenneth Faried added 20 points and 10 rebounds for the Nuggets.
Denver shot 52 percent from the field and had 60 points at halftime.
The Spurs were able to keep pace, however, before going 15 for 18 on free throws in the fourth quarter to pull away.
"It seems like they're a slow, half-court team," Denver forward Darrell Arthur said. "However, they get any shot they want to and they move the basketball. They're probably one of the best teams that do that. They executed well towards the end."
The Spurs remain in seventh place in the Western Conference, 4 1/2 games ahead of Oklahoma City and a game behind Dallas.
San Antonio made its first three shots in typical Spurs fashion: a 3-pointer by Danny Green, a weaving drive and floater by Parker, and a bank shot off a spin move from Duncan. San Antonio would also make its first five 3-pointers, including back-to-back from Ginobili and Marco Belinelli to give the Spurs a 32-21 lead.
"They move the basketball so fast, so quick and they're all weapons," Denver coach Melvin Hunt said. "I think our guys gave an honest effort as far as trying to do the schemes. The scheme that beat us was just the ball movement, the player movement."
With Hunt screaming for the team to push the ball, Denver's second unit turned a 10-point deficit into a 33-32 lead on J.J. Hickson's dunk a minute into the second quarter.
Leonard and Parker pushed the offense in the second half.
Among the highlights were Leonard spinning between two defenders in the paint to get to the rim and faking both for a layup.
Parker had assists on consecutive dunks midway through the third quarter. The first assist came after he had three defenders chase him out of the lane, enabling him to fire an over-the-shoulder pass to a wide-open Tiago Splitter for a dunk.
"Tony looks good," Popovich said. "As I said before the game, I think he is healthy. He is getting his rhythm back, which can help you get your confidence back. So, I think he is what we need to have."
TIP-INS
Nuggets: Faried tumbled to the baseline holding his right knee with about three minutes left in the game. Faried arose gingerly after remaining on the court for a few minutes and speaking to the team trainer. He remained in the game following the fall. ... Danilo Gallinari has scored in double figures in nine straight games, including four with at least 20 points. ... Will Barton was averaging 14.6 points, 5.1 rebounds and 2.0 assists in seven games since being acquired from Portland in a trade, but was held to six points, two rebounds and two assists Friday. ... C Jusuf Nurkic (right ankle sprain) sat out. ... The Nuggets are 9-21 on the road.
Spurs: Duncan, Parker, Leonard, Green and Tiago Splitter started for a fourth straight game, matching the longest stretch of consecutive starts for the team's projected starting lineup. ... San Antonio has had at least five players score in double figures in the same game 39 times this season. ... The Spurs wore camouflage uniforms in honor of their Military Appreciation Night. ... Popovich, who normally waves at opposing coaches from the Spurs bench, walked to midcourt to greet and speak to Hunt prior to the game. The two spoke for about two minutes, with Popovich appearing to provide encouragement to the Nuggets' new coach.
UP NEXT
Nuggets: Host Houston on Saturday.
Spurs: Host Chicago on Sunday.
MOVING ON UP
Duncan had three blocks to surpass former Knicks star Patrick Ewing for sixth overall in career blocks at 2,895. Duncan's former teammate and Hall of Famer David Robinson is fifth with 2,954 blocks.
NO REST
The Nuggets host the Houston Rockets and MVP candidate James Harden tonight.
"It's going to be tough on our defense," Arthur said. "Then we have the one-on-one task with James Harden. He's playing like an MVP candidate right now. We have to make him take tough shots. He's going to make tough shots, but it's better than giving him easy shots."
---