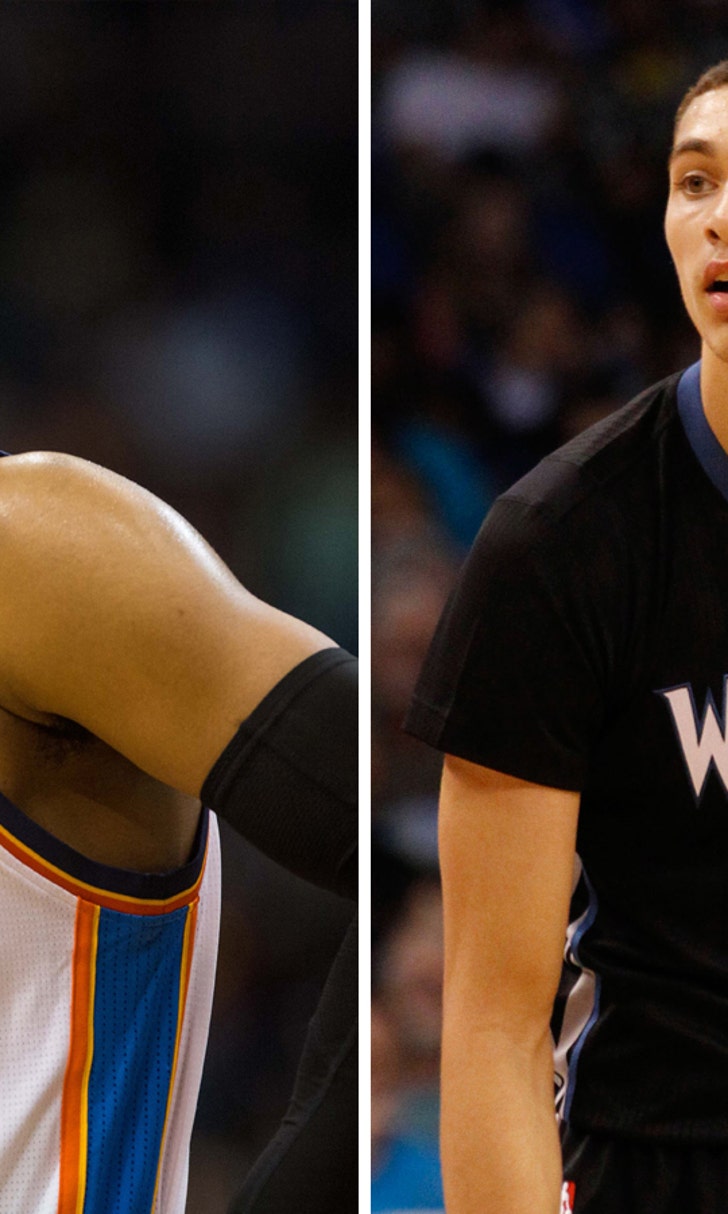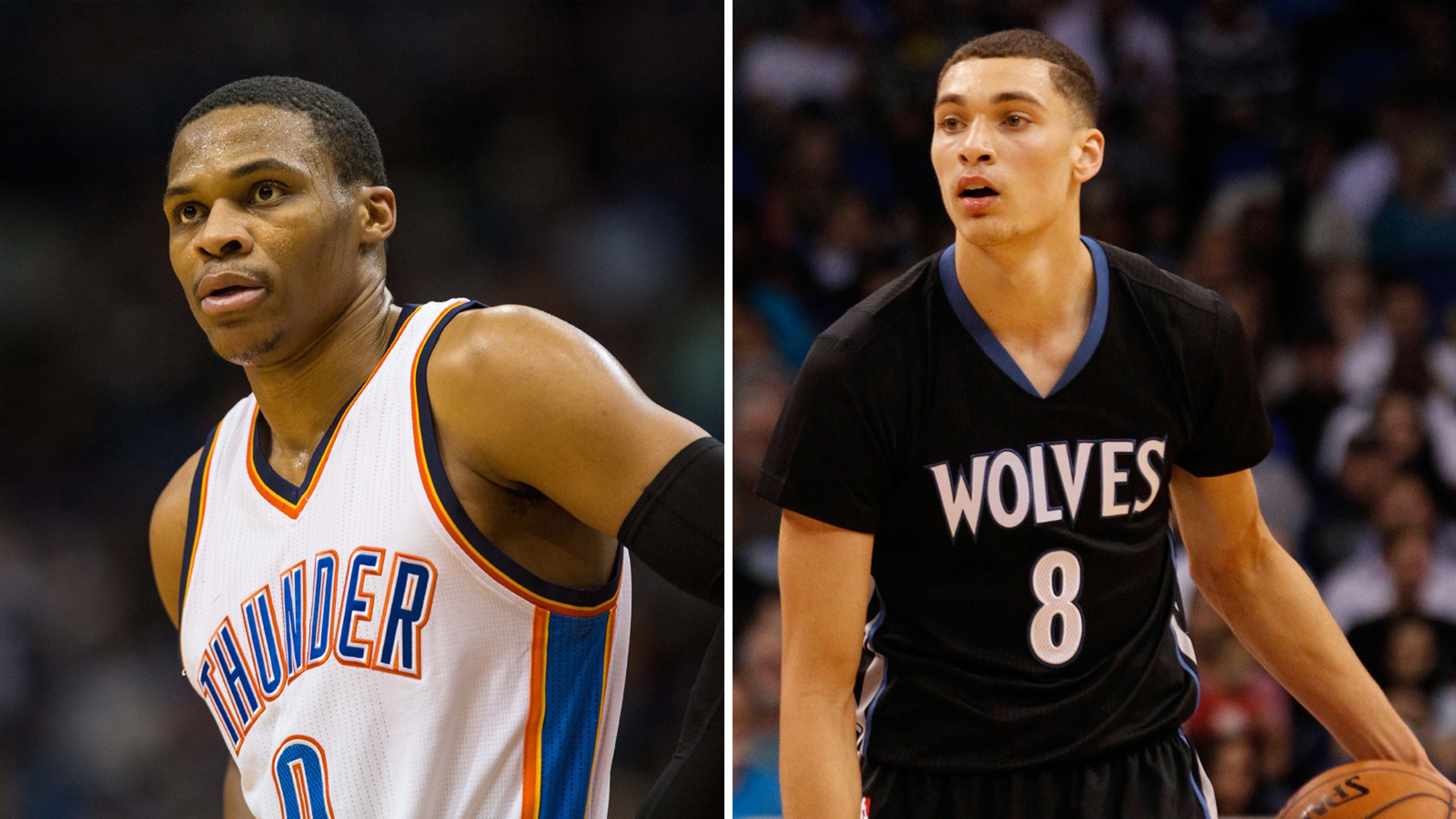 LaVine attempting to model game after Westbrook's
BY foxsports • December 12, 2014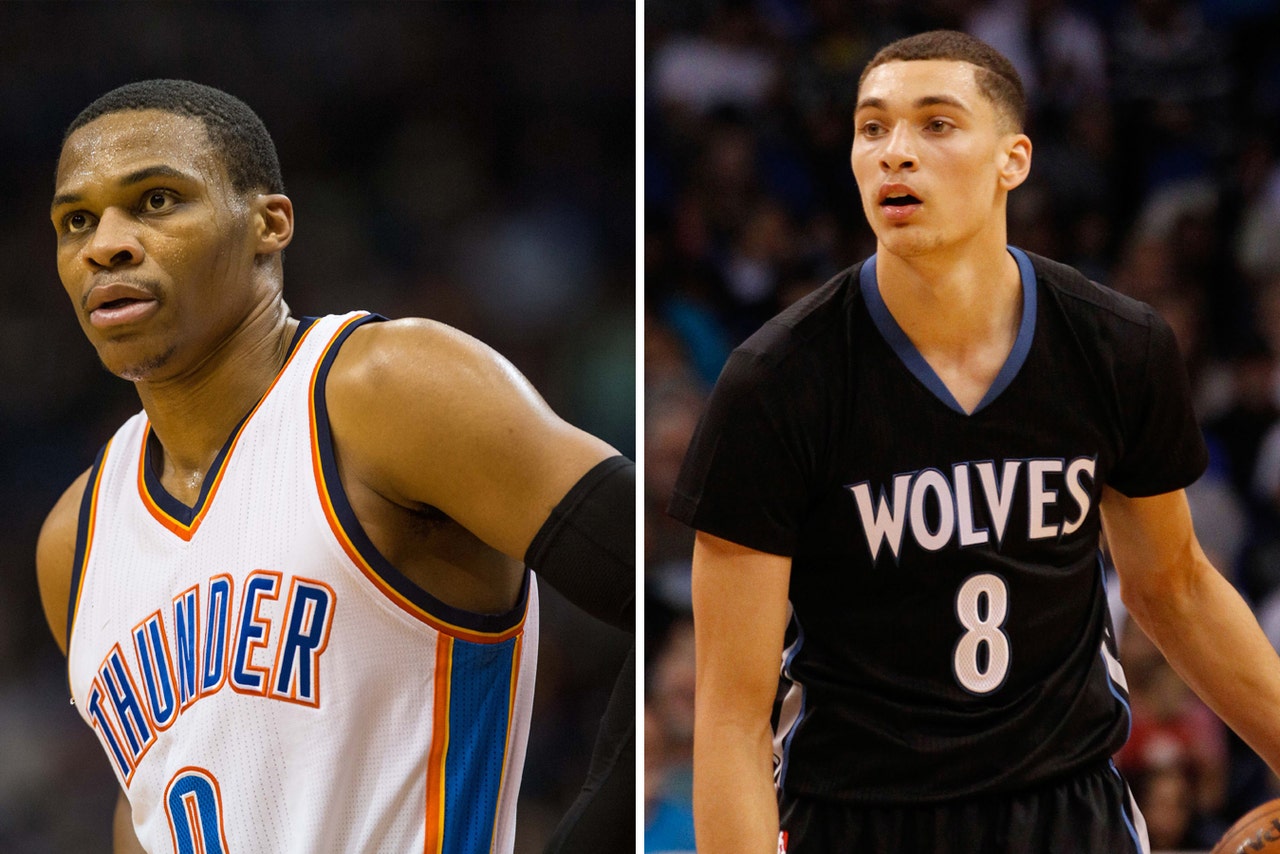 MINNEAPOLIS -- One of the main tasks among Timberwolves assistant Ryan Saunders' manifold duties is putting the rookies through tedious, exhaustive film study sessions.
The son of coach and president Flip Saunders and point guard Zach LaVine spend plenty of time glued to the same screen. Ryan Saunders points out the 19-year-old's mistakes, tendencies and points of strength upon which to build.
He also shows LaVine the right way to do things. And in many cases, that means dissecting replays of Russell Westbrook highlights.
LaVine wears No. 8 because he grew up on the West Coast watching Kobe Bryant. But if he's to make a name of his own, it will have involved emulating the finer points of No. 0's game.
"I have hope in myself," LaVine said following the Wolves' morning shootaround Friday. "I have confidence in myself that I can get myself to that level."
Standing the same height with a comparable scoring mentality, LaVine could see himself developing into a guard of the same ilk as Westbrook. But the time for in-depth comparisons hasn't yet come; after all, LaVine's started nine NBA games.
Westbrook, on the other hand, is in seventh NBA season, all with Oklahoma City.
"They both went to UCLA, and they're both about 6-foot-5," Flip Saunders said when asked to identify similarities between the two. "That's about where we're at right now."
For one, Westbrook is bigger (200 pounds to LaVine's generous 180). Second, Westbrook's floor awareness, decision-making and experience level are all worlds ahead of LaVine's right now.
Westbrook's successes, which include three All-Star appearances and three second-team all-NBA honors, are merely stars for which to shoot.
"We know people are going to compare them because of the athleticism that they have and the speed that they have," said Flip Saunders, who drafted LaVine 13th overall this year despite the fact he started just one game during his lone season at UCLA. "I do think that they both have a desire to be great. That's why Russell is where he's at -- because he came in and he kept working and improving and he turned himself into one of the top five players in the league."
Westbrook looked like one Friday, scoring 10 of his game-high 34 points in the first quarter of the Thunder's 111-92 win in front of 13,557 fans. In his seventh straight game after missing 14 with a fractured right hand, he added six assists, six rebounds and a pair of steals. Westbrook is averaging 27.1 points per game since his return to the lineup Nov. 28.
Oklahoma City's 39 first-quarter points were their most in any frame all season, and their 70 first-half points were the most they've scored in any half. LaVine, meanwhile, finished with 11 points on 3-of-11 shooting, two blocks, two rebounds and just one assist. The Wolves (5-17) cut a once-24-point lead to 11 early in the fourth but never got any closer.
The generally upbeat, enthused combo guard was as dejected as he's been all season afterward.
"They're good," LaVine, slumped in a chair in front of his locker, said of the Thunder (10-13), which have a lot of work to do to get back in the playoff hunt after getting their top two players back from injury. "They just made more baskets than us." And Westbrook?
"He was good. Explosive. . . . He did everything tonight. He's a superstar."
Despite the pair's college connection -- Westbrook spent two seasons (2006-08) at UCLA -- the elder former Bruin hasn't had much contact with LaVine, he says. The notoriously intense Los Angeles native doesn't go out of his way to keep up with fellow alums.
"I know he can jump," Westbrook said of LaVine and his 41.5-inch vertical. "That's about it."
But one of Westbrook's teammates sees promising signs in the young combo guard.
"He's dynamic," reigning NBA MVP Kevin Durant said of LaVine. "They're different players. Russ is more of a physical, explosive guy. LaVine is a more finesse-type of guy. But they're both extremely athletic.
"I don't know LaVine that well, but one thing separates Russ from everybody is his mindset. I don't know how LaVine approaches every single day, shootarounds, games, but I know '0' over there, he brings it. He brings it in practices, shootaround, workouts before practice, after practice. That's what separates him from a lot of other guys in this league."
Rubio making progress: Saunders had notable, tangible progress to report regarding at least one of the Wolves' bevy of injured players Friday.
Point guard Ricky Rubio, out since Nov. 7 with a sprained left ankle, has done "some extensive running" on an antigravity treadmill. That's a promising sign for a guy who was in a walking boot just a few days ago.
"He's had some positive developments," Saunders said. "He's anxious. He's chomping at the bit. He was out on the floor today rebounding for guys. You could see that he's chomping, wanting to get back. You've got to hold the reins on him a little bit."
Saunders still lists the timetable as mid-January for a possible Rubio return. The same goes for center Nikola Pekovic (ankle) and shooting guard Kevin Martin (wrist). Backups Mo Williams (back) and Ronny Turiaf (hip) both missed Friday's game and remain out indefinitely.
Follow Phil Ervin on Twitter
---