Lauaki boys from Leuzinger HS find 'loving guardians' in Russell family (VIDEO)
BY foxsports • November 20, 2014
Ed and Lizette Russell walk through the recreation room of their townhome complex. On the other side is a pool that is flooded with teenage boys on a weekday November afternoon.
School is not in session on this day so it becomes an impromptu pool party hosted by members of the Leuzinger High School football team.
Four of the boys belong to the Russell family.
The couple, now in their 33rd year of marriage, stand with hands interlocked, smiles wide enough to brighten up the slightly overcast day, and appear to be having as much fun watching the pool activites as the boys partaking in their water games.
Ed and Lizette admit they "don't see color." The rest of the world, however, views them as a Caucasian husband and wife. The four boys belonging to them (who carry the last name of Lauaki), having a blast in the pool, are Tongan.  
The married couple certainly didn't imagine this as what their lives would be like when they moved to California from the east coast just over one year ago. The Russells headed west with intentions of being empty nesters, leaving their three adult children behind back east. 
It didn't take long for their oulook to change.
A job brought Ed to the west coast in the spring of 2013. Lizette joined her husband in July of the same year. By September, she was still unpacking from her cross country move. However, by the time Thanksgiving rolled around, there were five new additions to their family -- and that whole empty nest notion was thrown out the window.
____________________________
Sometimes life deals you blows.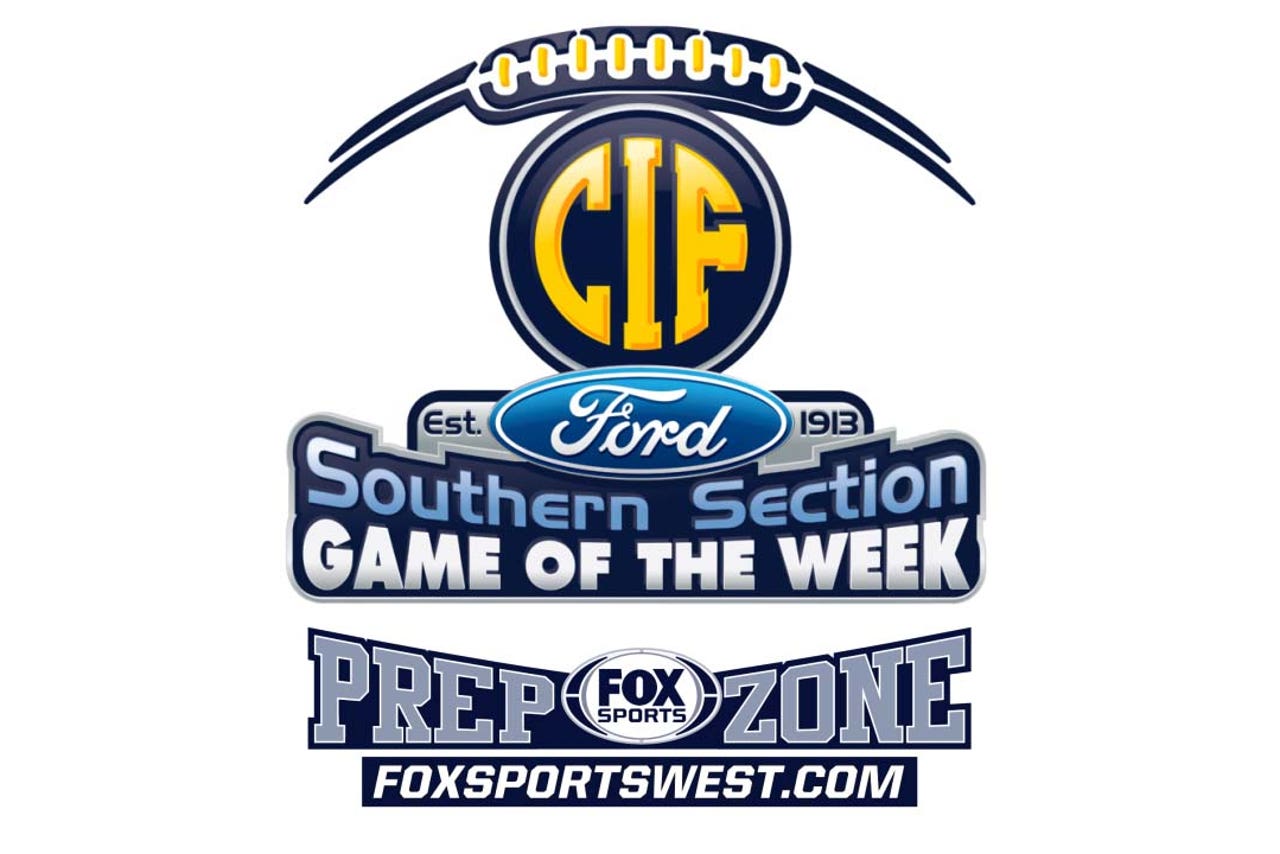 Our CIF-SS football and volleyball schedule for 11/21-22
The Lauaki's -- Maukakala, 20, twins Samuela and Amaleki, 18, Samisoni, 17, Semisi, 16, Valu, 12, Halo, 6, -- have withstood their share of haymakers.  
Amaleki was just 13-years-old when he and his siblings lost the most respected man in their lives. Their father, also named Amaleki, lost his battle with lung cancer.
With their father deceased, the question became who would be the man of the house?
They were all young at the time, the oldest still in his teens.
"It was critical," Amaleki recalled.
Responsibilities became larger but the boys were fortunate, however, to still have their mother -- Fauniteni.
Their Mormon faith was important to Fauniteni. Much like the boys promised their father when he was alive, they told their mother as well that they would take their Mission when they got of age. School was important as well, and she was always there to pick them up at and end of the day.
There was a nurturing spirit about Fauniteni -- and a battling one as well. 
The boys watched as she battled through chemotherapy after being diagnosed with breast cancer. 
Just a few years prior, they saw their father have similar struggles ... and now this.
"We just didn't know what was going to happen," Semisi said.
Having watched death take its toll on the family before, the boys tried to prepare themselves as best they could but to no avail.
Fauniteni passed away in September of 2013, losing her battle with cancer. 
"It was a big hit because nobody else could replace mother," Amaleki said. "And at that time we wasn't ready for it."
In a span of four years, the Lauaki brothers had lost their father and their mother.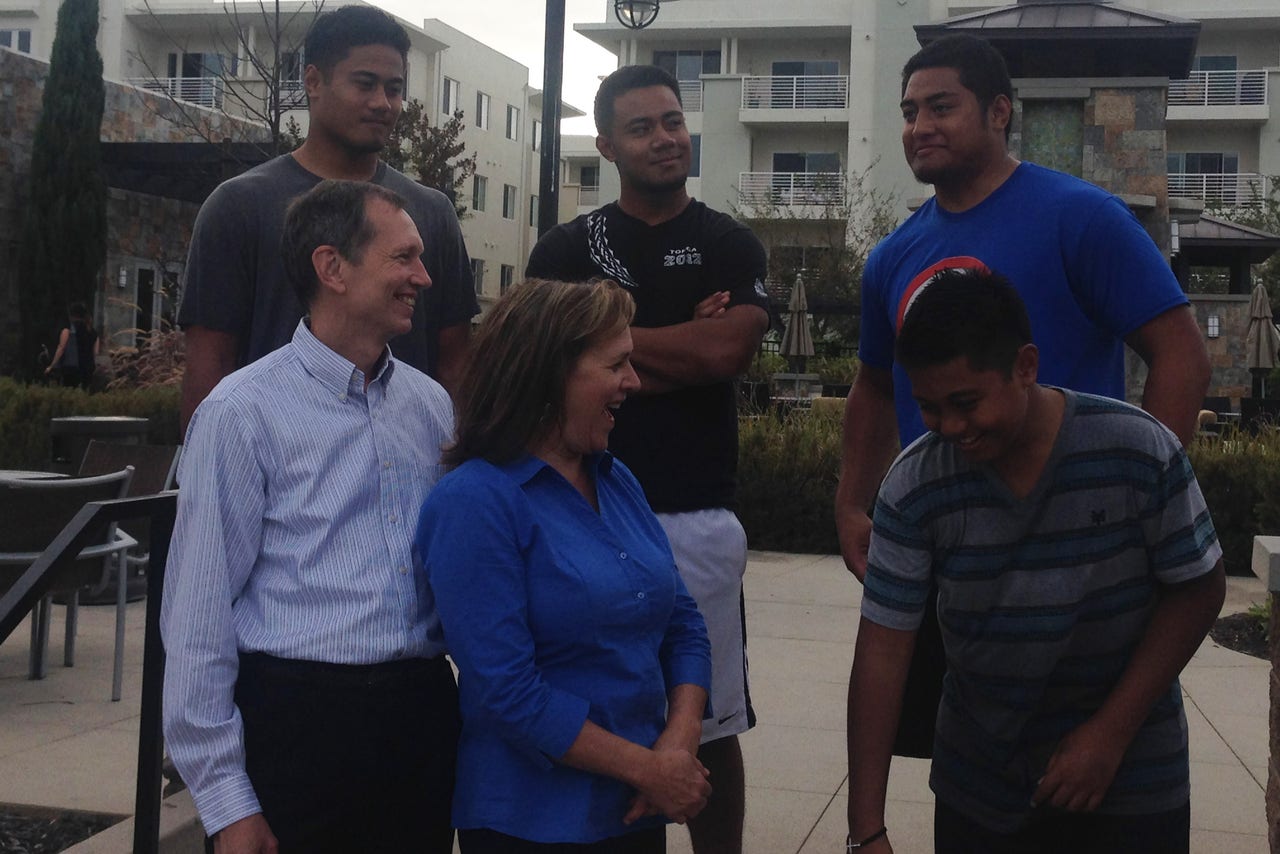 Back row (L to R): Semisi Lauaki, Samisoni Lauaki, Amaleki Lauaki; Front row (L to R): Ed Russell, Lizette Russell, Valu Lauaki
____________________________
What could I do?
Ed Russell thought this to himself. 
He and his wife share the Mormon faith of the Lauaki brothers and attend the same church. Upon hearing about their circumstances, Russell felt he had to do something. 
The Lauakis were living with a cousin at the time, and Russell thought a way he could help would be academically. 
He offered to tutor the boys and Semisi accepted.
What started as tutoring turned into Russell and a colleague trading nights in which they would go deliver meals to the family during the week. 
"Over the course of a couple of months I made a nice close bond with the boys and grew to love them and I started stopping by not just one night a week (but) a couple of nights a week (and), maybe, even a Saturday," Ed Russell said said. 
Still, Russell felt he needed to do more. He invited his wife over to meet the boys and at that point she knew, too, that there was more that needed to be done.
"Fundamentally, I believe that every child deserves to have a father and a mother," Ed said. "When I learned that they lost their dad to cancer (and) lost their mom to breast cancer, I knew I had to do something to help these young men. It's something that touches the heart and I ask myself if not me, who?"
But what?
They said goodbye to their empty nest, and they approached members of the family about becoming legal guardians of all the boys.
"Some people thought we were off of our rocker," Lizette Russell said. "Before I even met the boys, the Lord just put it on my heart that we were going to have them in our home." 
Learning the intentions of the Russells, the Lauaki brothers were shocked.
But, they agreed it was the best move.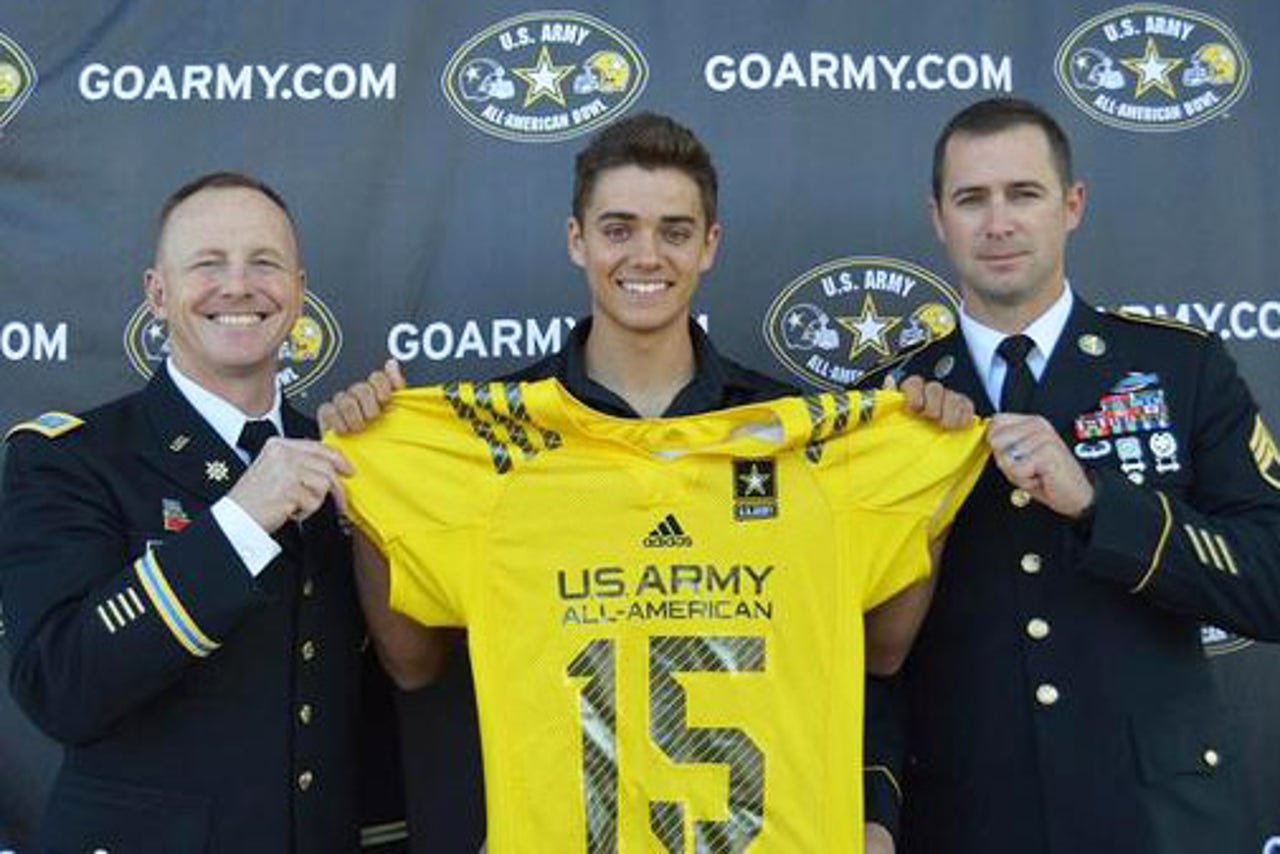 CIF-SS stars receive jerseys for U.S. Army All-American Bowl
The Russells were granted legal guardianship and, two days before Thanksgiving of 2013, the boys moved in. Five of them --Samiuela, Amaleki, Samisoni, Semisi and Valu. (A relative of the Lauaki's obtained legal guardianship of Halo.)   
"I think they're great," Valu said about the Russells. "How they just took some random boys they just met into their house. They probably only known us a month or two before they said they want us to move in with them. It's like rare."
Added Samisoni: "At first we didn't feel like it was right. We were just amazed, shocked because they weren't our ethnic group and our same culture and we knew that it would be different and we would have to adapt to their kind of living.
"Now we're happy we're there. We got used to the lifestyle."
____________________________
Dameon Porter got more than he could have ever expected from the Lauaki brothers during the 2014 season.
The first-year head coach at Leuzinger High School was hired last March and when he was told their story, he wasn't sure they would remain at the school -- let alone play for him.
Porter knew he couldn't sell the brothers on the Leuzinger football program in an effort to get them to remain at the school -- there wasn't much to sell from that standpoint. The Olympians had won just two games in the previous four seasons and hiring a new coach in March isn't the most ideal situation with spring and summer passing tournaments right around the corner. 
Porter learned quickly that football wasn't anything that needed to be discussed, initially.
He simply wanted the chance to get to know the brothers as people and be a possible "sounding board" for them as they tried to work themselves through a difficult situation just months removed from the loss of their mother.
The Lauaki's were in Porter's sixth period football class, so there was some interest on their part, but that gave the head coach no guarantees that they'd be around once the summer came.
"(This was) unchartered waters for me," Porter said. "I've been coaching for a dozen years so there's no training or previous experience that helps you prepare for dealing with those types of circumstances.
"I think anyone in their situation would have been reluctant to trust with their lives and their academic and football careers. So, that was my number one goal was to try to present myself to them as a person. Not so much as a teacher or coach but just someone that they can trust."  
Porter began to win the boys over. They admired how he went to an inner city high school -- Crenshaw -- and was now returning to a similar situation to give back and provide hope for a sometimes overlooked community.
The boys wanted to be a part of the change and became leaders, not only inside the football program, but on campus as well. 
After the loss of his mother, Amaleki took on the responsibility of caring for his younger brothers, virtually missing an entire year of school and the whole football season. He was granted a fifth year of high school and a hardship waiver from the CIF-Southern Section to be able to play during the 2014 season. 
Amaleki also helped teach the team the Haka, a traditional war dance.
The team did it after their season ending, 39-20 win over Compton Centennial. It was the Olympians first league win in five years, as they finished 4-6 on the season -- doubling their total from the past four seasons combined.
Amaleki, Samisoni, and Semisi were key contributors, while Valu served as the team's water boy.
"I've seen them thrive in the short time that we've been together and they've been a vital part of our program," Porter said.
____________________________
Ed Russell is continuing his help with academics, while the boys' spiritual growth continues. Ed takes Amaleki and Samisoni to seminary at 6 a.m. every morning before school.
As a family, they have devotional period and prayers at night before bed.
Athletically, the goal is for them to continue their football careers collegiately, and Porter believes they all have the skills to do so. Amaleki's twin, Samiuela, received a scholarship to Utah State, which he plans to use once he returns from his Mission.
Although the circumstances are far from what either side envisioned together, the Russell's and Lauaki's are making it work as a family.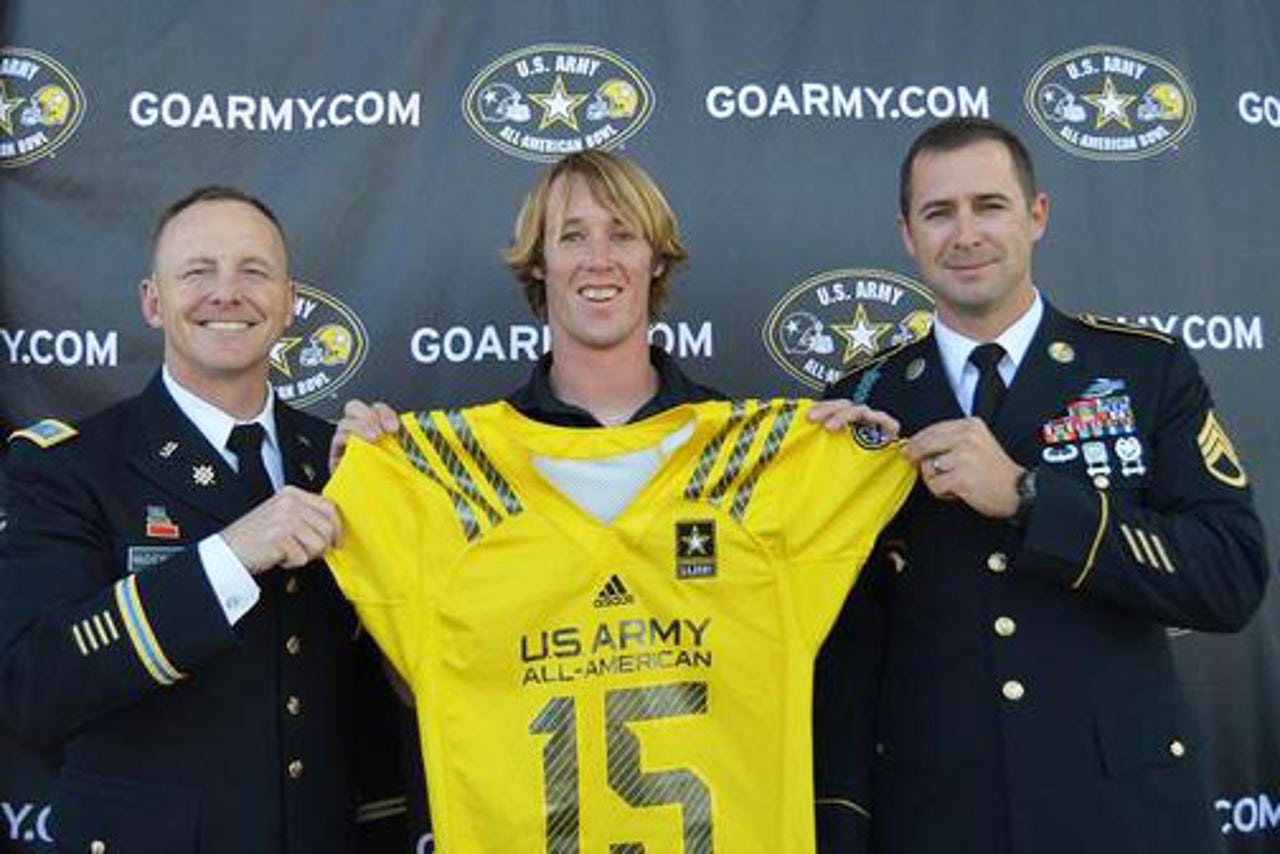 POLL: Which WR is the all-time best from the CIF-SS?
"Amaleki had said something one time," said Lizette, her eyes beginning to water. "He called us his loving guardians and when he called us that, I realized that that was all we needed to be. They're actually fortunate they have heavenly parents and they have another set of earthly parents here that are helping like we're trying to do and they know that.
"It's been just amazing.  I don't know who's blessed more who's growing more us or them?"
The Russell's empty nest is now occupied, and they couldn't be more thrilled ... and the rec room and the swimming pool they thought they'd rarely visit is now full with their kids and some of their football teammates.
Inside of the pool, a nameless game is going on -- at a glance, it appears to be a cross between water polo and football, complete with an object shaped like a mini basketball, and the pool vents doubling as goals, along with plenty of blocking and tackling. 
It, in fact, has become an impromptu pool party. 
"I, probably, should order some pizzas," Ed said.
---