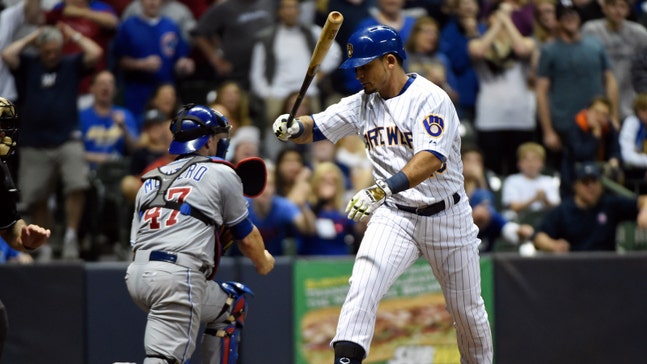 Late mistakes prove costly for Brewers in one-run loss
Published
May. 9, 2015 12:56 a.m. ET

MILWAUKEE -- At the time, the mental lapse the Milwaukee Brewers made in the top of the ninth inning seemed to be a footnote in an otherwise decisive win for the Chicago Cubs.
But as Ryan Braun's three-run home run just carried over the right-field fence in the bottom of the ninth, the mistake loomed large as it became the difference in Chicago's 7-6 victory Friday at Miller Park.
With two outs and the Cubs leading 6-3, rookie second baseman Addison Russell legged out an infield single on a groundball to third. Fill-in third baseman Elian Herrera threw the ball away to send Russell to second.
Second baseman Scooter Gennett retrieved the ball down the right-field line and blindly threw the ball back in. Nobody was paying attention and the ball got away from pitcher Brandon Kintzler and Herrera, allowing Russell to move to third.
Two batters later -- Kris Bryant legged out an infield single, which was originally ruled an out before being overturned on replay -- to score Russell to put Chicago ahead, 7-3.
"It was one of those where I can't see what's going on behind me, so we're taught to pick up the ball and if it's a fast guy like that, we usually just throw it in," Gennett said. "It's one of those things that happened. How it ended up, I should have just ran the ball in."
A pair of walks put two on for the Brewers in the ninth against Cubs closer Hector Rondon. After Gennett lined out to right, Braun managed to keep a high fly ball just fair inside the right-field foul pole for a three-run homer.
Adam Lind and Khris Davis followed with singles, but Gerardo Parra struck out with the tying run in scoring position to end the game.
"We made mistakes in the top of the ninth that cost us runs," Brewers manager Craig Counsell said. "In hindsight, I don't know how that game would have turned out. But we made mistakes in the top of the ninth that cost us runs.
"To me it says every out is important. Every play is important. If you want to win games you've got to commit to every out being important, no matter the score."
Brewers starter Jimmy Nelson struck out a career-high 11 batters Friday, but the young-right hander also surrendered four runs on three home runs.
Dexter Fowler led off the game with a solo shot, while Anthony Rizzo broke a 1-all tie with a towering solo homer in the fourth. Two batters later, Jorge Soler made it 4-1 Cubs with a two-run blast to center.
The Brewers have now allowed a major-league worst 46 home runs in 30 games and are on pace to set the all-time record for home runs allowed set at 241 by the 1996 Detroit Tigers.
"Jimmy had no-hitter stuff, in my opinion," Counsell said. "He had really, really good stuff. But the mistakes he made, they hit home runs."
The Cubs added an important insurance run off Brewers reliever Will Smith in the eighth, as Fowler led off with a double and scored on a one-out single by Rizzo, making it 5-2 Chicago.
Milwaukee's first attempt at a game-tying rally came with two outs in the bottom of the eighth. After Braun doubled and Lind walked, Davis greeted set-up man Pedro Strop with a double to right to plate one.
Cubs manager Joe Maddon then chose to intentionally walk Parra to face Martin Maldonado with the bases loaded in a 5-3 game.
Counsell was unable to pinch hit with Maldonado because he used backup catcher Juan Centeno to pinch hit for Nelson in the bottom of the seventh.
Maldonado ran the count to 2-2 before striking out on a breaking ball from Strop.
Fresh up from Triple-A Colorado Springs, Kintzler allowed a leadoff home run to Starlin Castro in the ninth before retiring two straight. Then came the physical error and mental lapse that ended up costing the Brewers the game.
"You try to focus on the positives," Braun said. "Obviously it was a great comeback. Hector Rondon has established himself as one of the best closers in the National League, so for us to score a few runs against him there is a good thing. But it's disappointing. We continue to make not the physical errors, but the mental errors. Those are the things we need to avoid in order to get back to playing consistently winning baseball.
"I think (avoiding the mental errors is) one of the messages of every manager," he added. "For whatever reason, it just hasn't gotten through. We just haven't done a good enough job of it and we have to do better at it."
Gomez, Ramirez sit: The reason why the Brewers were thin on their bench Friday was because they were down two starters.
After being held out Thursday, Carlos Gomez was not available Friday due to what was described as slight soreness in his hip flexor.
"I don't know if it is because I didn't play for 17 days and then I play five in a row," Gomez said before the game. "That's probably why it started getting inflamed. It is nothing serious. It is something that I can play through. But in this situation it is better to lose a couple of days than weeks or months."
Originally in the starting lineup, it didn't become known Aramis Ramirez was out until Herrera took the field at third base. The Brewers later announced his absence was due to lower back tightness.
"It just came up in the game (Thursday)," Counsell said. "He just tried and tried in (batting practice) and wasn't good to go."
Neither player was available to pinch-hit Friday, according to Counsell.
Follow Andrew Gruman on Twitter
---