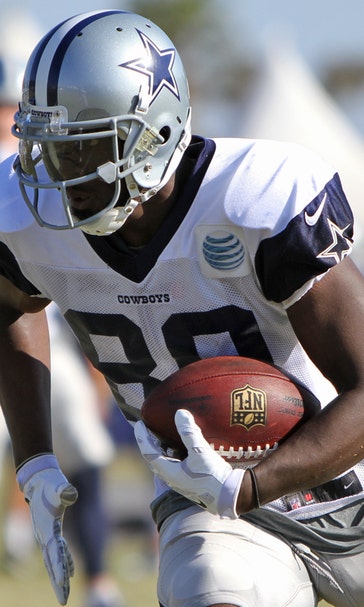 LaRon Byrd looking to contribute to Browns success
September 1, 2014

BEREA, Ohio - The new guy in the Cleveland Browns receiving corps didn't make it for the beginning of practice Monday.
It's that time of year in the NFL. Plans change. Itineraries change. Holiday weekend travel schedules do not take the NFL's moving weekend into account.
By the end of Monday's practice, though, LaRon Byrd had an orange helmet and a white jersey. He was hard to miss, too; at a listed height of 6'4, he towers over most of the rest of the Browns receiving corps.
Can Byrd help that receiving corps?
Time will tell. Five weeks of training camp and the preseason indicates that group needs whatever help it can get. Byrd was claimed off waivers from the Dallas Cowboys on Sunday and could be on the field for the Browns in Pittsburgh in Sunday's season opener.
"You could be waking up in Detroit one day, going to sleep in Cleveland the next and waking up in Washington the next," Byrd said. "You just have to adapt and adjust."
Byrd played four games with the Arizona Cardinals in 2012, when he made the team as an undrafted rookie. He landed on the injured-reserve list with the Cardinals last year due to concussion symptoms, and after being released last spring he landed with the Cowboys, catching seven passes for 103 yards with a touchdown for Dallas during the 2014 preseason.
Byrd said he got caught in a numbers game in Dallas and is excited for a new start with the Browns.
"I tip my hat to the Cowboys," he said. "I appreciate those guys bringing me in. Our starting five defensive linemen got hurt. We had a cornerback suspended; two cornerbacks got hurt. It's a business. Without them I wouldn't have gotten this opportunity so I appreciate those guys.
"I want to get on the field here. I want to contribute to the team. I don't want to just be a guy on the roster. This is my job. I'm going to be in the coaches' ear. They're probably going to be tired of me by the end of this week, but I have to get it and hopefully I'll get it by the end of this weekend."
SHAPING UP - Byrd was one of four players claimed by the Browns, who have also been putting together a practice squad.
The Browns are getting healthy, too. Defensive end Desmond Bryant is "day to day," coach Mike Pettine said, and was the only lineup regular not practicing on Monday. Joe Haden is back to practice after missing the final two preseason games.
---