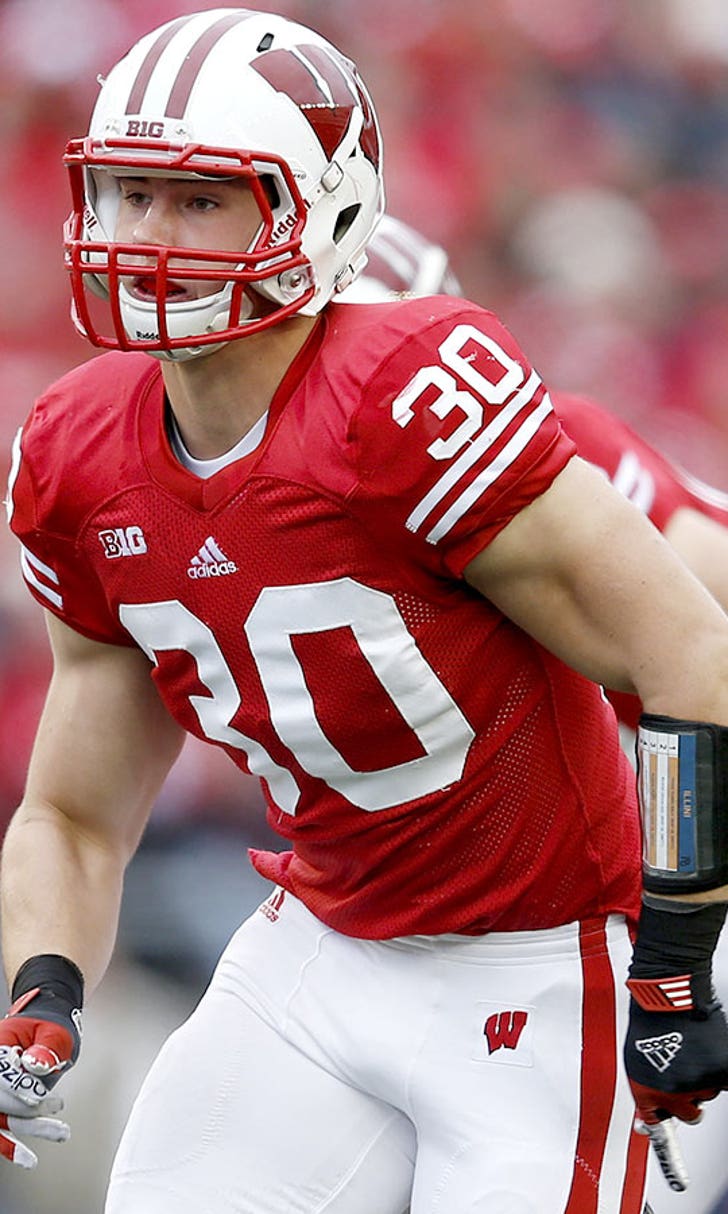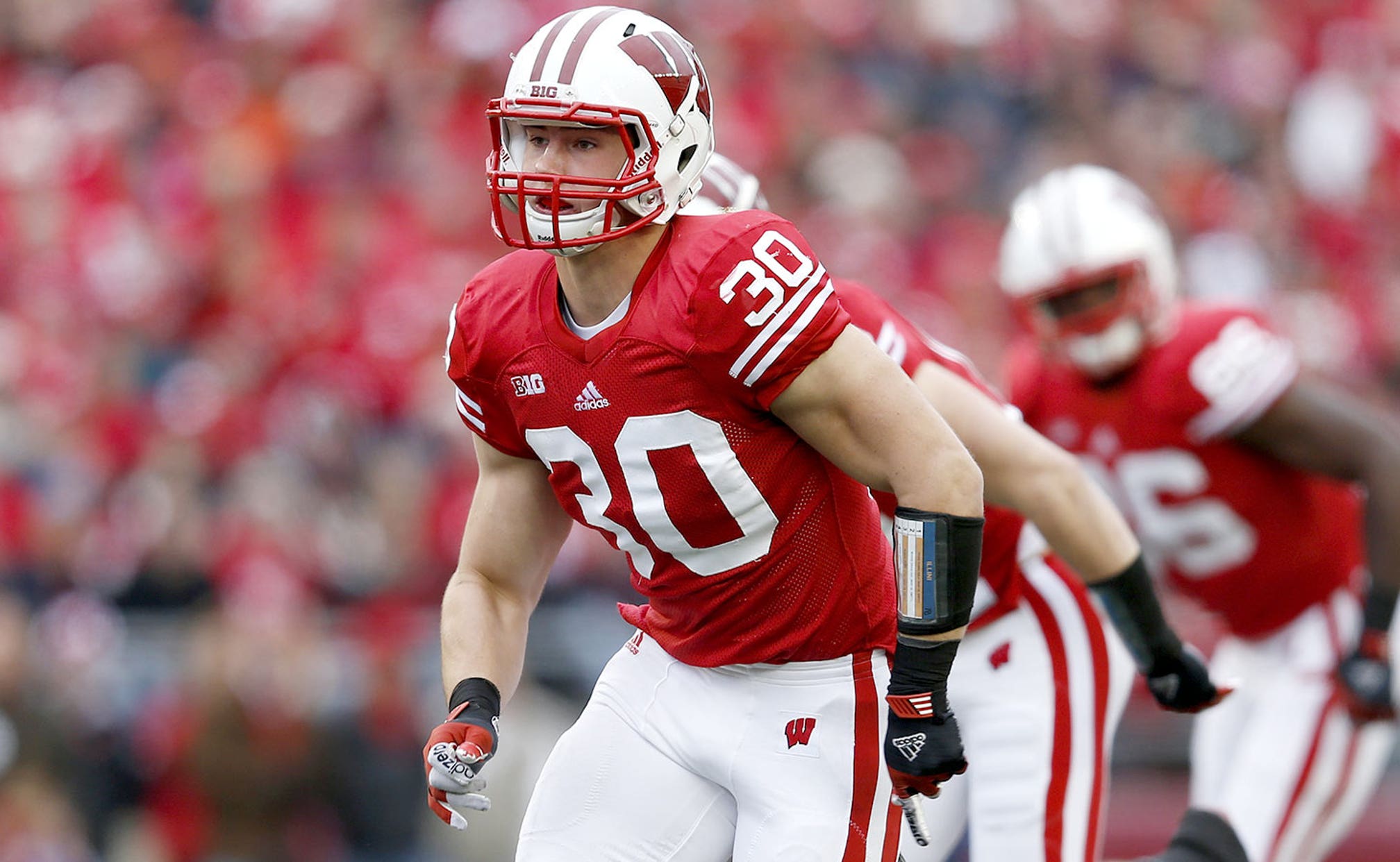 Landisch emerges as Badgers leader, pass-rushing threat
BY foxsports • September 25, 2014
MADISON, Wis. -- In the span of one game, Wisconsin linebacker Derek Landisch has turned himself into a pass-rushing menace. But the roots of his breakthrough performance date back to well before he sacked Bowling Green quarterback James Knapke twice during Saturday's 68-17 victory.
Over his four years in the program, Landisch has learned that talent and athleticism are not the only traits necessary to successfully blitz opposing offenses. He has gained knowledge thanks to film study and a better understanding of how to use his instincts to read plays before they happen.
Just ask teammate Michael Caputo, who came into Wisconsin's program with Landisch in 2011.
"He has a lot of talent, let's be honest," Caputo said. "He has a lot of talent and he worked on his skill every day. He has good instincts too. I've noticed since I came in with him as a freshman, he reads out plays perfectly. He reads linemen. He does all that stuff. His knowledge of the game is spectacular.
"You feed of that as a player, playing with someone like that. You keep playing. As a deep safety, I'm 30 yards back from the field and I see Derek just crush the quarterback. I want to go run up, celebrate with them because it fires me up. I feed off that energy too. He's a high-energy type of guy."
Landisch's ability helped him to be one of only three true freshmen to earn a letter at Wisconsin 2011, and his value to the team has continued to increase. He appeared in 38 games but made only three starts over his first three seasons. This year, without Chris Borland -- who is now with the San Francisco 49ers -- Landsich has become a full-time starter and the type of player teammates seek out for guidance.
"He's in a comfort zone being a leader now," Badgers coach Gary Andersen said. "Whereas a year ago there was Chris, there was so many of those dynamic leaders a year ago, he didn't need to do that, but he's accepted that role and he's accepted that responsibility."
Before Saturday's game, Landisch had one sack and 4.5 tackles for a loss in 40 career appearances at Wisconsin. On Saturday alone, however, he recorded two sacks with 3.5 tackles for a loss, and he led the Badgers with six total tackles.
Landisch sacked Knapke on third-and-11 early in the second quarter, which forced the Falcons to punt while trailing just 14-10. Kenzel Doe returned the punt 40 yards, and the Badgers scored a touchdown one play later to give themselves a much-needed cushion.
Later in the second quarter, Landisch added another sack of Knapke on first down for an eight-yard loss. The play ultimately helped force another Bowling Green punt.
"You have to have a high motor," the 6-foot, 231-pound Landisch said. "But there's also a lot of technique to it and a lot of reading, especially when you're blitzing in the interior against such big guys, especially with the smaller size that I am, you really have to have perfect technique and play with great effort."
Given the way in which Landisch caused such a disruption Saturday, Andersen noted his linebacker had earned the right to become more of a threat in blitzing situations.
"You can see he's developed the moves that are important to him," Andersen said. "He's not the tallest guy in the world, so his pass rush moves are within his own confines of what he's comfortable doing, and he sets people up very well. Where you think he's going is probably not where he's going to be going in the next couple steps.
"And then his overall knowledge of the defense is impressive. He gets protections now, and he kind of can see things before they happen a little bit sometimes, and that's helped him, also."
Landisch, meanwhile, certainly is relishing his chance to be a focal point of Wisconsin's defense.
"I think anybody likes to blitz and go after the quarterback," Landisch said. "Any time I peel my ears back and go after the quarterback, I want to make the most of my opportunity."
So far, so good.
Stave update: Badgers quarterback Joel Stave hasn't been made available to the media since Sept. 2, when he revealed he was experiencing a constant mental battle to complete basic throws -- a problem known in many circles as the yips.
How is Stave progressing? Wide receiver Jordan Fredrick provided his assessment following Tuesday's practice.
"Joel's looking like he's coming back to his old self, which is awesome," Fredrick said. "I think it's something that's made him so much stronger going through that. As a quarterback, as an athlete, no one's going to face that much adversity in their career than Joel just did for the past couple weeks. I think it's coming back and not just coming back and feeling great for a day. He's feeling great consistently, trying to work his way back in there. He's such a competitor. He still wants to be the quarterback."
Fredrick noted Stave was still participating largely in individual work, adding in routes on air drills and skeleton drills with the team. Fredrick, who is close with Stave, said he has tried to lend support while Stave attempts to fight back from his throwing issue.
"There was a little thing I saw on Twitter the other day that kind of reminded me of him," Fredrick said. "It was, 'If you can find the humor out of a difficult situation, then you've won.' I think that's what he did. After the mistakes and the hardships he's gone through, he kind of just literally looked in the mirror and laughed and said that's not me.
"He's turned it around. So I just think he's won. That's why I think this situation has made him so much better as a football player and a person. So we're just excited to get him back to normal."
Follow Jesse Temple on Twitter
---