James Harden
James Harden
Lamar Odom's spiral leaves ex-NBA star fighting for his life
Published
Oct. 14, 2015 6:12 p.m. ET

LAS VEGAS (AP) -- Lamar Odom didn't last long at the glittering intersection of championship success and Hollywood celebrity.
Cut loose by his beloved Los Angeles Lakers, followed everywhere by reality television crews, the humble kid from Queens who married into the Kardashian clan saw his life spiral out of control, and so did everyone else.
Khloe Kardashian tried to hide his addictions, then told the world she couldn't save him. The two-time NBA champion landed on Skid Row, a regular tabloid target.
Then he seemed to drop out altogether before he was found unresponsive in a brothel and hospitalized, bringing his estranged wife, his former teammates and the world's attention back to his side on Wednesday.
Hospital authorities would not comment on the condition of the 35-year-old former NBA forward, but the Rev. Jesse Jackson was among his visitors. Jackson said Odom was on life support and improving.
"Apparently from what the doctor said, he was much better off today than yesterday. He at least has some responsiveness now," Jackson said. "He's got tubes in him now but we felt inspired by his presence."
"We're just holding hands and hoping he can bounce back," Jackson added.
Odom, who was embraced by teammates and television fans alike for his Everyman approach to fame, was found face down and alone Tuesday after spending four days at the Love Ranch, a legal Nevada brothel.
Odom started "throwing up all kinds of stuff" after a 911 operator told them to turn him on his side, Love Ranch owner Dennis Hof told The Associated Press in a phone interview. Odom had "spent time socializing with some of my girls," but wasn't seen taking any illegal drugs, Hof said.
Investigators were seeking a blood sample to determine if he overdosed on drugs or alcohol, Nye County, Nevada, Sheriff Sharon Wehrly said.
Odom spent most of his 14-year NBA career in Los Angeles with the Lakers and Clippers, becoming a fan favorite before he sought even more fame with the Kardashians.
His one-month courtship of Khloe before their huge 2009 wedding was taped for the E! network, and Odom appeared on nearly two dozen episodes of "Keeping Up with the Kardashians" as well as other family spinoffs, including his own "Khloe & Lamar" show in 2011 and 2012.
Khloe Kardashian called him "Lam-Lam" and worried openly about him on the show. Even after they split up in 2013, cameras recorded her calling him and checking on his welfare.
People always seemed to root for Odom, whose prematurely weathered face wore the impact of his personal tragedies in a friendly way. And news of his hospitalization brought an outpouring of dismay and encouragement from his friends and family.
Kobe Bryant joined Kardashian and some of Odom's childhood friends at his bedside after a Tuesday night Lakers game in Las Vegas.
"Lamar Odom is one of the greatest people I've ever known," said Derek Fisher, the New York Knicks coach and Odom's longtime teammate with the Lakers. "I don't view him through the prism of choices that he's made ... I'm obviously hoping that he can pull through this, and that in some fortunate way this becomes the beginning of a different ending."
Even his estranged father, Joe Odom, was there at the hospital, according to his grandmother, Florence Odom, who told the AP Wednesday that Lamar was "in God's hands."
Authorities were called to the brothel in Crystal, Nevada, about 3:15 p.m. Tuesday. The 6-foot-10 Odom was too tall for an available helicopter, so he was driven by ambulance to Sunrise Hospital & Medical Center in Las Vegas.
Hof told the AP that his staff had picked up Odom from a home in Las Vegas on Saturday, and he seemed "happy, he was sleeping every night."
"He largely kept to himself, and at no time did he engage in any drug use in the presence of anyone in the house. He did drink alcohol from our bar, and was taking some herbal sexual enhancement capsules," Hof's statement said.
Odom emerged as one of the most promising basketball talents of his generation after a difficult childhood in Queens, where his mother died of cancer when he was 12 and his estranged father was addicted to heroin. Drugs and crime were rampant in his South Jamaica neighborhood, and he never forgot where he came from, writing tributes to his mother and grandmother on his sneakers before games.
Tall enough to play center and skilled enough to be a playmaking guard, the rangy kid with a beautiful shot and exceptional ball-handling skills drew comparisons to Magic Johnson when he played on a traveling youth team alongside Ron Artest, his future Lakers teammate.
Despite an abbreviated college career marked by scandal and an arrest in Las Vegas, Odom's talent was so coveted that he was picked fourth in the 1999 NBA draft by the moribund Clippers. Suddenly, he was "living like a 19-year-old rock star," he said.
Soon after, he was suspended for smoking marijuana.
Odom had two children during those years, Destiny and Lamar Jr., with an ex-girlfriend, Liza Morales. The 2006 crib death of another infant son, Jayden, attributed to Sudden Infant Death Syndrome, prompted Odom to consider quitting basketball. He played the next season displaying a T-shirt bearing his son's photo in his locker.
Odom loved wearing purple and gold, and his selfless play won him the NBA's Sixth Man of the Year award in 2011. He won a second straight NBA title in 2010 while playing alongside Artest, now known as Metta World Peace.
But his basketball career faded as his life became a spectacle. He was heartbroken in December 2011 when the Lakers attempted to trade him; he eventually landed in Dallas, where reality TV crews followed.
"The year he got traded people wanted to say, `Oh, it's because of the show.' No one wanted to bring up the accomplishments he had when we were filming," Khloe Kardashian told the AP in a May 2013 interview. "Lamar loves doing the show and he's the one who wanted to do `Khloe & Lamar" more than I did."
Still, Odom's behavior increasingly worried family and friends. He pleaded no contest to drunk driving after an arrest in August 2013. Kardashian filed for divorce four months later and has been dating Houston Rockets star James Harden. The divorce has not yet received final approval from a judge.
When cameras caught up with Odom on a sidewalk in August, he blamed the media for his downfall.
"Y'all have discredited me, beat me down, took my confidence, took everything away from me. You will not do it again," Odom told TMZ in an interview. "To everybody that I know and that supports me, I'm sorry but it's just it. The dog has to bite back."
--------
Contributors include Ken Ritter in Las Vegas, Andrew Dalton and Beth Harris in Los Angeles and Alicia Rancilio in New York.
---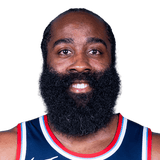 Get more from James Harden
Follow your favorites to get information about games, news and more
---