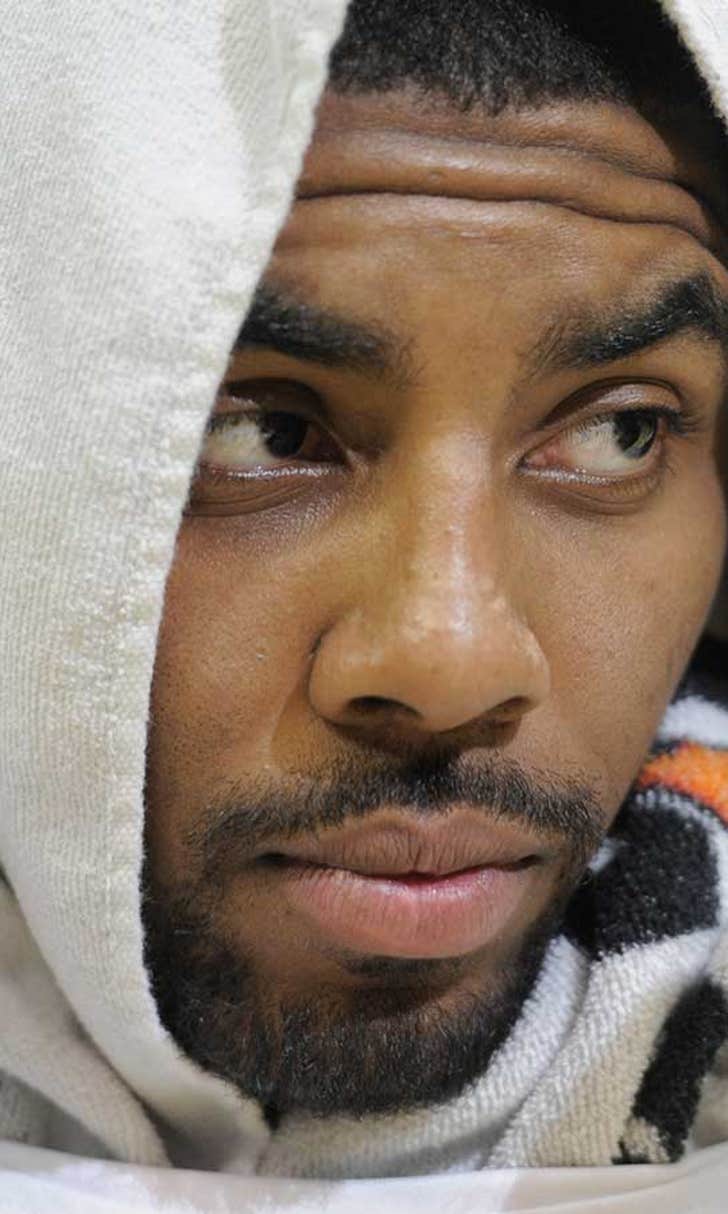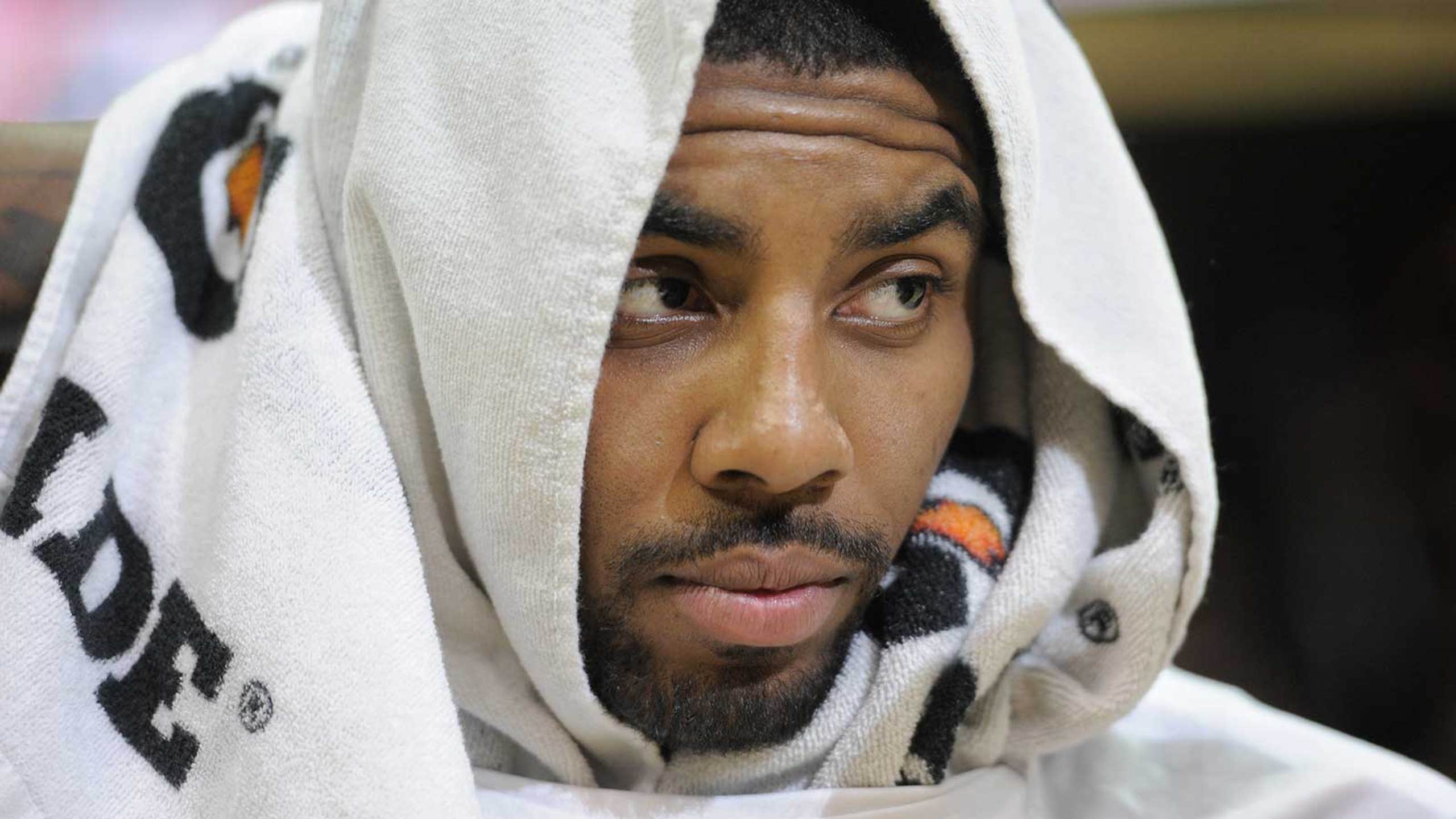 Kyrie, Cavs need to take another path, and soon
BY foxsports • January 31, 2014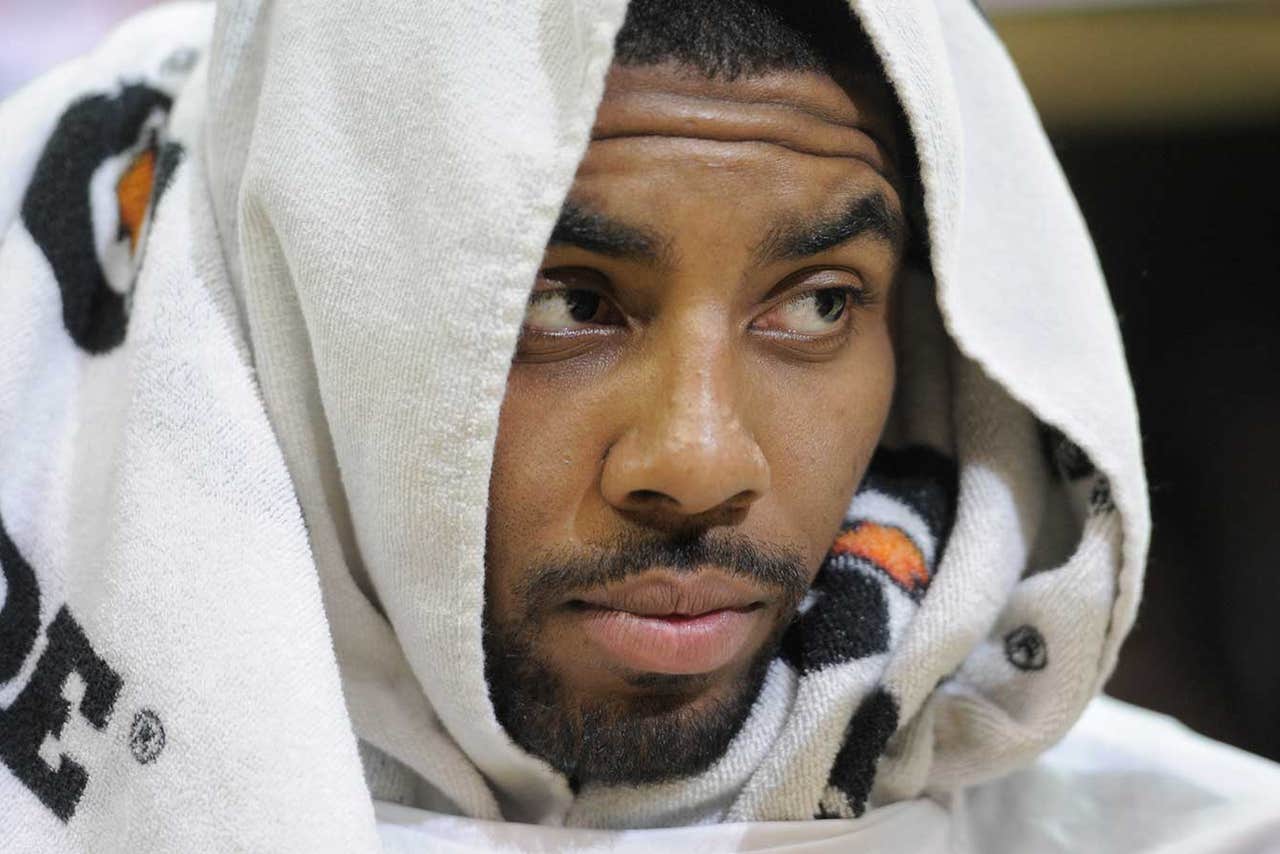 It may have been a 31-point loss, but hey, not everything was bad news for the Cavaliers. At least Kyrie Irving said he wants to stay.

But it's been a whirlwind 10 days for the Cavs, a stretch where the team has fallen apart on the floor and Mike Brown has failed to find a mix that will consistently play hard and defend.

Right now, there aren't any answers.

Right now, everything stinks.

Right now, the Cavs are showing no resiliency, no cohesion, and as Brown has indicated, no spirit.

And right now, the Cavs are losing games like the 117-86 debacle at New York on Thursday.

Cavs general manager Chris Grant met with the media Wednesday, describing a frustration with what he called "a lack of effort" from the players.

Then the players went out and lacked some serious effort.

Something isn't sinking in here, sports fans. Either the players just don't get it or they don't want to play for Brown.

The second theory was strongly refuted by none other than the team's All-Star after the game Thursday. Irving was responding to a report that he's looking to get out of Cleveland, saying that people are "€œtrying to antagonize this team and put it on me."

He added, "I'm here for my teammates. I'm here for Coach Brown."

The Cavs (16-30) were expected to take the next step in their process and challenge for a playoff spot this season. Thanks to the bad ol' Eastern Conference, that dream has not died. At least, not mathematically.

But they can't continue down this path. Forget the playoffs. This is suddenly about keeping your sanity.

The players say they know that, but instead of talking a good game, Brown would probably prefer it if they started displaying a willingness to rotate defensively or put a body on someone near the basket. Instead, as the Cavs showed again vs. Carmelo Anthony and the suddenly resurgent Knicks, all opponents are being handed a free pass to the hoop. All that's missing is a milkshake and a hug.

That's not how you win in this league, not in this sport, not in the regular season nor in the playoffs. You'd think guys who made it this far would understand that, but perhaps that part was left out somewhere along the way.

Brown must be at a loss, because no way he's seen this before -- and he's been around some guys who probably didn't belong in this league. But at least they quit pouting and gave effort.

Time to rise

Irving has the talent, the intelligence, and yes, the ability to win games. And the problems are hardly all on him. He can score 24 with his eyes closed, which was basically the case Thursday.

But he's the point guard, the best player, the guy with the ball, and usually the game, in his hands. He says he's happy in Cleveland, and unless he says otherwise, you may as well do yourself a favor and just believe him.

"Yes, I'm in Cleveland. I enjoy myself. I enjoy going out there and competing at the highest level for the Cleveland Cavaliers," Irving said. "That's what it's about. It's not about me and it's not about this controversy surrounding do I want to privately (leave) when my contract is up. I'm still in my rookie contract and I'm happy to be here and I'm pretty sure that I'm going to be here for a long time."

That's great and all, but Brown and Irving need to figure out how to make this work. Brown isn't asking for anything out of the ordinary. He wants the guys to pass and cut and make simple plays that result in good shots.

He wants them to bend their knees, shuffle their feet and defend. Oh, and here's a newsflash: Most coaches are going to ask their players to do those same things. Brown isn't trying to reinvent anything. He's just teaching basketball, and at its highest level, how it must be played.

Irving took 25 shots on Thursday. Dion Waiters (21 points) took 15. Nobody else got more than nine, and even Luol Deng (13 points, 11 rebounds) sort of had to force a few of those.

That's not balance. It's not "pass, pass, pass" or sometimes passing "€œjust for the sake of it,"€ as Brown would prefer.

Then there'€™s that overall team defense, which gave up 60 points in the first half.

Irving wants to stay. The Cavs absolutely, positively want him to stay. Odds are, he's staying for a while and so is Brown.

Now all that's left to do is for the star and his coach to make sure everyone has bought in on what must be done. Without that, quite honestly, the Cavs are toast.

---