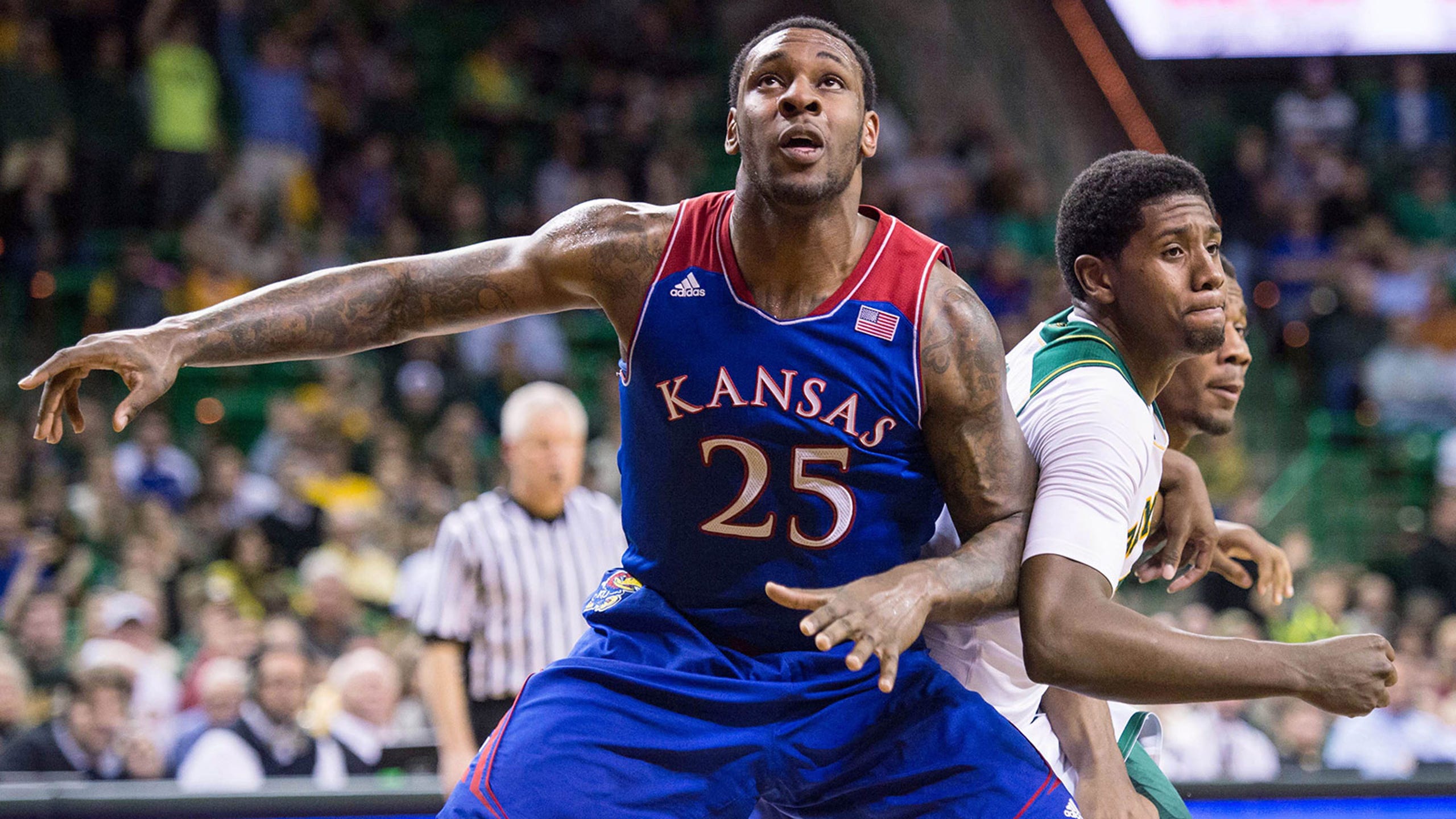 KU's Black doesn't have to be the best player on the floor -- he just needs to BE on the dang floor
BY foxsports • March 12, 2014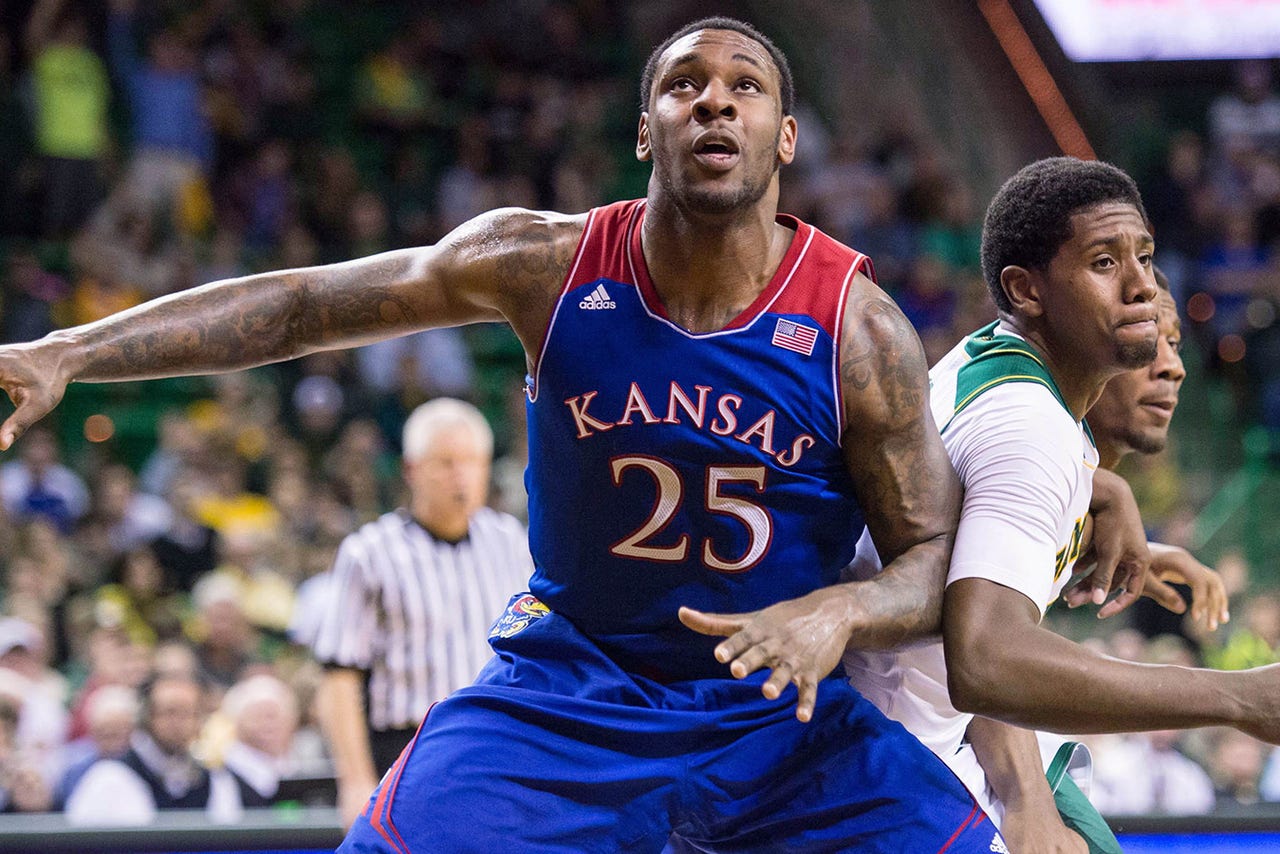 KANSAS CITY, Mo. -- Not all the news regarding Kansas big men this week was apocalyptic or awful, we swear. Take Tarik Black. For his career -- three seasons at Memphis, one with the Jayhawks -- the burly KU forward has done a better job of staying out of foul trouble in the month of March than he has overall.
Honest. For realz. In March, since 2010-11, the big man from Memphis has committed a foul every 6.79 minutes. In all games, Black's hack clip is one every 6.61 minutes.
So, hey, there's that.
"One of the big things about the postseason is just saying composed; keep your composure, man," Black said after a team shootaround early Wednesday evening at Sprint Center, just before the start of the 2014 Big 12 men's basketball tournament.
"Because basketball is a game of runs. And the postseason is win or go home, so nerves kind of get high when runs are made. And it's just staying composed through it, playing your basketball."
Lookin' good! CLICK HERE to check out our gallery of cheerleaders from around the Big 12.
It's about playing smart, too. Controlled. With Big 12 Defensive Player of the Year Joel Embiid not playing this week -- or likely the next -- because of a stress fracture in his lower back, the Jayhawks need somebody to play the role of rim protector, somebody to convince a driving guard or athletic wing that crashing the paint is a crappy idea.
Your serve, Tarik. Your serve, man.
"Oh, he needs to be good," Kansas coach Bill Self said of Black, a senior transfer from Memphis who averaged 4.8 points and 3.3 rebounds this season. "And you know what? We brought him here to be in this moment. And I'm excited that he is. I'm excited that he's with us.
"I've been real pleased with how he's been playing. And I don't see our team playing much different than (before)."
Yet they'll have to be different. They'll have to better, collectively, as a defensive unit. Embiid blocked 2.6 shots per game in 28 appearances, leading KU by a country mile. The next closest on that list was wing guard Andrew Wiggins, with 0.9. If guards Naadir Tharpe, Frank Mason or Wayne Selden got beat on a dribble-drive, more often than not, the 7-foot Embiid was waiting to clean up the mess.
"We're just going to have to make sure that everybody's much more locked in," Tharpe noted. "Because Jo protects (the rim) well -- protects it really well. So now we've got to make sure everybody's on the same (page)."
The major crux for the top-seeded Jayhawks -- who will face either Oklahoma State or Texas Tech at 2 p.m. Thursday in the second Big 12 quarterfinal of the day -- is this: It isn't just that Black (or Perry Ellis or Landen Lucas) isn't near the defender Embiid is. It's that no other post defender in the Big 12 was even all that close, from either an intimidation or an efficiency standpoint.
Embiid is the only Jayhawk among the Big 12's top 10 in defensive rating (first; 90.4, or points allowed per 100 possessions) and defensive win shares (fifth; 1.7), according to Sports-Reference.com. Only two other KU starters are within the top 20 in defensive rating (Ellis is 16th at 100.8; Wiggins is 20th at 102.3) and defensive win shares (Wiggins is 11th with 1.5; Ellis, 13th with 1.4).
Embiid's rating of 90.4 is almost eight points better than the next-best Jayhawks big man in Lucas (98.1) and nearly nine points better than Black (99.1). (Another note that affirms some of Self's year-long gripes: Last winter, KU had eight players with a defensive rating of 91.0 or lower -- and lower is better. This year? One. Embiid.)
It's not a question of whether Black can contribute when he's on the floor -- his win shares-per-40-minutes score of .170, as tracked by S-R.com, trails only Embiid, Ellis and Wiggins on the KU roster; his effective field-goal percentage of .679 ranks second.
It's a question of him actually staying on the floor.
The 6-foot-9 man-mountain has committed a foul every 4.58 minutes of action this winter. Point of reference: Embiid's ratio is one every 6.88; Traylor, one every 5.96; Lucas, one every 5.94.
"He's done much better as the season's progressed, (we've seen), with foul trouble and stuff like that," Tharpe said.
"We need him. He came in here to be a leader, and that's what he's been throughout the whole year, (through) ups and downs."
But you can't lead -- really lead -- from the pine. And it's damn hard to protect the rim while you're sitting next to Norm Roberts.
You can follow Sean Keeler on Twitter @seankeeler or email him at seanmkeeler@gmail.com
---