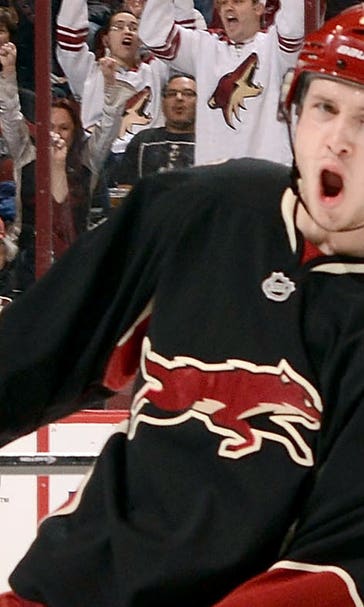 Kings bring out best in Coyotes
January 29, 2014

GLENDALE, Ariz. -- A promotional idea for Coyotes ownership: Masks on sticks -- featuring the L.A. Kings' Jordan Nolan and Dustin Brown -- for every fan at every home game the rest of the season.
Why? Because hatred is good fuel.
We won't play the superlative game when rating the Coyotes' performance in a 3-0 win over the Kings on Tuesday at Jobing.com Arena, but you'd be hard pressed to find a better one and you won't find a better-timed one.
Oliver Ekman-Larsson scored a pair of goals, Antoine Vermette added his seventh goal in seven games, Shane Doan notched his 500th career assist (third all-time in franchise history) and Thomas Greiss posted his second shutout in his last three starts as the Coyotes released much of the frustration of the past month in one night against their most despised rival. 
"They play a physical, heavy style," said Doan, who trails only Thomas Steen (553) and Dale Hawerchuk (550) on the franchise's all-time assist list. "We'€™ve got a group of guys who seem to relish that and play better in that."
If you're wondering where this sort of effort has been all season, you're justified in wondering, but keep in mind the Kings played Monday in San Jose and L.A. had been scoring goals at a pathetic 1.77-per-game pace in January.
"We caught a team at the right time," coach Dave Tippett said. "That being said, I thought we played the right kind of game to take advantage of it. We kept getting pucks deep. We got lots of pucks at the net. Just a pretty solid game right through our lineup."
The Coyotes know how crucial these final games before the Olympic break are to their playoff hopes and perhaps the make-up of their roster. There can be no more slip-ups. They have to beat Buffalo on Thursday and they probably need to win two of the other three remaining home games.
"If you want to start something you have to do it sooner because the games are counting down," Doan said. "We've put ourselves in a position where we're fighting to get back into it instead of trying to climb."
The climb didn't get easier with the win because Minnesota won in Anaheim on Tuesday, handing the Ducks just their second regulation loss at home this season. The Coyotes trail eighth-place Vancouver by three points, the seventh-place Wild by four and sixth-place L.A. by six.
But Tuesday's effort was the sort of building block the Coyotes needed to launch their final stretch before the break.
From the outset, there was traffic in front of Kings goaltender Jonathan Quick, there were quality scoring chances and Phoenix had an all-in mentality that was exemplified by the superb play of its fourth line of Jeff Halpern, Kyle Chipchura and Paul Bissonnette -- a line that managed six shots on net and drew a critical interference penalty on Nolan (Chipchura left the game temporarily due to the high, hard hit).
With Phoenix already up 1-0, Ekman-Larsson netted his second of the game on a power play to kill L.A.'s early second period momentum and put the Coyotes back in control of the game. 
The Coyotes also killed off both L.A. power plays in the game, giving them 13 straight kills and 34 of the last 39.
"The big thing tonight was, when a team is coming in tired in their situation, if you can get a lead it makes the game awful hard on them," Tippett said. "We were fortunate. We got the early goal and then the power play goal to push it along."
Follow Craig Morgan on Twitter
---