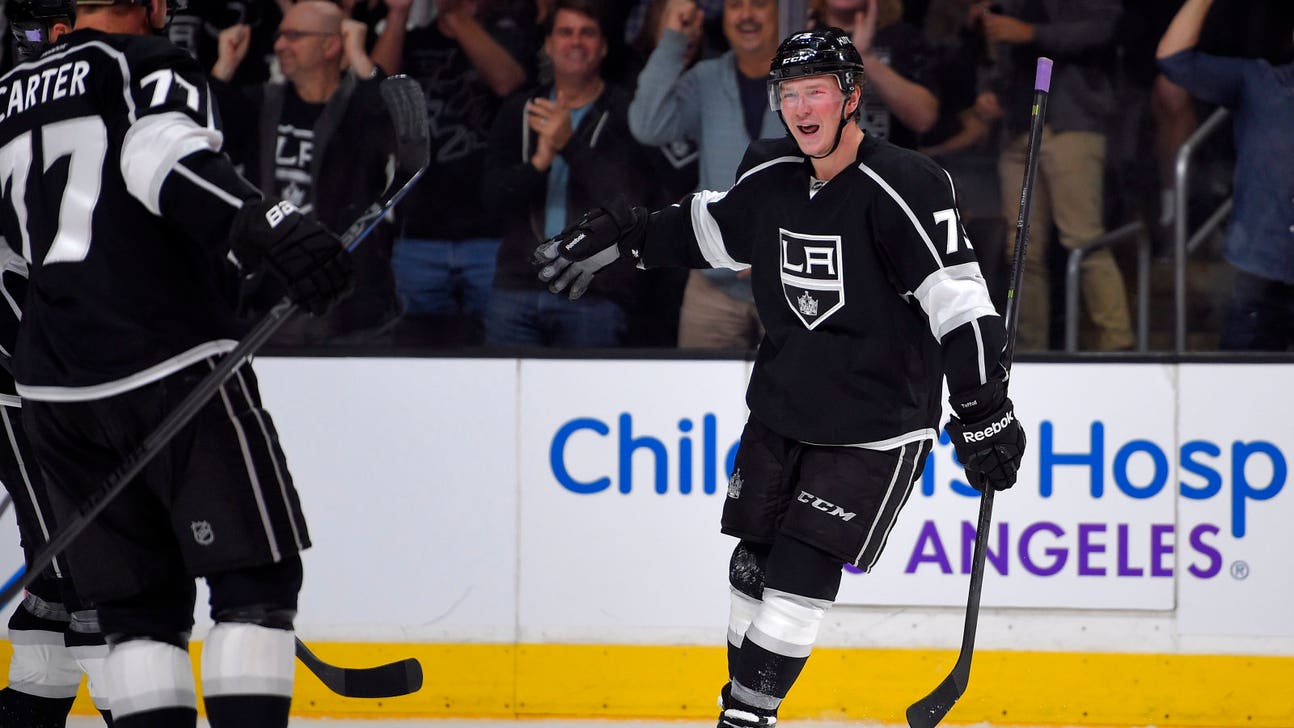 Kings beat Blue Jackets 5-2
Published
Oct. 26, 2014 6:59 p.m. ET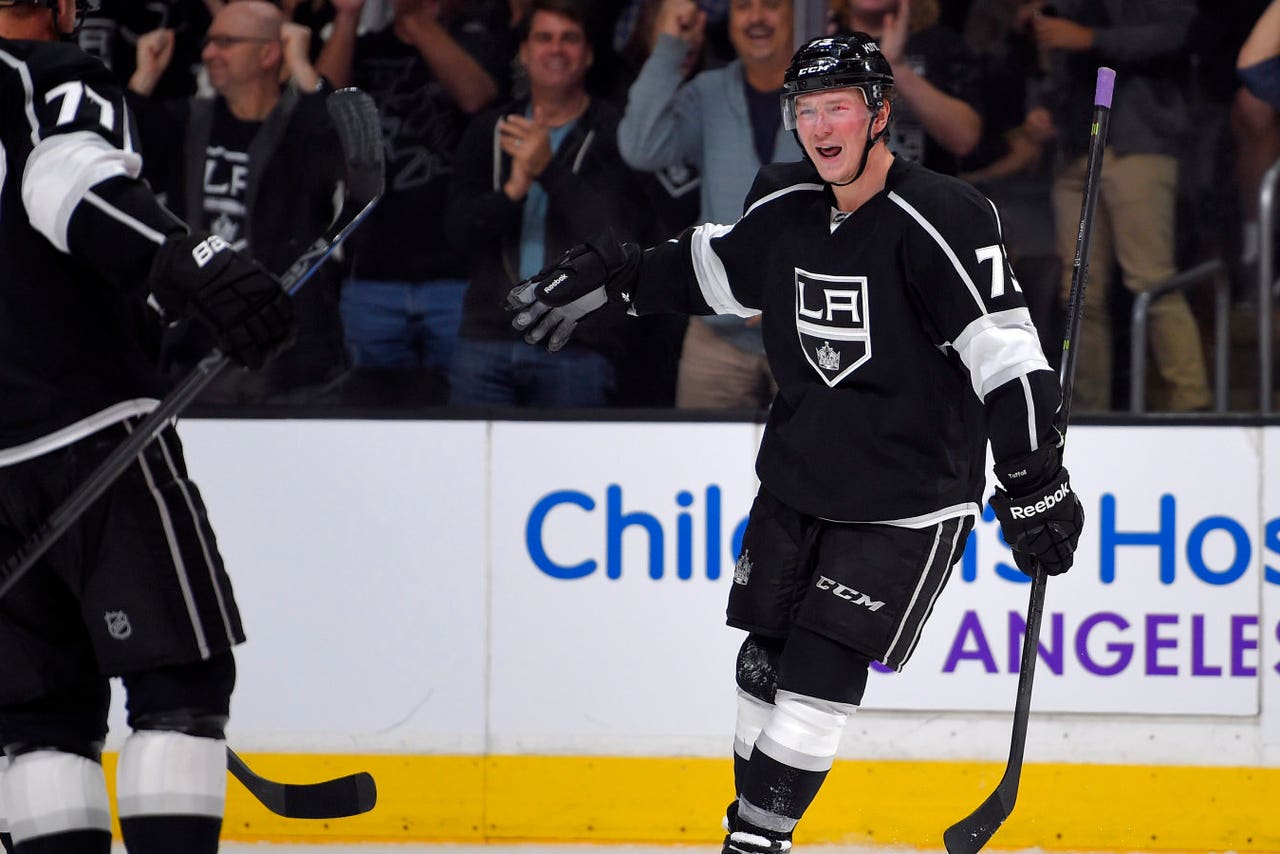 LOS ANGELES (AP) -- The line of Jeff Carter, Tyler Toffoli and Tanner Pearson is putting up big numbers for the surging Los Angeles Kings.
Carter, Toffoli and Pearson each scored and combined for 10 points in a 5-2 victory over the Columbus Blue Jackets on Sunday, helping the Kings complete a sweep of their six-game homestand. Altogether, they have 16 of the team's first 22 goals this season and have collected 17 assists.
"Our line's working pretty well right now," said Pearson, who scored twice in the third period. "We're getting chances at the net and things are happening for us. You've got to ride it when you can."
The game was marred by a frightening injury to Columbus left wing Nick Foligno with 11:34 left in third period. Carter checked him along the boards in front of the Kings' bench and Foligno's head rammed into the elbow of linesman Shane Heyer, who had jumped on top of the dasher in an attempt to avoid both players.
Foligno was put in a neck brace and wheeled off the ice on a stretcher after a long delay.
"You're more concerned about your teammate and the person than you are about the game. The game obviously becomes secondary," coach Todd Richards said. "My understanding is that he's alert, and he'll be traveling back with us."
Teammate Ryan Murray added: "We know it's serious when he does stay down, and we were all worried about him and praying for the beat."
The Kings swept a homestand of at least six games for the first time in franchise history, according to STATS. In two of the wins, they were outshot 43-18 by St. Louis and 41-16 by Minnesota.
"Even before it began, we felt from a team perspective that we wanted to have a solid homestand and come away with more wins than losses," Pearson said. "Now we've just got to keep it going."
Dwight King also scored for the Kings, and Jonathan Quick made 22 saves. Quick, who broke Rogie Vachon's club record with his 33rd shutout on Thursday in a 2-0 victory over Buffalo, has yielded just four goals on 169 shots over his last five starts -- including a 1-0 shootout win against the Blues.
Columbus goaltender Sergei Bobrovsky, who was looking for his 100th NHL victory, stopped 22 shots. Defenseman Tim Erixon scored his first NHL goal and Mark Letestu also scored for Columbus.
Kings defenseman Robyn Regehr assisted on the go-ahead goal at 16:30 of the second period. His long slap shot hit traffic in front, but Carter set up Toffoli at the left of the net for his fourth goal.
"For a good part of the game we were competing, working hard and doing a lot of good things against the defending Stanley Cup champions," Richards said. "But there were a couple of plays where we just shut down for a moment in our own zone, the puck was in the back of our net, and all the hard work went out the window."
King and Letestu traded goals in final 1 1/2 minutes of the second period. Letestu beat Quick high to the glove side with a screened wrist shot from the top of the left circle just 32 seconds after King got his first of the season.
Pearson increased the Kings' lead to 4-2 with 8:11 to play, outracing James Wisniewski to a loose puck after Toffoli flipped it across high in the air across the neutral zone from deep in his own end.
"We were out there for a little while, so I was kind of tired and just kind of flipped it out," Toffoli said. "Obviously Tanner can skate, he got there and made a great shot."
Erixon's goal at 14:39 of first, which came during Drew Doughty's interference penalty, ended the Kings' streak of 18 consecutive penalty kills.
Kings defenseman Matt Greene, who spent 17 minutes of the first period in the penalty box after his fight with Corey Tropp, pushed Artem Anisimov into Quick at the left of the net at 1:32 of second -- and Anisimov was penalized for goalie interference by referee Dennis LaRue.
Johansen's hooking penalty gave Kings a 5-on-3 advantage for 50 seconds, and Carter scored the tying goal 22 seconds later after Anze Kopitar fanned on Toffoli's pass through the crease. Kopitar played 15 shifts totaling about 10 1/2 minutes before leaving the game with an upper-body injury.
Columbus right wing Cam Atkinson did not play after getting cut near the right eye by the skate of Anaheim's Ryan Kesler during Friday's 4-1 loss.
NOTES: Eight minutes into the second period, Quick joined Vachon and Kelly Hrudey as the only goaltenders to play at least 20,000 minutes in a Kings uniform during the regular season. ... The Blue Jackets, who entered the league in 2000-01, are 6-25-5 with two ties during the regular season against teams that were defending a Stanley Cup title. ... Erixon's first goal came in his 59th NHL game, and on his 39th shot on net. ... Los Angeles begins the first of four five-game road trips on Tuesday against Philadelphia. None of its trips this season is longer than five.
---