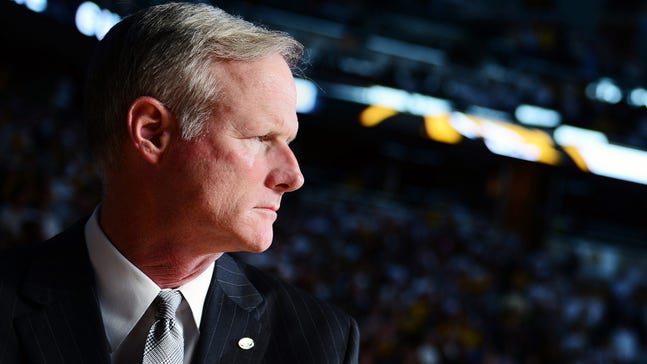 Kim Anderson could solve Mizzou's St. Louis problem -- if he can stick around
Published
May. 8, 2015 3:21 p.m. EDT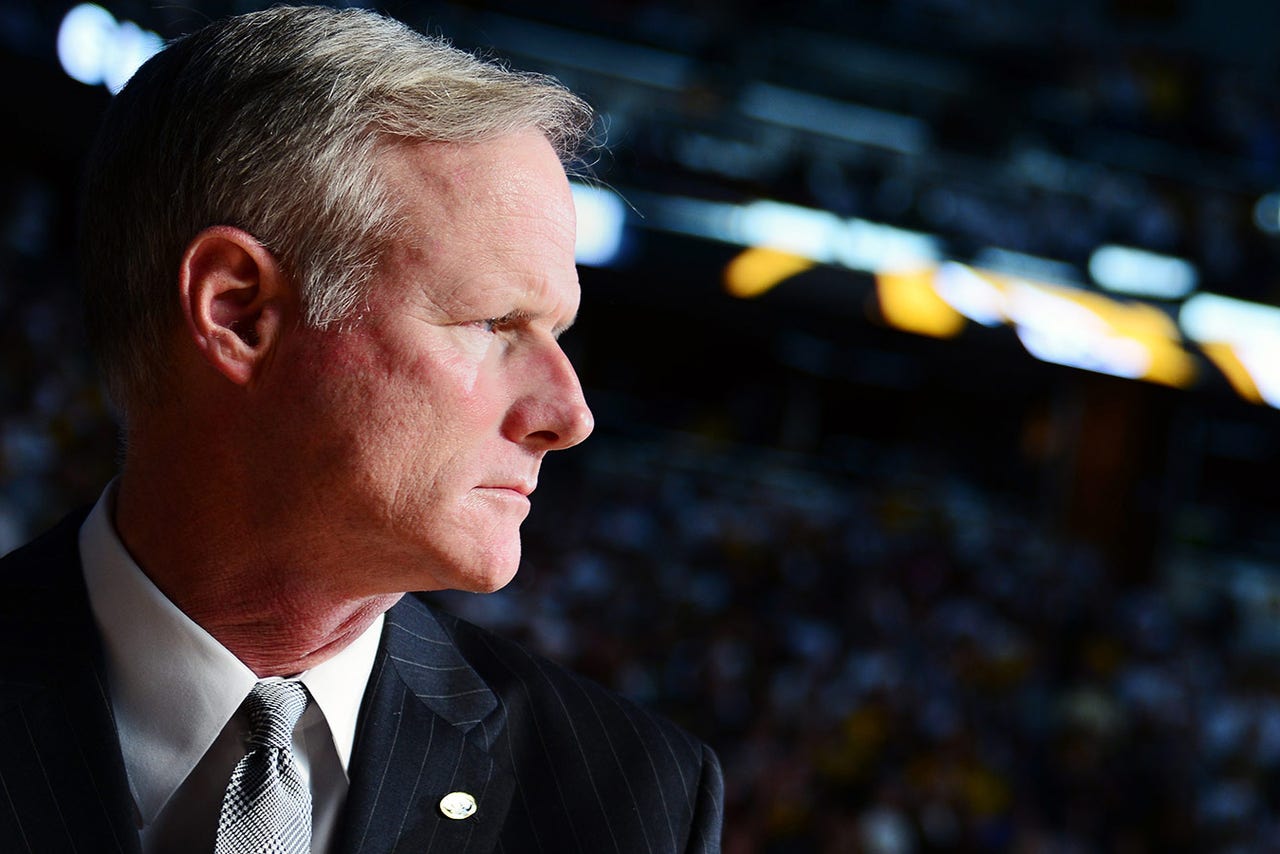 ST. LOUIS -- Jayson Tatum will not be a Missouri Tiger. No one ever thought he would be -- not considering the state of the Mizzou program, not with every blueblood school in America slobbering over him -- and so it was no surprise when he recently released the names of the four teams in the running for his services and Mizzou didn't make the cut.
Same song, different verse: A St. Louis-area star -- in this case Tatum, a Chaminade College Prep junior and the nation's top Class of 2016 recruit -- turns his back on Mizzou.
But don't be fooled. That rejection belies Missouri basketball's significant progress in the state's most fertile recruiting ground.
Since his hiring at Mizzou almost a year ago, coach Kim Anderson and his staff have been working feverishly to repair a St. Louis pipeline that should be producing far more for the Tigers. And no coach in recent memory has been better equipped to remedy a problem haunting the program for quite some time.
"I think (Anderson) has talked about this a lot, but we've really made not just St. Louis, but recruiting the state a priority," says Brad Loos, Anderson's assistant coach and primary recruiter in the area. "I think people in St. Louis and in the state kind of felt that some of the in-state kids were kind of getting overlooked a little bit. Kids started looking elsewhere for their college choice."
Since Hazelwood Central standout Kalen Grimes signed to play for Quin Snyder in 2004, eight players from the St. Louis area have been named to the Rivals Top 150 in their respective recruiting classes.
None wore black and gold.
That list includes 2013 NBA All-Rookie Team guard Bradley Beal, Kansas' consensus All-American Ben McLemore and second-team all-conference players B.J. Young at Arkansas and Roosevelt Jones at Butler, among others. The Tigers also whiffed on consensus National Player of the Year Tyler Hansbrough, who graduated from Poplar Bluff (Mo.) High School in 2005 and played AAU ball with the St. Louis Eagles before a record-setting four-year career at North Carolina.
Anderson continues to emphasize the entire state as critical to his efforts, and Loos says that means rebuilding relationships and trust all over. But nowhere do more fences need mending than in St. Louis. And the former Central Missouri coach has already added some key pieces from the eastern side of the state.
Two former St. Louis Post-Dispatch All-Metro selections have signed with the Tigers for next season, so that's a start. But perhaps more important was Wednesday's announcement that Anderson had added Corey Tate to his coaching staff. Tate has strong ties to St. Louis-area basketball, from his prep days at Pattonville High to playing for Norm Stewart and then-assistant Anderson at Mizzou from 1994-97 to his 11-year stint as head coach at Mineral Area College in Park Hills, Missouri, about 60 miles south of St. Louis.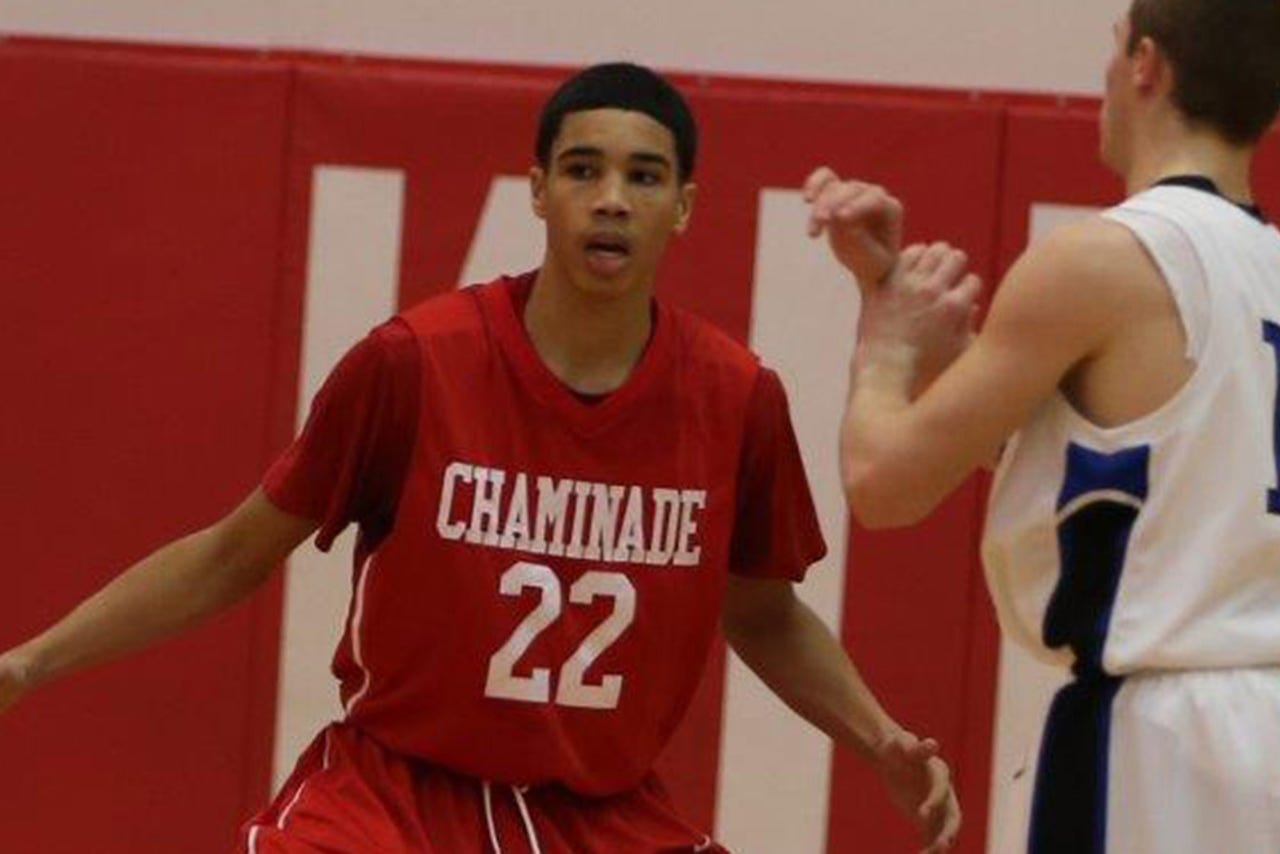 Chaminade star Jayson Tatum listed his final four college possibilities as Duke, Kentucky, North Carolina and one in-state school -- Saint Louis University.
Oh, and he also coaches the St. Louis Eagles 17U Nike EYBL team. That group includes Tatum and three other players ranked in the Rivals Top 100 for the next two signing classes.
A key hire, indeed.
Considering the area's wealth of future talent, it's no stretch to say Anderson's ability to lock down the borders around St. Louis could go a long way toward determining his job security at his alma mater.
"It's going to be huge for him," says Kelvin Lee, who coached several Division I players, including Beal and NBA forward David Lee, during a 16-year tenure at Chaminade and now coaches at St. Mary's High in St. Louis. "He's got to corner the market."
REASON FOR OPTIMISM
The signings of Pacific High product Cullen VanLeer and junior college transfer Martavian Payne won't transform the program, but they form a solid start.
Neither player drew significant attention or turned down any blueblood schools, although Payne had offers from Creighton and Kansas State. Lee says VanLeer's recruitment could have been more competitive if he hadn't committed so early, but the shooting guard doesn't appear to be anywhere near the level of Tatum or some of his AAU teammates.
The Tigers need shooters more than perhaps anything else, and VanLeer brings some serious ability and range. Gateway Basketball Club director Scott Schroepfer says VanLeer could see success as a solid, blue-collar-type player.
"He wants to get better," Anderson says. "He's a good student. He's the type of kid we want to have in our program that you know is going to come to work every day."
Payne played one year for the Eagles, and club president Tim Holloway says he was shocked but happy to learn the talented guard will be attending Mizzou next season. He originally committed to Southeast Missouri after playing for Imagine Prep and Madison Prep in high school, and Loos doesn't see why Payne would fail to provide some immediate contributions for a team trying to recover from a school-record 23 losses last season.
Despite Anderson's dismal start, many of the biggest names in St. Louis basketball circles still have faith in his ability to win at Missouri. The confidence in Anderson, the Big Eight Player of the Year for the Tigers in 1977, goes beyond his likable personality, strong integrity and deep ties to the state.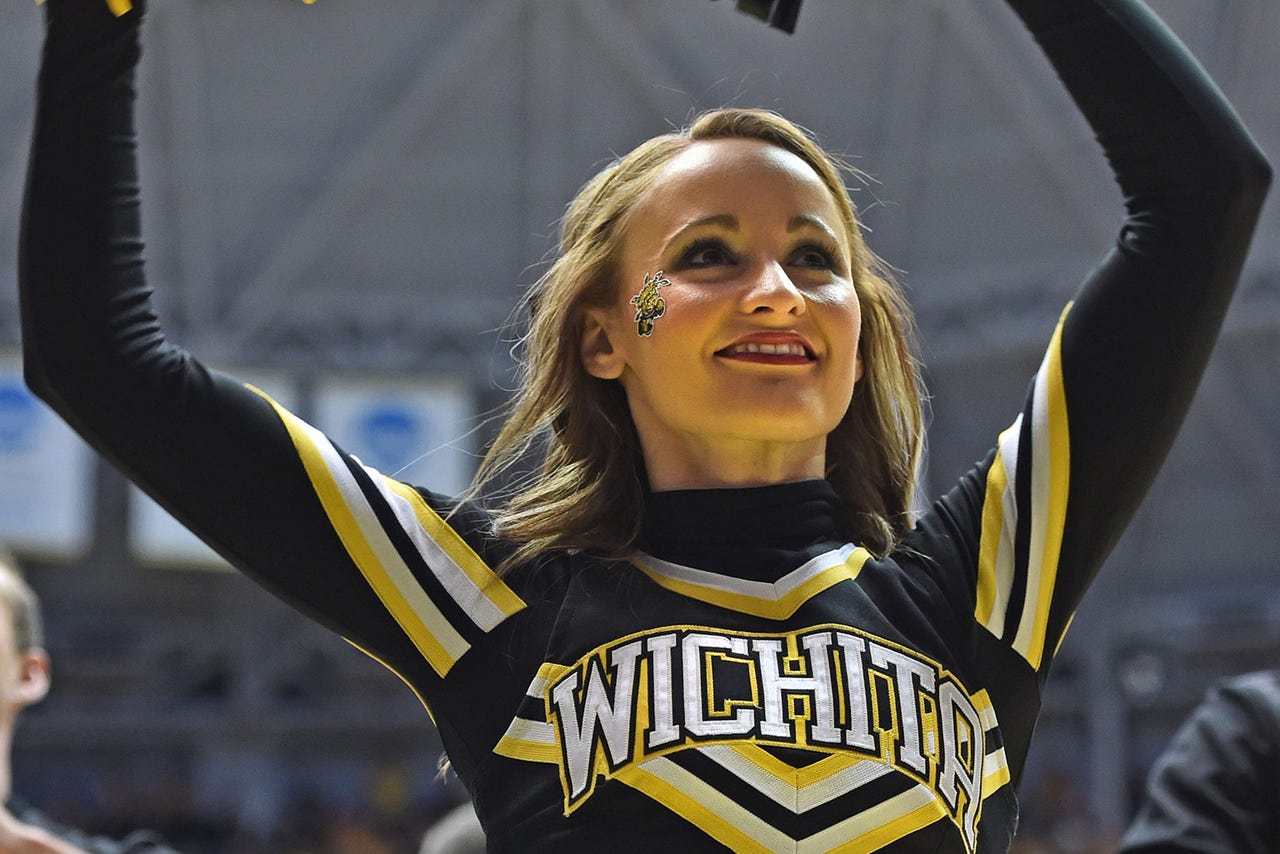 Lookin' good! Check out our gallery of NCAA hoops cheerleaders.
"There've been a lot of kids that come through here that really didn't even consider Mizzou, but I think with those two realizing that there's so much talent that's not even being tapped, or even recruited, really, that's going to change," says Holloway, who played for the Eagles with Mizzou standout Kelly Thames in the early '90s. "So I think even starting last year, that's a lot more contact with those guys and they've been reaching out to a lot of our players a lot more often, so it's a good thing."
He dismisses persistent rumors of a rift between the Tigers and Eagles, and Holloway speaks frequently with the Mizzou coaching staff to maintain what he says is a strong relationship. Webster Groves coach Jay Blossom saw a flawed relationship while coaching an Eagles AAU team in 2013, but he's confident the hiring of Tate will help ease those tensions.
Anderson and his staff stay in contact with Schroepfer, who has also been impressed so far by the new regime. Of course, they're not exactly new to the area, since they've been coaching in Missouri for years.
Loos even spent his early childhood in St. Louis before moving to Tennessee, and he spent 12 seasons with Anderson at Central Missouri, where the Mules won the Division II national championship in 2014.
At Central Missouri, Anderson spent more recruiting resources on players in Kansas City, largely because of its proximity to UCM's campus in Warrensburg. The Tigers also had success during that time in the Kansas City area, where they found standouts such as Leo Lyons, Marcus Denmon and Michael Dixon.
But Loos jokes he's been to St. Louis so much his car can probably drive itself, and Schroepfer says the Mizzou coaches know the area inside and out. That means they're already working to build relationships with all the up-and-coming talent, including such freshmen as Vianney's Carte'are Gordon, Whitfield's Torrence Watson and Pacific's Cameron VanLeer, Cullen's younger brother.
"Right now, I think that Kim needs to keep doing what he's doing and the main thing is just to turn that thing around, go win some games," says Lee, a longtime friend of Anderson's and former assistant at SLU, Baylor and Texas A&M. "I think if he starts winning some games, that'll change people's perspective about Mizzou."
A SORDID HISTORY
Missouri's recruiting issues in St. Louis date all the way back to the early days of the Norm Stewart tenure.
The legendary coach didn't bring in any kids from city schools after 1971, although that didn't stop him from finding success in the county. In Stewart's final five seasons, the Tigers got contributions from St. Louis-area standouts Tate, Thames, Tate Decker, Johnnie Parker and Brian Grawer.
A few others have been solid role players and even four-year starters, but no St. Louis player has earned all-conference honors for Mizzou since Thames in 1998.
Stewart missed out on his share of elite area players in the mid '90s, including Kansas' Ryan Robertson, Georgetown's Jahidi White, Duke's Chris Carrawell, Marquette's Jon Harris, and Loren Woods, who went on to play at Wake Forest and Arizona.
When Stewart retired in 1999, many thought the Tigers had struck gold with his replacement, Snyder, a star Duke assistant. Blossom began his tenure the same year and still has fond memories of Snyder, while Schroepfer had high hopes after starting his AAU program in 1998.
"We had a guy in our program -- Bill Vollmar had a great relationship with Duke because Chris Carrawell went there and we thought when (Snyder) came it was a great get," Schroepfer says. "He was actually the primary recruiter the whole time with Chris Carrawell and he didn't really maintain that (relationship with Bill) or really show up in St. Louis."
Snyder's tumultuous tenure saw him win a pair of high-profile recruiting battles in St. Louis, including Vashon standout Jimmy McKinney, 2002's Mr. Show-Me basketball and the Tigers' only signee from a city school in the last 40 years. In 2004, Mizzou beat out schools such as Kansas and Kentucky to sign Grimes, a talented forward who never quite lived up to his massive potential.
Meanwhile, Snyder's well documented problems with NCAA rules led to him missing out on two eventual NBA first-round picks, Hansbrough and Chaminade's Lee, who signed with Florida in 2001. Blossom says Hansbrough would have gone to Mizzou in 2005 if not for concerns regarding Snyder's character and recruiting violations, while Kelvin Lee says early rumors of sanctions caught his star player off guard.
Snyder finally resigned midseason in 2006, and Mike Anderson did an admirable job of cleaning up the mess rather quickly when he took over later that year. But St. Louis played only a small role in his five-year tenure, which ended with three NCAA Tournament appearances, and opinions differ on whether Anderson could have done more to draw talent from the area.
"When he got the job, that next day he was in my office," Lee says. "He was just wanting to let me know that he was here and that he wants to put the borders up."
That was in 2006, and he'd return often to Chaminade to see Beal, one of the top five recruits in the Class of 2011. But the heavy recruiting efforts weren't enough to prevent the standout shooting guard from going to Florida, and fellow St. Louis stars McLemore and Young left the state as well.
Blossom and Schroepfer have nothing but good things to say about Mike Anderson and his staff, even if he came up mostly empty-handed in St. Louis. The one exception was lightly recruited Lafayette guard Matt Lawrence, who Schroepfer says was a 4.0 student with a 35 ACT score and never needed an athletic scholarship as a four-year starter for Mizzou.
But Fort Zumwalt North coach Charles Glotta says Anderson could have recruited St. Louis much harder, particularly in the case of Young, a McCluer North guard who ended up playing for Mike Anderson at Arkansas despite committing to his predecessor, John Pelphrey. Holloway got the sense Anderson's top priorities were always Arkansas and the Memphis area, which Lee says was understandable with the former Razorback assistant's connections.
He left a full cupboard for Frank Haith, who struggled to recruit high school talent from anywhere for teams that got progressively worse throughout his three-year tenure in Columbia. Holloway says Haith recruited the crown jewel of St. Louis' 2014 class, Texas' Jordan Barnett, but Schroepfer and other coaches say they almost never saw Haith, even when assistant coach Isaac Chew recruited three-star forward Ryan Rosburg.
A 'TOUGH NUT'
The Tigers' past will be far from the only obstacle Kim Anderson and his staff face in St. Louis.
Locking down the borders is harder than ever with elite schools such as Kansas, Duke and Kentucky spending millions of dollars on recruiting. When a Beal or Tatum shows up, so do Bill Self, Mike Krzyzewski and John Calipari.
Anderson says it's critical to develop relationships with everyone in a recruit's inner circle, a group that keeps getting bigger with new options for player development. Aside from AAU and high school coaches, players in St. Louis also can hone their skills at training academies run by former Division I players such as Drew Hanlen's Pure Sweat, Corey Frazier's WITTS Training Academy, Larry Hughes' D1 Basketball and Brett Ledbetter's Ledbetter Academy.
All of those have appeared in the last seven years, since Glotta arrived from Kansas. His sons accepted Division I scholarships at Southern Illinois and Austin Peay the previous two seasons, so he's had multiple chances to see the area's recent proliferation of talent firsthand.
"I know when I got here seven years ago and was looking for opportunities and places for kids to play for starting my feeder program, it was hard as hell to find a league that was decent, to find tournaments," Glotta says. "Now you can put together a team and play a tournament every weekend, so I think that part helps from the underside."
The heavy concentration of elite talent in AAU helps coaches some, but it still takes a lot of work to find all the players in the area. Coaches must navigate a tricky dichotomy of private and public schools, as well as city and county.
It all combines to make St. Louis a "tough nut" to crack, in the words of Blossom, the winningest coach in Webster Groves history. He does his best to stay involved in his players' recruitment, but he also knows many others are influencing their decisions and development.
"Recruiting's all about forming relationships," Blossom says, echoing sentiments from both Loos and Anderson. "I think (Anderson's) a relationship guy. Now, you're in a game that's coached by a lot of snakes, so I don't think he's like that at all.
"Maybe that'll make it harder. I don't know. I would like to think kids and parents will appreciate something like that."
Anderson doesn't worry about the history of past Mizzou coaching staffs, even the ones he was a part of from '82-85 and '91-99. Word gets around in high school coaching circles about past recruiting troubles or perceived lack of effort, but Schroepfer and Holloway don't believe anyone is telling players to stay away from the Tigers.
Perhaps more important, kids themselves notice when none of their peers are finding success at the state school many of them dream of playing for growing up. Anderson and Loos say their best recruits are their players, so perhaps nothing would open up the pipeline to St. Louis more than a standout career for a local high school star.
"Kids are impressionable," says Schroepfer, who watched VanLeer play for Gateway in the summer. "They see success and if Cullen comes in and is part of a turnaround, yeah, he could be an icon-type kid, which would be pretty neat."
Realistically, most five-star recruits would seem to be out of the question until Missouri can establish itself as more of a winner, with the possible exception of Columbia's own Michael Porter. Rivals ranks the Tolton Catholic High star No. 2 nationally in the Class of 2017, and his father serves as an assistant for the Mizzou women's basketball team.
Tatum and East St. Louis center Jeremiah Tillmon -- another St. Louis Eagle ranked 11th in Rivals' Class of 2017 -- are much less likely targets than their teammates Tyler Cook of Chaminade and Xavier Sneed of Hazelwood Central, two forwards Rivals ranks in the top 80 for the Class of 2016. Even Anderson acknowledges the Tigers have to know who they can recruit, but Loos clarifies it doesn't necessarily preclude them from bringing in top players.
"I think what Coach was alluding to was just that we were chasing five-star kids that weren't from this area or didn't have a connection to Mizzou," Loos says. "I think what he was trying to get across was that yeah, we're going to recruit five-star kids, but there's got to be a connection."
The addition of Tate to the staff guarantees a St. Louis connection. The challenge will be persuading those kids to stay at home -- before it's too late.
"It's going to take time," Blossom says. "My guess is like Mizzou football had, they'll try to get in some of these recruiting battles and might finish second or third.
"But the thing is, you've got to keep forming relationships and earning trust and eventually you might start to get some of those kids. Hopefully, you don't get fired before then."
You can follow Luke Thompson on Twitter at @FS_LukeT or email him at lukegthompson87@gmail.com.
---