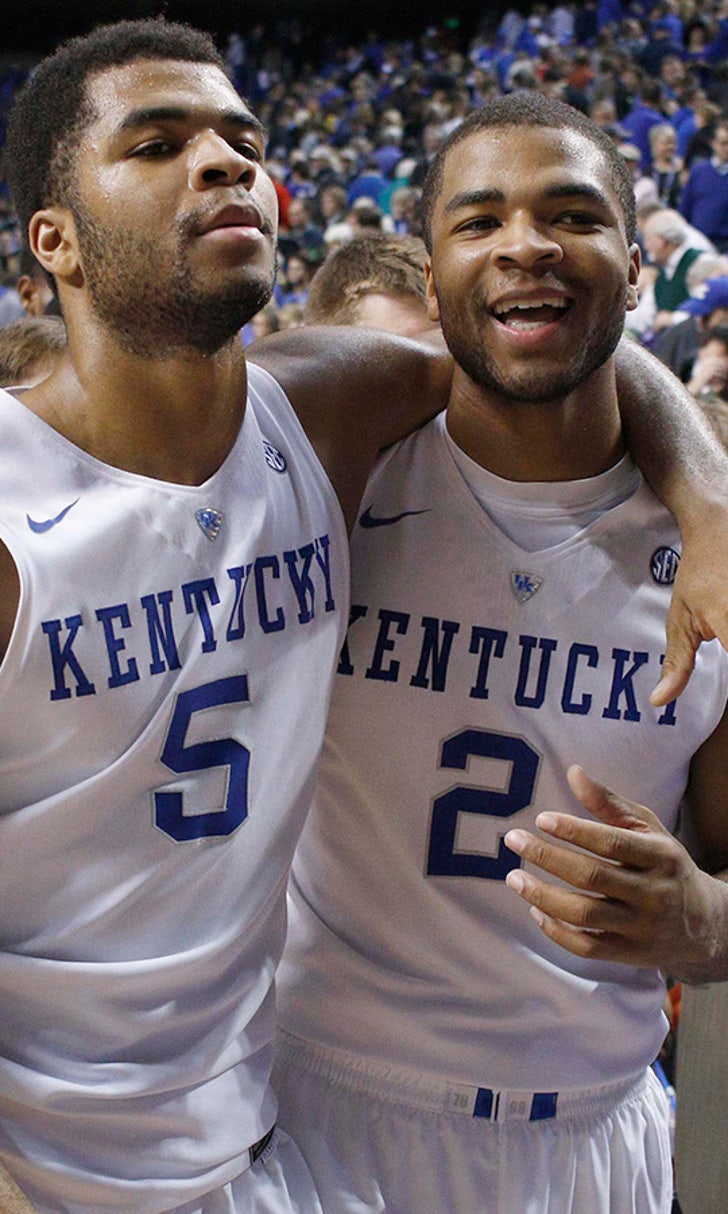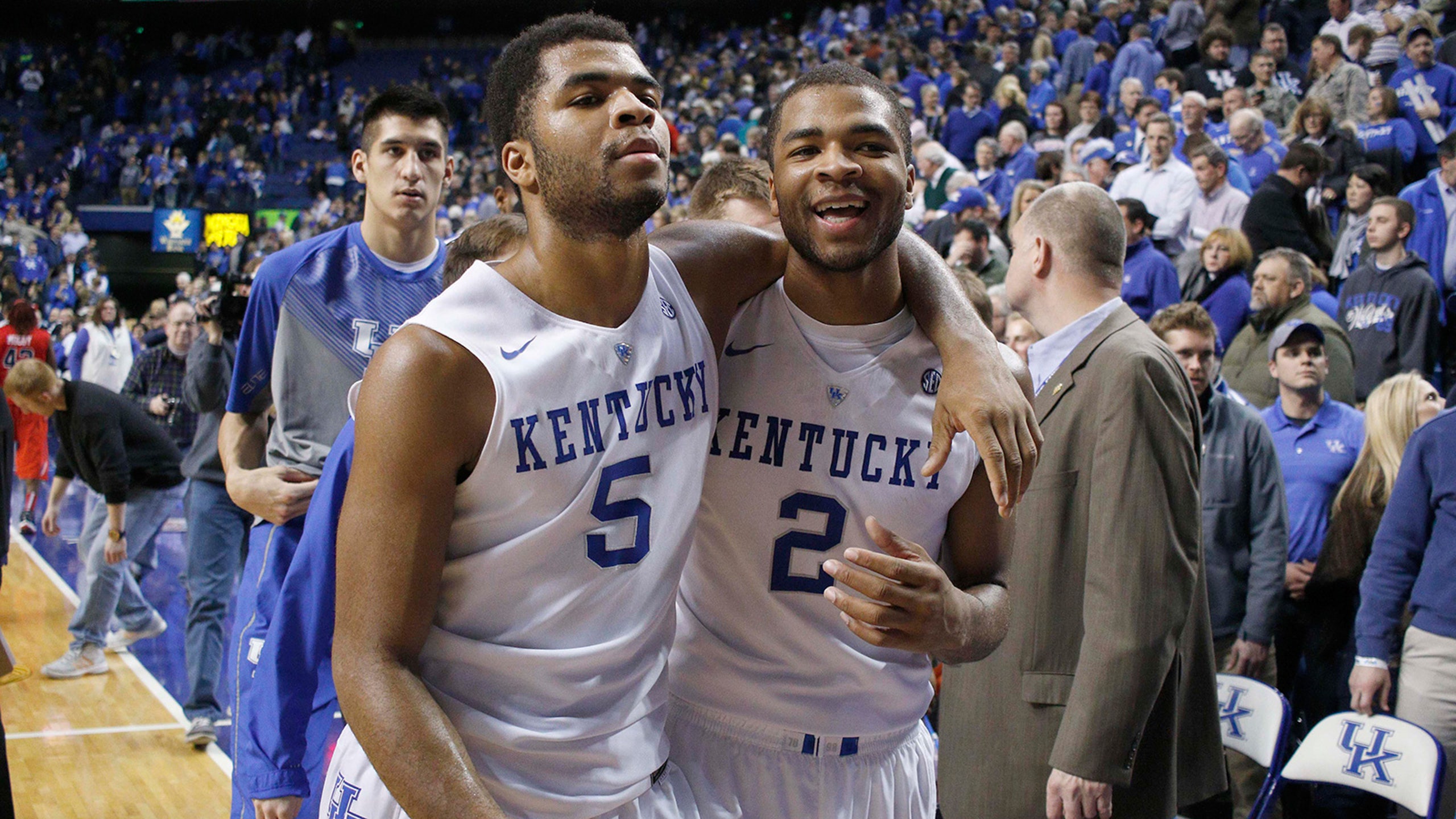 Kentucky survives OT thriller with Ole Miss to stay unbeaten
BY Zach Dillard • January 6, 2015
Kentucky's bid for an undefeated season will survive to see another day -- just barely.
With the Wildcats coming off a nine-day break after running through an absolute gauntlet of a non-conference schedule -- a 13-game stretch that included wins over top-25 programs Kansas, Texas, North Carolina and Louisville -- the Ole Miss Rebels, a projected middle-of-the-pack team in the SEC, made one thing clear to John Calipari's team: there's a long way to go before 40-0 and that pipe dream will be tested on multiple occasions in league play. Sparked by dynamic guard play, the Rebels forced overtime after their All-SEC guard Jarvis Summers missed a potential game-winner at the end of regulation, eventually succumbing to Kentucky's interior dominance and overall talent.
The final score read 89-86, but the Rebels were the better team for long stretches on Tuesday night. Kentucky was fortunate to improve to 14-0 (11-0 at home), and Coach Cal will undoubtedly use the result as an opportunity to re-spark his team's level of focus and energy.
"My whole thing is I like the way we fought," Calipari said after the game. "We need these kind of games. We need overtime games, we need to get down 10 (points), down 12 and figure out who's who so we can learn. It's different for us. I don't have all seniors and juniors, I've got freshmen and sophomores and I'm still trying to learn about my team and they're trying to learn about each other."
Coach Andy Kennedy's team followed the script to near-perfection. Other SEC programs, similarly lacking the interior size, depth and skill of the Wildcats, will likely look to mimic it many times over.
The Rebels received strong minutes and offensive firepower from the backcourt -- Summers and fellow starting guard Stefan Moody combined for 48 points. They drove into contact, were nearly lights-out from the free-throw line and, aside from a few late desperation shots, were extremely efficient from 3-point range. Ole Miss, one of the nation's top free-throw shooting teams, knocked down 19 of its 22 free throws and shot 52.9 percent from the outside. In the end, it wasn't enough. But this is likely the type of performance its going to take for another SEC team to knock off the nation's literal and figurative giant.
(Keep in mind the two teams we're discussing here. Ole Miss owns a few good wins, but it opened the season with a loss to Charleston Southern and later was dropped by Western Kentucky. Meanwhile, Kentucky had won its six games against power-conference opponents by an average of 20.8 points per game. There was a significant gap that the Rebels bridged -- in Rupp Arena, no less.)
"Mississippi did everything they had to do," Calipari said. "They made every free throw, made every tough (3-pointer), rebounded and played physical. That's a good club."
Despite being pushed to the wire for the first time this season, there were some positives for the Wildcats. Though Ole Miss is far from an elite defensive team, Kentucky was able to find some balance offensively, including some aggressive production out of twins Aaron and Andrew Harrison, both of whom have been quiet for the better part of the season's first half. The Harrisons finished with a combined 38 points, repeatedly attacking the basket and getting to the charity stripe 18 times. The offense averaged 1.19 points per possession, its third-best mark of the season against KenPom top-100 teams.
Freshmen Karl Anthony-Towns, Trey Lyles and Devin Booker were efficient and effective, and though it was a run-of-the-mill final point total for Player of the Year candidate Willie Cauley-Stein, he came up with big play after big play down the stretch. The 7-foot defensive menace finished with seven points, 12 rebounds, three steals and four blocks.
Cauley-Stein's tallies notwithstanding, though, this was arguably the worst performance of the season for the country's best defensive unit. The Rebels' 86 points were a season-high for any Kentucky opponent, eclipsing North Carolina's efforts on Dec. 13 (70 points), underscoring that to beat the tallest team in the country you have to both shoot well and not shy away from getting to the rim. Ole Miss, to its credit, did both ... occasionally in an emphatic manner:
"I just told (my players) this is Game 1 of an 18-game grind. It doesn't count any more or any less than the other 17. If we take the same fight that we showed tonight to our other 17, I promise you this team will like where its standing at the end," Kennedy said. "Our execution failed us a little bit, but listen, we had our all-league guard (Summers) with a chance to win the game miss the shot."
Kentucky's coaches and players are not going to be thrilled with the too-close-for-comfort result, especially to a team on the outside looking in when it comes to current NCAA Tournament resumes, but over the course of a 31-game regular season there are bound to be games like this. The key, at least when you're the No. 1 team everyone is chasing, is to enjoy the nights when everything is clicking and overcome the ones when they are not.
Calipari's group is 14-0, just like everyone expected it to be. But those 17 SEC games remaining already look a little more formidable, especially when every opponent is giving its best shot. That chance simply didn't go down for Summers & Co. at the end of regulation on Tuesday night.
---