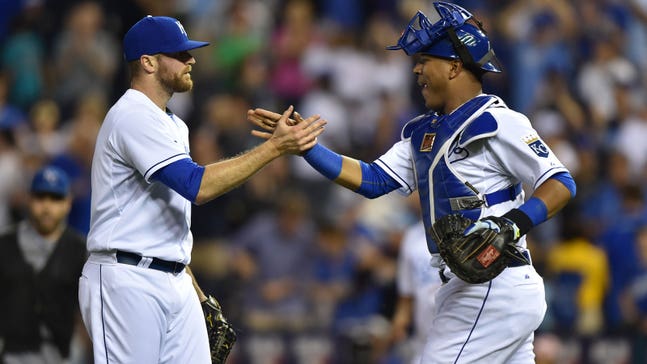 Kelvin Herrera, Wade Davis, and not giving up home runs
Updated
Mar. 4, 2020 8:22 p.m. ET

Do you want the single best explanation for the Royals' success last year and this year?
From Opening Day of 2014 – including the Royals' miraculous postseason run last October – until Tuesday night, Wade Davis and Kelvin Herrera had between them pitched 191⅔ innings and given up exactly zero home runs.
You can call that fluky if you like; you'd probably be right. But without that explanation, the Royals aren't anywhere near Game 7 of the World Series last October.
I mean, do you know how hard that is? Giving up not a single home run?
Mariano Rivera served as the Yankees' closer for 16 full seasons, averaging 68 innings per season. In all those seasons, nearly each of them great, Rivera gave up as many as seven homers in one season, and never fewer than two; he averaged four per season. Trevor Hoffman never gave up fewer than two homers in a full season; he averaged five.
In the 21st century, only four other pitchers have pitched at least 60 innings without allowing a home run. Granted, the list seems fairly random: Peter Moylan, Jim Johnson, Jason Isringhausen, and Brandon League. What distinguishes Davis and Herrera?
One, they were teammates in the same season.
Two, they added to their homer-less innings count in October.
Three, they added even more innings this season.
That figure, 191⅔ innings, is just astonishing.
The streak did end Tuesday night against the Indians. Herrera took the mound in the eighth inning, and Lonnie Chisenhall drove a 96-mile-an-hour pitch well over the fence in right field.
The Royals won anyway. Because of course you can give up home runs and still win ... just not quite as often. In 2014, the Royals wouldn't have made the playoffs if they'd lost two or three more games. Considering that a typical season for even a great reliever would include three or four or five home runs allowed – Dellin Betances gave up four homers last season; David Robertson, seven – we might conservatively have figured, even if we knew how talented they were, that Davis and Herrera would give up at least seven or eight home runs between them.
Which comes out to two or three wins.
The Royals did blast through the Angels and Orioles in October, and only one of their three World Series wins was close. But again, the Royals wouldn't even have been in the tournament if Davis and Herrera had merely pitched like regular outstanding relief pitchers.
This season, Davis has been flawless. Herrera's been merely good, including that home run Tuesday night. Herrera will allow another few home runs this season, and Davis's streak isn't likely to survive much longer, either. Doesn't mean they're not great pitchers; just means they're normally great. Like Greg Holland. And if they're just normally great, a little slack has to be picked up elsewhere.
And so this season, the Royals are 17-9 not because of their bullpen, but rather because Eric Hosmer, Mike Moustakas, Lorenzo Cain, and Kendrys Morales have all been hitting the bejeezus outta the ball, with plenty of help from Salvador Perez and Alex Gordon. Oh, and of course there's that wildly brilliant defense out there for almost every game. We're getting better about these things, but we do still have a tendency to attribute practically all the run prevention to the pitchers. When we know that fielders actually play a significant role. With the Royals at or near the top of the list.
Kansas City's relief pitchers, even their best ones, will give up some home runs this season. But it won't matter if their hitters hit more of them.
---