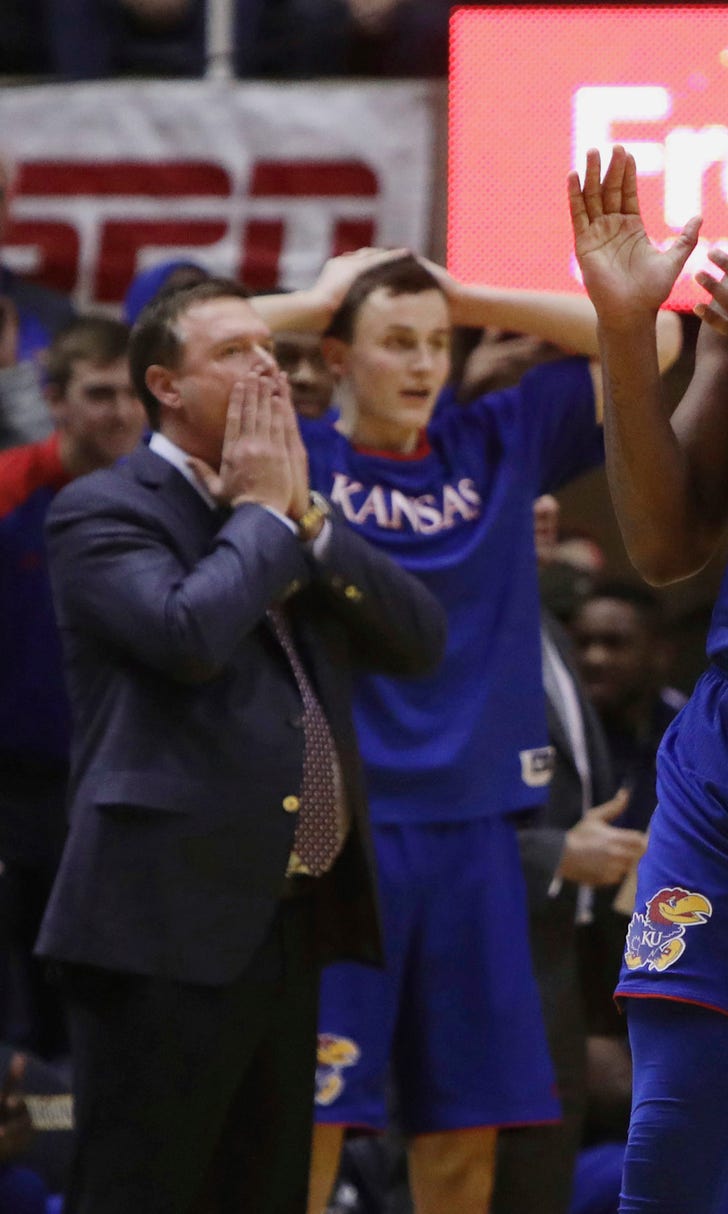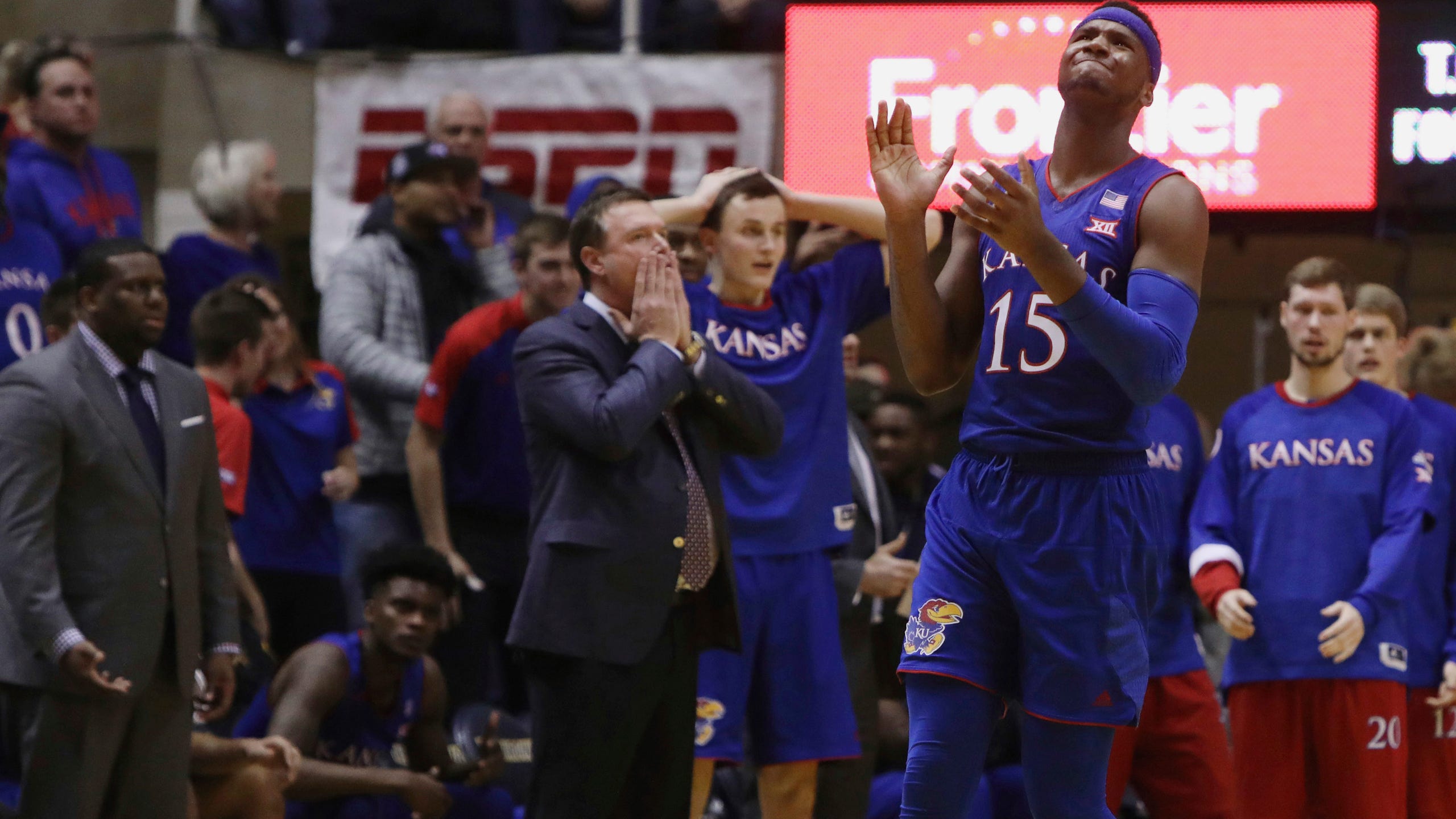 Kansas upended 85-69 by West Virginia in surprising upset
January 25, 2017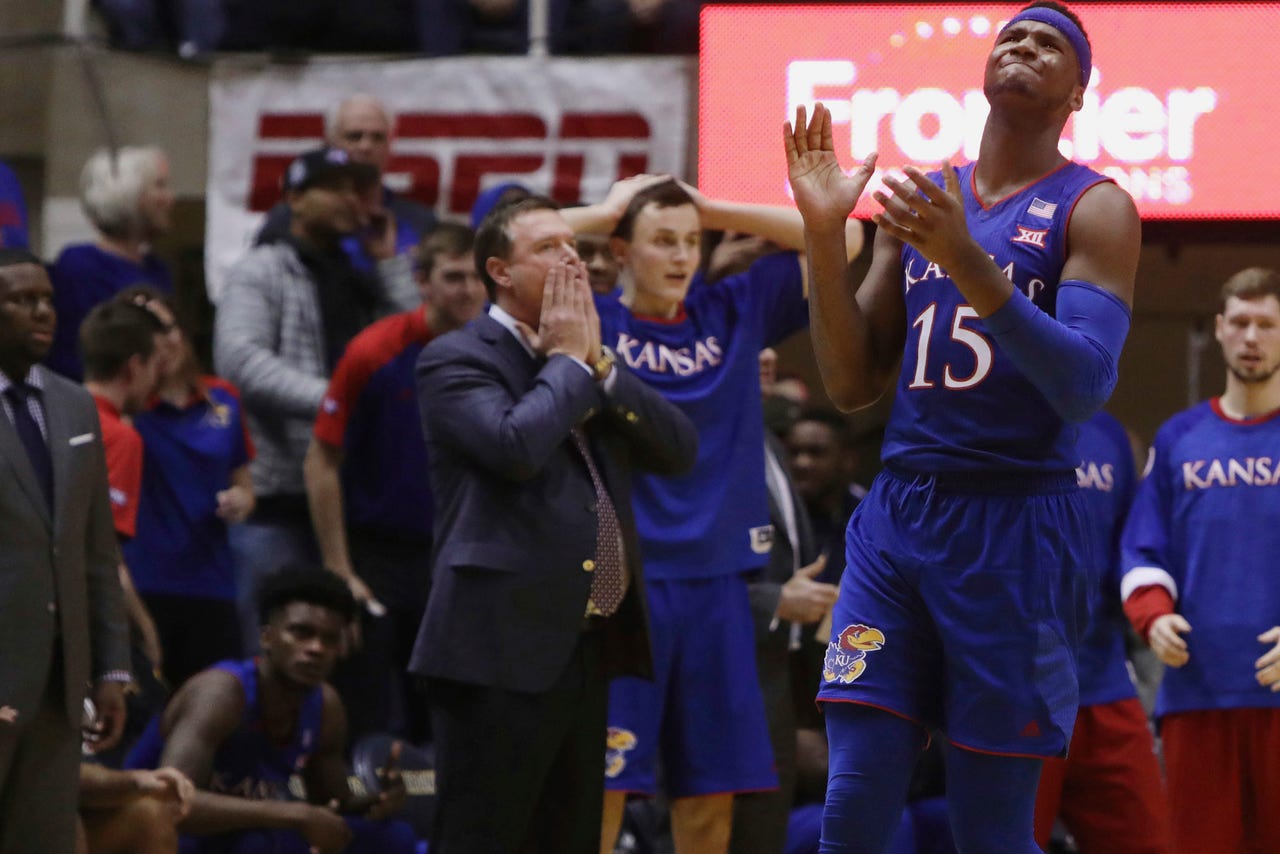 MORGANTOWN, W.Va. -- West Virginia's Esa Ahmad had hoped to improve his defense entering a matchup with No. 2 Kansas. He ended up with a career scoring night.

Ahmad got plenty of open looks at the basket and broke out of a shooting slump with a career-high 27 points to lead No. 18 West Virginia to an 85-69 victory Tuesday, snapping the Jayhawks' 18-game winning streak.

No. 1 Villanova also lost Tuesday, 74-72 to Marquette.

"I've kind of been passive and just passing the ball around," Ahmad said. "I took it upon myself. My teammates looked for me and kept me positive. I love those guys for that."

Ahmad led West Virginia in scoring over the first two months of the season but entered Tuesday's game with four straight games in single digits.

He scored West Virginia's first eight points against Kansas and finished 10 of 17 from the field. His previous scoring high was 19 points on two other occasions.

"We didn't guard him and he got off to a great start," Kansas coach Bill Self said. "Of a team that played exceptionally well tonight, I thought he was probably the best player in the game."

Coach Bob Huggins said Ahmad, a 6-foot-8, 225-pound sophomore, was West Virginia's "best chance" at beating Kansas.

"Esa had two good days of practice, and he's our best guy at attacking the rim," Huggins said. "He's got size. He's wider. He's got those huge hands."

West Virginia (16-4, 5-3 Big 12) blew a double-digit lead after halftime for the third straight game. Svi Mykhailiuk's 3-pointer put the Jayhawks ahead 59-58 midway through the second half. But that was their last lead.

Kansas (18-2, 7-1) then went nearly 3 minutes between field goals. Ahmad started and finished a 12-1 run with baskets to put the Mountaineers ahead 70-61 with 4:55 left.

West Virginia limited its turnovers to eight and went 19 of 23 from the line, making nine of their final 10.

"We did both of those things today," Huggins said. "And when we do, we're pretty good."

Nathan Adrian added 11 points and Daxter Miles Jr. and Tarik Phillip each had 10 for West Virginia, which beat Kansas for the fourth straight time in Morgantown.

Josh Jackson matched a season high with 22 points before fouling out for Kansas. Devonte' Graham added 17 points and Big 12 scoring leader Frank Mason III finished with 15, tying his third-lowest point total of the season.



BIG PICTURE

Kansas: This was the start of the Jayhawks' toughest stretch of the season -- games against three straight ranked teams, including two on the road. Kansas came into the game shooting 50 percent from the field but was limited to 42 percent (25 of 59) on Tuesday. The Jayhawks also went 6 of 15 from the free-throw line.

"Just got to get in the gym and get better at that," Jackson said.

West Virginia: The Mountaineers snapped a two-game losing streak with arguably their most complete performance of the season. When Kansas took the lead midway through the second half, West Virginia didn't wilt the way it did in losses to Oklahoma and Kansas State.

"It was a must-win," Phillip said. "It's what we talked about all week. Losing wasn't on our mind."

BEATING 1-2

Coupled with an 89-68 victory over then-No. 1 Baylor on Jan. 10, West Virginia accomplished the rare feat of defeating teams ranked first and second in the AP poll in the same season. During the 2011-12 regular season, Indiana beat No. 1 Kentucky and No. 2 Ohio State.

HUGGINS BOOST

Huggins moved past Eddie Sutton into ninth place in major college history with his 807th career victory. Huggins also earned $25,000 for another win over the Jayhawks, a stipulation from a 2012 contract extension.

UP NEXT

Kansas plays at No. 4 Kentucky in the SEC/Big 12 Challenge on Saturday, then hosts No. 5 Baylor on Feb. 1.

West Virginia hosts Texas A&M on Saturday in the SEC/Big 12 Challenge.
---
---