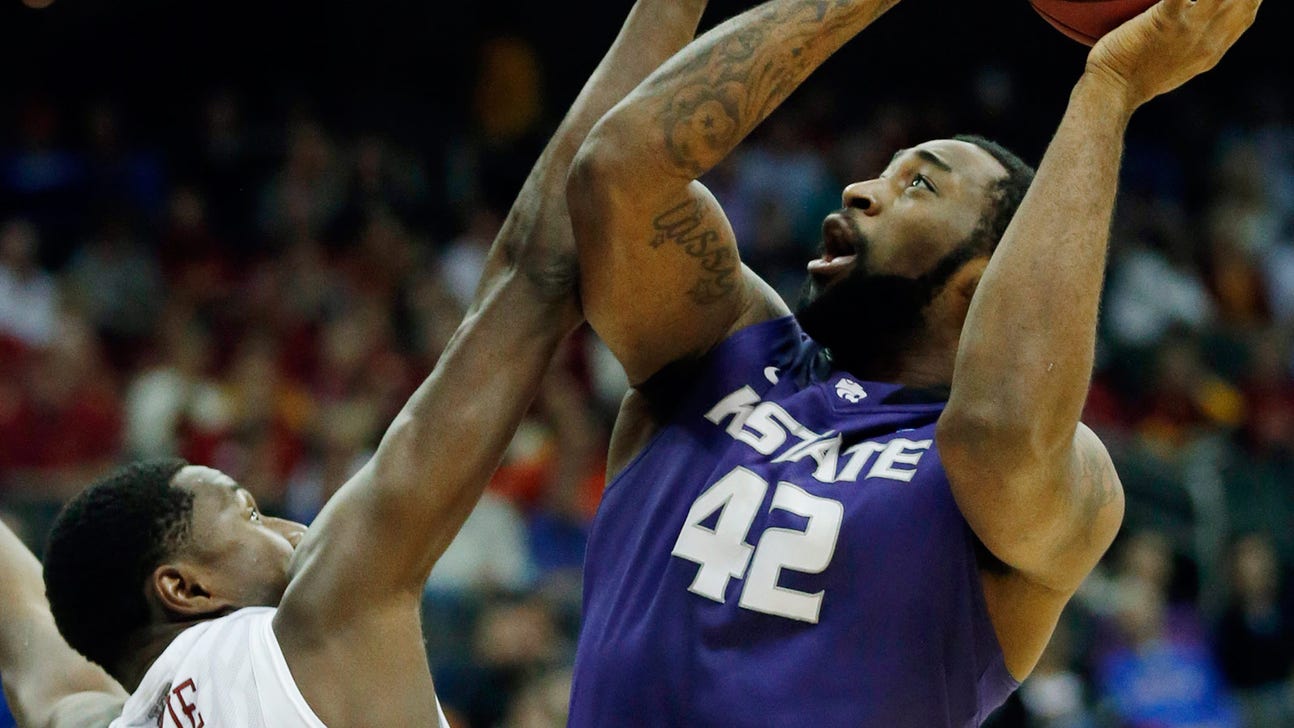 Kansas State is not in awe of Kentucky's tradition or talent
Published
Mar. 17, 2014 6:09 p.m. ET

KANSAS CITY, Mo. -- The message that Kansas State coach Bruce Weber is conveying to his players this week is simple: Respect Kentucky, but don't be in awe of its tradition.
Already that message appears to be sinking in as Kansas State begins preparation for its NCAA Tournament matchup against Kentucky on Friday night in St. Louis.
"Kentucky has been a great program throughout history," Kansas State freshman Wesley Iwundu said. "But we just cannot focus on the name on the jersey. We just have to prepare ourselves for the game this whole week with (strategy) and just be ready."
Weber knows it's a difficult matchup for his squad, playing against a team with one of the best freshman classes in recent history.
"They've got players, no doubt about that," Weber said Monday in a teleconference call. "They're young, but when they play well they can beat anyone in the country. It's a tough matchup, but so is everyone in the tournament."
And Weber is a firm believer that his team already has been playing tournament-style basketball just by playing in the Big 12 all season.
"When you include the teams we played in the non-con(ference) and the teams we played in our conference that are in the postseason," he said, "we've already played 16 or so tournament games.
"We've played Kansas twice and Oklahoma, and Iowa State (three times). Hopefully, that has prepared us."
Almost to a man, Kansas State players are echoing those sentiments.
Said freshman Marcus Foster: "Our conference definitely prepared us for teams like Kentucky and teams down the road. We have gone against some great players like Andrew Wiggins and DeAndre Kane, top players in our league, so it has definitely prepared us."
Junior forward Nino Williams is impressed with Kentucky, but no more so than any of Kansas State's Big 12 foes.
"I think Kentucky is a good team with good size and athleticism, but we have played against Kansas, Baylor, Oklahoma State, who all have great size," Williams said. "And with the way we play defense, we should be able to double-team, help or front over the top. We will just have to figure it out over the next couple of days."
Lookin' good! CLICK HERE to check out our gallery of cheerleaders from around the Big 12.
Kentucky's size would seem to present the biggest challenge for K-State, which doesn't have a starter over 6 feet 7.
Meanwhile, Kentucky will counter with players such as 6-9 Julius Randle, 7-footer Dakari Johnson and the Harrison twins, Aaron and Andrew, who are 6-6. And the first man off the bench for Kentucky is 7-footer Willie Cauley-Stein from Olathe, Kan.
But as K-State's 265-pound center Thomas Gipson put it bluntly, "We do not have a lot of height, but we have girth."
Of course, mere size isn't the only advantage Kentucky might have. It is a team with multiple future pros on its roster.
Still, that doesn't seem to intimidate Kansas State's Shane Southwell.
"They are a good team and they have a lot of talent, but we have played against a lot of teams with the same amount of talent," Southwell said. "Kansas has four or five pros on the court at all times. Oklahoma State has three NBA players, Baylor has two or three NBA players and Iowa State has three NBA players.
"Everyone is kind of making that a big deal of how much (talent) they have, but we just want to go out there and play against them the way we played against those other teams in our league."
Weber couldn't have said it better.
You can follow Jeffrey Flanagan on Twitter @jflanagankc or email jeffreyflanagan6@gmail.com.
---