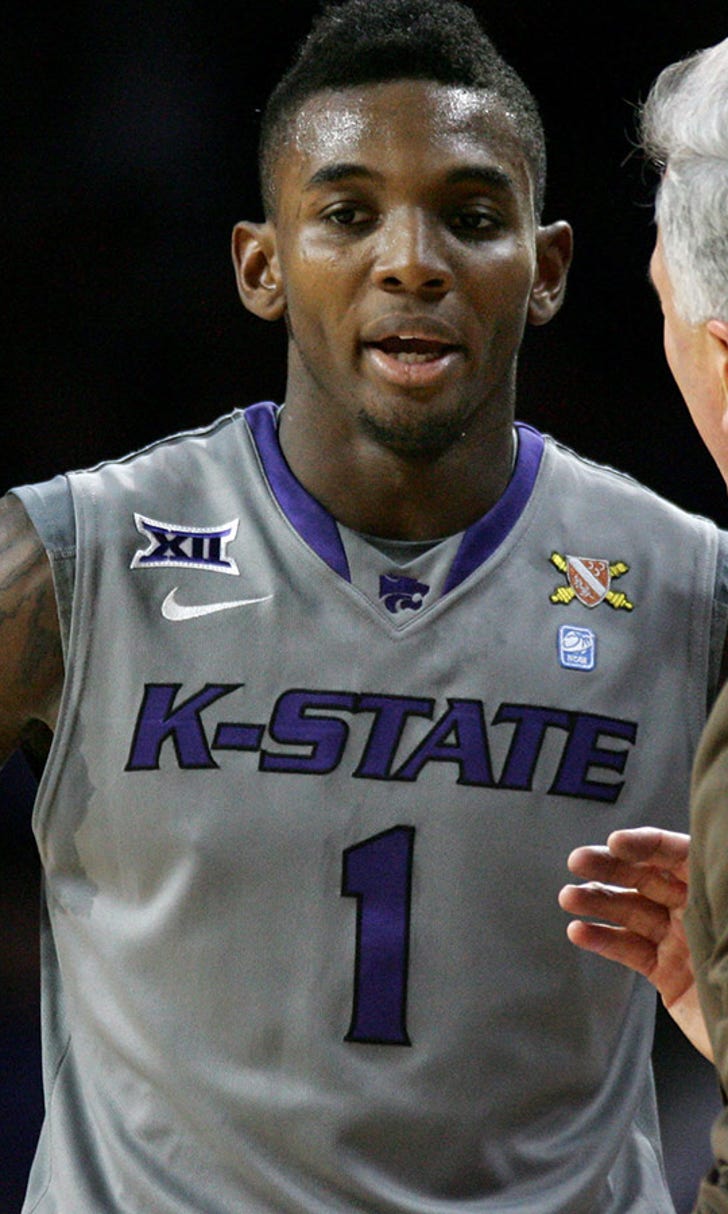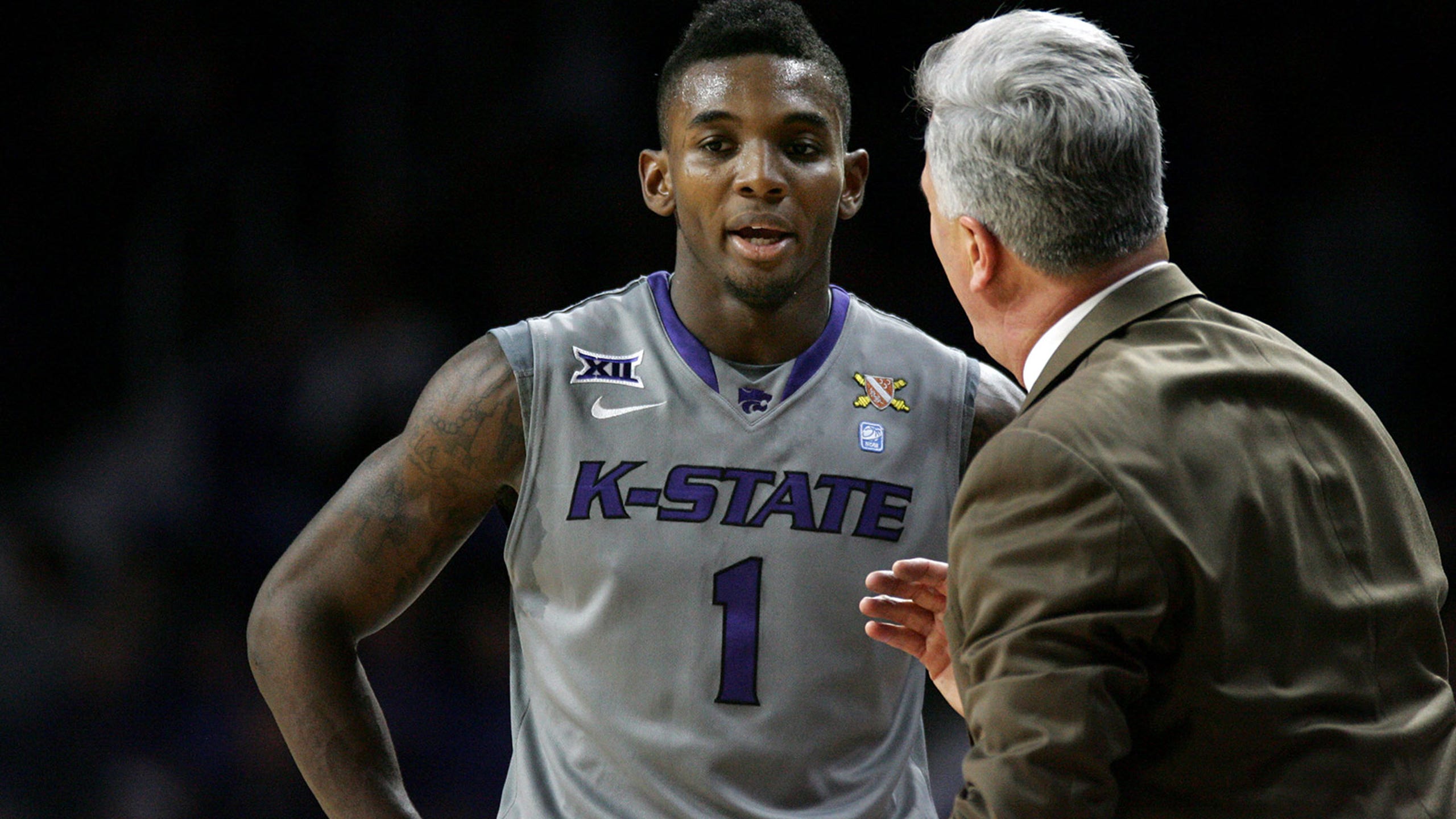 K-State has scoring options -- and an upside that could be crazy good
BY foxsports • November 18, 2014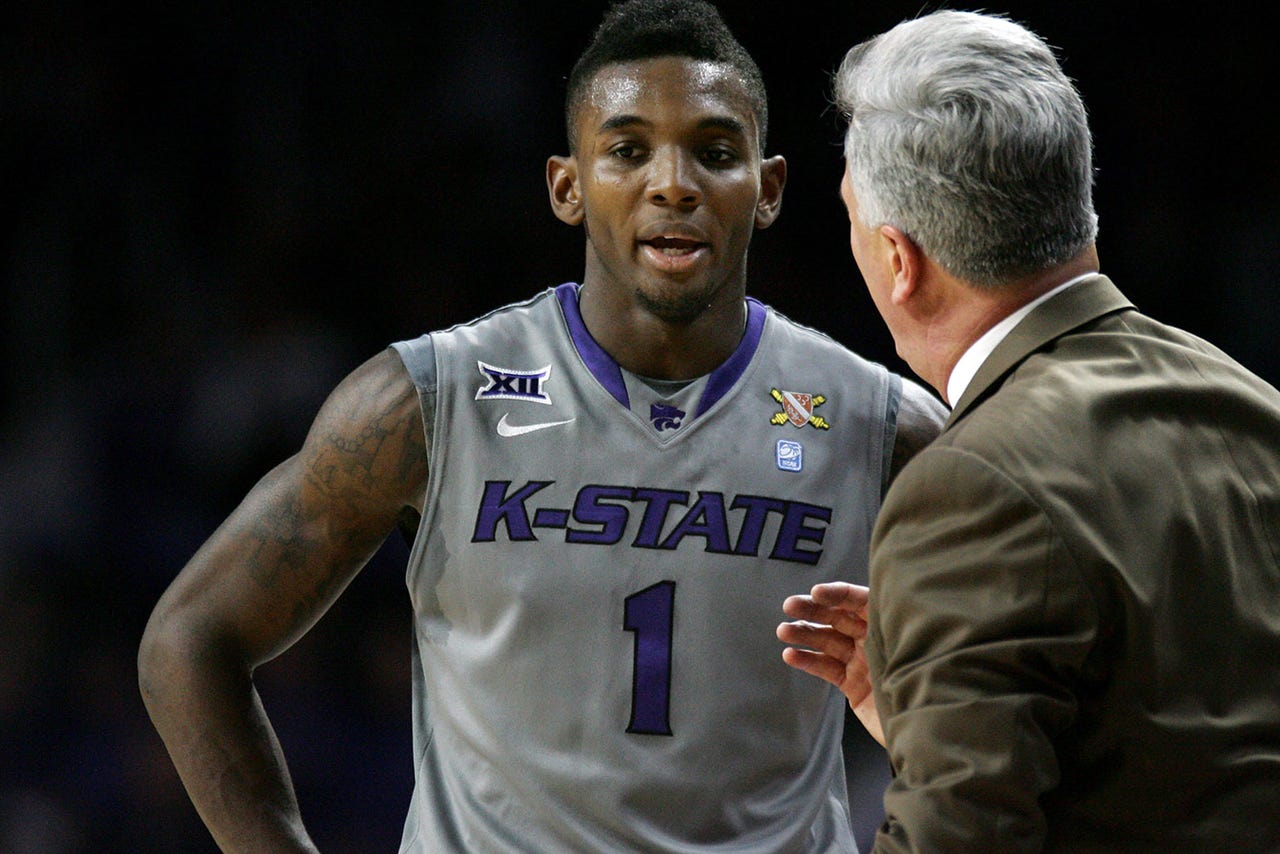 MANHATTAN, Kan. -- What did we learn Monday? Well, that the Kansas State men's basketball program has two things that Missouri's, at present, does not:
1) A win over Missouri-Kansas City;
2) Offensive choices. And lots of 'em.
"Once we get everybody rolling," senior forward Thomas Gipson said after dropping 21 points to lead his Wildcats past UMKC's Kangaroos, 83-73, at Bramlage Coliseum, "once we get (to) subbing in ... 10 people, I feel like our depth is going to be very strong down the road."
They're not perfect -- the foul shooting in the backcourt scares the living crapola out of you, and the 'Cats made just 19 of 29 from the stripe on their home court -- but K-State is a roster of options right now. Options and possibilities.
Coach Bruce Weber has three post threats 6-foot-9 or taller in his toolbox and three guys who want to handle the ball at the point. New power forward Stephen Hurt is 6-11 with a 6-4 game in all the right ways -- range, mainly.
But he didn't fit Monday with what the quicker, smaller Roos were doing in the first half, so Weber scrapped the double-post idea in the second half and went mid-major small to counter the mid-major in the house, trotting out four shooters and Gipson.
"(Then) they emphasized getting the ball inside early and that got us into more foul trouble," UMKC coach Kareem Richardson said. "Gipson did a good job on our opposing guys deep and (in) getting Shayok (Shayok) in foul trouble. All our big guys were in foul trouble, so I thought they made a good adjustment by going small."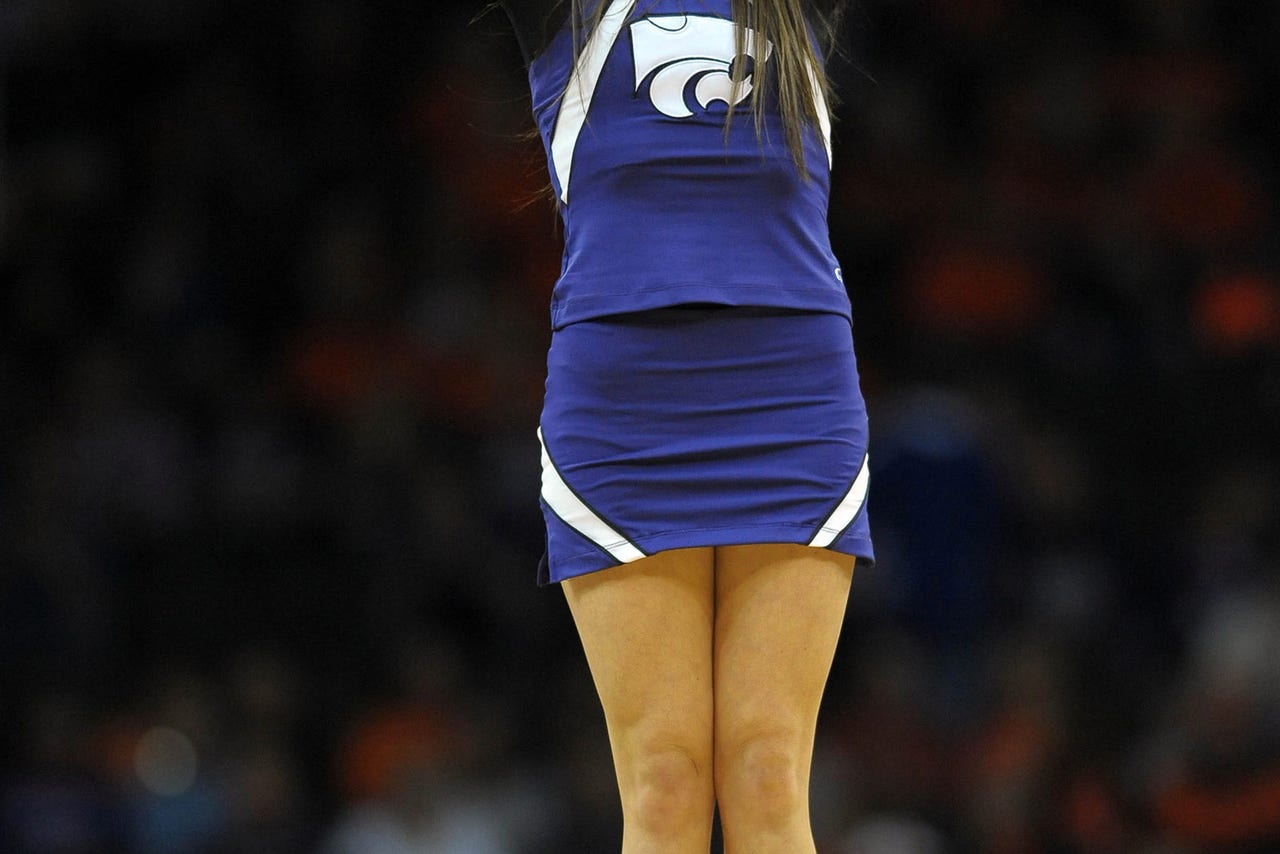 Lookin' good! Check out our gallery of Big 12 cheerleaders.
Stud Roos point guard Martez Harrison's trey off a friendly roll two minutes into the second half put the Roos up 45-39, but K-State's Marcus Foster answered quickly with one of his own. Weber even rolled out a little full-court press with 18:02 left in the game for a change of pace, and his group responded with a 9-1 run; Foster's second trey of the half with 16:03 left gave the hosts their first lead since the opening minutes, 48-46, one they wouldn't relinquish. Hurt's layup with 12:09 left capped a 20-6 run that put K-State up eight, 59-51, and the hosts bled their visitors dry, drip by drip, down the stretch after that.
"It's definitely cool to be able to do different combinations," said Foster, who paced the K-State backcourt with 16 points and four treys. "I know having to guard so many different people and knowing so many different tendencies, it's hard to do. So if we throw different lineups at people every night, it's going to be hard to guard (us). They're not going to know what to do."
Pre-Thanksgiving basketball is like March baseball and August football; it's dangerous to make assumptions, and the really interesting stuff, by and large, is still weeks away. Jevon Thomas is cat-quick for Weber at the point (nine assists), but he has to fight the tendency to force things, and sometimes the eyes are thinking one thing while the hands are thinking another (four turnovers). Nigel Johnson is less nimble but the more assured outside threat (2 for 3 on treys, 12 points) on a roster that's full of them.
K-State's six second-half turnovers won't be what keeps Weber up at night in the short term. But the 11 turnovers over the first 20 minutes very well might.
"We shot 58 percent," the coach said, "but the 17 turnovers are way too many."
In other words, it was your typical, rusty, mid-November, early-season nonconference tilt. Early on, you could cut the tension at Bramlage with a spork. The Roos picked right back up where they left off in Columbia, where a 69-61 season-opening win at Mizzou last Friday dropped jaws across the region. An athletic, scrappy UMKC crew corralled most of the early 50-50 balls, extending hands into passing lanes and being as pesky a possible.
The hosts, by contrast, appeared positively uninspired out of the gate, with seven turnovers and six buckets over the game's first 10-and-a-half minutes. A breakout and layup by Harrison at the finish pushed the Roos' lead to 23-13 with 10:17 until halftime. The hosts kicked it up three or four notches after that, and a 14-4 run midway through the first period got the score knotted at 32-32 with 2:32 left in the half. And yet anytime the 'Cats got rolling early on, the Roos would find a way to counter -- Thaddeus Smith's 3-point play put UMKC back on top, 35-32, and Harrison's first trey of the night with 29 seconds left pushed that margin to 40-36.
"(In the first half), I thought they were better against us than they were in the Missouri game," Weber said.
And make no mistake: Harrison (21 points, five assists), a Kansas City native, was the best point guard on the floor Monday. Of course, he's going to be the best point guard at a lot of places. With trips to Iowa State and Indiana State looming in December, the Roos (1-1) will get more chances to try and raise eyebrows on the national stage.
For the Wildcats (2-0), though, those chances start coming next week. Friday's pit stop at Long Beach State is sneaky-tough, and the warm leg of the Maui Invitational offers up Purdue -- Weber's old stomping grounds as a Gene Keady assistant -- with either Mizzou or No. 2 Arizona waiting after that.
K-State may yet get the services of two high-voltage enforcers in forwards Nino Williams (knee) and Malek Harris (shoulder) back for that Hawaii junket, which would help the energy level exponentially. But even if Williams and Harris aren't ready, Foster feels comfortable about the rotation the 'Cats are taking to paradise for Thanksgiving.
"I mean, yeah, teams are definitely still sleeping on us," the sophomore guard said. "We barely beat UMKC (Monday), and people are going to overlook us. But UMKC is a good team. We've got to understand we're a good team."
How good, well, we'll find out soon enough.
You can follow Sean Keeler on Twitter at @SeanKeeler or email him at seanmkeeler@gmail.com.
---