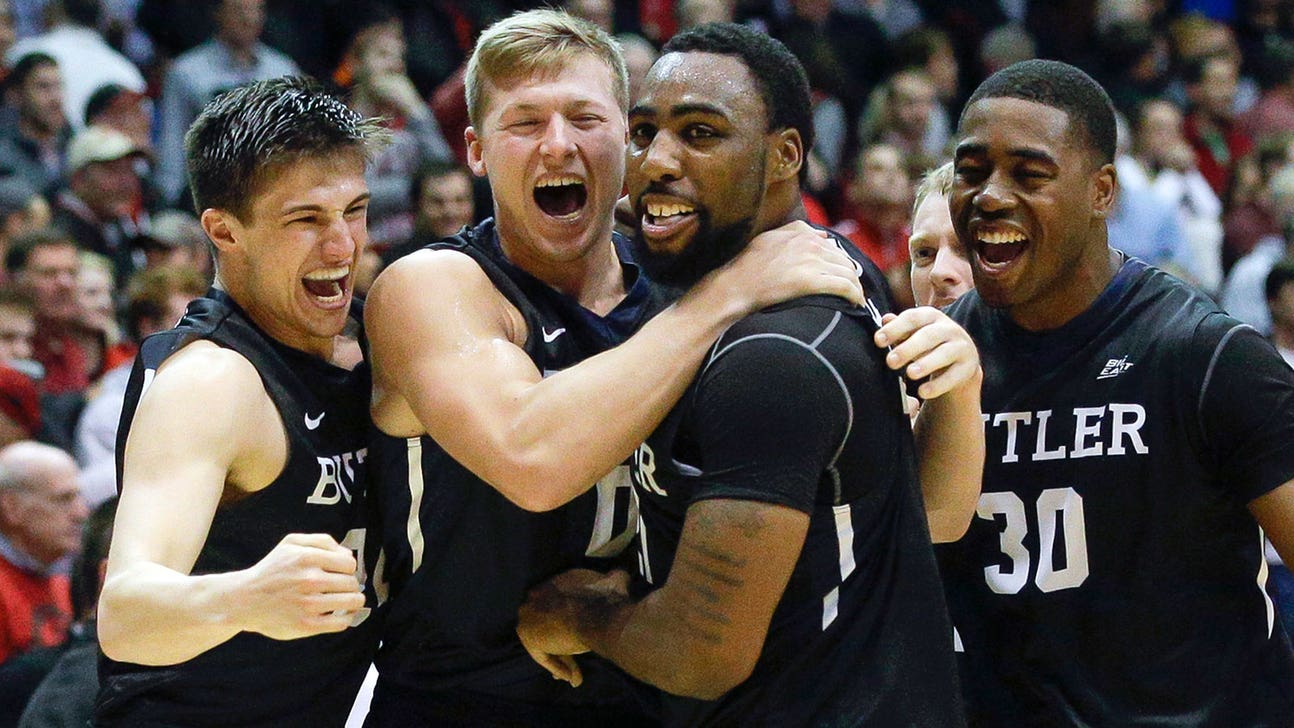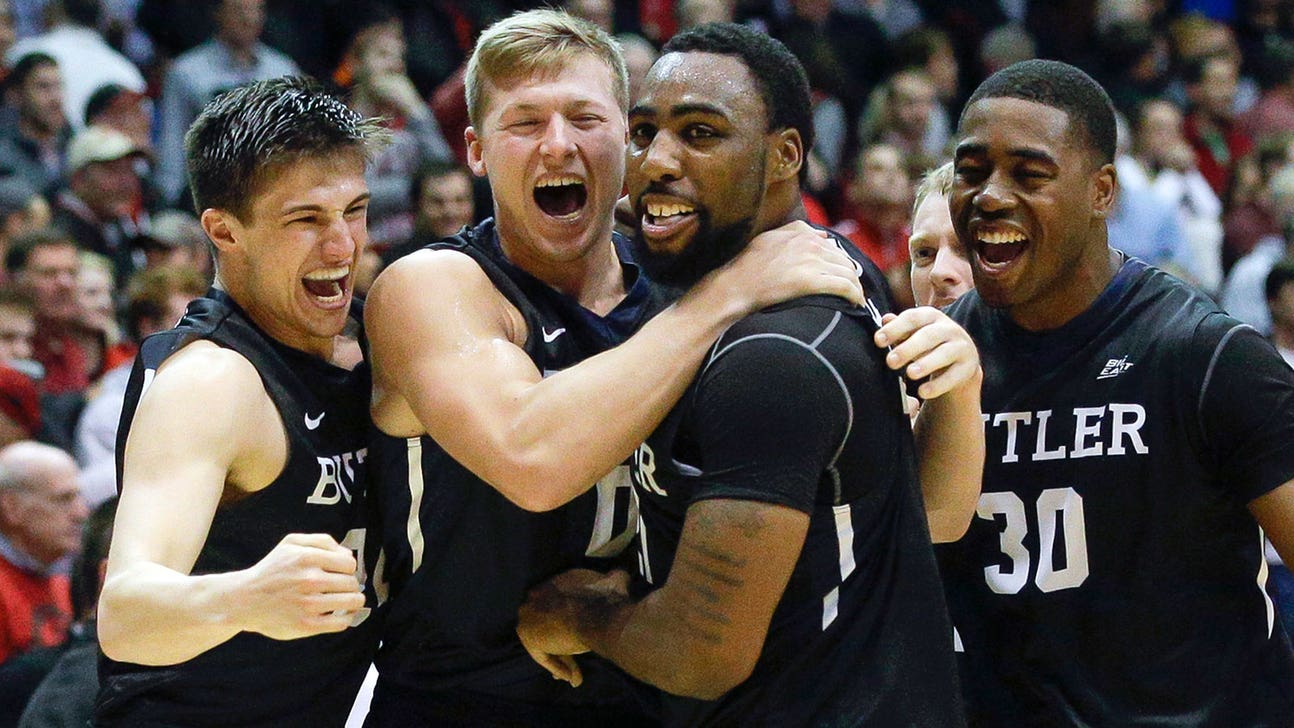 Jones' last-second bucket pushes Butler past No. 17 Cincinnati 78-76
Published
Dec. 2, 2015 9:32 p.m. ET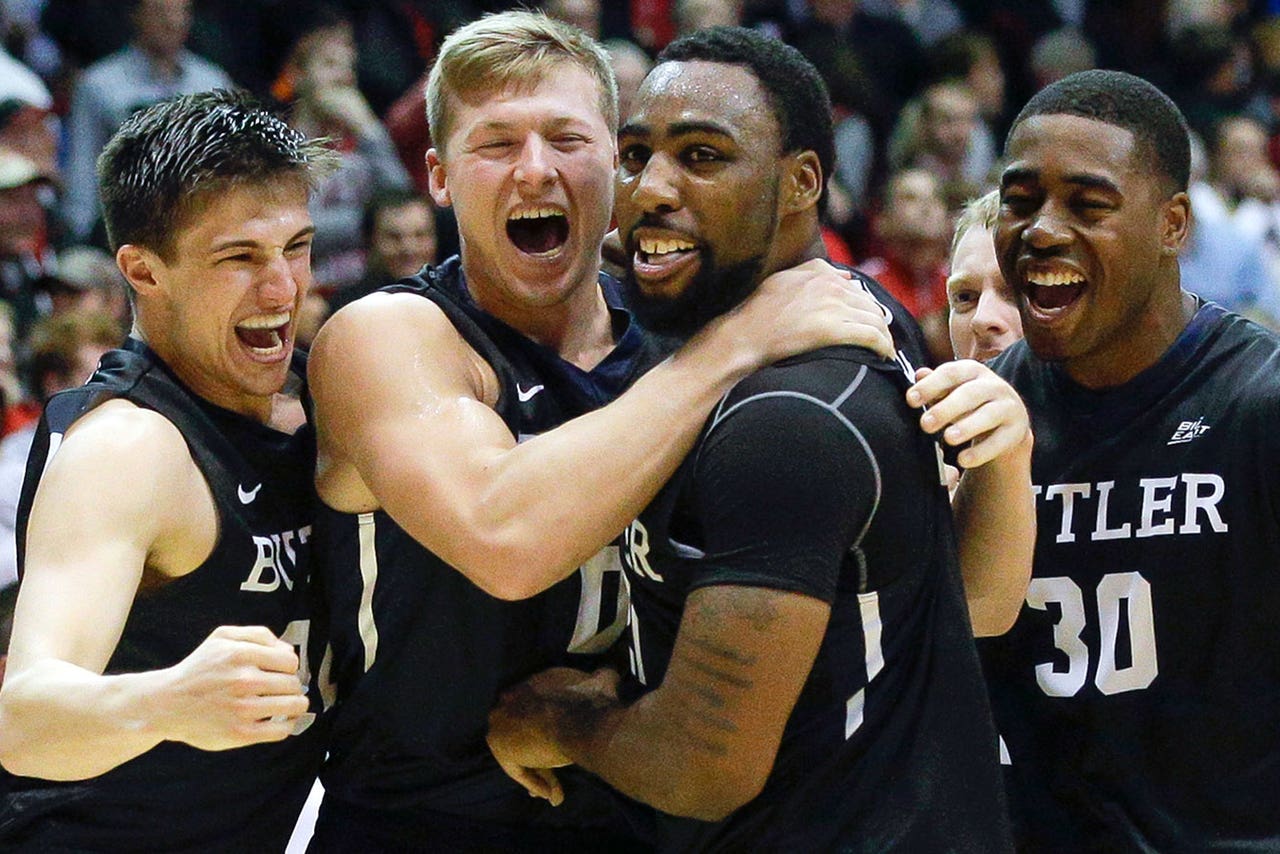 CINCINNATI -- Kellen Dunham's long-range touch and Roosevelt Jones' up-close shot rallied Butler to its best victory yet.
Dunham scored 24 points while leading a second-half comeback, and Jones hit a bank shot with a tenth of a second left, rallying the Bulldogs to a 78-76 victory over No. 17 Cincinnati on Wednesday night.
"Now that is a Butler win right there," coach Chris Holtmann said. "I say that with the highest compliment because our guys played with some real grit right there. I think that needs to be what we are about."
The Bulldogs (5-1) trailed for most of the second half -- down by as many as eight points -- before Dunham hit consecutive 3s that set up a back-and-forth ending. His two free throws with 17.2 seconds left made it 76-73.
"He did what good seniors do," Holtmann said. "They go on the road and perform great like he did. Look across the country -- guys like him step up and make those kinds of plays."
Cincinnati (7-1) had a chance when Octavius Ellis made a three-point play with 4.7 seconds left. Jones picked up a loose ball off a full-court inbound pass and drove through a crowd of three defenders for the winning basket.
The Bearcats stood on the floor with stunned expressions as the Bulldogs celebrated under the basket. Butler won the first game between the schools since the 1997 NCAA Tournament.
"The basketball gods, I guess," Cincinnati guard Troy Caupain said. "One-on-three and he made the layup. It just hurts to lose like that."
Ellis had 16 points and 12 rebounds for Cincinnati, which blocked a season-high 10 shots and shot 50 percent from the field but couldn't finish it off. The 78 points were the most they've allowed this season.
The Bulldogs opened with an 11-3 run for their biggest lead. Freshman Jacob Evans III came off the bench and hit a pair of 3s that got the Bearcats going, and Cincinnati led by as many as six points before taking a 33-28 lead into halftime.
The Bearcats' defense had an effect, blocking eight shots and holding the Bulldogs -- one of the nation's top offensive teams -- to 33 percent shooting from the field in the opening half. The Bearcats rank fourth nationally in defense, holding four of their first eight opponents to 50 points or less.
Cincinnati got the ball inside to start the second half and converted three three-point plays while pulling ahead 50-42. Troy Caupain had a 3-pointer and a three-point play during the spurt.
Dunham led Butler's comeback. His layup off a spin move cut it to 53-51 midway through the half, but Evans hit another 3-pointer that blunted the rally.
The Bulldogs got the lead for the first time in the second half when Dunham hit back-to-back 3s for a 67-66 advantage with 4:44 left. There were six lead changes and two ties down the stretch.
FOUL TROUBLE
Forward Andrew Chrabascz picked up his fourth foul with 13 minutes left, sending Butler's third-leading scorer to the bench for several minutes. He fouled out with 6:51 to go, having scored 11 points.
GETTING CHIPPY
Ellis and Jones got technical fouls for shoving as the teams turned to head down the court following a turnover with 1:09 left in the first half. Cincinnati's bench got a technical for arguing a call with 11:39 left.
TIP-INS
Butler: The Bulldogs' only loss was to Miami 85-75 in the Puerto Rico Tip-Off on Nov. 22.
Cincinnati: The Bearcats' previous season high was eight blocks.
UP NEXT
Butler: The Bulldogs host Indiana State on Saturday. Their game at Cincinnati was their only true road game so far this season.
Cincinnati: The Bearcats host Morgan State on Sunday, their last game before facing crosstown rival No. 12 Xavier on Dec. 12.
---