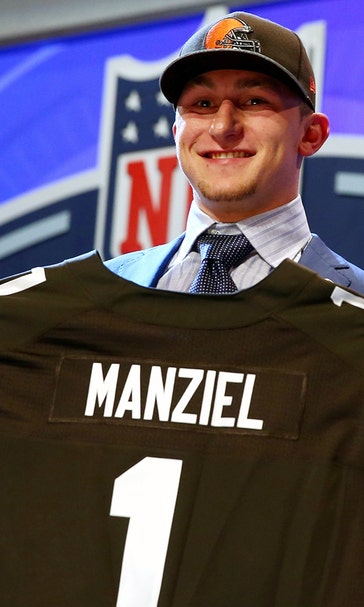 Johnny Cleveland!
BY foxsports • May 8, 2014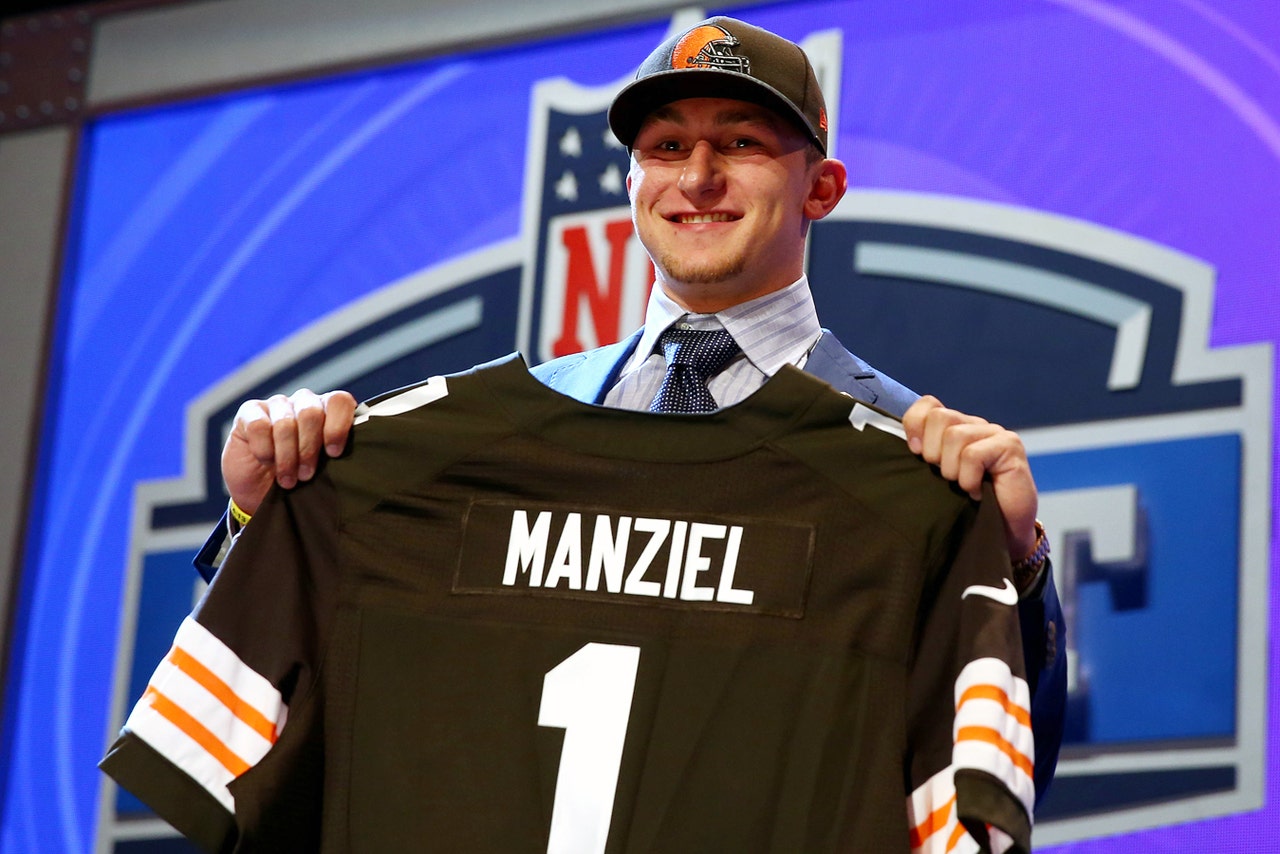 BEREA, Ohio--In his third trade in the first round, Browns General Manager Ray Farmer put all eyes on the Browns.
After weeks of speculation that Johnny Manziel was on the Browns radar with their first pick, Farmer selected Manziel after trading up from 26 to 22 with the Eagles. The Browns traded picks with the Eagles in the first round and the Browns gave up their second, third-round pick (83rd overall).
The Browns hope the third time is the charm with quarterbacks selected with the 22nd pick. The Browns selected Brady Quinn with the 22nd pick in the 2007 draft and Brandon Weeden with the 22nd pick in the 2012 draft.
In effect, the Browns acquired Manziel with the choice they received from the Colts for the trade of Trent Richardson.
One of the most polarizing figures in the draft, Manziel had been projected to go as high as the first pick in the draft to the Texans. However, as he was passed up by teams with quarterback needs, speculation grew that the Browns could have their pick of Teddy Bridgewater, Derek Carr or Manziel as their 26th pick approached.
The trade by Farmer galvanized who their top choice was.
Manziel was frequently shown on the national television broadcast as teams that were rumored to be interested in him passed on him.
"I knew the TV part of it was going to come," Manziel said. "I knew that would be part of it. For me, it was a little nerve-racking, but at the same time, I went into the situation telling myself that everything would happen for a reason, that I would land wherever I did tonight for a purpose. Whether I thought or knew the situation, I thought it would all work out for me, and I truly believe leaving here tonight that the situation did work out for me. I'm in a great place."
Manziel (5-11 ¾, 207) won the Heisman Trophy as a freshman at Texas A & M and declared for the NFL Draft after his second season. Manziel threw for 7,820 yards with 63 touchdowns and 22 interceptions for the Aggies. He completed 68.95 percent of his passes.
Manziel has been scrutinized by draft pundits for months, but he says it comes with the territory.
"I'm used to that by now," he said. "In the two years that I've had in college, I think I've been very scrutinized and nitpicked, as far as my game goes. For me, the one thing I'd like to say is I improved from my first year playing to my second. I got better. All I'm trying to do throughout these next few years is continue to get better and hone in on my skills and become a better player. I think if I do that, I can be really good."
Manziel was tremendous at making plays out of the pocket by extending plays. He rushed for 1,401 yards with 21 touchdowns in 2012 and 759 yards and nine touchdowns in 2013. However, he has been criticized about not being able to be productive in the pocket.
"I feel like I got better this year and got more comfortable in the pocket," Manziel said. "I'm growing as a quarterback and continuing to get better as a player. I'm not sitting here today saying I have all of the answers or I'm an all-world player or have it all figured out. For me, I know there's room to grow, in the pocket and just get more comfortable in the pocket in general. There's room for me to grow, and I'm looking forward to closing that gap with a great quarterbacks coach and a great offensive coordinator that can help me there."
The Browns were criticized for being one of only two teams not at Manziel's Pro Day, but they privately worked him out and he said he felt all along the Browns could be a place he'd end up.
"I didn't really know," he said. "I thought it could be a potential landing spot. From top to bottom thought I had a good relationship with everyone."
Manziel said recently he would make teams that passed on him regret it.
UNLUCKY NUMBER?
Johnny Manziel is the third quarterback in recent years to be selected No. 22 overall by the Browns ... and the other two haven't worked out so well.
| | | | |
| --- | --- | --- | --- |
| Stat | Brady Quinn | Brandon Weeden | Johnny Manziel |
| Year drafted | 2007 | 2012 | 2014 |
| College | Notre Dame | Oklahoma State | Texas A&M |
| Pick by Browns | 1st round, No. 22 | 1st round, No. 22 | 1st round, No. 22 |
| Previous Browns picks | No. 3 (Joe Thomas) | No. 3 (Trent Richardson) | No. 8 (Justin Gilbert) |
| NFL record | 4-16 | 5-15 | TBD |
---