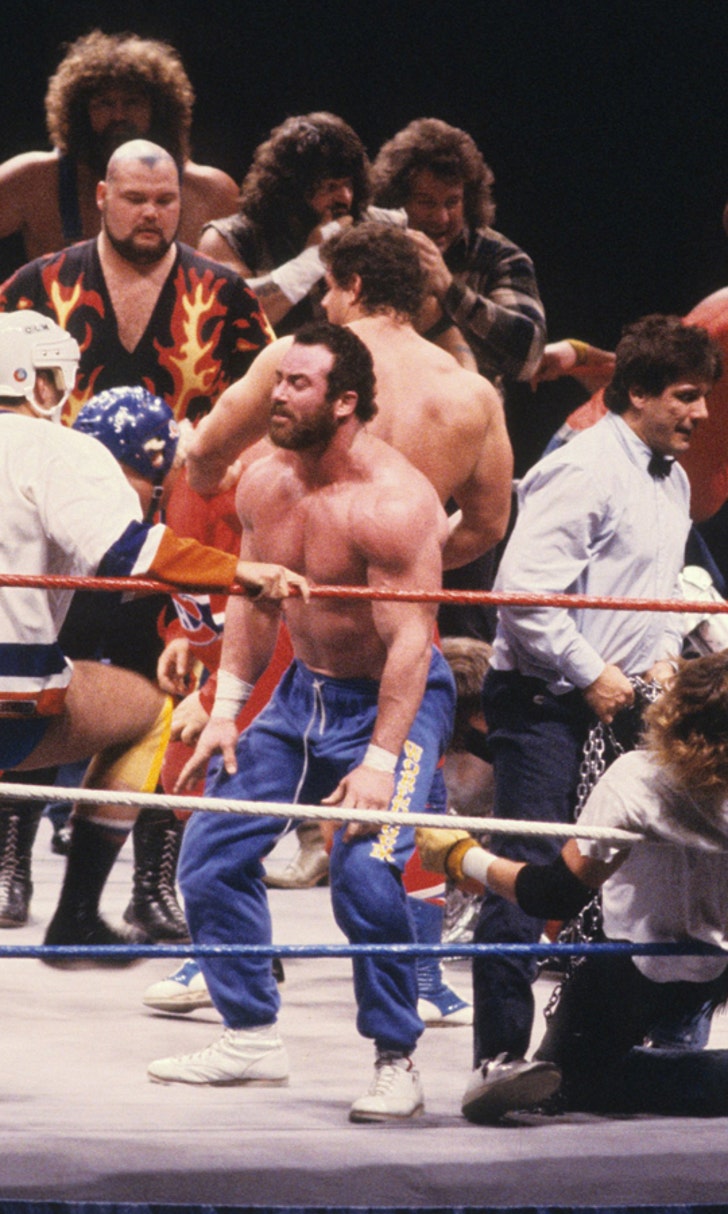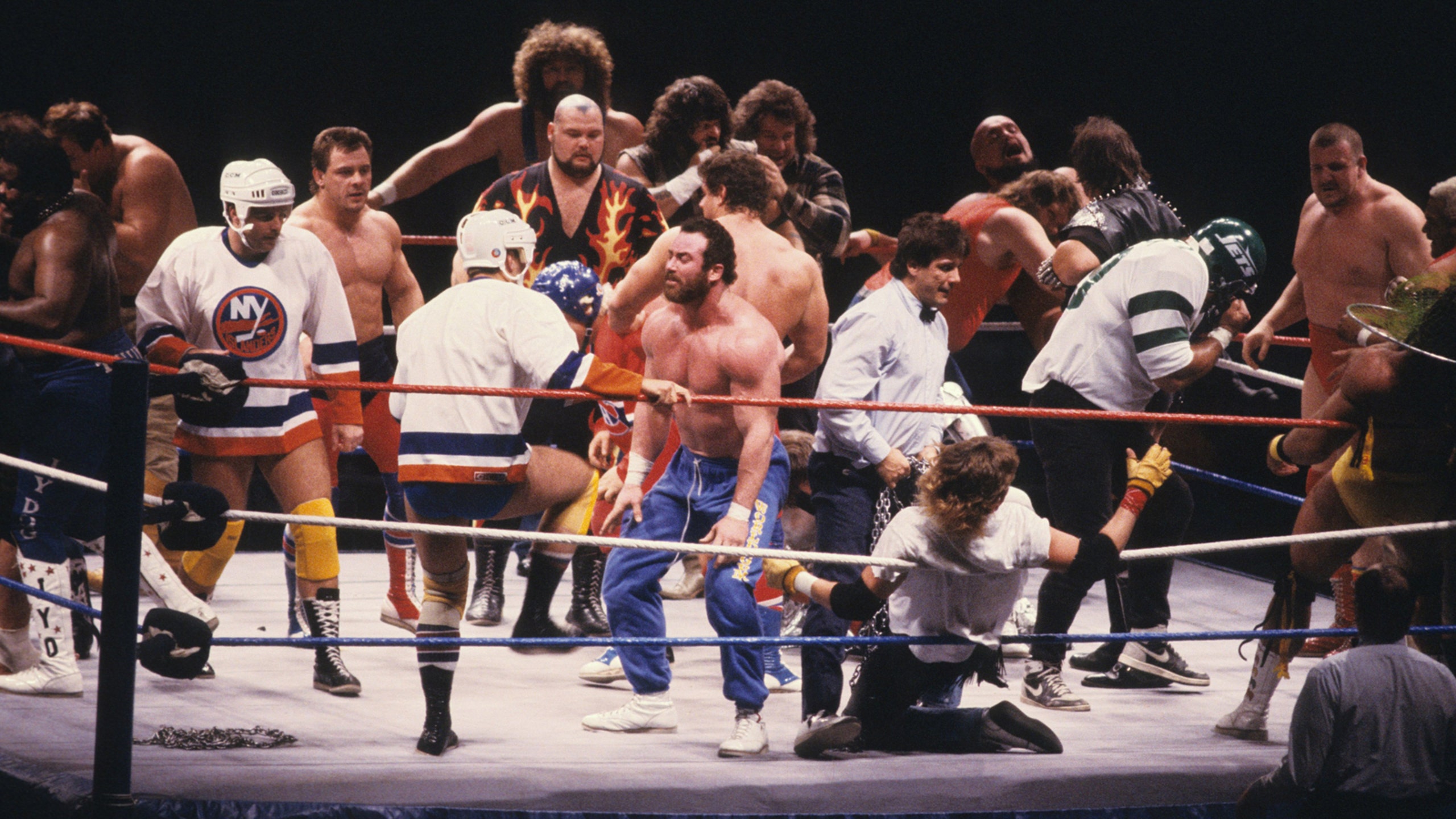 Jim Ross offers his fondest Royal Rumble memories
BY Jim Ross • January 23, 2014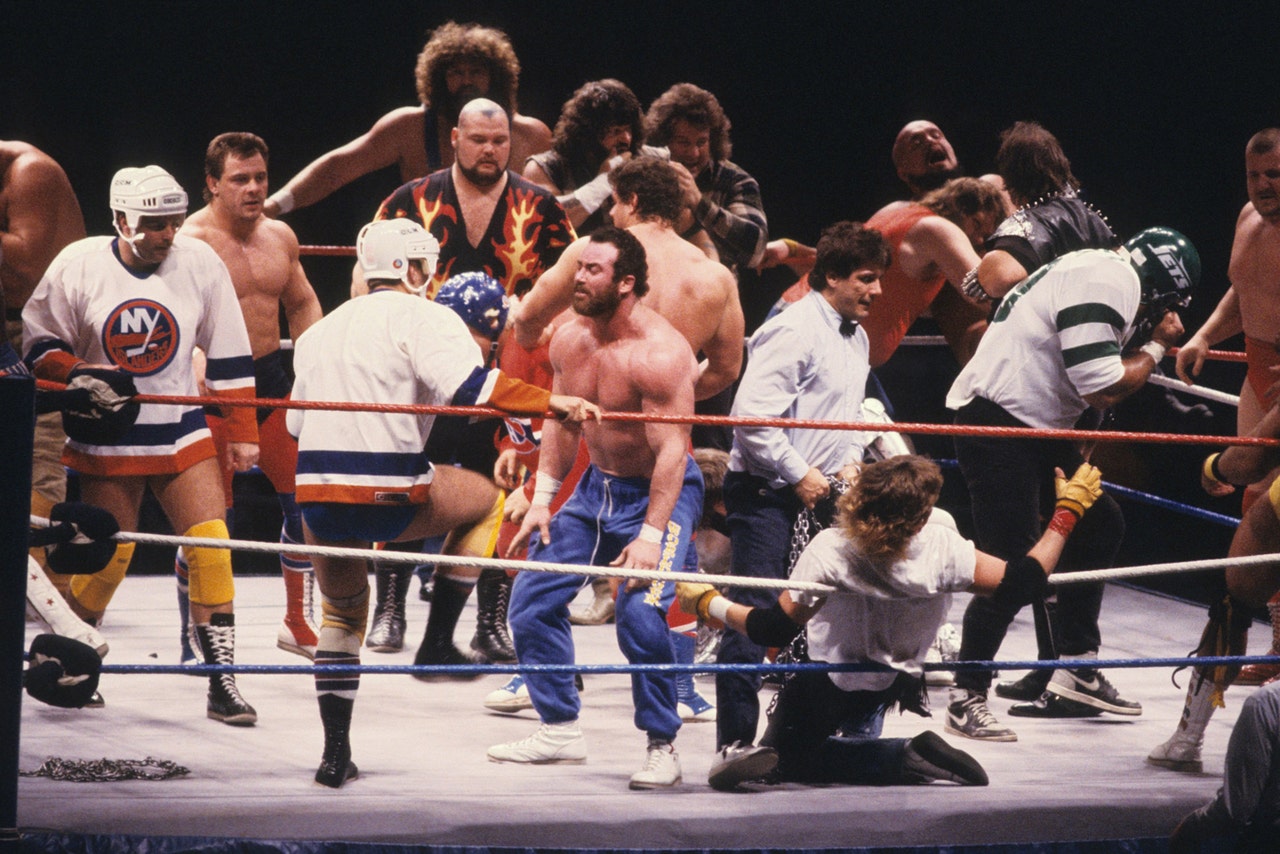 For many years, I had one of the best seats in the house for numerous WWE Royal Rumble events. Through many Sunday nights "at the office," I gathered a fair amount of memories from one of my favorite events of the year.
Without question, the Rumble match is the most challenging to broadcast as it's fast-paced, the most unpredictable and the most multilayered in story line volume.
The 'stories' that drive the play-by-play changes at a rapid rate which is, simply put, on each talent's entrance. See if you remember these....
1995: Shawn Michaels draws No. 1 and Davey Boy Smith draws No. 2. They endure and go coast to coast to become the final two survivors, outlasting 28 others. Both guys were at somewhat of a professional crossroads and the stage was set to launch both men significantly. 'The Moment' was when Michaels went over the top rope but only "one foot" touched the floor ... hence the "Shawn Michaels Rule" saying that both feet must touch the floor for one to be eliminated. Many feel that Shawn Michael's individual career was amped up thanks to his performance in this Rumble match. HBK was at his best in big-match scenarios.  
1995: Indeed this was a good year for this event. This was the night that Bam Bam Bigelow had a physical confrontation with NFL Hall of Famer Lawrence Taylor. LT was sitting at ringside smiling at Bigelow who was exiting the ringside area and that "show of disrespect" drew the ire of the tattooed, bald man from New Jersey, who obviously wasn't a Giants fan, and prompted him to shove LT hard ... very hard. When Taylor got off the concrete floor, No. 56 wasn't smiling -- at all. Not even a little grin. Old school Bigelow had just welcomed the NFL legend into the world of sports entertainment. One might say that Bam Bam called an audible. 
1997: One of my favorite WrestleMania matches is the Hitman Bret Hart vs. Stone Cold Steve Austin masterpiece at WM13 in Chicago. The Royal Rumble in 1997 stoked the fire of this story line as it was one of the most anticipated issues in WWE featuring the long time, hugely, popular star vs the upstart, loudmouth, hell-raising, coarse tough guy. Austin won that Rumble match in controversial -- is there any other kind? – fashion, eliminating the Canadian hero and setting the stage for their WM13 classic. Their natural chemistry was on display in this Rumble match. It was a sign of things to come. 
1998: The Three Faces of Foley. Yep, lovable Ol Mick knocked two of his peers out of spots in the Rumble match because Michael Francis Foley wrestled three times using three different personas. (Just kidding about that peer thing, Mick) Mick was marvelous that night and added all the subtle nuances exclusive to each persona. We saw it all, including Cactus Jack, Mankind and Dude Love, in that order. As a matter of fact, Dude came in as entrant No. 28 but ran afoul of a Rattlesnake to end Mrs. Foley's Baby Boy's memorable night of multi-tasking. 
2001: Every Royal Rumble should elevate multiple talents in a varying number of ways. Maximize one's minutes and hope that your name's in the playbook or the TV Guide. Who's going to "break out?" In 2001, that person was Kane, who entered at No. 6 and wasn't eliminated until 54 staggering minutes later. That's mucho minutes of BBQ for a 6-foot-9, 300-plus pound man. Along the way, The Big Red Machine eliminated a record 11 others. Kane turned heads that night with his performance and re-established himself as one of WWE's best all-around talents with a scary IQ.  
2003: On this night, the WWE title match stole the show from the 30 men in the Royal Rumble match. Kurt Angle defended the WWE championship against the challenge of Chris Benoit. Both seemed to have something to prove in this contest long before they reached the ring. Both were technical wrestling marvels. I was told the TV monitors backstage were 'sold out' during this match. It was the two men's chance to "steal one" and a major one at that. This duo, on that night, was fabulous. 
2005: Completely surreal. The evil, Mr. McMahon blows out not one but both quads making his way to the ring. It was as if time stopped for a few seconds and we were all on a never-ending, seven-second delay trying to navigate a challenging situation for which no one had prepared. The final two men in the match were John Cena and Dave Batista. You might not believe this but ... there was more "controversy." Ironically, just as I predict will occur this Sunday on PPV, Batista prevailed. 
2006: Rey Mysterio more than earned his pay in the Royal Rumble match by ducking, dodging, and darting his way to winning in an hour plus, 62:12 to be exact. That's a record, by the way. I'd love to know how many "near-misses" Rey had because by the time he prevailed and had overcome the odds, the fans were digging the 6-1-9. This win propelled Rey to new heights, including being a headliner at WM 22 that year. Rey, the ultimate underdog, represented "hope," with which most fans could easily identify. It was a memorable night for another future WWE HOFer.
2007; From the git-go, I felt that the Cena vs Umaga Last Man Standing match would outdeliver what some skeptics were whispering. "Cena vs. Umaga will be OK if it's a short match." Well, it wasn't a short match and it was better than OK ... it was a Slobberknocker. That says it all.  I felt both men  upped their respective games that night. The goal was to be physical and to tell a story. Both men did exactly that. Last Man Standing matches, especially in a PG world, aren't the easiest in which to perform but these two pulled it off in a serious way.
2008: To broadcast from Madison Square Garden is, in homage to the late, Road Warrior Hawk,"What a Rush!" I call my life in wrestling ... from the "farm" (in Oklahoma) to the "Garden."  However, few nights in my career was the crowd louder and became more unglued than when John Cena shocked WWE fans by returning from an injury to the Rumble as surprise entrant No. 30 and then winning by eliminating HHH. With Cena not in the Garden all day, who knew? John had been injured and the last that I had heard was that he was "getting better" so I left it at that. When Cena's music hit it was, a "Monsoonism" is coming, pandemonium. The sold out crowd was so empowered that they almost forgot to boo the polarizing Cena,who eliminated HHH to get the win.    
Jim Ross is a WWE Hall of Fame broadcaster, a New York Times Best Selling author & OU Sooner fan. @JRsBBQ on Twitter.     
---